Two Ingredient Ice Cream
The Starving Chef is supported by Hungry People like you. When you make a purchase through an affiliate link on my site, I may earn a little bit of cash on the side (at no extra cost to you) to help keep my kitchen running. Read our disclosures here.
This 2 ingredient ice cream no churn recipe has been all the rage on the interwebs lately, so naturally I had to give it a whirl. But I didn't want to stick to the same-old-same-old recipes I'd been seeing because playing with food is what I live for!
I ended up with some crazy awesome new flavors that might give Jeni's a run for her money.

Start with one 14 oz can of sweetened condensed milk and two cups of heavy whipping cream.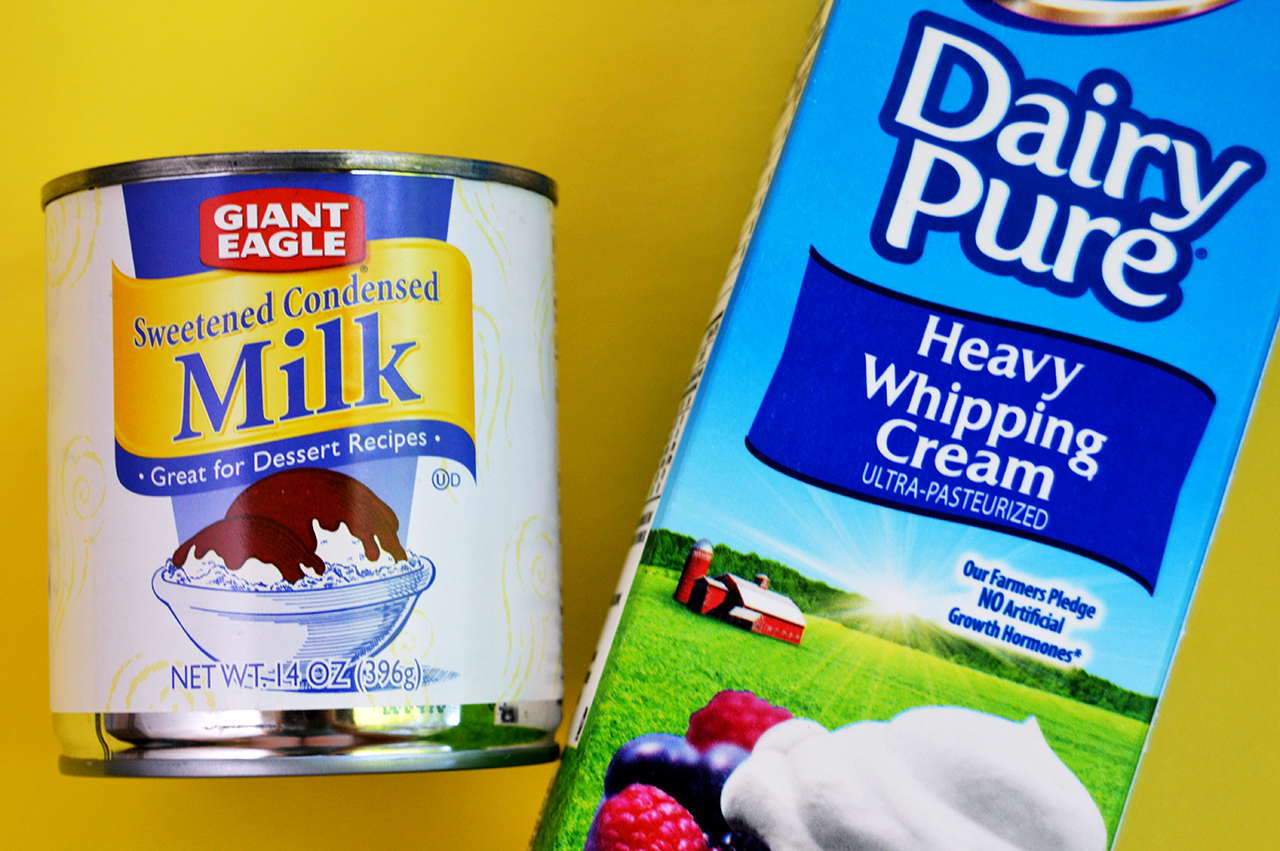 First, whip the cream until it's light and fluffy, or about 3-4 minutes on high speed using a stand mixer.
The cream should form soft peaks when it's ready to add in the condensed milk. Blend in the condensed milk until the ice cream base is nice and smooth.
Next choose your toppings!
Peanut Butter Cup Ice Cream
I found mini peanut butter cups in the bulk section of my grocery store, so I opted for a few simple 'experimental' ice cream blends at first.
Fruit Loop Ice Cream
I also rounded up some leftover fruit loops and tossed them into an ice cream base too. I know this flavor would be an especially great hit with the kids!
Turtle Ice Cream
You can chose some 'adult' toppings too, like chocolate chunks, caramel bits, and walnuts for a chunky turtle twist. The caramel bits worked well in this combo because they added a sticky chewiness that I crave in caramel infused ice cream.
S'more Galore
I'm strange when it comes to s'mores because while I love the chocolatey, ooey-gooey marshmallow and graham cracker combo that's become a staple around the fire pit, I love things made to taste like a s'more almost more than the real deal! And when it comes to ice cream…pfftt! What's a bonfire?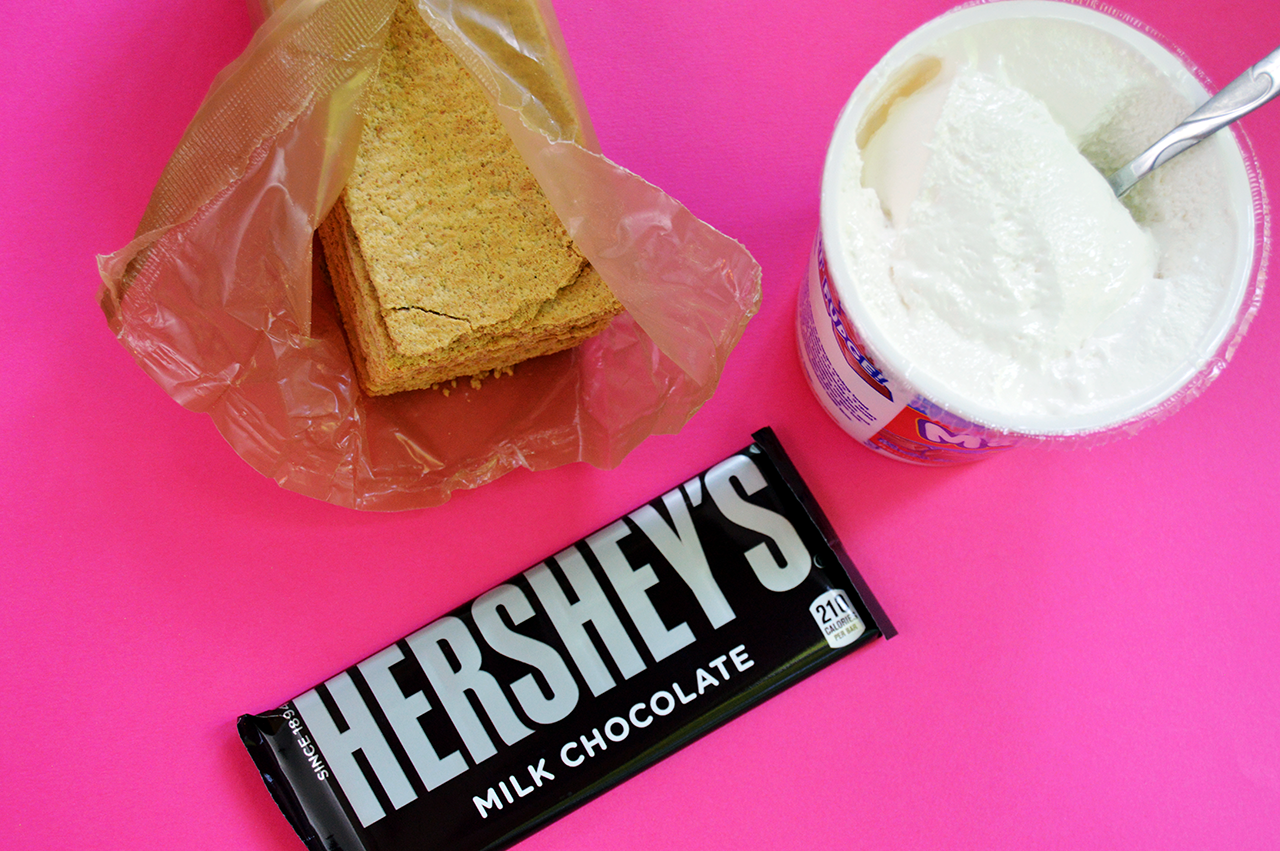 Strawberry Avocado
This was Nick's favorite flavor combo. Use a slightly softer avocado to blend into the ice cream and add a teaspoon of lemon juice to keep the avocado nice and green while it freezes. The avocado gives the ice cream a wonderful texture and meshes amazingly with the sweetness of the strawberries. Plus, it gives the illusion of being healthy!
Maple, Bacon, and Brown Sugar
Here's a flavor profile you can't go wrong with! The sweetness of the brown sugar and maple syrup plays beautifully off of the saltiness of the bacon. And with crispy bacon chunks sprinkled throughout, you'll be asking yourself why you didn't try bacon flavored ice cream sooner!
Dark Chocolate and Espresso Bean
I mean it when I say you need to check out the bulk section of your grocery store! I was able to buy these chocolate covered espresso beans for about .61 cents, plus a bunch of other fun toppings that I would have spent tons of money on buying from prepackaged deals. This ice cream flavor has a nice kick of caffeine and coffee flavor sure to wake up your tastebuds.
I'd also like to note here that it's actually extremely difficult to photograph quickly melting ice cream. So kudos to people who do that on the reg.
All in all, this recipe was a huge success. My freezer is full of ice cream and I didn't spend a whole lot of cash in order to do so.
Plus, what's better than being able to customize your ice cream?! Forget store bought flavors! If you have a little patience, you can have a little ice cream.
Two Ingredient Ice Cream
All you need for this no-churn, delicious two ingredient ice cream is a can of sweetened condensed milk and heavy whipping cream – plus your favorite toppings!
Ingredients
FOR ICE CREAM:
2

cups

heavy whipping cream
TOPPING/FLAVOR SUGGESTIONS:
strawberries

fresh or frozen

avocado

lemon juice

your favorite ice cream toppings!
Instructions
Using a stand mixer or electric whisk, beat the heavy whipping cream until light and fluffy.

Prepare the toppings. Pour the ice cream base into a sealable container. Fold in the toppings and stir until blended completely.

Freeze 6-8 hours or until solid. Serve with more toppings or on a cone and enjoy!