Easter Egg Nests
March 29, 2015 | Easter, Chow Mein Noodles, Marshmallows, Haystacks
The Starving Chef is supported by Hungry People like you. When you make a purchase through an affiliate link on my site, I may earn a little bit of cash on the side (at no extra cost to you) to help keep my kitchen running. Read our disclosures here.
Super Hungry? Jump to the Recipe

It's "spring" here in Akron, Ohio, which means it's still snowing outside, but it'll get to 60 degrees outside for a few hours a week. The cold hasn't stopped the birds from starting to build their nests and they continue to chirp well into dusk now. And that is what partially inspired this recipe. That and Easter is in a week.
These nests are super easy, super simple, and essentially require only 4 ingredients!

Start by preparing a double boiler - or if you're lazy, open your microwave - and melt together the butter, marshmallows, and vanilla.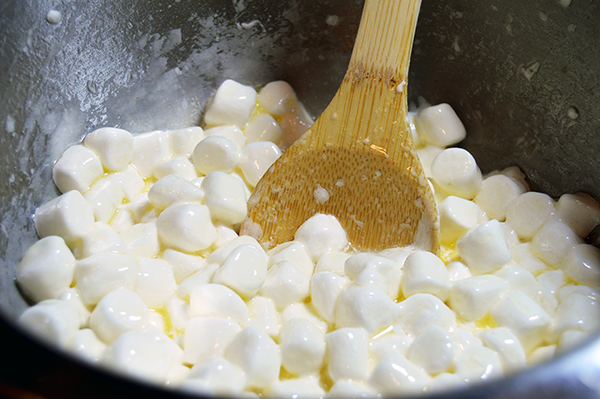 Gently stir in the chow mein noodles a 1/4 cup at a time.

Fold the mix with a greased wooden spoon.

By the rounded spoonful, plop a pile of the marshmallow-y chow mein noodles onto a parchment lined cookie sheet. At this point, these can be referred to as "haystacks" that were popular in my childhood.

Let the nests cool for a few minutes before you gently shape each one. Pro-tip here: coat your hands in Crisco before you mold each nest to help it not stick to your hands!

Press your thumbs into the center of each haystack to create a nest. Place your Easter egg shaped candy into the cavity and enjoy!
Shop this Post
Easter Egg Nests
Number of Servings: 24
Prep Time: 20 minutes
Cook Time: 10 minutes
Total Time: 40 minutes
Ingredients
6 oz (1 package) chow mein noodles
3 cups mini marshmallows
8 tbsp butter
1 bag egg shaped M&Ms, jelly beans or malt balls
1 tsp vanilla (optional)
Mouth Feel
Salty
Savory
Sour
Bitter
Sweet
Spicy
Instructions
In a large double boiler, or microwave if you don't have one, melt together the marshmallows and butter until smooth. Add the vanilla and stir to combine.
1/4 cup at a time, slowly fold in the chow mein noodles, taking care not to break too many!
With a greased spoon, plop a pile of chow mein noodles onto a parchment lined cookie sheet.
Let cool for about 10 minutes then grease your hands with vegetable shortening (optional) and round each nest. Press your thumbs into the centers to create a cavity.
Fill each nest with eggs, allow to cool completely, serve and have a Happy Easter!
Print