Baked Choriziti
June 9, 2015 | Ziti, Chorizo, Pasta, Casserole
The Starving Chef is supported by Hungry People like you. When you make a purchase through an affiliate link on my site, I may earn a little bit of cash on the side (at no extra cost to you) to help keep my kitchen running. Read our disclosures here.
Super Hungry? Jump to the Recipe
I've been on a chorizo kick lately. With chorizo topped chicken waffles, surf 'n' turf bites, and chorizo stuffed mushrooms, you'd think that's pretty much all I eat. You'd only be a little wrong - chorizo is definitely always on the shopping list!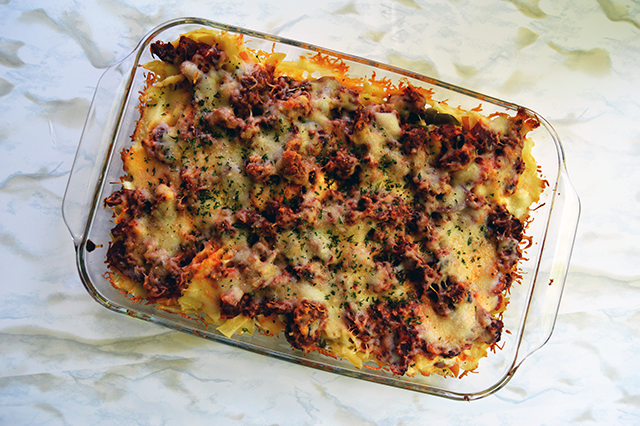 A friend of mine recently moved nearby, and so to help warm his home, I made him some choriziti!

Most of these ingredients can be found on my basic shopping list and have accumulated in my kitchen, so this was a particularly fun game of "what's in my cabinets" as I cooked this dish.
Chorizo, for those who may not be familiar, is essentially just a type of sausage encased in intestines. YUM.

You'll actually need to remove the casing in order to sufficiently crumble the sausage. It's easier to remove the casing prior to cooking, then toss the whole decased chorizo into the pan with a touch of oil to start the crumbling process.

Add in the onions and garlic as the chorizo finishes browning. Then add the tomatoes, not drained, and herbs and bring to a simmer.

While the chorizo mix finishes cooking, blend together the egg and cottage cheese. Then prepare the pasta and cottage cheese mix into a large glass pan, then top with more cheese!

Then layer on the chorizo mix and another layer of the cottage cheese. Top with mozzarella and pop into the oven!

I baked mine covered with foil for 20 minutes then uncovered (and topped with more cheese) for an additional 15 minutes. But as we all know, oven times may vary!

Shop this Post
Baked Choriziti
Prep Time: 15 minutes
Cook Time: 30 minutes
Total Time: 45 minutes
Ingredients
3 chorizo sausages, cases removed
1 cup pasta sauce
1 red onion, chopped
8 garlic cloves
3 cups small curd cottage cheese
1 egg
16 oz diced tomato
2 cups mozzarella cheese
2 tbsp olive oil
1 tbsp fresh basil
1 tbsp oregano
1 tbsp thyme
1 box ziti pasta
salt & pepper, to taste
Mouth Feel
Salty
Savory
Sour
Bitter
Sweet
Spicy
Instructions
Prepare the ziti according to the instructions on the box. Preheat the oven to 375 F. Heat the oil over medium high heat and add the sausages, cases removed, til brown and crumbled.
Add the onions to the pan along with the garlic and saute until onions have softened, or about 2-3 minutes. Pour in the diced tomatoes, undrained, and bring to a simmer.
Chop the herbs and sprinkle into pan and reduce the heat to medium low. In a small bowl, beat together the cottage cheese, egg, and 1/4 cup mozzarella cheese.
In a glass pan, add the cooked pasta, followed by a layer of cottage cheese then a layer of mozzarella. Next add all of the chorizo mix, followed by the remaining cottage cheese and mozzarella cheese.
Pop into the oven covered with foil, for 20 minutes, then remove the foil, top with more mozzarella, and bake for an additional 10-15 minutes, or until the cheese is bubbling. Serve and enjoy!
Print