Maple, Bacon, and Brown Sugar | Two Ingredient Ice Cream
July 14, 2015 | Two Ingredients, Two Ingredients Ice Cream, Ice Cream, Bacon, Maple
The Starving Chef is supported by Hungry People like you. When you make a purchase through an affiliate link on my site, I may earn a little bit of cash on the side (at no extra cost to you) to help keep my kitchen running. Read our disclosures here.
Super Hungry? Jump to the Recipe
Folks, I think I've found the winning combo. Sure, that strawberry avocado mix was good - but there's just something about maple ice cream with chunks of crispy bacon laced throughout that makes my tastebuds stand on point.
All you need is a can of sweetened condensed milk and two cups of heavy whipping cream.

Use a stand or electric mixer to whip the cream until light and fluffy.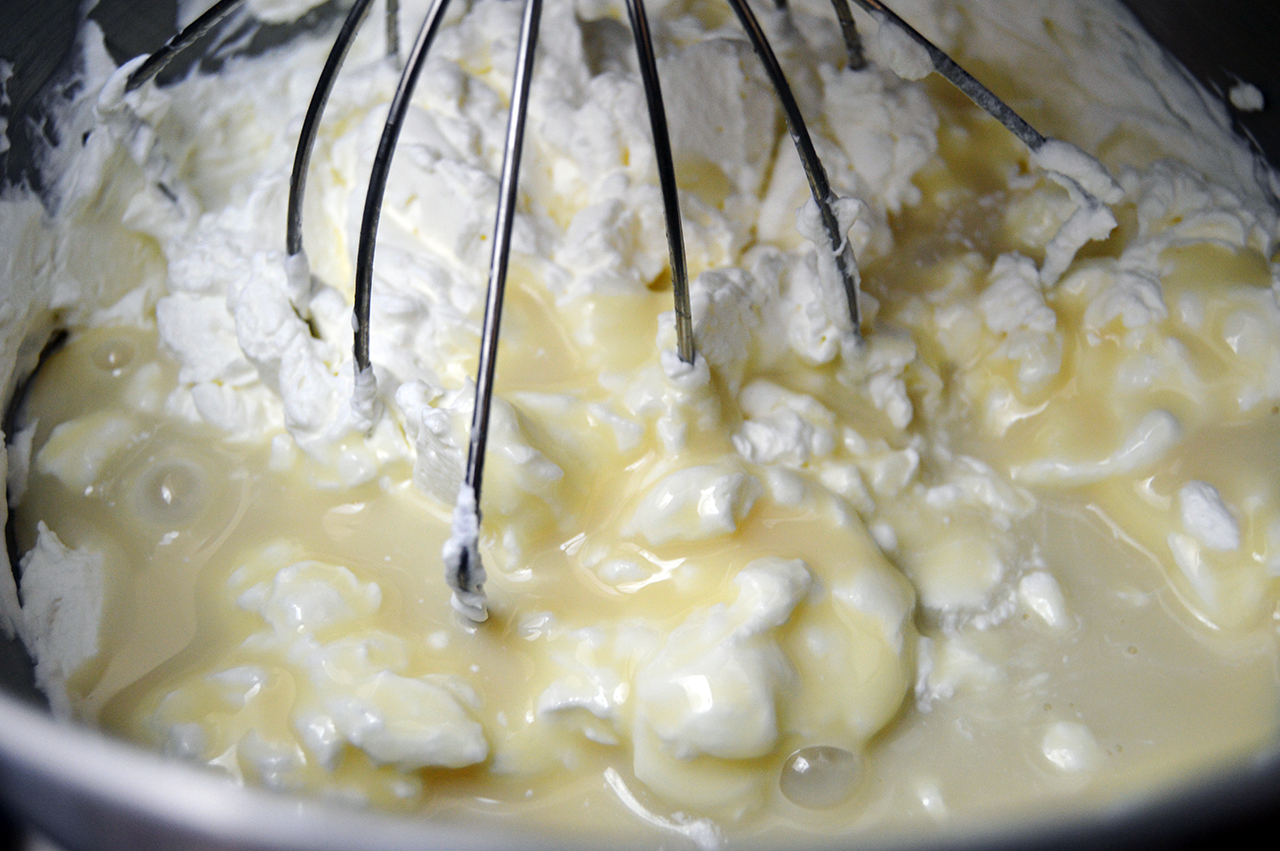 Then combine the sweetened condensed milk with the heavy whipping cream, and blend for a few minutes until smooth and creamy.

I fried up a couple slices of bacon nice and crispy-like, and let them cool completely before crumbling. I used a few tablespoons of brown sugar too, which definitely helped emphasize (and even out) the saltiness of the bacon.

Fold the ingredients into the ice cream base - I tried to leave some of the maple syrup intact, so there are ribbons of it throughout the ice cream.

Finally, freeze for 6-8 hours!

Will definitely be eating this one ALL TO MYSELF.

Check out my other ice cream creations here
Shop this Post
Maple, Bacon, and Brown Sugar Ice Cream
Number of Servings: 4
Prep Time: 10 minutes
Total Time: 8 hours
Ingredients
2 cups heavy whipping cream
14 oz (1 can) sweetened condensed milk
2 strips bacon, cooked & crumbled
3 tbsp brown sugar
3 tbsp maple syrup
Mouth Feel
Salty
Savory
Sour
Bitter
Sweet
Spicy
Instructions
Using a stand mixer or electric whisk, beat the heavy whipping cream until light and fluffy.
Add the sweetened condensed milk and mix on medium speed for 3-4 minutes or until the condensed milk is incorporated.
Prepare the toppings. Pour the ice cream base into a sealable container. Fold in the brown sugar, bacon, and maple syrup, making sure to just mix the syrup until it's incorporated, but not mixed in completely, leaving ribbons throughout.
Freeze 6-8 hours or until solid. Serve with more toppings or on a cone and enjoy!
Print