S'more Galore | Two Ingredient Ice Cream
July 14, 2015 | Two Ingredient Ice Crea, S'mores, Ice Cream
The Starving Chef is supported by Hungry People like you. When you make a purchase through an affiliate link on my site, I may earn a little bit of cash on the side (at no extra cost to you) to help keep my kitchen running. Read our disclosures here.
Super Hungry? Jump to the Recipe
It's summertime so I've got s'mores on my mind. I'm weird though; I prefer the s'more flavor combo more than I actually enjoy s'mores! While I do like sitting around the bonfire roasting marshmallows, I'd rather have s'more flavored ice cream. Plus, this recipe for two ingredient ice cream is simple, and crazy easy to customize! So pile on what ever toppings you'd like!
Start by making an ice cream base with one can of sweetened condensed milk and two cups of heavy whipping cream.

Use a stand mixer on medium-high speed to whip the cream into soft peaks.

Then pour in the sweetened condensed milk and mix until combined.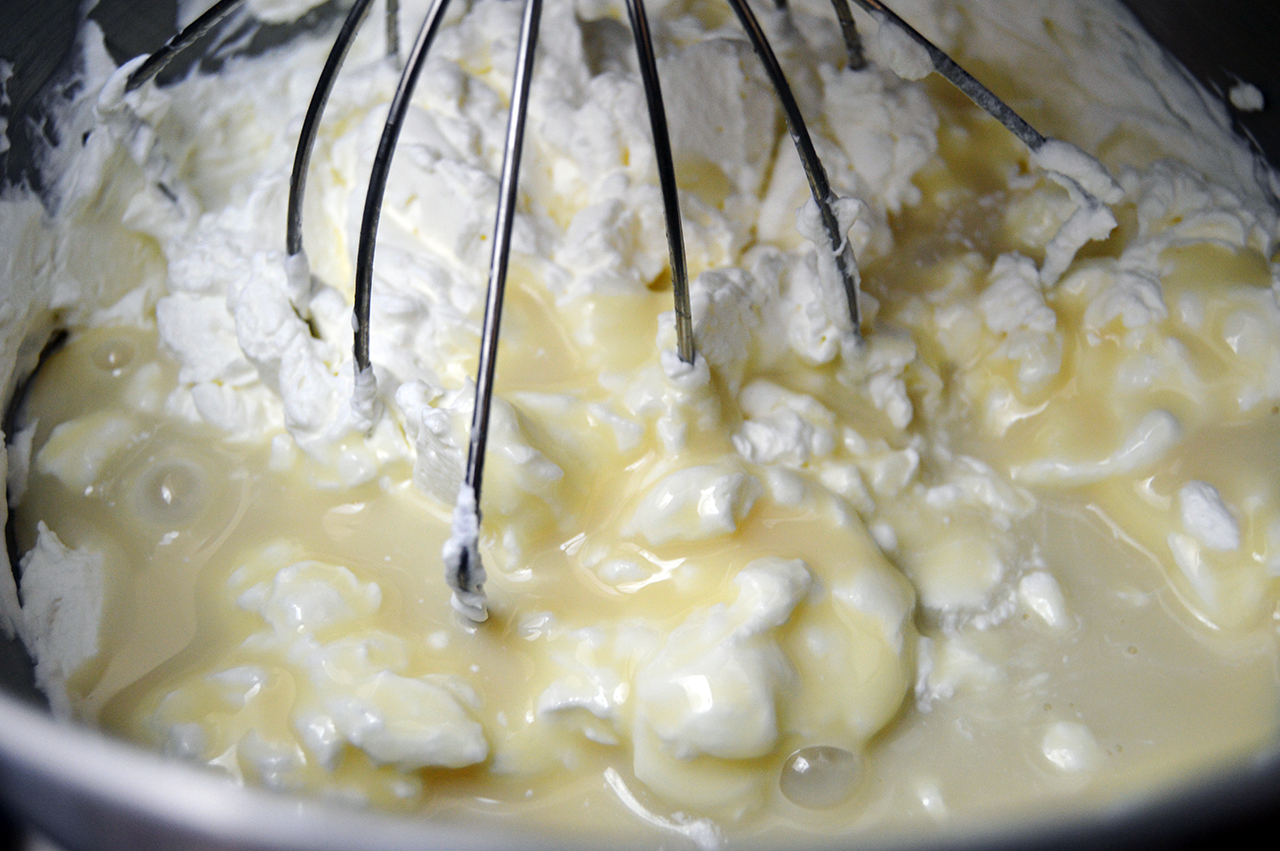 You want the base to be nice and creamy. Feel free to add a few teaspoons of sugar if you don't think it's sweet enough.

Then choose your toppings! This round I grabbed graham crackers, a Hershey's chocolate bar, and a heaping spoonful of marshmallow fluff. I used fluff instead of real marshmallows because I thought the real deal might freeze hard and give the ice cream a weird texture. I really like how it turned out with the fluff.

Next, break up your toppings by hand, or for real tiny pieces, use a food processor. I like my ice cream chunky and full of bits, so I left mine a little larger.

Finally just fold in the toppings and freeze for 6-8 hours!

The marshmallow fluff makes this ice cream extra soft, so I actually would recommend using a bowl for this one.

Check out the rest of my ice cream creations here!
Shop this Post
S'more Galore Ice Cream
Number of Servings: 4
Prep Time: 10 minutes
Total Time: 8 hours
Ingredients
2 cups heavy whipping cream
14 oz sweetened condensed milk
2 cups crushed graham crackers
1 Hershey chocolate bar, broken into bits
¼ cup marshmallow fluff
Mouth Feel
Salty
Savory
Sour
Bitter
Sweet
Spicy
Instructions
Using a stand mixer or electric whisk, beat the heavy whipping cream until light and fluffy.
Add the sweetened condensed milk and mix on medium speed for 3-4 minutes or until the condensed milk is incorporated.
Prepare the toppings. Pour the ice cream base into a sealable container. Fold in the graham crackers, chocolate bits, and marshmallow cream.
Freeze 6-8 hours or until solid. Serve with more toppings or on a cone and enjoy!
Print