Polka Dot Cookies
November 11, 2015 | Cookies, Icing
The Starving Chef is supported by Hungry People like you. When you make a purchase through an affiliate link on my site, I may earn a little bit of cash on the side (at no extra cost to you) to help keep my kitchen running. Read our disclosures here.
Super Hungry? Jump to the Recipe
Before anyone freaks out: I'm NOT pregnant! But my sister is, and that's close enough for me.

My mom and dad are over the moon happy about being grandparents and threw my sister a baby shower last weekend, so I decided to 'cater' the event in true Starving Chef style. Not only did I make chipotle chicken roll-ups, I also made these crazy simple sugar cookies and then decorated them.
Begin the easy cookie dough by creaming together the butter, eggs, and sugar until light and fluffy, then slowly add the flour, salt, and baking powder and baking soda.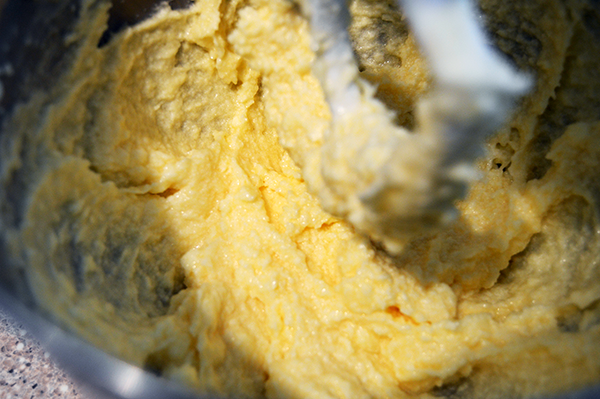 When a thick dough has formed - that's not sticky - separate the dough into two equal halves and set one half aside in a bowl covered with a damp towel. This makes sure that the cookie dough doesn't dry out as you work with the first half.

Roll out the dough on a floured surface to be about 1/4 to 1/2 inches thick, then use your desired cooked cutter shape to cut out the cookies. You'll probably have leftovers from between the cookies, so just roll that back together and roll out again until you are out of usable dough. Repeat with the second half of the dough.

Arrange the cookies on a baking sheet and cook for 6-8 minutes, or until they have risen and are starting to brown on the edges. Then let the cookies cool completely before you start icing. Half of the cookies, the mustache ones, I decided to ice with a generic chocolate icing, but for the flower shaped cookies, I decided to attempt flooding for the first time ever - something I definitely don't recommend doing for the first time on the actual day of a big event. Fortunately, I made it through with few debacles, but I definitely didn't have enough time for the cookies to dry completely. Luckily people were so distracted by my sister's adorable belly that they didn't even notice.

Start the flooding process by making a thick royal icing. Take about a cup of the icing and put it into a piping bag to line the edges of the cookies. Adding color to this icing is optional, and I left my edges white. Feel free to color the cookies whatever color you wish.

With the remaining icing, add a few tablespoons of water to thin the icing. You want it to follow the '5 second rule' - meaning that when the icing is poured back into itself, it disappears back into the bowl of icing in less than 5 seconds. Add your colors to your icings at this point too, then pour the icing into squeeze bottles.

Then just flood each cookie by starting in the center and working out to the edges. Use a toothpick to fill in any gaps. I was running out of time to do any really cool designs, so I settled for some polka dots, which ended up looking quite lovely.

I used a "wet-on-wet" method to flood and decorate the cookies. Finally, let the icing dry completely. It should have a somewhat matte appearance to it when it's ready, and very little sheen.

For the mustache cookies, I decorated them with a store-bought chocolate icing so they looked like true 'staches.

While the cookies were a hit, people also raved about my baby-blue chocolate covered strawberries, which were so easy to make with candy melts and melted chocolate, I felt like I didn't deserve all of the "these must have been super complicated" praise people gave me.

All in all, the baby shower was a delicious success (and no baby made an appearance, so even better!) Between the cookies, chipotle chicken roll-ups, baked brie with fig jelly, and dipped strawberries, everyone at the very least was pregnant with a food baby!

Congratulations, Bijayta & Kenny!

Shop this Post
Polka Dot Flooded Cookies
Number of Servings: 12
Prep Time: 15 minutes
Cook Time: 10 minutes
Total Time: 25 minutes
Ingredients
FOR COOKIES:
2 ½ cups flour
1 cup white sugar
1 cup butter, softened
2 eggs, room temperature
1 tsp baking powder
1 tsp baking soda
1 tsp vanilla
pinch salt
FOR ICING:
5 cups powdered sugar
2 tbsp meringue powder
1 tsp cream of tartar
3 tbsp water + more as needed
food coloring, as desired
Mouth Feel
Salty
Savory
Sour
Bitter
Sweet
Spicy
Instructions
Preheat the oven to 400°F. In a stand mixer with the paddle attachment, cream together the butter and eggs with the sugar. Add in the vanilla.
In another bowl, whisk together the flour with the baking soda, baking power, and salt. Add to the creamed butter and sugar slowly until a thick dough forms.
Separate the dough into two balls, then keep one covered in a bowl while working with the other.
Flour a smooth surface and roll the dough out to be about a quarter inch thick. Cut shapes into the dough using a cookie cutter. Arrange the cookies on a baking sheet and bake for 6-8 minutes, or until puffy and beginning to brown.
Let the cookies cool completely. When the cookies are cooled, prepare the icing by combining the powdered sugar, meringue powder, cream of tartar, and three tablespoons of water. Use a hand mixer to combine and add more water as needed, one teaspoon at a time, until the icing is smooth and thick.
For the icing, use about 1/2 cup (colored if you desire) in a piping bag line the edges of each cookie.
Separate the remaining icing into smaller bowls and color accordingly. Then add a few tablespoons of water to thin the icing further. The icing should be thick and just runny enough that it forms a smooth surface within 5 seconds. Test this by taking a spoonful and pour it back into the bowl.
Fill squeeze bottles with the runny icing. Start in the center of each cookie and slowly spiral out (or follow the general shape of your cookie) until the color meets the edges. Use a toothpick to fill any gaps. Create dots starting in the center and working out, with the opposite color.
Print