Blue Apron Trial: Seared Salmon & Spinach-Walnut Pesto
May 29, 2016 | Blue Apron, Trial
The Starving Chef is supported by Hungry People like you. When you make a purchase through an affiliate link on my site, I may earn a little bit of cash on the side (at no extra cost to you) to help keep my kitchen running. Read our disclosures here.
Super Hungry? Jump to the Recipe
My favorite meal from my Blue Apron trial certainly had to be this seared salmon - the spinach walnut pesto was delightfully tangy and complimented the salmon nicely.
This dish was not without its drawbacks however: the recipe called for an obscene amount of red onion and the potatoes were borderline raw when cooked according to Blue Apron's instructions. At first I thought I had followed their recipe incorrectly - but when I chatted with my parents (who eat Blue Apron weekly), they also had similar results when it came to the under cooked potatoes and overwhelming red onion.

Negatives aside (and toned down), I was still pretty excited to eat this meal. If there's one thing Blue Apron does really well, it's finding fun new ingredients like purple potatoes to include in their recipes. Many people might not think to look for purple potatoes at their grocery, or even know such an ingredient exists!
Like most recipes, the instructions first calls for washing and chopping all of the ingredients. Easy enough, even though little red flags went off in my head over the amount of red onion. The image in the recipe shows what appears to be significantly less red onion than a whole onion, as the ingredient list shows.
If you are a home chef just starting out, you might quickly find you are missing some of the tools Blue Apron assumes you'll have - like a mesh strainer - though on the other hand, if you are just starting out, this might also be a good tool to determine exactly what kitchen gear you actually need.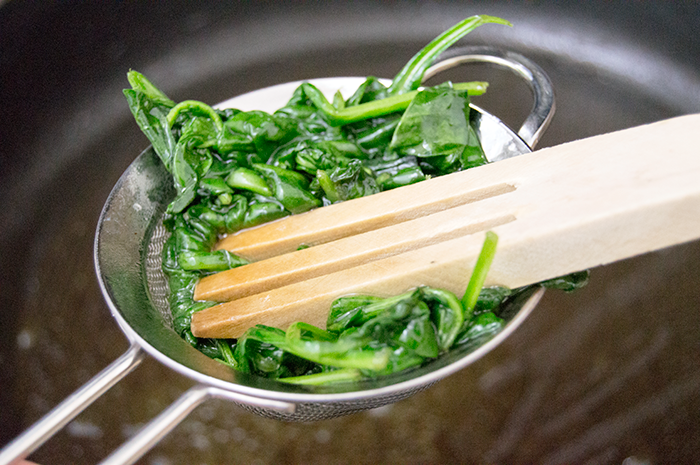 Fortunately my kitchen gear is pretty well stocked, so I had no issues straining the spinach, which is an important step if you don't want a soggy pesto.
In my opinion, the instructions laid out for this recipe seemed to be a tad out of order. They don't mention actually making the pesto until the next step (while the hash cooks) - to me, it makes more sense to combine the steps in two consecutive panels. Plus, the pesto definitely tastes better once it has chilled and marinated in the vinegar for at least an hour - it was better the next day than eating it room temperature!
The potato and onion hash, while it sounded delicious, definitely did not recommend a long enough cook time over a low enough temperature, which resulted in slightly burned potatoes that were under cooked in the inside. Instead they recommend cooking the potatoes over medium high heat for six to eight minutes, then adding the onions and cooking for another eight to ten minutes. I felt like the potatoes needed about twenty minutes over medium and covered, then another eight to ten for the onions.
My parents and sister agreed that they felt like Blue Apron consistently recommends cooking temperatures that are higher than necessary. Keep that in mind if you decide to test the service for yourself!
Overall, despite its shortcomings, the recipe for this salmon with hash and pesto is solid. I might even try it again someday, though I think I'll stick to my own cooking methods.
You can find the full recipe on Blue Apron's website.