Pancake Tacos
August 7, 2016 | Pancakes, Tacos, Fruit, Peanut Butter, Banana, Breakfast
The Starving Chef is supported by Hungry People like you. When you make a purchase through an affiliate link on my site, I may earn a little bit of cash on the side (at no extra cost to you) to help keep my kitchen running. Read our disclosures here.
Super Hungry? Jump to the Recipe
Pancakes as tacos!? What will they think of next? That's right, pancake tacos are actually the perfect way to transport delicious fruits (or other toppings) directly to your mouth. I made two types: one with a variety of fresh fruits; and the other with peanut butter and banana!
First, pick out some toppings, or create a pancake bar for your fam to pick their toppings, and your favorite pancake recipe. I served mine with strawberries, blueberries, kiwi, and star fruit, then whisked up some whipped cream. For the second batch, I used peanut butter and banana and drizzled on honey instead of syrup. Feel free to use whatever ingredients you have on hand!
If you are using a premixed pancake batter, just add a few extra tablespoons of water to thin the pancake batter slightly. You want the pancakes to be thin, but still fluffy! Also, this is probably the first time I've made a batch of pancakes without burning any on the first try - so practice really does make perfect! Now I just need to work on their shape...
Once you have made your pancakes, flip a muffin tin upside down and gently fold the pancakes between each cup.
Pop the pancakes into the oven at 300°F and bake for 10-15 minutes or until the outsides of the pancakes are slightly crispy and they hold their shape when removed from the muffin tin.

Top your pancakes with your toppings and serve with some fresh whipped cream and syrup on the side for dunking.
I can't wait to make these again and again!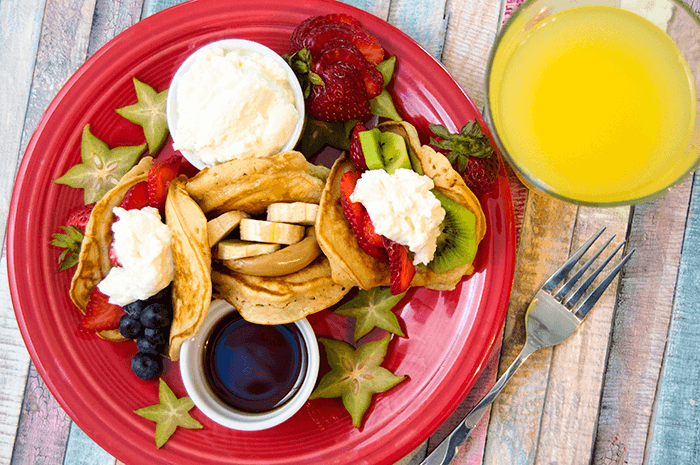 Shop this Post
Pancake Tacos
Number of Servings: 6
Prep Time: 10 minutes
Cook Time: 10 minutes
Total Time: 20 minutes
Ingredients
FOR PANCAKES
1 cup flour
1 cup milk
1 tbsp brown sugar
1 tsp baking powder
1 egg
¼ tsp butter, melted
¼ cup water
FOR FILLINGS:
1 banana, sliced
¼ cup peanut butter
¼ cup honey
1 cup strawberries, chopped
1 cup blueberries
1 starfruit, sliced
2 kiwi, chopped
1 cup whipped cream, for topping
Mouth Feel
Salty
Savory
Sour
Bitter
Sweet
Spicy
Instructions
Preheat a greased skillet over medium heat. Mix the pancake ingredients together until a smooth batter forms. Thin the batter with water.
Preheat the oven to 300°F. Wash and chop your fruits (except for banana if using, cut that just prior to serving). Whip the cream and chill.
Pour the pancake batter onto the skillet in 1/4 cups. Cook for 1-3 minutes per side, until browned and cooked through.
Use an upside down muffin tin and fold the pancakes between the muffin cups so they look like tacos. Bake in the oven for 10-15 minutes or until the outsides of the pancakes have turned crisp and hold their shape.
Remove pancakes from the oven and cool momentarily. Add the desired toppings on each pancake. Serve right away and enjoy!
Print