Simple Homemade Pepper Jelly
October 31, 2016 | Peppers, Jelly, Jalapenos, Red Peppers, Cubanelle Peppers
The Starving Chef is supported by Hungry People like you. When you make a purchase through an affiliate link on my site, I may earn a little bit of cash on the side (at no extra cost to you) to help keep my kitchen running. Read our disclosures here.
Super Hungry? Jump to the Recipe
It is sadly the end of the gardening season, so a few weekends ago, I dismantled my garden and reaped a nice harvest (no one tell my last remaining tomato plant, it's still happily carrying at least a dozen baseball sized tomatoes!). After harvesting all my plants, I ended up with about eight pounds of peppers ranging from super spicy to super sweet. At a loss for what to do with so many peppers, I decided it was time to learn how to can my own pepper jelly!
I've never canned anything before in my life and have very little tools to do it properly. I opted to seal my jars in a hot water bath instead of going out and buying an expensive canner or additional equipment. I can say it can be done, though it definitely takes some patience. I started by pureeing my peppers in a food processor. I had so many peppers I had to puree them in FOUR batches.
After that, I simmered the pureed peppers along with the apple cider vinegar and sugar and pectin until it was just bubbling and heated through - about twenty to thirty minutes. I didn't realized until AFTER doing all this that the instructions in the pectin box said never to make more than eight cups of jam or jelly at once...as I looked down into my twenty plus cups of pureed peppers. OOOPS!! But that said, my recipe turned out just fine, so maybe I found the loophole (or just got lucky).
While I let the peppers cook, I sterilized the jars. As a rule of thumb for canning, hot jams and jellies should be poured into hot jars; same can be said about cold recipes going into cold jars. You definitely do not want your jars to shatter! As an extra precaution, after sterilizing the inside of the jars, I transferred the jars to a warm water tub that reached about halfway up the sides of the jars. I then filled the jars by ladling the jelly into a Pyrex measuring cup with a lip for pouring so I wouldn't get any jelly on the rims of the jars. I then carefully placed the lids on top and screwed the rings on tightly.
I covered my jars in a hot water bath at 140°F for about thirty to forty minutes. I kept a careful eye on them and the temperature, and checked the lids frequently to make sure they sealed properly. I had to redo a couple of the jars after the lids popped, which means they weren't sufficiently sealed. As long as the top has little give and no "pop" the jars should be sealed!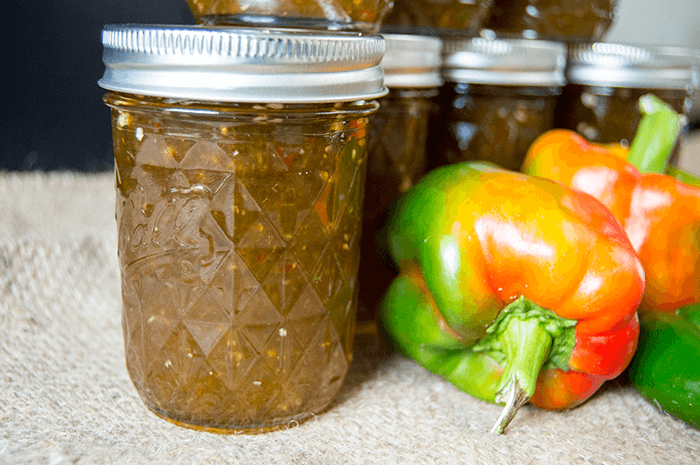 I enjoyed my pepper jelly spread on some naan, but my boss, who I gave a couple jars to, said he ate his with black eyed peas! I had never heard of such a thing - but now I'm itching to try! How do you like to eat your pepper jelly? Let me know in the comment section at the bottom of the page!
Shop this Post
Simple Homemade Pepper Jelly
Number of Servings: 16
Prep Time: 10 minutes
Cook Time: 1 hour
Total Time: 1 hour 30 minutes
Ingredients
15 mason jars with lids and rings
160 oz (8-10 lbs) jalapenos, red peppers, cubanelle peppers, habanero peppers, etc
4 cups sugar
1 cup apple cider vinegar
1 package pectin
Mouth Feel
Salty
Savory
Sour
Bitter
Sweet
Spicy
Instructions
Fill a large pot half way with water. Add the glass mason jars to the pot and fill completely. Bring to a rolling boil to sterilize the jars. Remove the jars carefully from the boiling water and place in a hot water bath that comes up about halfway on the jars. Sterilize the rings and lids in the boiling water and repeat as needed. Use sterilized tongs to transfer the items to and from the water bath. Keep the water in the pot.
Use a food processor to puree the peppers. Add the peppers to another large pot over medium high heat. Add the apple cider vinegar, sugar, and pectin. Bring to a simmering bubble, then remove from the heat. (OPTIONAL: Strain to remove seeds or large chunks of pepper.)
Ladle the pureed peppers into a measuring cup for easy pouring. Pour the pureed peppers into each jar, leaving about a half inch at the top.
Place the lids on each jar and screw on the rings tightly - be careful, the jars will still be very hot. Use the sterilized tongs to transfer the filled jars back into the water bath. Make sure the jars are covered with water.
Bring the water bath temperature up to 140°F. Monitor the jars closely. Let the jars stay in the water bath for thirty to forty minutes, or until the tops no longer pop. Any popped tops, add back into the water bath until sealed. Remove from the water.
Let the jarred jellies cool completely before handling. The pectin may take up to 24 hours to set properly, so don't worry if the jelly appears watery. If the jelly does not gel up, you can redo the jelly by pouring it back into a hot pot and adding more pectin and repeating steps 3-5. Serve with cheese and crackers or give to your friends and family as a gift. Enjoy!
Print