Easy Chicken Salad
November 28, 2016 | Chicken, Salad, Poppyseed, Chicken Salad, Capers, Raisins
The Starving Chef is supported by Hungry People like you. When you make a purchase through an affiliate link on my site, I may earn a little bit of cash on the side (at no extra cost to you) to help keep my kitchen running. Read our disclosures here.
Super Hungry? Jump to the Recipe
The days (and sometimes weeks) following a major holiday, the last thing I want to do is continue to cook elaborate meals for myself.. Even I get 'over cooked' from time to time. That's why I love making really simple, easy lunches and dinners from food I find in my cabinets and fridge door - with as few dirty dishes as possible.
That's how this chicken salad came to be - I dug out some old frozen chicken and within 20 minutes transformed it into something delicious to eat throughout the week. I like my chicken salad to really pop with flavor, so I'm always sure to add really sweet AND really salty elements to the chicken; in this case, I used capers and golden raisins I found in my pantry.

Here's a life pro tip you need to know about shredding chicken: first, the key to the perfect shredded chicken is boiling it in water or broth to really pump up the juiciness. The second tip is to use a stand mixer with a paddle attachment to really get the perfect shred.
I mean seriously - forget the forks! This method is by far the quickest method to shredding chicken. Though I haven't yet tried it, I'd bet a hand mixer would yield similar results. If you go that route, let me know how it goes!
The third pro tip is to just use the stand mixer to combine the rest of the ingredients - resulting with basically two dirty dishes: the paddle and mixing bowl.
I've already been craving this salad since the moment I first tasted it. It's a sharp, fresh contrast to the heavy holiday meals I've been making lately!
I served my chicken salad on fresh poppy seed rolls, though your favorite bread will do the trick - the salad is good without bread too.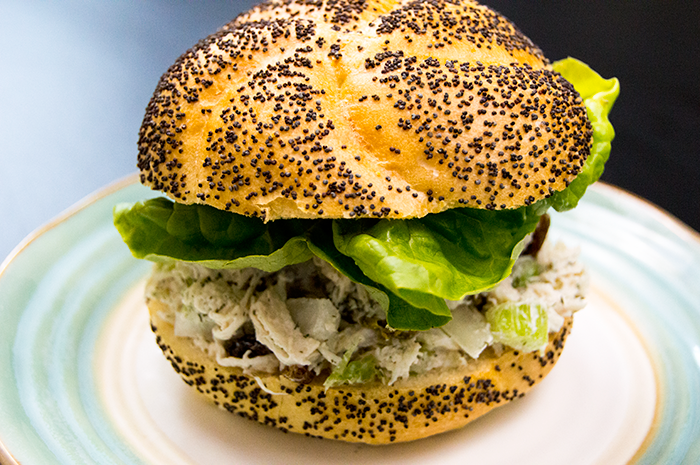 You can also serve your chicken salad wrapped in Boston lettuce, for a portable, but still bread free, option.
Seriously. So. Good!
Shop this Post
Chicken Salad
Prep Time: 10 minutes
Cook Time: 20 minutes
Total Time: 1 hour 30 minutes
Ingredients
16 oz chicken breast
2 cups water OR chicken stock/broth
½ cup mayonnaise
¼ cup white onion, finely chopped
¼ cup celery, finely chopped
3 tbsp golden raisins
2 tbsp capers
2 tbsp dill
1 tbsp lemon juice
salt & pepper, to taste
rolls or slices of bread, for serving (optional)
Boston lettuce OR favorite lettuce, for topping
Mouth Feel
Salty
Savory
Sour
Bitter
Sweet
Spicy
Instructions
Bring a large pot of water (or chicken stock/broth, if using) to a rolling boil. Add the chicken breasts. Boil until the chicken is cooked through and most of the water has evaporated from the pot. Remove the cooked breasts from the pot and let cool slightly.
Place the chicken breasts into the bowl of a stand mixer. Use the paddle attachment to finely shred the chicken - about 3-5 minutes. (If you don't have a stand mixer, use two forks back-to-back to shred the chicken into small pieces.)
Add the mayonnaise, onions, celery, dill, lemon juice, raisins and capers to the bowl. Season with salt and pepper to taste. Chill for one hour.
Serve the chicken salad on fresh buns or rolls - or serve bread-free on a bed of your favorite greens. Enjoy!
Print