Pizza Fondue
January 22, 2017 | Pizza, Fondue, Video Recipe
Super Hungry? Jump to the Recipe
This pizza's fondue pot is built right in. Filled with pizza sauce and topped with molten mozzarella, it's a dip-able pizza - perfect for a fun dinner night!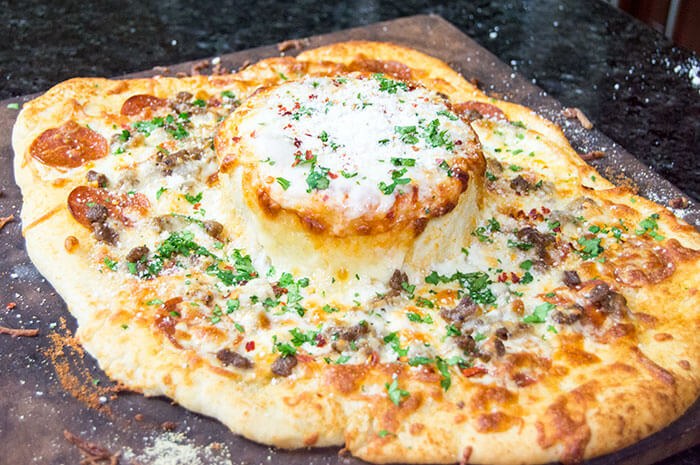 Roll the dough thin and drape it over a ramekin on the center of a pizza stone or baking sheet. I poked a few holes in the middle of mine to keep the center from puffing up while pre-baking. Pre-baking the dough also helps the center 'fondue pot' cook thoroughly. If you line the 'pot' with cheese, it keeps the dough from getting too soggy.
Dress up your pizza with whatever ingredients you like! Just be sure to use enough cheese to glue everything together. I used pepperonis and precooked crumbled sausage on mine. When the pizza is done cooking, cut it into squares or long strips for optimal dipping awesomeness!
Shop this Post
Pizza Fondue
Number of Servings: 4
Prep Time: 10 minutes
Cook Time: 15 minutes
Total Time: 25 minutes
Ingredients
16 ozs pizza dough, rolled thin
1 cup pizza sauce
3 tbsps corn meal, for dusting
5 tbsps butter, melted
3 tbsps garlic powder
3 slices provolone
4 cups mozzarella cheese, shredded
20 pepperonis
½ cup cooked sausage, cooked & crumbled
4 tbsps fresh parsley, finely chopped
4 tbsps grated Parmesan cheese
2 tsps red pepper flakes, to taste
Mouth Feel
Salty
Savory
Sour
Bitter
Sweet
Spicy
Instructions
Preheat the oven to 425 F / 220 C. If using a pizza stone, preheat the stone for one hour.
Roll the pizza dough to be about 1/4 inch thin. Place a ramekin in the center of the pizza stone or baking sheet and grease with cooking spray. Dust the pizza stone with corn meal in an even layer, then drape the pizza dough over the ramekin.
Melt the butter and stir in the garlic powder. Brush the top of the dough with the garlic butter. Poke holes into the center of the dough in the ramekin to help vent while it cooks. Place three slices of provolone cheese into the center of the ramekin, brush with butter, then transfer the pizza to the oven to pre-bake for 5-6 minutes or until the provolone is melted.
Spread a layer of mozzarella cheese onto the pre-baked crust then add additional toppings like pepperonis and sausage, as desired. Use more mozzarella on top to hold everything together. Fill the center of the pizza with the marinara sauce and top generously with mozzarella cheese. Brush the edges of the crust with the remaining garlic butter.
Place back into the oven and bake for 8-10 minutes, or until the cheese has melted and the pizza sauce is heated through. Garnish with fresh parsley, red pepper flakes and Parmesan cheese.
Cut the pizza into strips or squares. Serve right away, while the center is still hot and gooey. Enjoy!
Print