Chicken Parmesan STUFFED Meatballs
May 10, 2017 | Chicken, Meatballs, Parmesan, Tomatoes
The Starving Chef is supported by Hungry People like you. When you make a purchase through an affiliate link on my site, I may earn a little bit of cash on the side (at no extra cost to you) to help keep my kitchen running. Read our disclosures here.
Super Hungry? Jump to the Recipe
Chicken parm is one of my favorite, easy-weeknight meals. Lately, my local grocery has been running lots of deals on ground chicken. And just the other night, I made my own mozzarella cheese from scratch. That's when inspiration struck!
The best part about traditional chicken parmesan is that, if done correctly, you can make the entire thing in one pan. My chicken parm meatballs only required an extra bowl for mixing the ground chicken up with herbs and spices, but only one pan was required to cook everything up!
If you want to get fancy with it, you can serve your meatballs on a bed of noodles - I only had fettuccine on hand for my dinner, but honestly these things can be eaten on their own. And that makes them perfect for dinner OR an appetizer.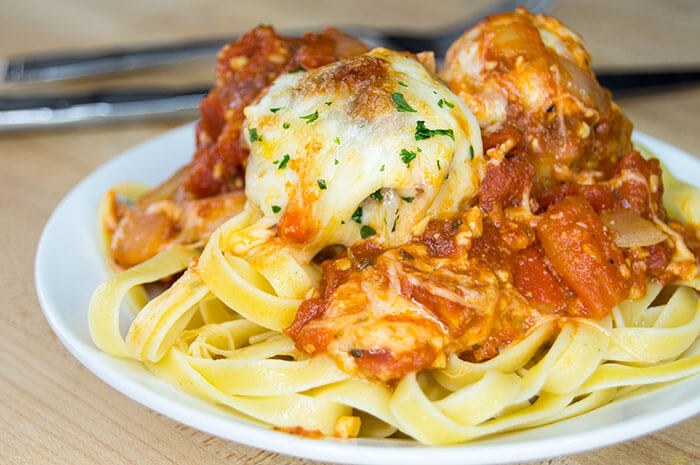 But the real magic happens when you cut the meatballs open. I mean, just look at this:
Stuffed with handmade mozzarella and served in homemade sauce, it's a delicious twist on a classic. Plus, it only takes about forty five minutes from start to finish - and THAT'S my kind of weeknight dinner!
Shop this Post
Chicken Parmesan STUFFED Meatballs
Number of Servings: 20
Prep Time: 8 minutes
Cook Time: 30 minutes
Total Time: 40 minutes
Ingredients
16 oz ground chicken
16 oz fresh mozzarella balls OR cheese sticks
1 cup shredded mozzarella
½ cup panko bread crumbs
¼ cup Parmesan cheese, finely grated + more for topping
1 egg, whisked
3 tbsp fresh parsley, finely chopped + more for topping
1 tsp basil, chopped
1 tsp oregano
2 cups diced canned tomatoes
1 cup tomato sauce
1 tbsp tomato paste
1 tbsp olive oil
salt & pepper, to taste
cooked fettuccine noodles, for serving
Mouth Feel
Salty
Savory
Sour
Bitter
Sweet
Spicy
Instructions
In a large bowl, mix together the ground chicken, panko, parmesan cheese, parsley and whisked egg until completely combined. Cut the mozzarella into ½ inch sized cubes. Take about three or four tablespoons of the chicken mixture and wrap it around individual pieces of cheese. Roll into balls so that the cheese is in the center of the meat.
Heat the oil in an oven safe skillet over high heat. Sear the chicken meatballs on all sides until golden brown. Remove from the skillet and set aside. Without cleaning the skillet, pour in the diced tomatoes, tomato sauce, tomato paste and the herbs. Stir everything together and bring to a bubble. Season with salt and pepper, then return the meatballs to the sauce.
Spread half of the shredded mozzarella over the top of the meatballs and sauce. Bake for fifteen minutes at 400°F. While the meatballs bake, cook the pasta according to the instructions on the box.
Sprinkle the remaining mozzarella over the meatballs and broil for five minutes, until golden brown and bubbling. Garnish with parsley and parmesan cheese, as desired. Serve on a bed of your favorite noodles or eat as an appetizer with toothpicks. Enjoy!
Print