Black Garlic & Pineapple Beef Stir Fry
June 1, 2017 | Stir Fry, Black Garlic, Noodles, Pineapple, Beef
The Starving Chef is supported by Hungry People like you. When you make a purchase through an affiliate link on my site, I may earn a little bit of cash on the side (at no extra cost to you) to help keep my kitchen running. Read our disclosures here.
Super Hungry? Jump to the Recipe
I love that black garlic is becoming more mainstream and easily accessible in your average grocery. Whenever I see it at my favorite market, I'm always sure to grab a few heads to ensure I have enough to appease my appetite for the stuff until the next time it shows up. Black garlic can add a tangy sweetness to any dish but is traditionally found in Chinese and Korean cooking.
Tonight I added a whole head of it to a wok with some go-to stir fry ingredients. I chose beef for my main meat, but chicken or a variety of seafood works as well. Whatever protein you use, cook it first and then set it aside while cooking up the rest of the veggies in the stir fry.
Start by frying up the heartier vegetables like ginger, carrots and onions until everything is nice and tender. After that, the softer stuff like peppers and pineapples can be added. I like to add the pineapple with just a touch of the syrup it comes in to help caramelize all the ingredients.
And then it's time to add the black garlic - it can be tossed in minced or mashed. Personally, I like bigger chunks so that the flavor really comes through. It has a sweet molasses-like taste to it, comparable to sticky hoisin sauce.
Black garlic is made by essentially slowly roasting garlic in a hot oven for a month or more, until it is a dark molasses color and soft, almost the same consistency as an overripe avocado. It's easiest to peel and chop with a gentle hand.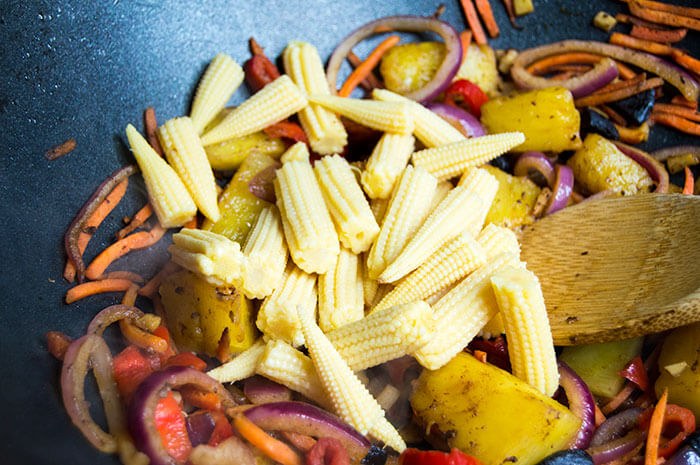 You can add your favorite veggies to your stir fry - my favorite stir fry ingredient, aside from black garlic of course, is baby corn! You can also toss in broccoli or bamboo shoots. Once all the veggies have softened up, it's time to scramble the egg.
If your wok is hot enough, cooking the egg should be a very quick process. It's easiest to push all the veggies to the side so you have an empty portion of the wok. Whisk the egg in a separate bowl before pouring it into the wok. Let it set for about thirty seconds before trying to stir, that way you will pick up less of the veggies that come into contact with the egg (that will happen, but it helps to let the egg cook a bit first!).
Once the eggs are cooked, it's time to add the noodles. I used a couple leftover packages of precooked ramen that I had leftover from when I made New York City style ramen noodles.
You can use cooked udon noodles, rice noodles or even spaghetti if you're in a pinch but really craving stir fry.

Of course, what stir fry is complete without an delicious sauce? I love anything sweet and spicy, so I used a Thai chili infused honey as the base for my stir fry sauce. Finally, just stir everything together until all the noodles and veggies are completely covered with sauce.
The robust flavors of the black garlic among the other tender veggies really what takes this stir fry to the next level. Stir fry is one of my go-to weeknight dinners because it is quick and an easy way to clean out the fridge!
Shop this Post
Black Garlic & Pineapple Beef Stir Fry
Number of Servings: 4
Prep Time: 10 minutes
Cook Time: 20 minutes
Total Time: 30 minutes
Ingredients
16 oz steak, cut into thin strips
6 cloves black garlic
½ cup soy sauce
½ cup spicy honey
2 tbsp rice vinegar
1 tsp red pepper flakes
¼ cup ginger, minced & divided
¼ cup garlic, minced & divided
½ cup pineapple chunks
1 small red bell pepper, chopped
¼ cup carrots, julienned
¼ cup red onion, sliced
1 can whole baby corn (as desired)
1 egg, whisked
2 servings cooked rice noodles (OR udon OR spaghetti noodles)
2 tbsp sesame oil
4 tbsp fresh chives, finely chopped for garnish as desired
4 tbsp microgreens, for garnish (optional)
salt & pepper, to taste
Mouth Feel
Salty
Savory
Sour
Bitter
Sweet
Spicy
Instructions
Cook the noodles according to the instructions on the package. Heat one tablespoon of sesame oil in a wok over high heat. Add the sliced steak and sear on all sides for 3-4 minutes, until browned but still a little pink in the center. Remove from the wok and set aside.
Add the remaining tablespoon of sesame to the wok and bring up to a high heat. Reduce the heat to a medium high right before adding the vegetables. Start by sauteing the red onions and carrots until tender, about 1-2 minutes, then add the remaining plain garlic and ginger. Saute until fragrant, about another 3-4 minutes. Toss in the pineapple, red pepper and black garlic. Stir until softened, about 2-3 minutes. Add the baby corn last.
In a small bowl, whisk together the soy sauce, spicy honey, rice vinegar, red pepper flakes, half of the plain garlic and half of the ginger. Add the cooked noodles to the wok then pour in the sauce. Gently stir until the sauce is coating everything evenly. Add the beef back to the wok. Season with salt and pepper to taste. Stir until the beef is heated through but not overcooking - about 3-5 more minutes. Serve garnished with chopped chives and microgreens, as desired. Enjoy!
Print