Red, White & Blue Cake Pops | Fourth of July Recipes
July 2, 2017 | 4th of July, Cake Pops, Cake, Greek Yogurt
The Starving Chef is supported by Hungry People like you. When you make a purchase through an affiliate link on my site, I may earn a little bit of cash on the side (at no extra cost to you) to help keep my kitchen running. Read our disclosures here.
Super Hungry? Jump to the Recipe
A few weeks ago, I made some fun fourth of July themed cakes stuffed with pop rocks. In order to make the cakes, I had to cut out individual circles of cake, which left me with a good amount of leftover cake. Not one to let perfectly good cake go to waste, I decided to use it in the best way I knew how - red, white and blue cake pops!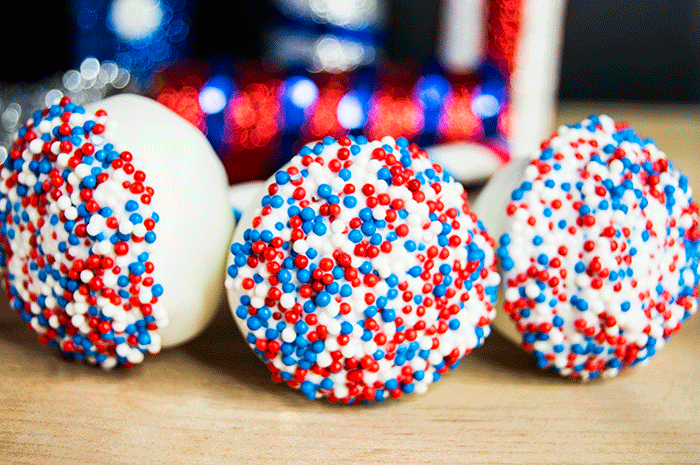 These cake pops are egg and oil free and use Greek yogurt to keep them nice and moist. You can use your favorite cake pop recipe for these too, just be sure to dye the cakes red, white and blue before you get started. If you use my Greek yogurt method, there's no need to add any cream cheese or icing, as most other cake pop recipes call for.
The best part about these cake pops - aside from being delicious of course - is their red, white and blue interior. It's a surprising and fun twist on a classic dessert!
Happy Fourth of July!
Shop this Post
Red, White & Blue Cake Pops
Number of Servings: 24
Prep Time: 15 minutes
Cook Time: 15 minutes
Total Time: 1 hour 30 minutes
Ingredients
1 box white cake mix
1 cup Greek yogurt
1 cup water
1 cup white candy melts
1 tbsp vegetable shortening
red & blue food coloring gel
red, white & blue sprinkles
red, white & blue straws or/and cake pop sticks, cut in half
Mouth Feel
Salty
Savory
Sour
Bitter
Sweet
Spicy
Instructions
Preheat the oven to 350 F. In a large bowl, whisk together the cake mix, Greek yogurt and water until a sticky batter forms. Separate into three bowls and use the red and blue food coloring to dye one bowl red and one bowl blue.
Pour the cake batter into separate greased baking dishes. Bake for 12-15 minutes, until the cakes are cooked through but not browning. Let cool completely. Chill until ready to form cake balls.
Place all three cooked cakes into a large bowl. Use your hands to crumble up the cakes until no pieces are bigger than a half inch in size. Grab 1-2 tablespoon sized portions of crumbled cake then use your hands to smoosh together the cake until a multicolored ball forms. Insert a straw into the center of each and push all the way through, but not so that the straw comes out the top. Chill the balls for one hour.
In a large mug or bowl, microwave the candy melts and vegetable oil for about one minute. Stir until smooth. Dip each cake ball into the melted white candy. Spin the ball slowly while inserting and removing it from the candy melts for a smooth outer layer. Sprinkle on sprinkles while the candy is still wet. Chill for thirty minutes or until the candy has hardened. Serve chilled or room temperature. Enjoy! HAPPY FOURTH OF JULY!
Print