Pączki Donuts
February 11, 2018 | Donuts, Dough, Doughnut, Fat Tuesday, Mardi Gras
The Starving Chef is supported by Hungry People like you. When you make a purchase through an affiliate link on my site, I may earn a little bit of cash on the side (at no extra cost to you) to help keep my kitchen running. Read our disclosures here.
Super Hungry? Jump to the Recipe
It's Pączki Day! If you live in the Midwest (or in a major city with a large Polish population) you may be familiar with the 'holiday' symonymous with Fat Tuesday. Pączki are massive, cream or jelly-filled pastries that put other donuts to shame.
If you don't live in Cleveland like I do - where lines to get fresh pączki wrap around buildings - you can certainly make the Polish treat at home.
Traditionally, pączki were made prior to the Lenten fast in order to use up all of the sugar, butter, and lard and served on Fat Tuesday. While my recipe for pączki may be a little less-than-traditional, if you can't get your hands on the real deal, these pączki-donuts are close enough!
To start, add yeast to warm milk with a pinch of sugar and let the yeast bloom until it is frothy on top. Pour the milk mixture into a large bowl along with the flour - add the flour slowly, a half cup or so at a time, until a thick, sticky batter forms. Cover the dough and let it rise for about thirty minutes.
While the dough rises, in the bowl of a stand mixer, whisk together the egg yolks and egg whites along with the sugar, vanilla and salt until it is pale and frothy.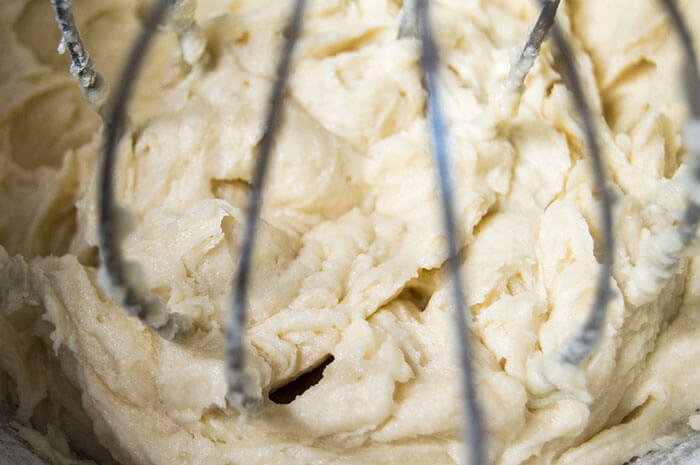 Add the risen dough to the bowl of the mixer and replace the whisk attachment with the dough hook.
Continue adding the remaining flour, again about a half cup at a time, to the bowl of the stand mixer. Stir on a medium low speed until a thick dough forms. It should cling to the hook but not to the sides of the bowl.
Knead the dough on a floured surface for a few minutes to get it nice and elastic, then put it back into the bowl and once again, cover and let rise until it is doubled in size.
Punch down the dough and roll it out on a large, floured surface. Use a glass or small bowl to cut out even shaped circles from the dough.
You can use the leftover dough by mashing it all together and rolling it out again.
Cover the cut dough and let rise for at least an hour.
I fried my pączki but you can also bake them! Instead of using hot oil, preheat the oven to 350 F and bake for 25-30 minutes, or until they are golden brown and cooked through. Traditional pączki are fried, but the baking method will produce similar results.
Once the pączki are fried and golden brown - they should be nice and puffy. Mine got a touch dark as it was my first time ever frying pączki, but they tasted pretty spot on.
I filled mine with an assortment of flavoring. Traditional pączki are filled with lemon custard, cream or various jellies. Modern versions can be much more wild and can contain chocolate ganache or pina colada fillings! I kept it simple and filled mine with homemade custard, strawberry jam and grape jelly (because that's all I had on hand!). Give the pączki a generous covering of powdered sugar - make a simple sugar glaze instead! However you serve them, there's no better way to celebrate Pączki Day than with fresh, homemade pączki!
Shop this Post
Homemade Pączki Donuts
Number of Servings: 24
Prep Time: 2 hours 30 minutes
Cook Time: 20 minutes
Total Time: 2 hours 50 minutes
Ingredients
FOR PACZKI:
6 cups flour + more for dusting
1 packet active dry yeast
2 cups milk
1 cup sugar + 1 teaspooon for yeast
1 egg white
4 yolks
1 tsp salt
4 tbsp butter, melted
2 cups powdered sugar, for topping
2 cups vegetable oil, for frying
2 cups favorite fruit preserves, for filling
2 cups homemade custard (recipe follows)
FOR CUSTARD FILLING:
1 cup milk
½ cup heavy cream
¾ cup flour
½ cup sugar
6 egg yolks
1 tsp vanilla
Mouth Feel
Salty
Savory
Sour
Bitter
Sweet
Spicy
Instructions
Warm the milk to 110 F. Add the teaspoon of sugar and whisk, then add the yeast packet. Let rest for 10-15 minutes, until the surface is frothy.
Add two cups of flour to a large bowl and stir in the frothy yeast milk mixture until a smooth batter forms. Cover with plastic wrap and set in a warm, dry spot until the dough has doubled in size. It should be bubbly in appearance.
In the bowl of a stand mixer, whisk the egg yolks and egg white until frothy then add the sugar, salt and vanilla. Beat until pale.
Remove the whisk attachment and put on the dough hook. Add the dough mixture to the bowl and stir on medium speed until the dough begins to combine with the egg mixture. Pour in the melted butter.
Add the remaining flour, about a half cup at a time, until a thick, sticky dough forms. It should have some slack but not stick to the sides of the bowl. Add a few tablespoons of flour, as needed to achieve the proper consisteny. If too thick, add a tablespoon or two of milk.
Cover the bowl with plastic wrap and a dark, dry towel. Place in a warm area and let rise for an hour, or until it has doubled in size.
Flour a smooth, clean surface. Punch down the dough and roll out into an even single layer, about a half in thick. Use the top of a large glass or small bowl to cut circles out of the dough. Reuse any remaining dough by mashing it together and rolling it out again.
Place the dough circles on a large baking sheet or cutting board. Cover with plastic wrap and a dark towel and let rise for an additional 30 minutes, until doubled in size.
Heat a few inches of oil in a large dutch oven or pot. Bring to about 325 F to 350 F. Place 3-4 of the dough circles into the heated oil and fry until the bottom is golden brown - about 5-10 minutes. Flip and cook on the other side until equally brown. If the dough is frying too quickly, reduce the oil temperature until the dough cooked evenly on both sides. It should hot enough to cook the pączki though but not burn the outside.
Use a slotted spoon to remove the pączki from the hot oil. Let cool until you can handle them without being burned.
While the pączki cool, put your desired jams, jellies or custard into piping baggies with a circle tip. Poke the tip through the side of the pączki and fill until the pączki feels like it is about to burst. Use a mesh strainer to dust the pączki on all sides, or as desired. You can also roll the pączki in sugar or drizzle with a simple sugar glaze. Enjoy!
FOR CUSTARD FILLING: Bring the milk to a simmer over low eat. Pour in the vanilla and whisk, then remove from the heat to cool slightly.
Whisk the egg yolks and sugar until frothy and pale. Add in the flour and continue to mix.
Slowly pour the warm milk over the egg mixture, taking care not to add too much too quickly and scramble the eggs. Stir until combined, then pour the mixture back into the sauce pan.
Cook over a medium to medium low heat, whisking constantly, until the custard is very thick. Remove from the heat.
Transfer the custard to a bowl. Cover with plastic wrap so that it is touching the surface of the hot custard. Cool at room temperature for about an hour, then chill in the fridge.
Whip the heavy cream until thick but not overwhipped. Fold the whipped cream into the chilled custard. Transfer the custard to a piping bag with a circle tip and chill until ready to fill the pączki. Enjoy!
Print