Caprese Benedict
August 5, 2018 | Eggs Benedict, Zucchini, Hollandaise, Herbs, Tomatoes, Mozzarella
The Starving Chef is supported by Hungry People like you. When you make a purchase through an affiliate link on my site, I may earn a little bit of cash on the side (at no extra cost to you) to help keep my kitchen running. Read our disclosures here.
Super Hungry? Jump to the Recipe
My vegetable garden is pumping out more tomatoes and zucchini than I know what to do with, so I'm trying to get creative when it comes to using up all the fresh veggies and herbs I have in my kitchen. Today, I made a very simple caprese Benedict with an herb infused hollandaise sauce on a zucchini fritter. Its all the fresh flavors of summer packed into one filling meal.
Traditional eggs Benedict uses sourdough English muffins or crumpets with ham or bacon, but for our base, we are going to be making zucchini fritters.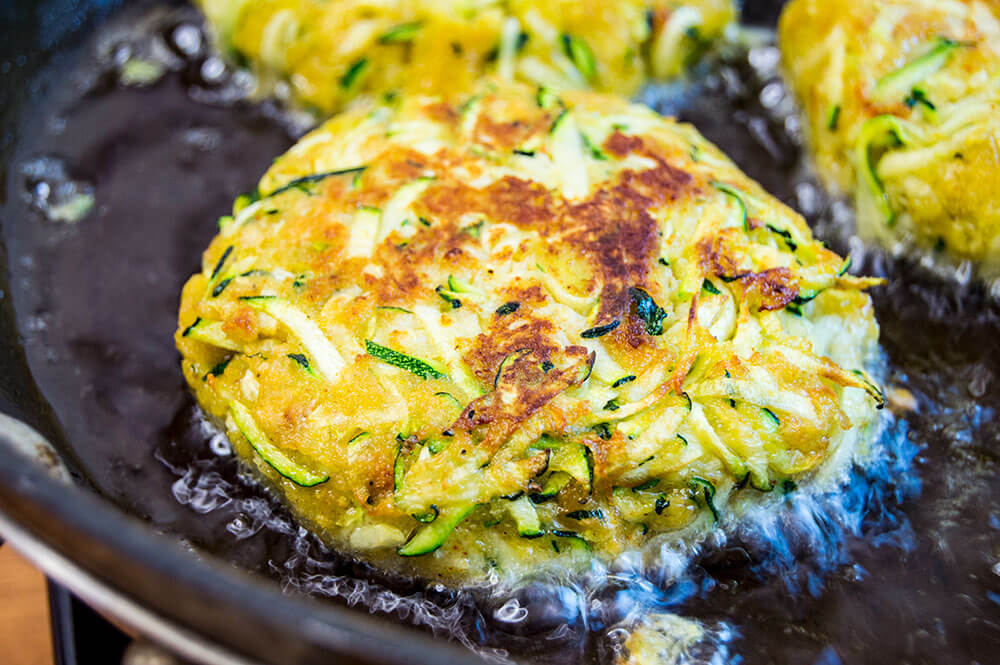 The hardest part about eggs Benedict is the timing because several elements have to be going at once in order for it all to be ready simultaneously. While the water comes to a simmer, make 'minute hollandaise' - first crack four egg yolks into a tall cup for an immersion blender. Add fresh squeezed lemon juice, herbs like basil, thyme and oregano and a pinch of cayenne pepper. Melt butter in the microwave until it reaches 220 - 250 degrees fairenheight - the butter needs to be hot enough to cook the eggs without scrambling them. Use a hand blender to whisk the eggs until pale then pour the butter in a steady stream until the sauce has doubled in volume.
If you've never poached eggs before, heres a simple trick: use small custard bowls or glass bowls for each egg and carefully drop them into the water until they are all fully submerged. For the best results, grease each glass with some cooking spray before cracking in the egg. Cook the eggs for 3-4 minutes for runny yolks and 5-6 minutes for soft to hard yolks.

Loosen the poached egg from the cup with a spoon and carefully pour the egg out on top of the tomato slice. Then just pour on the hollandaise sauce to your hearts content and garnish with a pinch of cayenne pepper and a fresh basil leaf.

Don't forget to hit that thumbs up button if this recipe made you hungry and subscribe for the new recipe videos I post every week. Follow the Starving Chef on Facebook to keep up with my daily blog posts.
Shop this Post
Caprese Benedict with Minute Hollandaise Sauce
Number of Servings: 4
Prep Time: 15 minutes
Cook Time: 15 minutes
Total Time: 30 minutes
Ingredients
FOR EGGS & ZUCCHINI FRITTERS:
4 eggs, for poaching
16 oz mozzarella
4 tomato slices (red or yellow)
2 tbsp white vinegar
4 cups zucchini, shredded
2 cups panko
1 tbsp garlic powder
1 tbsp onion powder
1 tbsp paprika
1 tsp salt
1 egg
¼ cup vegetable oil
cooking spray
4 custard bowls or small ramekins
FOR ONE MINUTE HOLLANDAISE SAUCE:
4 egg yolks
½ cup butter, melted (220 F | 105 C)
2 tbsp lemon juice
1 tbsp fresh basil, thyme & oregano
17500⁄100000 tsp cayenne pepper
¼ tsp salt
tall cup
immersion blender
Mouth Feel
Salty
Savory
Sour
Bitter
Sweet
Spicy
Instructions
Use a food processor to shred the zucchini. In a large bowl, blot the zucchini dry with a paper towel. Season with salt and pepper. Stir in the panko, egg, garlic powder, onion powder and paprika. Let the mixture rest for about five minutes to let the panko soak up the excess moisture.
Preheat the oven to 160 F | 70 C. Heat the vegetable oil in a skillet over medium high heat. Form the zucchini mix into palm sized patties about 1/2 inch thick. Fry the fritters on each side until golden brown, about 2-3 minutes per side. Arrange the cooked fritters on a baking sheet in a single layer and keep warm in the oven while preparing the rest of the ingredients.
Put a pot filled about a quarter full of water over medium high heat. Whisk in the white vinegar. Spritz the custard bowls with cooking spray and crack and egg into each one. When the water reaches a simmer, cook the eggs for 3-4 minutes for runny yolks and 5-6 minutes for soft to hard yolks.
While the eggs are cooking, Place 4 yolks in a large cup for an immersion blender. Pour in the lemon juice and toss in the herbs, a pinch of cayenne pepper and some salt. Melt the butter in the microwave for 1-2 minutes, until it is melted and has reached a temperature of 220 F | 105 C.
Use the immersion blender to whip the yolks and lemon until pale and frothy. Then pour in the melted butter in a continuous stream. The melted butter should cook the eggs. Whip until the sauce has doubled in volume. If the sauce is too thin, make a makehift double boiler and heat for an additional 1-2 minutes - until it is to your desired consistency.
Loosen the eggs from the ramekins with a knife or spoon. Place a fritter in the center of a plate and top with mozzrella and a slice of tomato. Use a slotted spoon to remove the egg from the ramekin and place it carefully on top of the tomato. Cover generously with hollandaise sauce and a pinch of cayenne pepper. Garnish with a fresh basil leaf and enjoy!
Print