Po'Boy Pizza
March 3, 2019 | Shrimp, Pizza, Mardi Gras, Remoulade, Mozzarella
The Starving Chef is supported by Hungry People like you. When you make a purchase through an affiliate link on my site, I may earn a little bit of cash on the side (at no extra cost to you) to help keep my kitchen running. Read our disclosures here.
Super Hungry? Jump to the Recipe
Let the good times roll this Mardi Gras with a twist on a Louisiana classic: the po'boy pizza!

With a creamy cajun remoulade sauce and topped with creole breaded shrimp, this pizza embraces all of best flavors of New Orleans.

I love pizza of any kind, but I especially love pizzas when they are combined with crazy toppings like this po'boy special. It's a unique take on a New Orleans classic, just in time for Mardi Gras.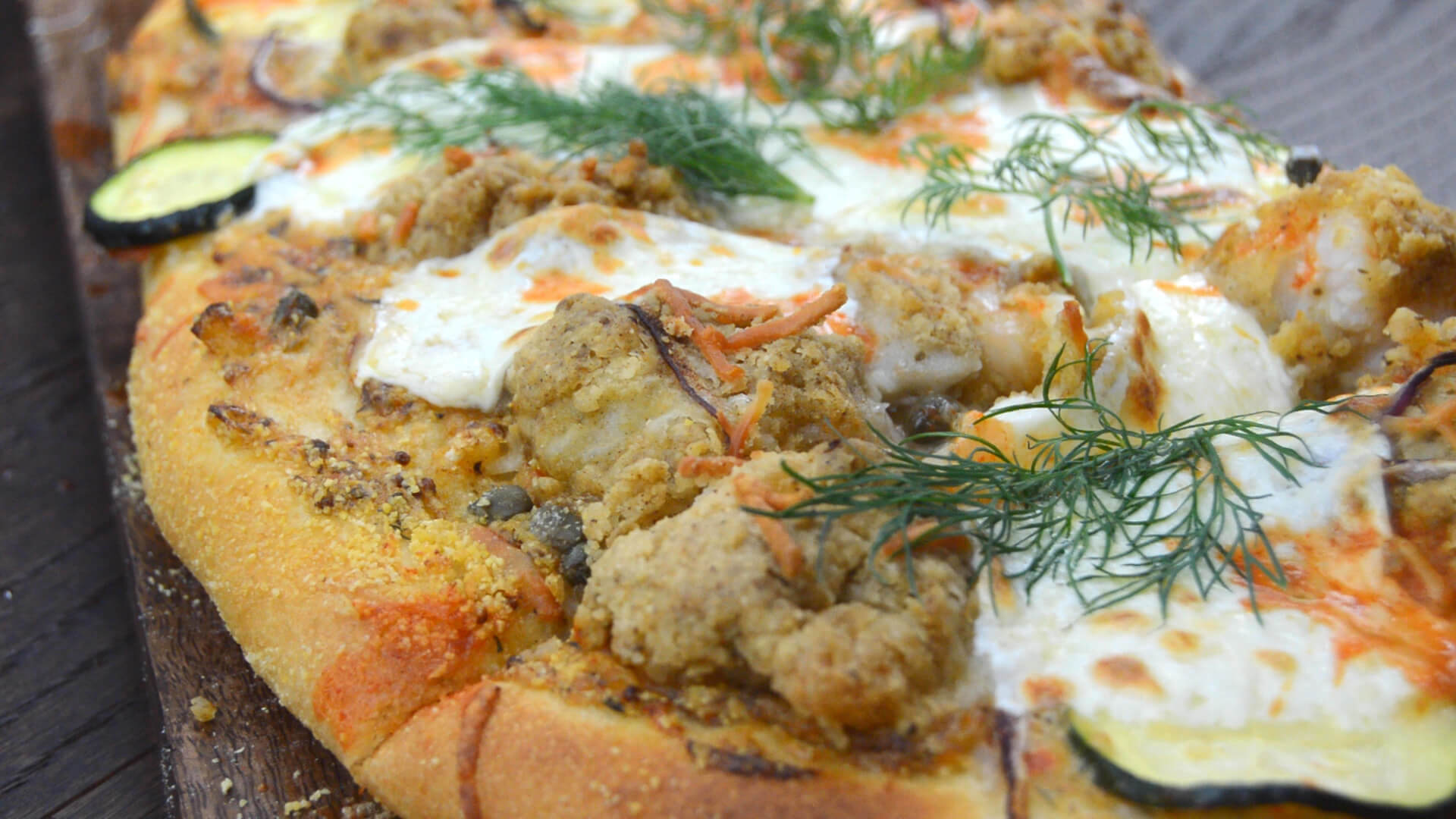 Shop this Post
Po'Boy Pizza
Number of Servings: 4
Prep Time: 20 minutes
Cook Time: 20 minutes
Total Time: 40 minutes
Ingredients
FOR REMOULADE:
½ cup mayonnaise
¼ cup roasted red bell peppers
1 tbsp garlic, minced
½ cup sweet onion
3 tbsp creamy horseradish
2 tbsp whole grain mustard
1 tbsp thyme
1 tbsp dill
1 tbsp cajun seasoning
½ tbsp Worcestershire sauce
½ tbsp Louisiana hot sauce
1 tsp white pepper
FOR CAJUN BREADED SHRIMP:
10 shrimp, peeled & tails removed
4 tbsp olive oil
1 tbsp cajun seasoning
1 tsp sea salt
1 tsp white pepper
⅓ cup flour
FOR PIZZA & TOPPINGS:
16 oz pizza dough
¼ cup corn meal
¼ cup remoulade (see above)
2 cups breaded shrimp (see above)
3 tbsp garlic butter (OR sub salted butter), melted
1 zucchini, sliced thin
½ red onion, sliced thin
3 tbsp sweet onion, finely diced
3 tbsp capers
16 oz mozzarella cheese ball, sliced
¼ cup Parmesan cheese, shredded
dash Louisiana hot sauce
3 tbsp fresh dill, for topping
¼ cup flour, for dusting
1 cup Greek yogurt or sour cream, for dipping (optional)
Mouth Feel
Salty
Savory
Sour
Bitter
Sweet
Spicy
Instructions
FOR REMOULADE: Mix all ingredients together until smooth. OPTIONAL: Use a food processor for an ultra smooth remoulade. Refridgerate extra remoulade sauce for other recipes.
FOR CAJUN BREADED SHRIMP: In a small bowl, drizzle the shrimp with 1-2 tablespoons of olive oil then add the rest of the ingredients. Stir until the shrimp has a thick breading. If the mixture is too dry, add more olive oil. If too wet, add more flour. The shrimp should not be sticky.
FOR PIZZA: Preheat the oven to 425 F. Prepare the remoulade according to the instructions above and set aside. Next, prepare the breaded shrimp according to the instructions above and then set aside.
Dust a flat surface with flour and roll out the pizza dough to a half inch thick. Sprinkle corn meal onto a pizza paddle and transfer the dough to the paddle.
Brush the dough edge to edge with the melted butter. Then spread the remoulade sauce over the dough, leaving a quarter inch crust around the edges.
Arrange the shrimp onto the pizza. Top with sliced zucchini, red onion, sweet onion, capers, mozzarella slices and parmesan cheese, as desired.
Bake at 425 F for 15-20 minutes, until the crust is golden brown and the shrimp are cooked through. Give the pizza a few dashes of Louisiana hot sauce and fresh dill for garnish. Serve with Greek yogurt for dipping or your choice of sides. Enjoy!
Print