Crab Rangoon Cheeseball
March 9, 2020 | Crab, Cream Cheese, Cheeseball
The Starving Chef is supported by Hungry People like you. When you make a purchase through an affiliate link on my site, I may earn a little bit of cash on the side (at no extra cost to you) to help keep my kitchen running. Read our disclosures here.
Super Hungry? Jump to the Recipe
Here's a recipe for the easiest - and tastiest - crab rangoon CHEESEBALL you'll ever have.
I LOVE crab rangoon - and it can be hard to recreate it at home. This recipe is the best combination of a cheeseball AND crab rangoon.
It has a dash of sweetness and a hint of spiciness - plus it's a pretty unique take on a cheeseball if you ask me.
Rolled in crispy panko and fried onion then topped with spicy sriracha and tangy green onions, this crab rangoon cheeseball is the appetizer you never knew you needed.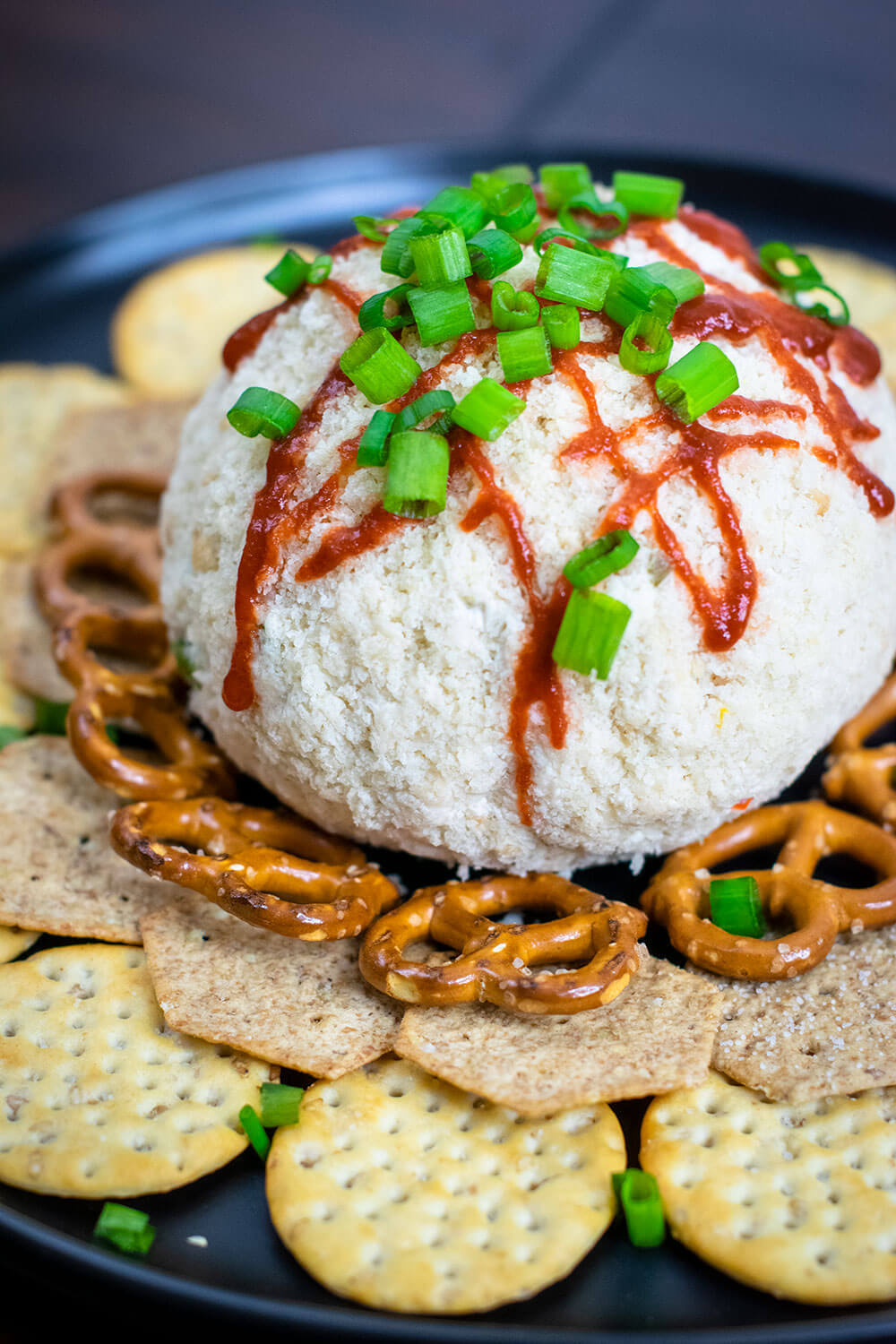 Shop this Post
Crab Rangoon Cheeseball
Number of Servings: 5
Prep Time: 1 hour
Cook Time: 10 minutes
Total Time: 1 hour 30 minutes
Ingredients
16 oz cream cheese, room temperature
½ cup panko
¼ cup French fried onions
8 oz crab meat (can sub immitation crab, shredded)
2 tbsp plain Greek yogurt
3 green onions, chopped
¼ cup red pepper jelly (sweet or spicy)
1 tbsp soy sauce
¼ cup Parmesan, grated
cooking spray
sriracha, for topping
crackers and veggies, for serving
Mouth Feel
Salty
Savory
Sour
Bitter
Sweet
Spicy
Instructions
Preheat the oven to 250 F. In a small bowl, crush together the panko and fried onions. Spread the mix over a baking sheet and spritz lightly with cooking oil spray. Bake for 5-10 minutes, until the panko has some color and is toasted lightly. Transfer to a shallow bowl.
In a large bowl, use a hand mixer to combine the crab meat, cream cheese, Greek yogurt, pepper jelly, soy sauce and Parmesan cheese. Combine throughly.
Spread out a sheet of plastic wrap and scoop the crab cheese mix into the center. Use your hands under the plastic wrap to form the cheese into a ball shape. Wrap tightly and chill for at least 1 hour, until the cheese is set and firm to the touch.
When the cheese has set, unwrap and roll in the panko topping until it is completely coated. Serve topped with sriracha and green onions alongside a range of crackers and veggies for dipping. Enjoy!
Print