Weeknight Grilled Chicken Fajitas
May 11, 2020 | Chicken, Peppers, Onions, Tortillas
The Starving Chef is supported by Hungry People like you. When you make a purchase through an affiliate link on my site, I may earn a little bit of cash on the side (at no extra cost to you) to help keep my kitchen running. Read our disclosures here.
Super Hungry? Jump to the Recipe
Gimme ALL the fajitas!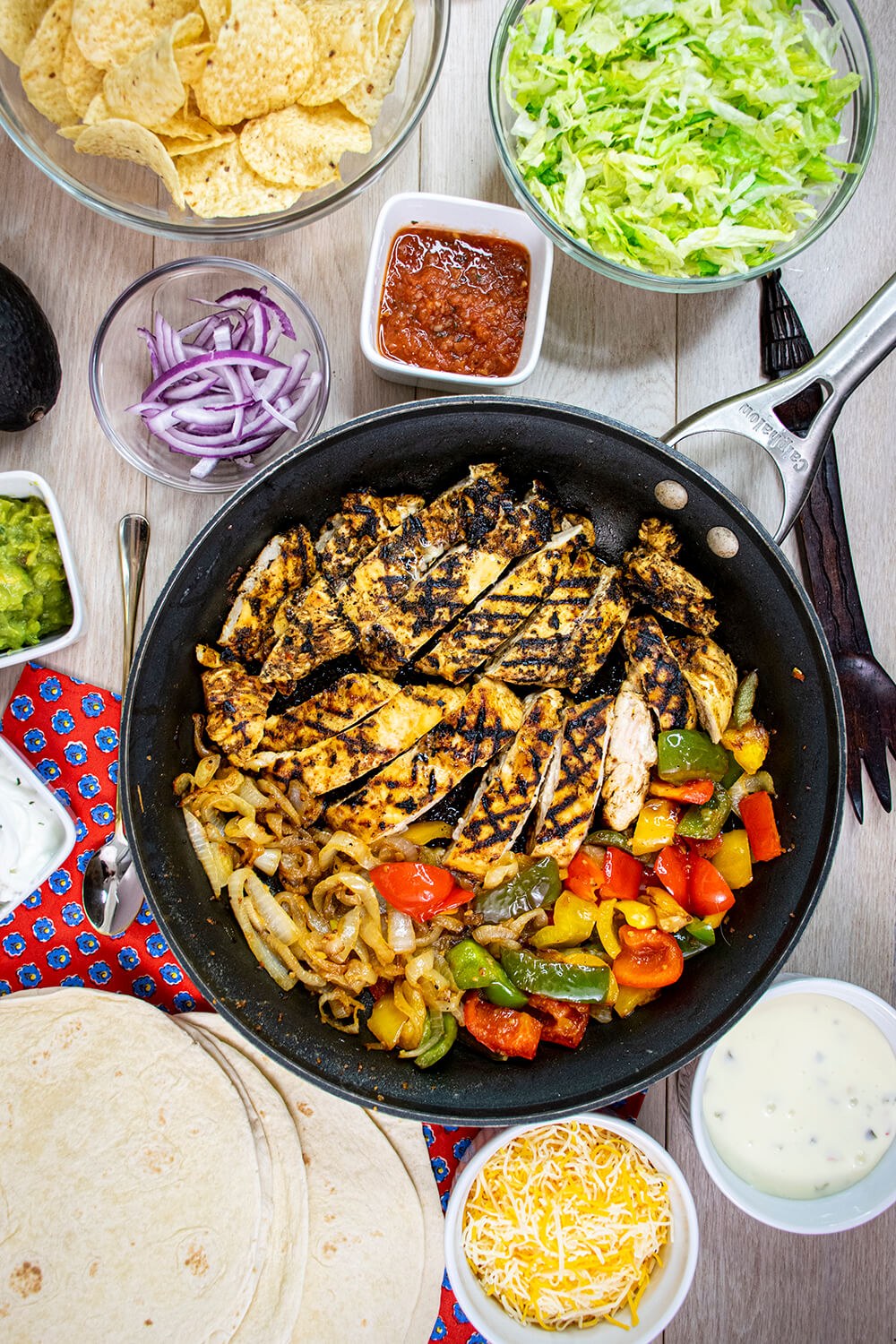 Fajitas are a weeknight favorite in our household. They're simple and delicious - and come together so fast, you won't even feel like you're cooking dinner. I love a good easy weeknight meal - and when it's as delicious as these fajitas, you'll actually WANT to make them from scratch every time!
Especially during times such as these, fajitas are an easy dish to make from ingredients that can still be found at most groery stores. You can even used cannd ingredients instead of fresh if there's a run on tomatoes or peppers at your store for some reason.
Idk - people in quarantine are weird.
The chicken can be grilled outdoors or pan seared to perfection - whatever floats your boat! I made my chicken on the stovetop because for whatever reason, the weather in Ohio has decided to bring on a second Polar Vortex in friggin' MAY - making grilling out a chilly option.
Seriously, I'm looking at the window at it SNOWING. So grilling outside is off the table tonight. Good thing I have a cast iron grill pan that works just as well - if not better - than an outdoor grill when it comes to getting those perfect sear marks.
Whether it's taco Tuesday or a regular weeknight, I love making fajitas because they are so quick and easy.
There's nothing quite like a DIY fajita night. You can make these for Cinco de Mayo or just because! This year, with many more people eating in and trying to save money, fajitas are a great way to get your Mexican-night in while cooped up at home. My fiance and I have a routine down - only order out on the weekends, leftovers for lunch and something new for dinner! Rinse, repeat.
We topped our fajitas with everything from cheddar cheese and guac to sour cream and lettuce. You can wrap it up like a burrito, eat it open like a taco or even put your toppings straight on to a bed of lettuce to make a fajitas salad. There's no wrong way to dress your fajitas! Plus, they're a great way to sneak some veggies into your diet while you're trapped at home.
What are some of your favorite fajita toppings? I need some new ideas on what to make mine with next! Leave your tips and tricks below!
Shop this Post
Weeknight Grilled Chicken Fajitas
Number of Servings: 4
Prep Time: 10 minutes
Cook Time: 20 minutes
Total Time: 30 minutes
Ingredients
FOR CHICKEN:
2 chicken breasts
2 tbsp lemon juice
3 tbsp lime juice
½ tbsp coriander
½ tbsp chili powder
½ tbsp red pepper flakes
3 tbsp fresh cilantro/parsley
1 tbsp onion powder
2 tbsp cumin
4 tbsp olive oil
1 tsp salt
1 tsp pepper
FOR FAJITAS:
½ cup red bell pepper, sliced
½ cup green/yellow bell pepper, sliced
1 white onion, sliced
½ tbsp garlic, minced
FOR TOPPINGS:
tortillas
salsa
guacamole
shredded cheddar cheese
sour cream
shredded lettuce
diced red onion
Mouth Feel
Salty
Savory
Sour
Bitter
Sweet
Spicy
Instructions
In a small bowl, whisk together the dry ingredients for the chicken. Sprinkle over the chicken breasts so that the chicken is completely covered on all sides. Season with salt and pepper, to taste.
Heat the oil in a skillet or grill pan over medium high heat. Cook the chicken for 3-4 minutes per side, rotating 90 degrees halfway through each side for crisscross grill marks. Cook until an internal temperature is 160 F.
In the same skillet, saute the fajita veggies in the remaining oil and spices until tender, about 10 minutes.
Slice the chicken into thin strips and return to the pan. When the chicken is heated through again, remove from the heat.
Serve with tortillas, taco shells or chips with toppings like red onion, salsa, guac or sour cream. Enjoy!
Print