Ahi Tuna Steaks with Pineapple Mango Salsa
The Starving Chef is supported by Hungry People like you. When you make a purchase through an affiliate link on my site, I may earn a little bit of cash on the side (at no extra cost to you) to help keep my kitchen running. Read our disclosures here.
I've been looking forward to this week's challenge for some time: steakhouse! I purchased some frozen ahi tuna steaks on sale a few weeks ago and have been looking for excuses to make them. Ahi tuna is a staple on many steakhouse menus, and from my own experience, it's usually served with a sweet and spicy salsa.
I had a couple mangos and some leftover pineapple chunks leftover from a family party, so I decided to put the leftovers to use and make a simple pineapple mango salsa. I based my recipe off of my classic mango salsa recipe and replaced the strawberries in the recipe with pineapples. It's best to make the salsa ahead, maybe even a day or two before, so the flavors have enough time to fully develop.
Next, I heated a skillet with butter and peppercorns until the peppercorns started popping. At this point, the skillet was hot enough for the tuna steaks.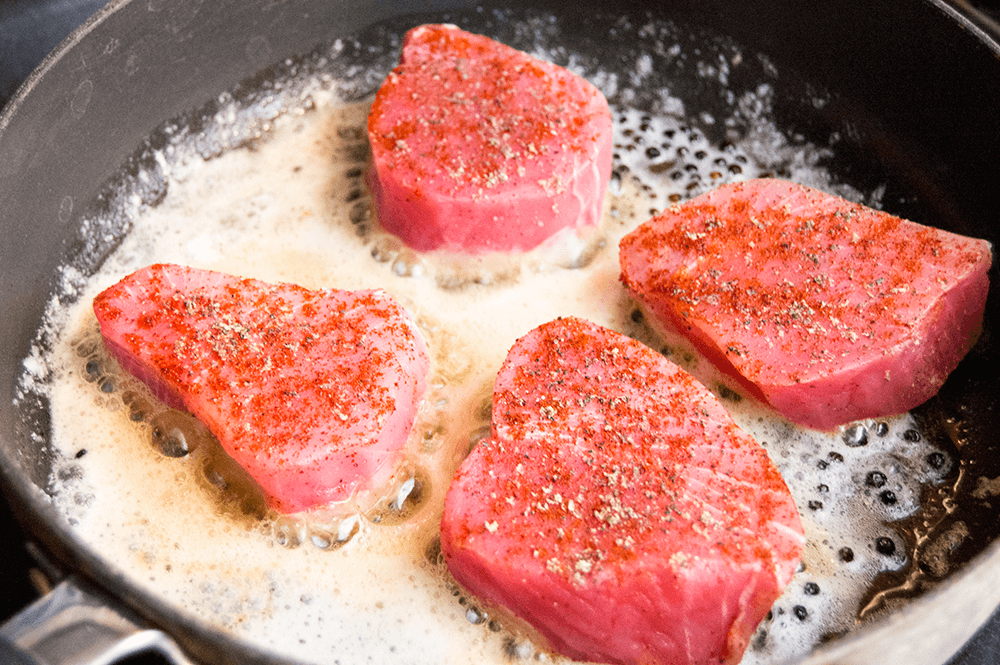 Now, some people have reservations about cooking tuna and leaving a hot pink center. I tend not to be one of those people, especially since my tuna steak came frozen. A common misconception about frozen fish is that it is not fresh, which is entirely untrue. It's always important to check with your fish monger on the quality of the fish, but even 'sushi grade' tuna is frozen prior to serving raw.
I gave my tuna steaks a nice golden sear. I opted for a well-done tuna steak, which flaked apart beautifully after it rested for several minutes out of the pan.
Top the steaks with the pineapple mango salsa and serve alongside some fresh oven baked steak fries and a cilantro lime dipping sauce (recipe coming soon!).
Ahi Tuna Steaks with Pineapple Mango Salsa
Ahi tuna is a staple on many steakhouse menus, and from my own experience, it's usually served with a sweet and spicy salsa.
Ingredients
FOR PINEAPPLE SALSA:
1

cup

pineapple

chopped & drained

1

cup

mango

chopped & drained

½

cup

red onion

chopped

¼

cup

apple cider vinegar

1

jalapeno pepper

chopped

4

tablespoons

fresh basil

chopped

3

tablespoons

garlic

minced

2

tablespoons

sugar
salt & pepper

to taste
Instructions
In a small bowl, combine the salsa ingredients. Chill for at least one hour to one day or until ready to cook and serve tuna steaks. The salsa also works well with beef steak or chicken breasts.

Melt the butter in a skillet over high heat. Add the peppercorns and cook until they begin to pop and crack. Season the steaks with cayenne pepper and salt.

Add the Ahi tuna steaks to the pan. Sear for 2-5 minutes per side. For rare, sear for 1-2 minutes on each side; For medium, cook 2-4 minutes per side; For well done, cook 3-5 minutes per side. Season with salt, to taste.

Let the steaks rest for about five minutes after cooking. Garnish with fresh basil and pineapple mango salsa. Serve alongside homemade steak fries. Enjoy!