Apple Curry Butternut Squash Soup
The Starving Chef is supported by Hungry People like you. When you make a purchase through an affiliate link on my site, I may earn a little bit of cash on the side (at no extra cost to you) to help keep my kitchen running. Read our disclosures here.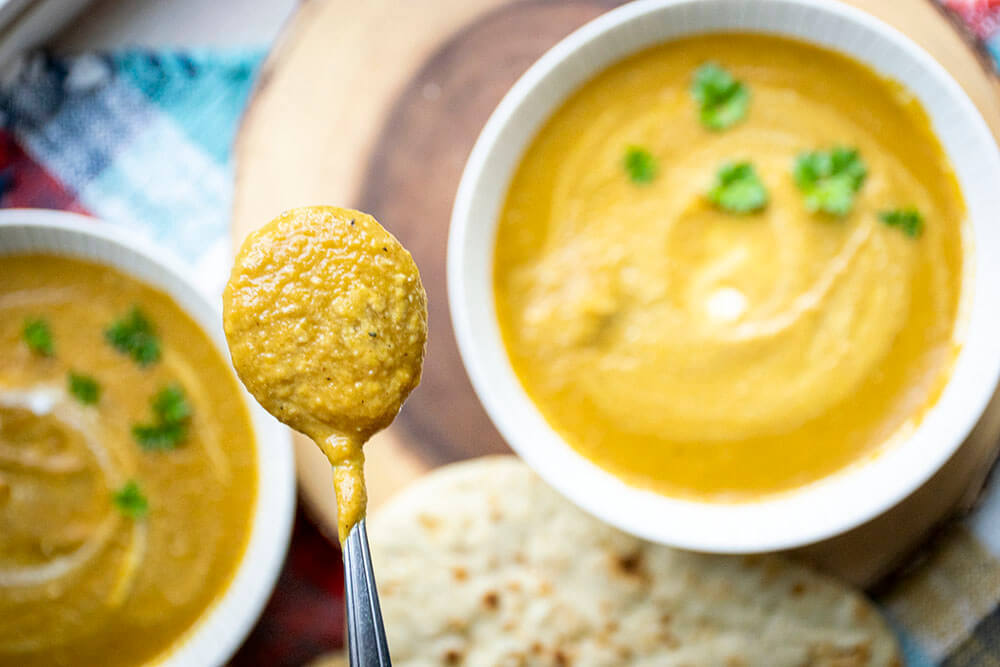 With frost on the ground and white stuff falling from the sky, I think it's safe to say that soup season is officially here. I love me a hearty soup that is not only filling, but soul warming as well. Unfortunately, "Butternut Squash Soup for the Soul" doesn't quite roll off the tongue – so I'll just have to make do by making this soup on repeat for the next six months of freezing weather.
This roasted butternut squash soup has a hint of heat hidden beneath layers of delicious curry, savory coconut and notes of garam masala.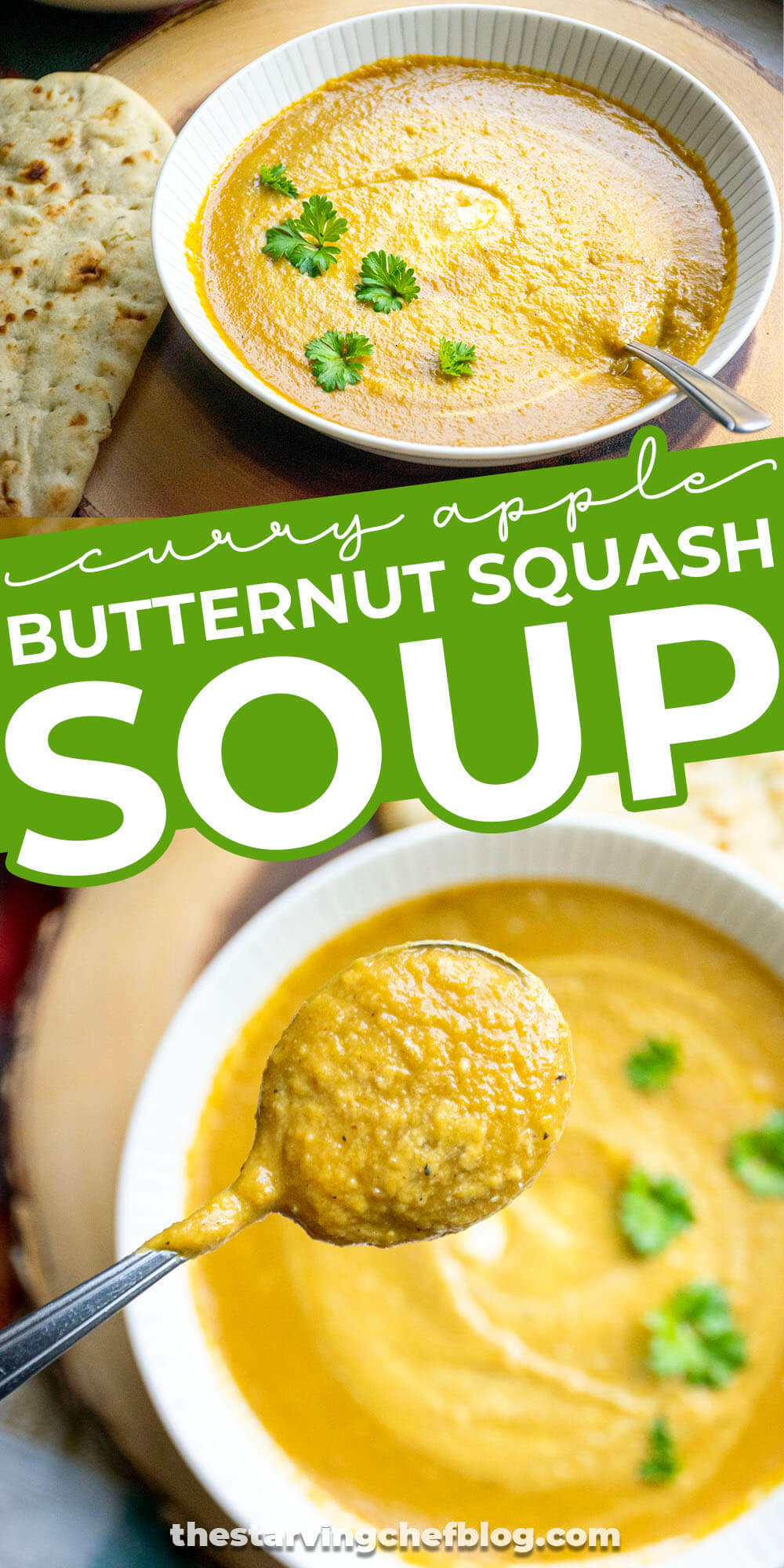 For my recipe, I definitely used butternut squash that had already been cut into cubes. Alternatively, you can also use frozen butternut squash – which can usually be found over with the frozen veggies at your grocery.
But if you feel the need to make this soup 100% from scratch, including opening and cleaning the squash yourself – by all means, do it! Cutting a butternut squash is more intimidating than anything. Once you get the knife going, it's really quite easy!
How to Cut a Butternut Squash:
Use a study cutting board for your work surface. Wooden or bamboo is ideal.
Take a sharp knife and trim off the top and bottom of the squash – you only want to take off about a half inch on each end so that you have a flat surface to work with.
Place the butternut squash on its end and then use a vegetable peeler by scraping the peeler from top to bottom, using your other hand to keep the squash firm in place
When the skin has been removed and discarded, cut the squash in half 'shortways' – so that you are basically cutting the squash in two parts, top and bottom.
Cut each half of the squash down the center. For the half with the seeds, use a spoon to scrape out the seeds until you have a smooth cavity. Discard the seeds.
Place the squash cut side down and cut into cubes about an inch long and wide.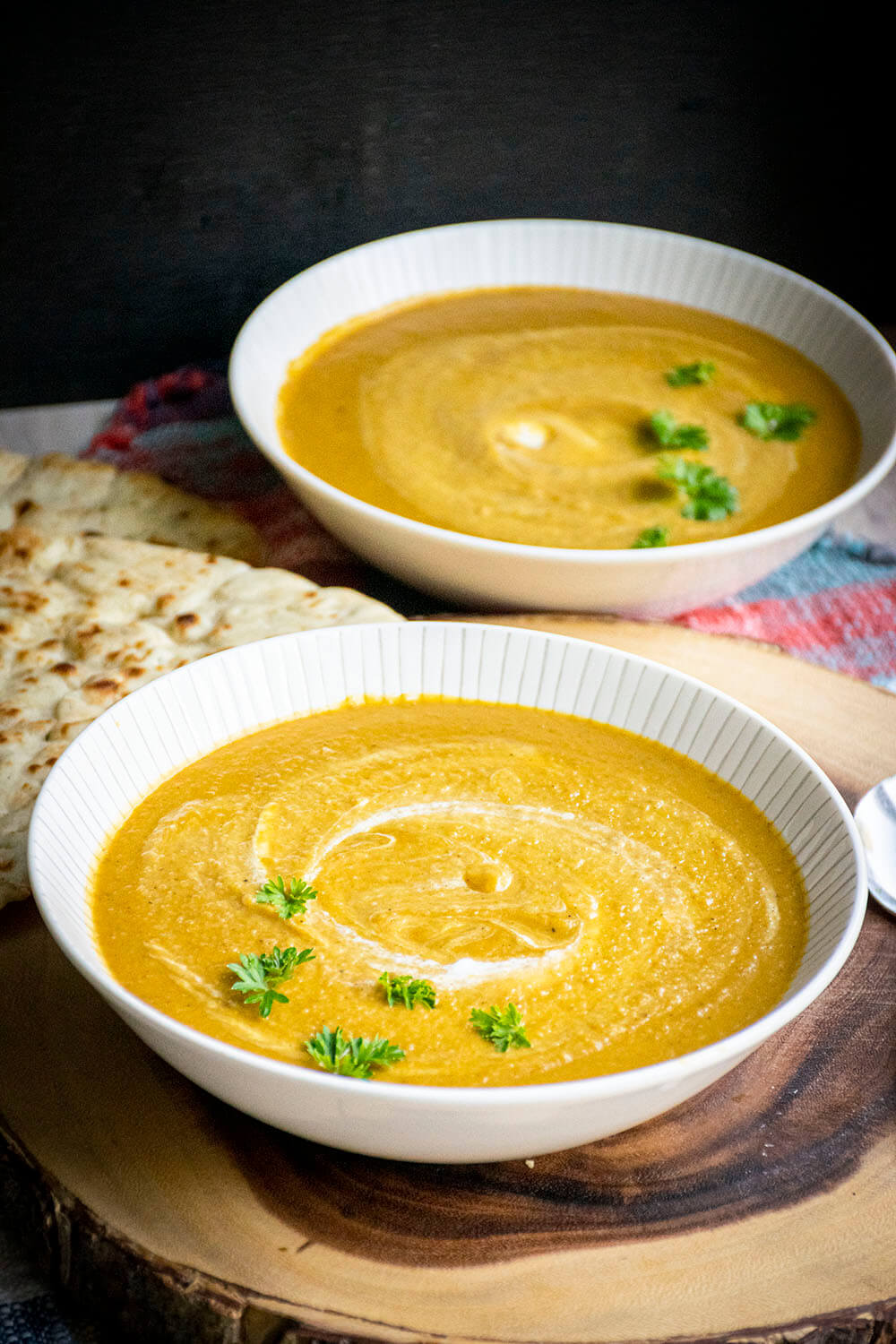 For my soup, I used a hot yellow curry powder to give my soup an extra flair of curry flavor. You can add as much or as little curry flavor as you like. I LOVE curry so I tend to be heavy handed when it comes to curry flavor! You can also use a mild curry powder or your favorite curry powder blend too.
The addition of apples is really what sets this soup apart from other curry soups. Not only does the sweet and sourness of a Granny Smith play well with the savory notes of squash, but its acidity is enhanced by the curry taste, creating a delicious rounded out flavor.
Granny Smith apples are the ideal apples to use in this recipe – but if you're in a pinch, you can use any green apple variety. If you are wanting a sweeter taste to your soup, you can totally get away with using a red apple too.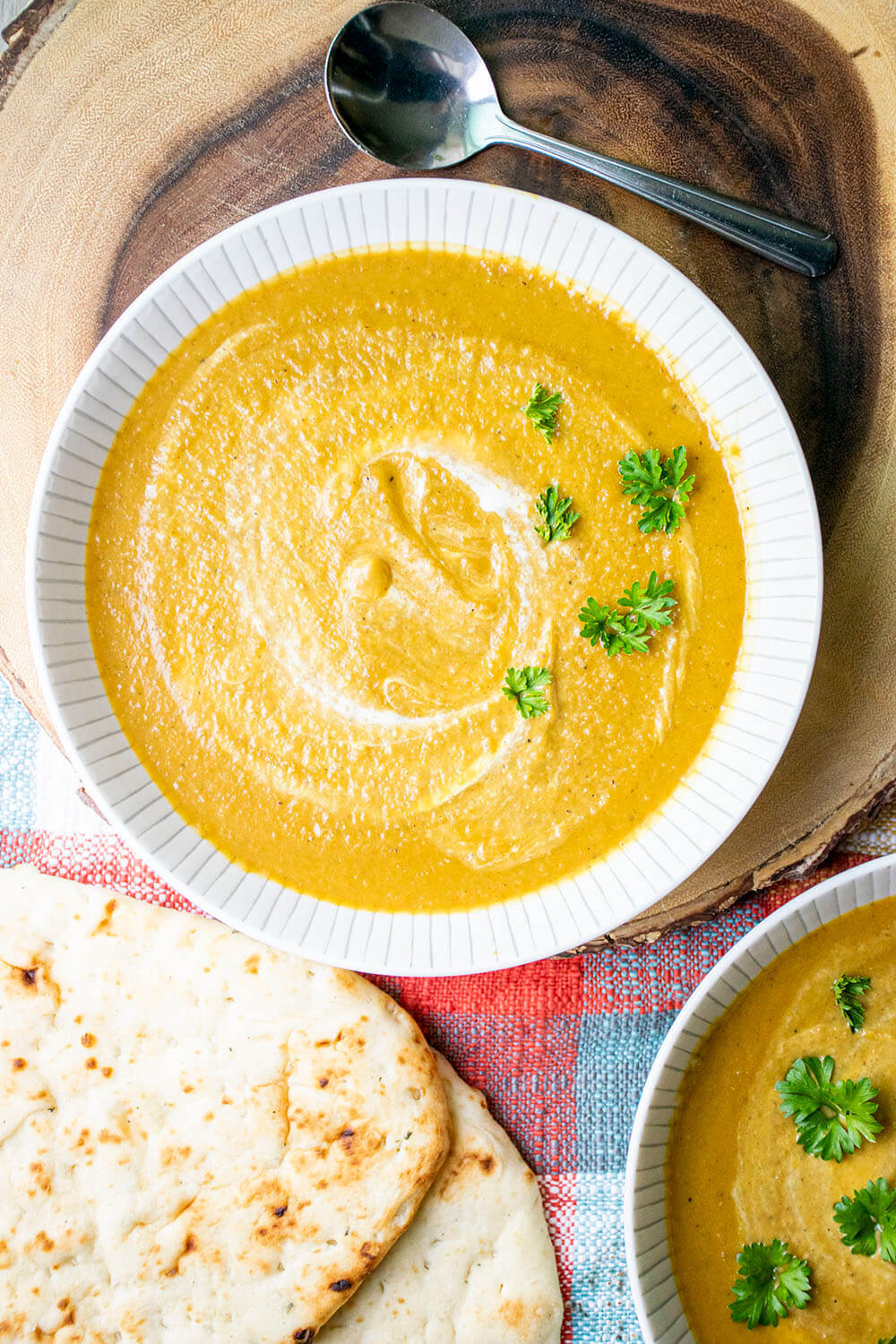 Blending a Smooth Soup
Okay so here's the deal. If you do not already own an immersion blender – you NEED to run out and grab one as soon as you can. They are a transformative tool to have in your kitchen, especially if you enjoy making soup as much as I do.
The reason an immersion blender is ideal is because you don't have to transfer piping hot soup to a standing blender in order to get a perfectly smooth soup. While this certainly can be done, the only times I've ever seriously burned myself (specifically, burned my FEET when cooking) is when I tried to ladle soup from the pot to a stand blender.
An immersion blender is an essential kitchen tool. I definitely use mine weekly, for more than just soup. Its also perfect for making amazing hollandaise, whipping heavy cream and much, much more.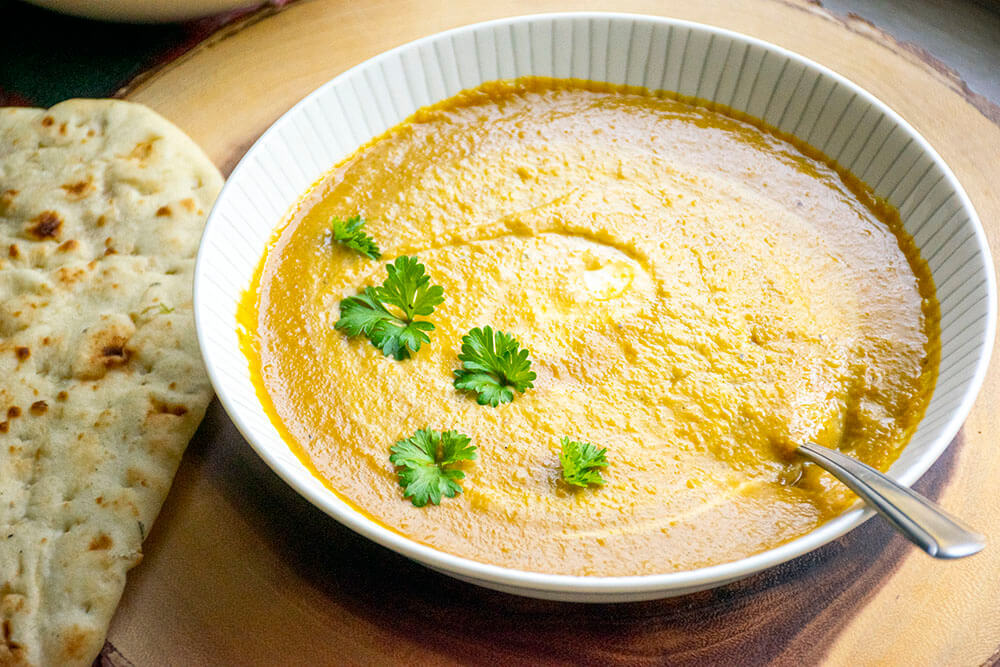 Because of the curried flair of this soup, I served mine with naan. You can buy it, sure – but making your own naan is actually a lot easier than you'd think. And you don't even need a tandoori oven to do it!
Check out my recipe for pizza stone naan here!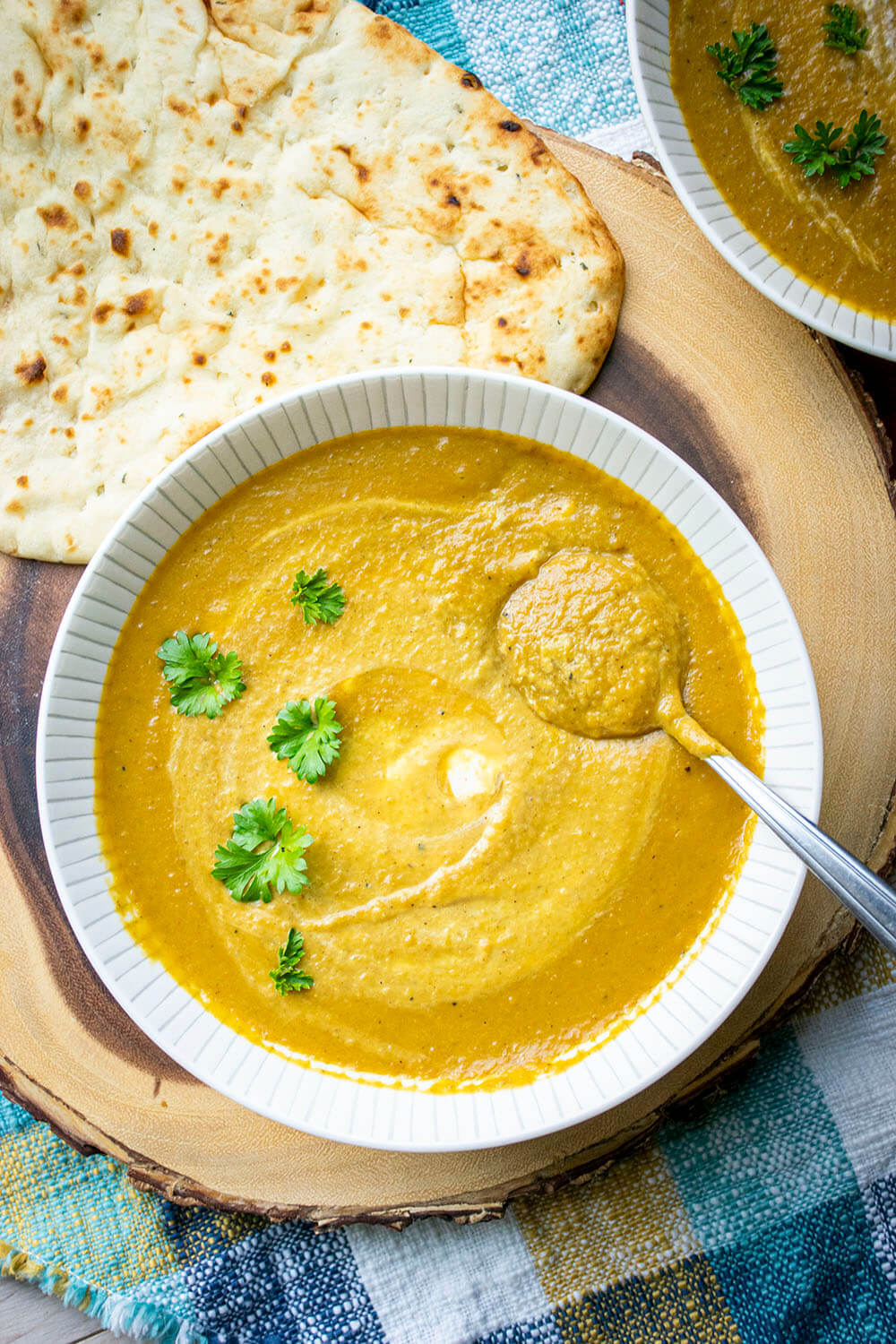 Tips & Tricks:
Use frozen butternut squash instead of peeling your own
Roast the squash until golden for the best flavor
The longer you let your soup simmer, the thicker it will get

At the end of the day, if you're anything like me, this soup will quickly become a staple in your dinner rotation – especially in the autumn and winter when hearty soups need to be on hand at all times.
I served my soup with a dollop of Greek yogurt in the center and garnished with some parsley to really make that beautiful curry yellow color pop.
Apple Curry Butternut Squash Soup
This roasted butternut squash soup has a hint of heat hidden beneath layers of delicious curry, savory coconut and notes of garam masala.
Ingredients
16

oz

butternut squash

peeled & cubed

½

cup

sweet onion

chopped

1

Granny Smith apple

or green apple, chopped

¼

cup

parsnup

chopped

1

tablespoon

ginger paste

1

tablespoon

garlic

minced

¼

cup

honey

2

tablespoons

butter

3

cups

vegetable broth

14

oz

coconut milk

2

tablespoons

hot yellow curry powder

¼

teaspoon

garam masala

1

teaspoon

cayenne pepper

1

teaspoon

salt

1

teaspoon

white pepper

¼

cup

white wine

pinch

saffron threads

optional
Instructions
Roast the cubed squash at 365 F for 30-45 minutes, until fork tender and beginning to brown. Meanwhile, prep the rest of the ingredients.

In a large soup pot melt the butter over medium high heat until frothy. Add the chopped onion, apple and parsnip. Saute for 5-10 minutes then add the ginger paste and garlic. Continue to saute until the garlic is fragrant, another 5-10 minutes. Stir in the honey and cook while stirring for another five minutes.

Use a splash of white wine to deglaze the pan. Scrape up any browned bits on the bottom. Pour in the vegetable broth and bring to a simmer. Simmer uncovered for 30 minutes.

Reduce the heat to medium and use an immersion blender to blend the soup until smooth. (Alternatively, blend the soup in batches using a stand blender.) Stir in the coconut milk, hot curry powder, cayenne, garam masala, white pepper, salt and saffron.

Blend the soup until smooth and continue to simmer for another 10-15 minutes or until thickened as desired. Serve with naan and samosas. Enjoy!