Avocado Eggs Benedict
The Starving Chef is supported by Hungry People like you. When you make a purchase through an affiliate link on my site, I may earn a little bit of cash on the side (at no extra cost to you) to help keep my kitchen running. Read our disclosures here.
I've been getting really into poaching lately. Don't worry, I'm not illegally hunting any animals, but I am poaching eggs at an alarming rate. Actually, I'm living an eggs Benedict lifestyle – where that's pretty much all I've been making the last few weeks since I don't have anyone home to cook for.
However, in my quest to perfect the poach, I've learned a lot about the do's and don'ts of eggs Benedict. Just look at the eggs the last time I made eggs Benedict for a post. In fact, that was one of the very first times I ever poached an egg or made hollandaise sauce, so I'm actually pretty proud of how well I did, but in comparison, you can really tell how my skills have improved over the last year!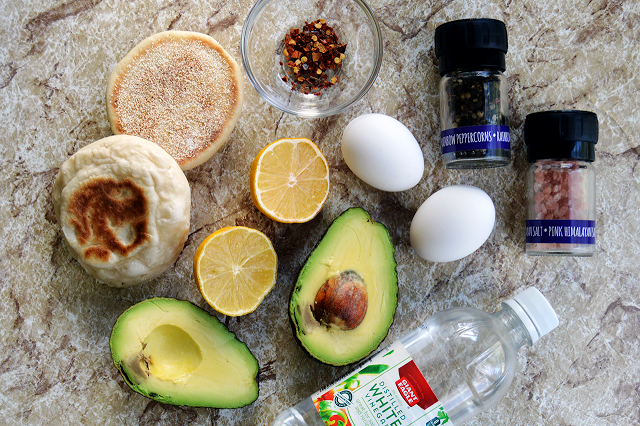 For this version of eggs Benedict, instead of hollandaise sauce, I decided to go with a healthier alternative and used some avocados. Honestly, I'm not sure if I'll ever make eggs Benedict with hollandaise ever again after tasting this.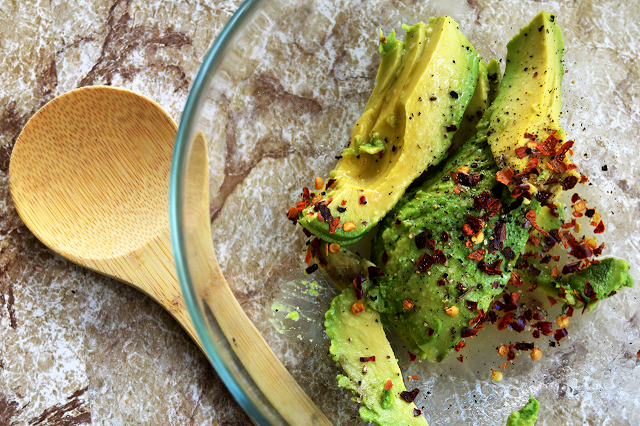 Start by making a simple guacamole by mashing together the avocado, red pepper flakes, lemon juice, and some salt and pepper until it's smooth. If you want to leave the avocado in slices and just spritz with lemon juice, that's fine too, but I really loved the spreadable factor in this easy guac.
If you don't know how to poach an egg, I recommend taking some tips from food legend Alton Brown. I learned everything I need to know about poaching from him. Don't be discouraged if you get it wrong the first few times (I obviously did!) but with some practice, you'll get the hang of it. I have now poached dozens of eggs, but it did take me about a dozen or so before I could say I really mastered it.
Toast some English Muffins and spread on the avocado then top with a poached egg and some red pepper flakes. Seriously, step aside hollandaise, there's a new player in this game of foods!
Avocado Eggs Benedict
For this version of eggs Benedict, instead of hollandaise sauce, I decided to go with a healthier alternative and used some avocados.
Instructions
Bring a pot of water to just below a simmer (190 F). Pour in the white vinegar. Create a gentle vortex in the water then gently drop in the egg. Maintain the water temperature to prevent overcooking. Simmer for four and a half minutes.

Pit the avocado and remove the insides. In a large bowl, mash together the avocado, lemon juice, red pepper flakes, and a pinch of salt and pepper until it is spreadable.

Remove the poached egg from the water using a slotted spoon and rest on a paper towel to remove excess water.

Split the English muffin using a fork then toast until golden brown. Spread on the avocado. Place the egg on top of the avocado and English muffin. Garnish with additional red pepper flakes and a dash of salt and pepper. Enjoy!