Avocado Eggs Benedict: A Healthier Brunch Favorite
The Starving Chef is supported by Hungry People like you. When you make a purchase through an affiliate link on my site, I may earn a little bit of cash on the side (at no extra cost to you) to help keep my kitchen running. Read our disclosures here.
What's Up, Hungry People!
I've been absolutely enamored with poaching lately.
Now, before you call the authorities, I should clarify: I'm not hunting exotic birds or anything like that!
Nah, I'm poaching eggs at a rate that would make any chicken blush. It's all part of my recent eggs Benedict kick. You know, that blissful phase where you're perfecting a dish and nothing else seems to exist? Yep, that's where I've been, living an eggs Benedict lifestyle, especially since my kitchen audience is limited these days.
The Evolution of the Poach
In this eggy odyssey, I've discovered heaps about the do's and don'ts of making eggs Benedict. Remember that post I did last year on eggs Benedict? That was like my rookie season. I was just figuring out how to poach an egg and whip up some hollandaise sauce. Now, I look at those early eggs, and while I'm proud, I can definitely see how my Benedict game has leveled up!
For this recipe, I swapped out the classic hollandaise for a healthier player: avocados! Seriously, after tasting this, the traditional hollandaise might just be riding the bench.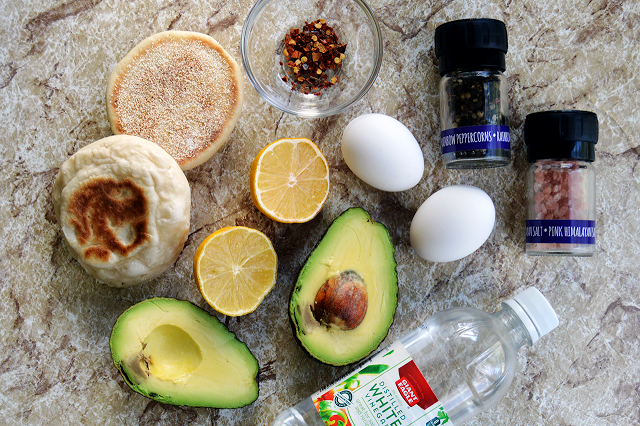 Here's What You Need
Fresh eggs: The star of the dish; poached to perfection to add a creamy, rich element.
Avocado: Provides a creamy, healthy base for the spread, replacing traditional hollandaise sauce.
White vinegar: Helps the egg whites coagulate during poaching, making for a cleaner, more uniform poached egg.
Lemon juice: Adds a hint of acidity and brightness to the avocado spread, balancing the richness.
Red pepper flakes: Brings a spicy kick to the avocado spread and serves as a garnish for added flavor.
English muffins: The crunchy, toasted base that holds all the components together; essential for traditional eggs Benedict.
Salt & pepper: Seasoning to enhance the natural flavors of the avocado and egg, giving the dish complexity.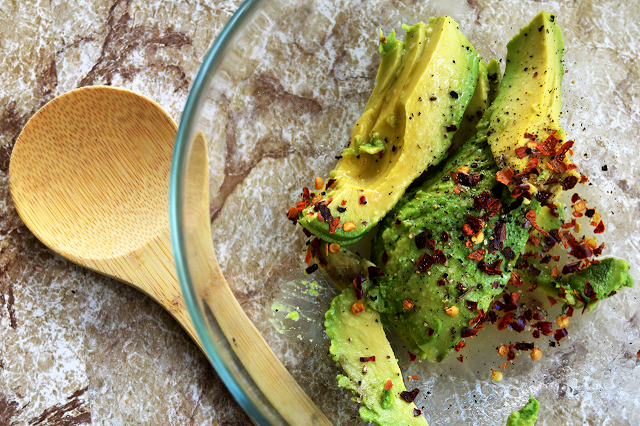 Let's Cook!
To start, make a quick and easy guacamole by mashing together an avocado, a pinch of red pepper flakes, a splash of lemon juice, and a dash of salt and pepper. Blend until it reaches a creamy consistency. Of course, you can keep the avocado slices intact and give them a lemon spritz if you prefer, but this guac is all about being spreadable and versatile.
Mastering the Poach
If the thought of poaching an egg makes you break into a cold sweat, I got you. Take some cues from food guru Alton Brown; the guy is pretty much my poaching mentor. Look, messing up a few eggs is part of the process. I've certainly cracked a couple duds! But after around a dozen tries, you can pretty much call yourself a poach pro.
Tips for the Perfect Avocado Eggs Benedict
Use Fresh Eggs: Older eggs tend to have looser whites, which can make your poached eggs messy. The fresher the egg, the better the shape.
Vinegar Ratio: If your poached eggs have a strong vinegar taste, consider reducing the amount of vinegar used in the poaching water.
Ripe Avocados: Make sure your avocado is ripe but not overripe; it should give slightly when pressed but not feel mushy.
Lemon Juice Substitute: If you don't have lemon juice, you can use lime juice for a different but still tasty acidity in your avocado spread.
Toasting English Muffins: Don't overlook this step; a well-toasted muffin will provide the necessary crunch and won't get soggy from the avocado spread or egg.
Salt & Pepper Timing: Season your poaching water and avocado mix before assembling; this ensures every layer of your dish is flavorful.
Spice Level: If red pepper flakes make things too spicy for you, consider using smoked paprika for a milder kick.
Avocado Browning: If you're not serving immediately, cover the avocado spread with plastic wrap pressed directly on the surface to minimize oxidation.
Egg Doneness: Four and a half minutes will give you a runny yolk. If you prefer a firmer yolk, let the egg simmer for an additional minute or so.
Serving Size: The recipe can easily be doubled or halved; just make sure to adjust the poaching water and avocado spread accordingly.
Assembly Time
Toast some English muffins until they're golden and crispy. Slather on that beautiful avocado mix you just made, crown it with a perfectly poached egg, and sprinkle some more red pepper flakes for that extra kick. Move over hollandaise; there's a fresh, green contender shaking up the eggs Benedict game!
And that, Hungry People, is how you shake up your eggs Benedict game without breaking a sweat—or the bank! Whether you're an avocado aficionado or just looking to branch out from the usual hollandaise, this dish is bound to impress. With fresh ingredients and a bit of practice on that poaching technique, you're well on your way to mastering a brunch favorite that's as nourishing as it is delicious. Enjoy!
Avocado Eggs Benedict
Delicious avocado-based eggs Benedict served on toasted English muffins—a healthy twist on a classic brunch favorite.
Instructions
Bring a pot of water to just below a simmer (190°F). Add the white vinegar to the water. Stir gently to create a vortex and then carefully drop in the egg. Make sure to maintain the water temperature at 190°F to prevent overcooking the egg. Let it simmer for four and a half minutes.

While the egg is poaching, pit the avocado and scoop out the flesh. In a large bowl, combine the avocado, lemon juice, red pepper flakes, and a pinch each of salt and pepper. Mash until you achieve a spreadable consistency.

Use a slotted spoon to lift the poached egg out of the water, and let it rest on a paper towel to absorb any excess moisture.

Split the English muffins using a fork, and toast them until they're golden brown. Generously spread the avocado mixture onto the toasted muffin halves.

Place the poached egg on top of the avocado-smeared English muffin. To finish, sprinkle additional red pepper flakes and a dash of salt and pepper over the egg.