Bacon Wrapped Halloumi Bison Bites | Great Range Brand Bison
The Starving Chef is supported by Hungry People like you. When you make a purchase through an affiliate link on my site, I may earn a little bit of cash on the side (at no extra cost to you) to help keep my kitchen running. Read our disclosures here.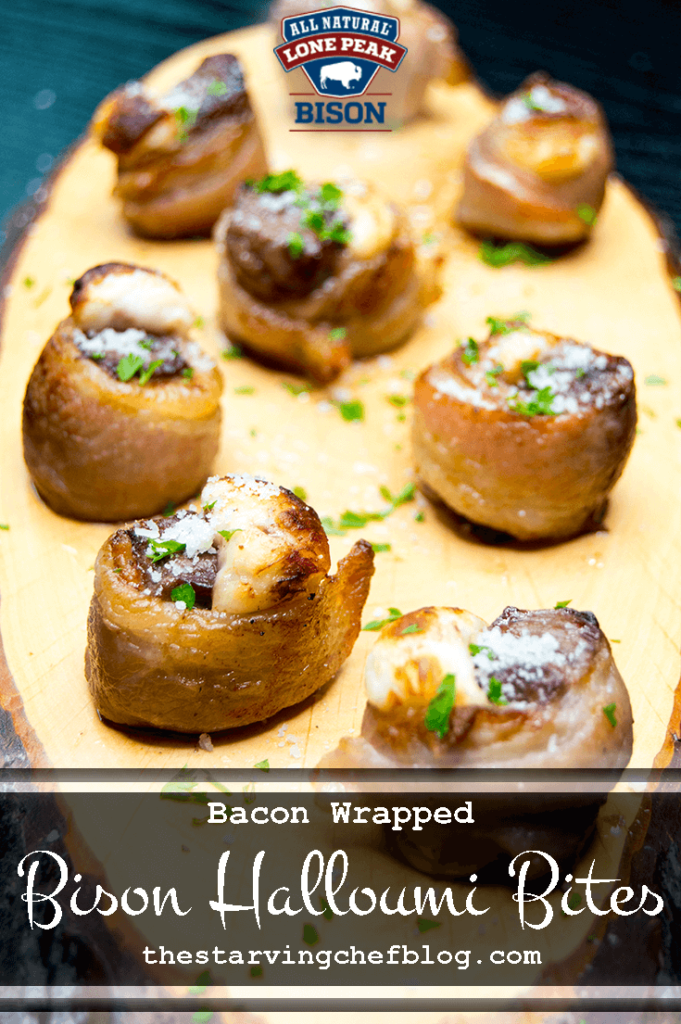 Recently, I discovered a magical cheese that doesn't melt in the heat: halloumi. It adds a burst of umami flavor to any dish – and when paired with bison and bacon, well you'd be hard pressed to find an appetizer more delicious! These bison bites have become my go-to during the holidays, during the summer or winter, because they're so easy to whip together and take less than thirty minutes to make from start to finish.
If you've been following my blog, you'd know I'm slightly obsessed with bison. It's sweet. It's savory. It's leaner than beef and therefore healthier too – I mean you seriously can't go wrong with bison. The biggest difference between bison and beef is that bison can easily be overcooked, which is why it's super important to keep an eye on this recipe as you make it.
If you can't find halloumi – it's usually located in the imported cheese section at my local grocery – a more common substitute can be used: bread cheese. It's also called "grilling cheese" or "baked cheese" because like raw halloumi, it doesn't melt. I've used both and always received compliments. And if you can't find bison sirloin, bison ribeye steak works just as well for an alternative option. https://giphy.com/embed/l0MYOp577TYtF9SZW
The easiest way to make pop-able bison bites is to tightly wrap the sirloin in bacon then secure the end in place with a toothpick. https://giphy.com/embed/l0MYSK5e2dMung8Kc
You can remove the toothpicks prior to serving and the bacon should remain wrapped around the bison sirloin. I recommend stretching the bacon as thin as you can too, so it cooks evenly.
Cook the bison bites until the bacon is just turning red and the halloumi has started to brown on top – the bison should still be nice and pink in the center if cooked correctly. I kept a close eye on my bison and took them out of the oven as soon as the tips of the toothpicks were blackened.
How do you like to eat your bison? Let me know in the comments!
This post contains sponsored content.
A special thanks to Lone Peak Bison for sponsoring this delicious recipe and for providing me with top quality bison sirloin.
Visit LonePeakBison.com for more information about cooking with bison and where you can find their products in a store near you.
Like Lone Peak Bison on Facebook!
Bacon Wrapped Halloumi Bison Bites | Great Range Brand Bison
Halloumi adds a burst of umami flavor to any dish – and when paired with bacon and bison, you'll be hard pressed to find a more delicious appetizer.
Ingredients
12

oz

(2) bison sirloin steaks

Great Range Brand Bison

8

oz

halloumi

10

strips

bacon

¼

cup

Parmesan cheese

grated

fresh parsley

for topping, optional
Instructions
Preheat the oven to 500 F. Cut the halloumi into cubes about a half inch thick and about one inch in length. Cut the bison sirloin steak into inch square cubes.

Stretch the bacon so it's an even thickness from top to bottom. Cut the bacon into six inch strips.

Take one piece of sirloin, one piece of halloumi and a strip of bacon. Press the halloumi against the sirloin then wrap the bacon around both pieces. Secure the end of the bacon with a toothpick. Arrange the bison bites on a greased baking sheet. Sprinkle Parmesan cheese onto the tops of each one.

Bake for 10-12 mintues or until the bacon has turned red and the halloumi should be sweating and browned on top. Do not overcook the bison – it should still be pink in the center.

Sprinkle the remaining Parmesan cheese on top of the cooked bison and garnish with fresh parsley. Serve hot and enjoy!
Video