Breakfast Banana "Sushi"
The Starving Chef is supported by Hungry People like you. When you make a purchase through an affiliate link on my site, I may earn a little bit of cash on the side (at no extra cost to you) to help keep my kitchen running. Read our disclosures here.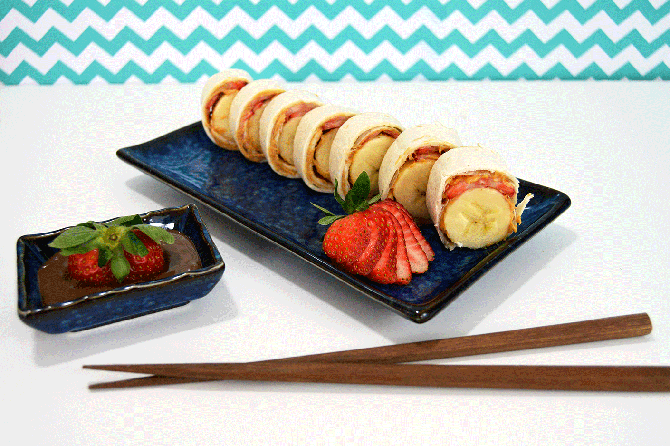 What's this? I'm actually AHEAD a week? Somehow, magically, I am actually posting at the start of week 11, which is quite the accomplishment considering week 10's book inspired challenge.
I have been pumped for this week since I learned the topic was bananas! I decided that I wanted to do a breakfast-themed dish, but didn't want to go with typical banana pancakes or banana bread. While dining on some real sushi, the inspiration came: Banana Sushi! These 'naners are great because they are not only healthy and super easy to customize, they can be eaten for breakfast or dessert.
And let's be honest, who doesn't like to indulge in a little dessert first thing in the morning?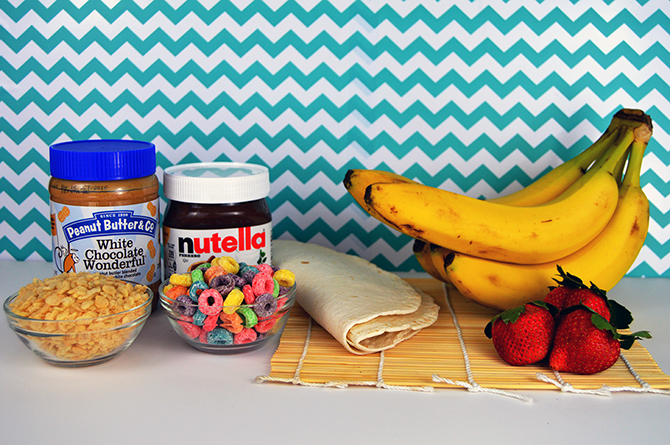 Just rummage through your fridge and cabinets for any bits or pieces of ingredients you think might go well with a banana.
Experiment a little!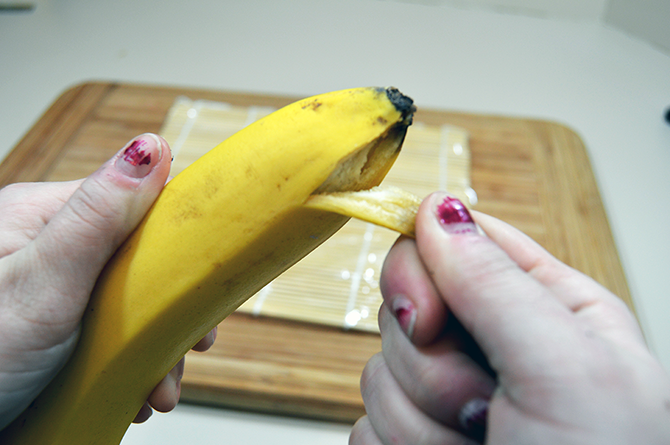 If you take nothing else from this blog, just remember it is SO much easier to open a banana from the bottom than from the stem. I always hated when a banana wasn't ripe enough or had a stubborn stem that resulted in a squishy top.
If you just pinch the bottom of the banana, it will easily begin to peel itself! Just grab one edge and pull!
Strawberry Banana Crunch
This sweet roll is especially tasty with a nice crunch to play up different textures. To make it, start by thinly slicing the strawberries and laying them flat on your bamboo mat.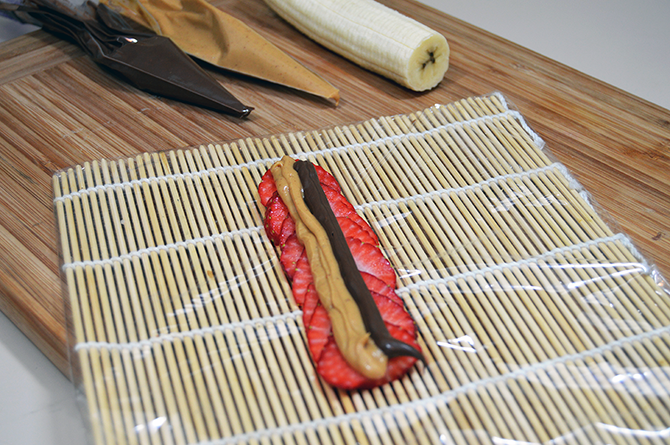 Put a line of peanut butter and Nutella down the center of the berries. Trim the edges of your banana, then use the bamboo mat to roll the banana onto the strawberries.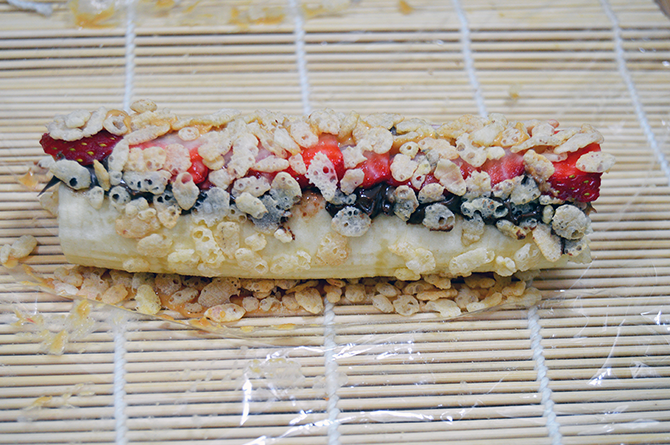 Next, sprinkle the mat with rice cereal and roll until the top and sides of the banana are covered. Slice into 1/2-inch bite-size sections and serve immediately to prevent the banana from browning.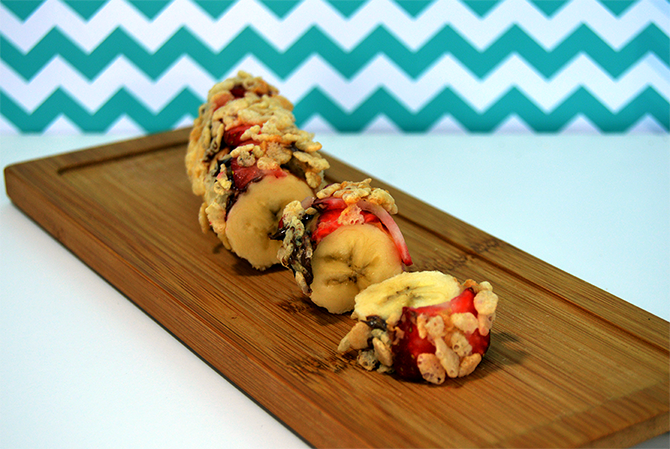 Peanut Butter Tortilla Roll
Here's a healthy breakfast alternative that can be rolled up quickly, even without the bamboo mat.
To make it, slice your strawberries paper thin. Spread peanut butter to the edges of the tortilla and lay the strawberries down the middle.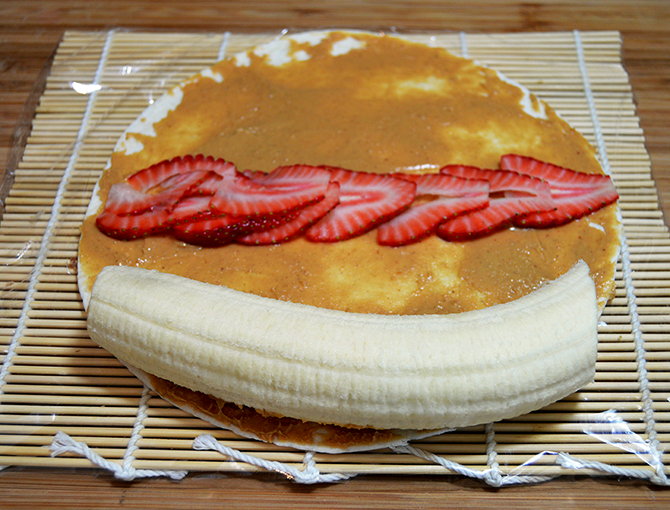 Trim the edges of the banana and place it on the edge of the tortilla.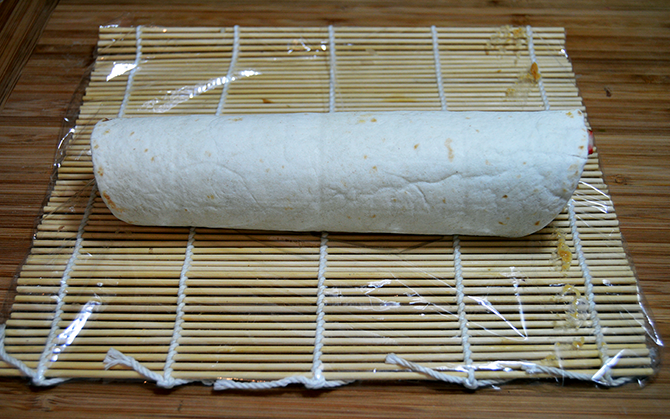 Roll it up tightly, tucking and sealing the edges. Cut the roll into 1/2-inch slices and serve quickly to avoid any browning!
CrAzY Roll
I can't wait to have kids someday so I can serve up this fun roll on a birthday or special day.
To make the CrAzY Roll, start by smashing up your cereal so there aren't any full-sized pieces.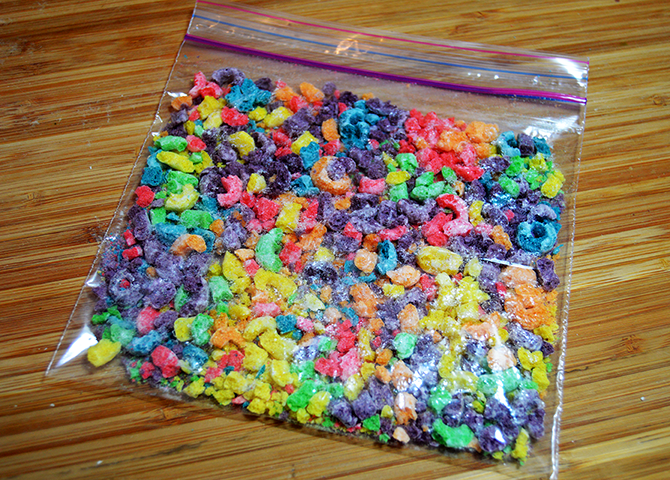 Pour the Fruit Loops onto the bamboo mat and spread Nutella on your trimmed banana.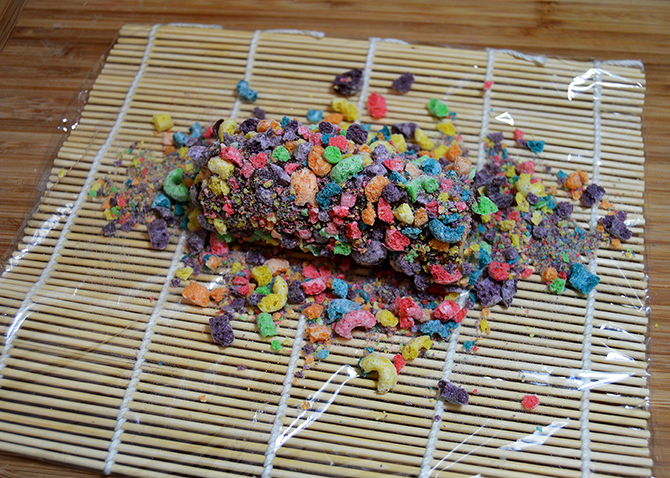 Use the mat to roll the banana, making sure to cover it with the Fruit Loops and coat all the exposed chocolate. Then, slice and serve right away!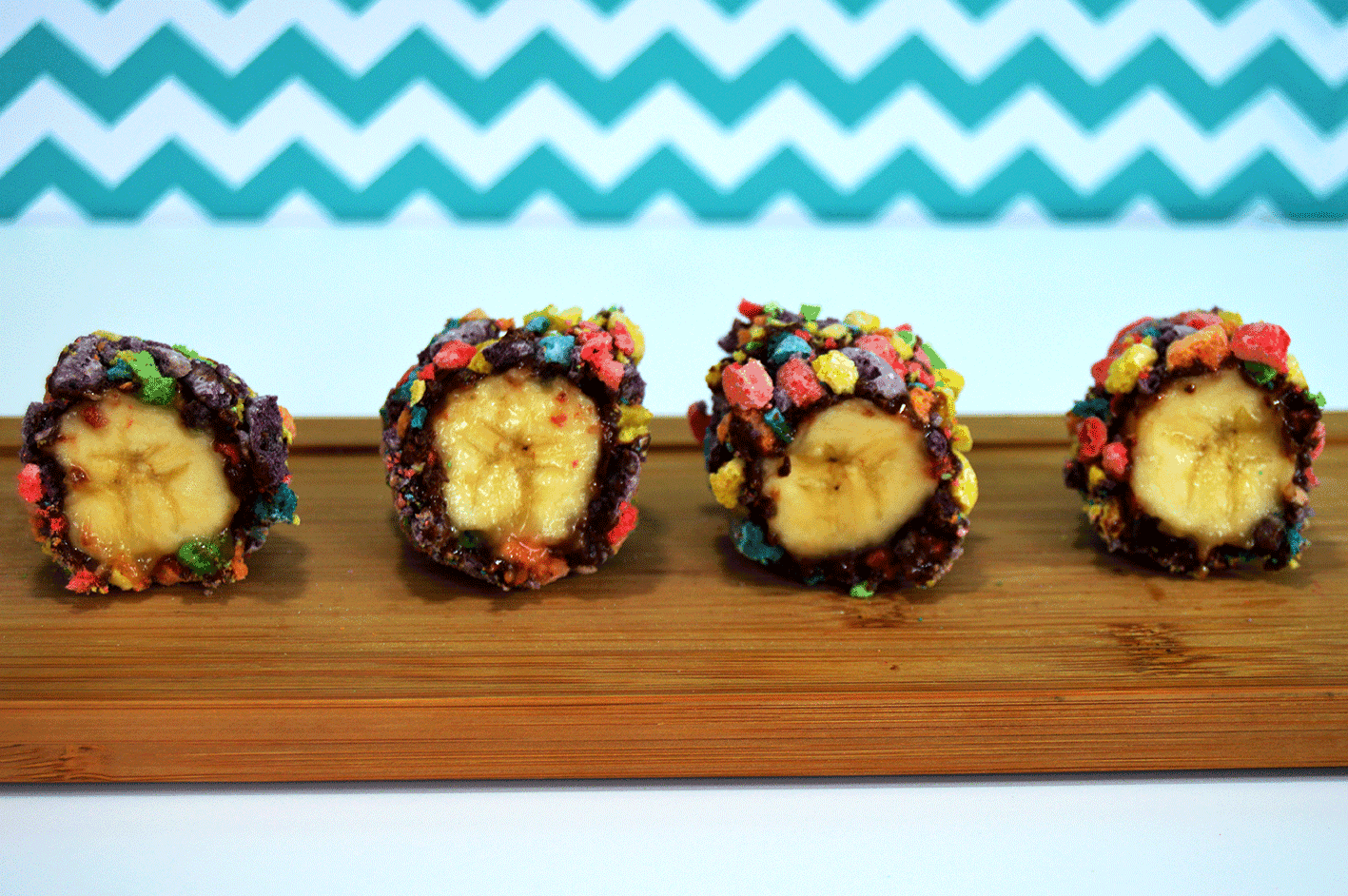 Strawberry Roll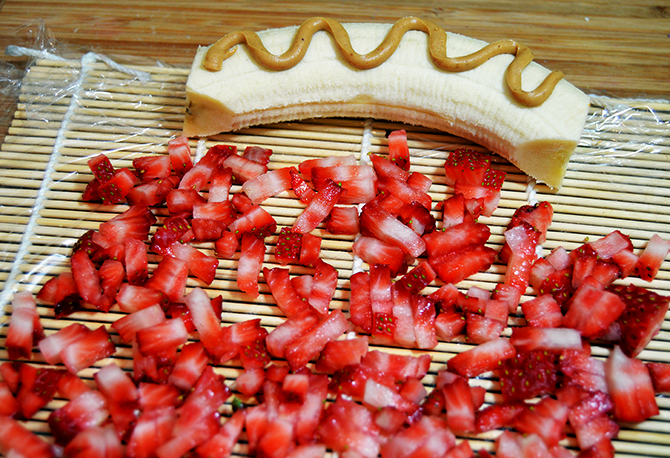 Chop your strawberries into small bits, then spread them on the bamboo mat. Cover your banana with peanut butter and use the mat to roll up the banana. Top it with a touch of Nutella and serve, preferably to someone still in bed, for a delicious morning surprise.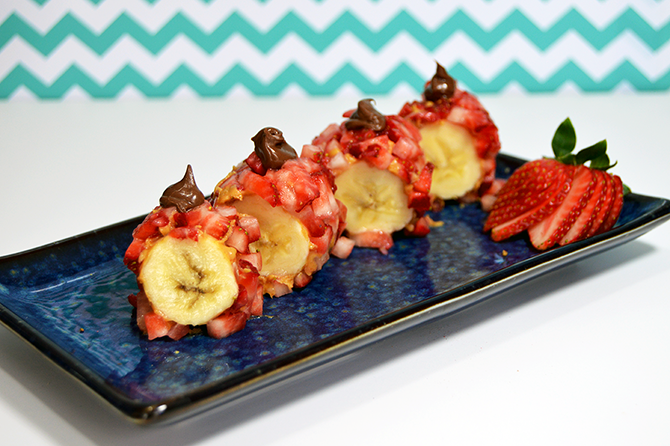 Helpful Tips & Tricks:
When selecting bananas for your breakfast "sushi," it's best to choose ones that are ripe but still firm. This will ensure a good texture and sweetness for your rolls.
If you prefer a gluten-free option, you can use gluten-free tortillas or opt for lettuce wraps instead.
Experiment with different combinations of fillings to find your favorite flavor combinations. For example, you can try using almond butter instead of peanut butter or add a drizzle of honey for extra sweetness.
To make the "nori" wrapped sushi, place your chosen ingredients in the center of the tortilla, leaving some space around the edges. This will make it easier to roll without the fillings spilling out.
When rolling the tortilla, start from one end and tightly wrap it around the fillings, tucking in the sides as you go. Aim for a firm and compact roll to prevent it from falling apart.
If you don't have a bamboo mat, you can use plastic wrap or parchment paper to assist with rolling the tortilla. Just make sure it's secure and doesn't stick to the fillings.
For a crispy texture, you can lightly toast the tortilla before assembling your breakfast "sushi." This step is optional but can add a nice crunch to your rolls.
Feel free to get creative with the ingredients! You can add fresh fruits like kiwi or mango, sprinkle some flax, hemp, or chia seeds for added nutritional benefits, or incorporate your favorite crunchy elements like granola or crushed nuts.
If you're making these breakfast "sushi" rolls for a special occasion or as a treat, you can garnish them with a drizzle of chocolate sauce or a dusting of powdered sugar for an extra touch of decadence.
Don't be afraid to experiment and personalize the recipes based on your taste preferences. Cooking is all about exploring flavors and having fun in the kitchen!
In these recipes, feel free to get creative with the ingredients you have on hand. You can experiment with different spreads like almond butter, honey, or even cream cheese. You can also try using different types of cereal or granola for added crunch and flavor. Don't be afraid to make these recipes your own by customizing them to your taste preferences.
Remember, the key to success in the kitchen is to have fun and enjoy the process of cooking. So put on some music, gather your ingredients, and get rolling those delicious banana creations!
Breakfast Banana "Sushi"
This recipe features a creative twist on traditional sushi by using tortillas filled with a variety of ingredients, such as bananas, nut butter, crushed cereals, and fresh fruits, for a delicious and fun breakfast or snack option.
Ingredients
BREAKFAST "SUSHI" INGREDIENT IDEAS:
bananas

firm and ripe

strawberries

sliced

whole wheat tortillas

nut butter or hazelnut chocolate butter

rice cereal and/or fruit loops

granola

kiwi

mango

flax, hemp and/or chia seeds

grape or raspberry jelly
Instructions
INSPIRATION: Assemble your favorite ingredients inside a tortilla and roll for a "nori" wrapped sushi!

INSPIRATION: Spread the nut butters on the banana and roll in crushed cereals!