Benjen Stark's Elk Meatballs & Shallot Gravy | Game of Thrones Inspired Recipes
The Starving Chef is supported by Hungry People like you. When you make a purchase through an affiliate link on my site, I may earn a little bit of cash on the side (at no extra cost to you) to help keep my kitchen running. Read our disclosures here.
"You're right. The wildlings are no different from us. A little rougher, maybe. But they're made of meat and bone. I know how to track 'em and I know how to kill 'em. It's not the wildlings giving me sleepless nights. You've never been north of the Wall, so don't tell me what's out there."
– Benjen Stark to Tyrion Lannister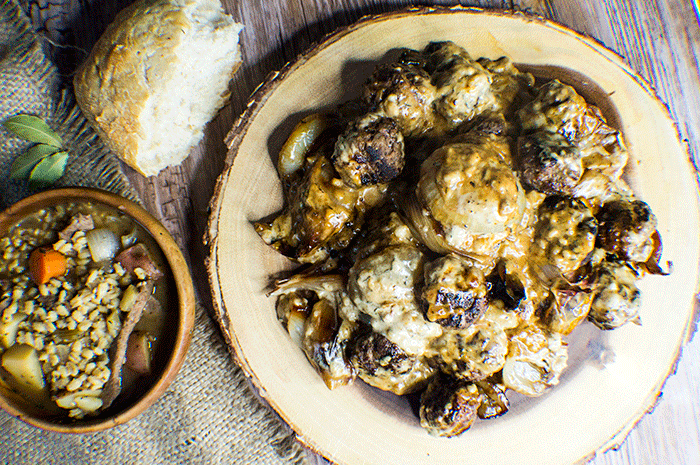 It's "Game of Thrones" week here in the Starving Chef's kitchen. I've delved deep into Westeros for inspiration – and resurfaced north of the Wall. In case you aren't caught up on all of Game of Thrones – be warned there are mild spoilers in this post!
In the books, Benjen Stark is referred to as Coldhands and rides a giant elk. However in the show, he rides in on a dark horse. When the elk dies in Dance with Dragons, it is blessed by Coldhands and then cooked and eaten by Bran and Meera. I imagine if they weren't in such dire circumstances – they may have prepared the elk as meatballs for traveling efficiency.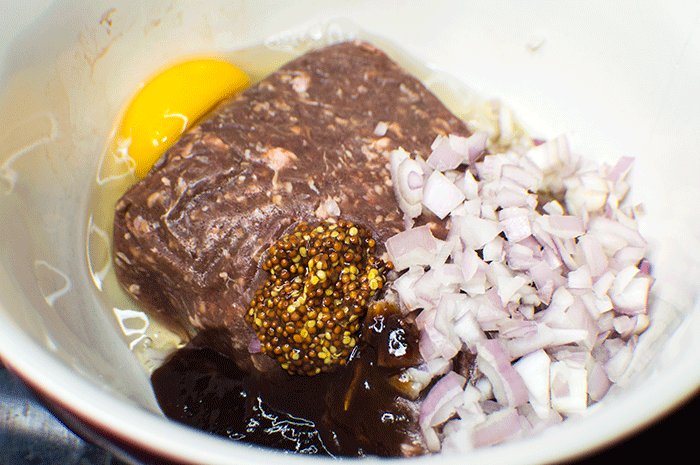 Elk meat is fairly easy to find in any speciality meats grocery store. Thick and gamey, elk is comparable to venison but with more robust flavors that are best defined by shallot and mustard. Bread crumbs, hoisin and eggs are used to help hold the meat together.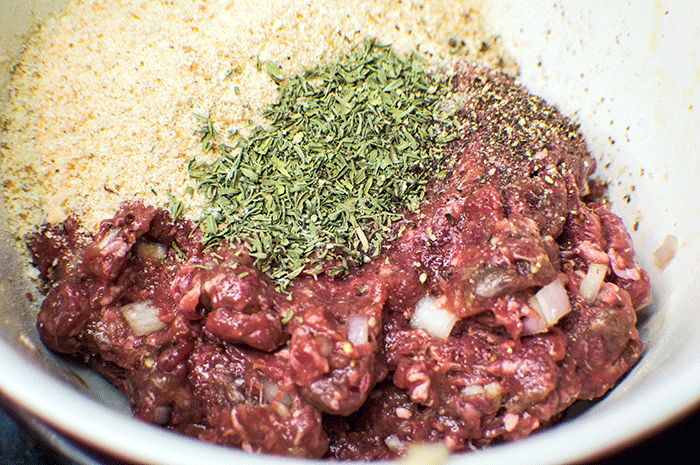 Once the meat is mixed efficiently, roll it into balls small enough to be portable but big enough to be filling. If you were a Wildling or of the Night Watch, you'd want the meatballs to easily fit in your pack but not take up too much space.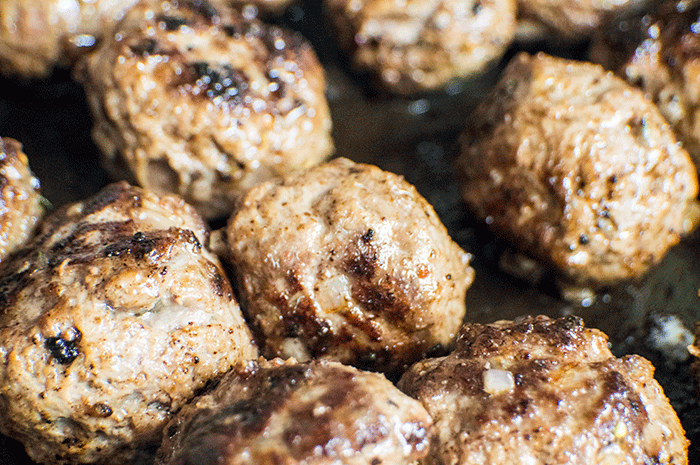 Onions, shallots and garlic are frequently found on both sides of the Wall and are referenced to in dishes throughout the series.
Shallots and onions, when slow roasted create a heavenly sweet and savory flavor that goes perfectly in gravies and alongside gamey meat.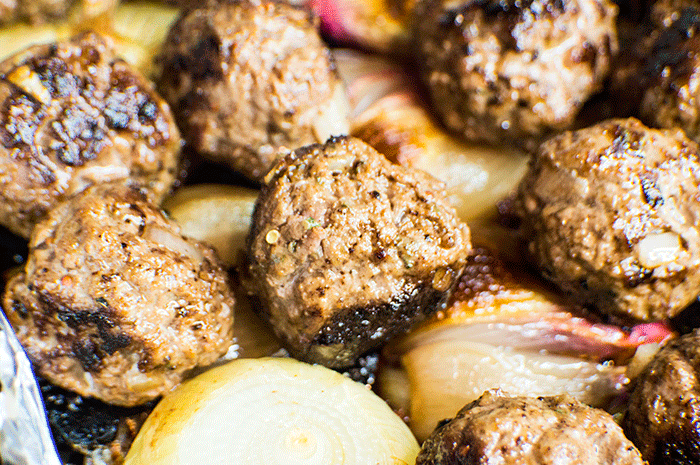 In one of the first chapters of A Game of Thrones Benjen and Jon Snow share a meal of onions and gravy.
Something I think Benjen would love to indulge in again if he weren't, you know, Coldhands.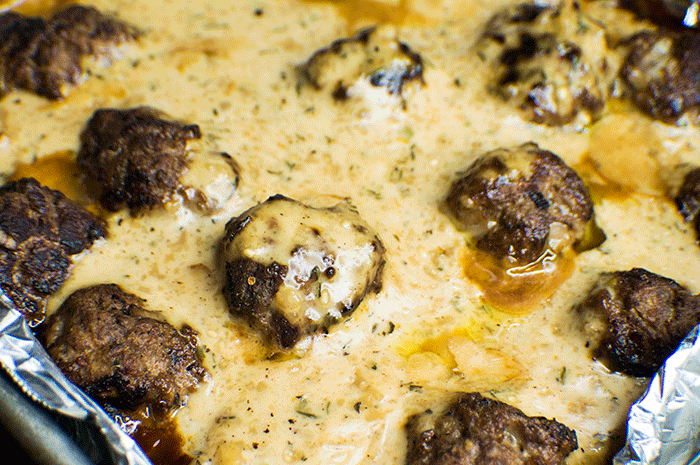 The gravy is simply poured over the meatballs and roasted until the meatballs are cooked through.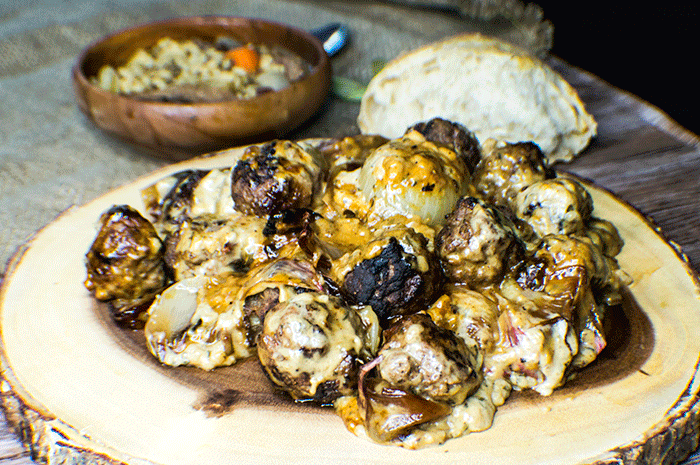 Despite the blowing cold and howling wind, elk meatballs are filling enough to warm you through (and delicious enough you won't want to stop eating them).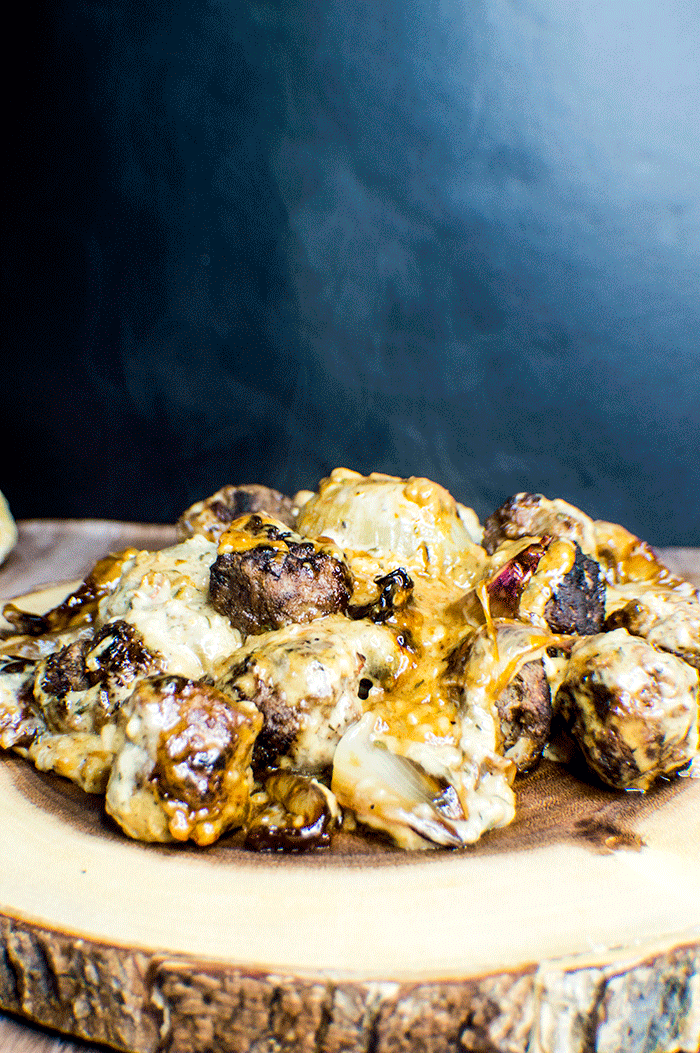 "You're no ranger. Here, a man gets what he earns, when he earns it."
– Benjen Stark to Jon Snow
*This recipe is a combination and modification of recipes found in the Unofficial Game of Thrones Cookbook.
Benjen Stark's Elk Meatballs & Shallot Gravy | Game of Thrones Inspired Recipes
A Game of Thrones recipe inspired by Uncle Benjen and his giant elk.
Ingredients
ROASTED BLACK GARLIC & SHALLOT GRAVY:
2

cups

sweet onion

5

shallots

1

head

black garlic

1

cup

beef broth

¼

cup

flour

½

cup

heavy cream

salt & pepper

to taste
ELK MEATBALLS:
16

oz

ground elk meat

1

shallot

finely chopped

2

tablespoon

hoisin sauce

1

tablespoon

whole grain mustard

1

egg

1

cup

panko

or plain bread crumbs

2

tablespoons

marjoram

1

tablespoon

summer savory

2

tablespoons

butter

2

tablespoon

olive oil

½

cup

sherry

or white wine

salt & pepper

to taste
Instructions
Preheat the oven to 350°F. Remove the loose outer layers of onion skin from each onion, but leave a thin, single layer intact. Cut the onions in half and trim the roots off. Repeat with the shallots but only trim the roots instead of cutting in half. Place cut side down in a baking dish so that the onions are all in a single layer but touching.

Peel the black garlic. Disperse all the cloves, whole, over the onions and shallots. Drizzle the entire dish with olive oil then place in the oven and roast for and hour and a half to two hours.

In a large bowl, stir together the elk meat, shallot, whole grain mustard, egg, hoisin, marioram, summer savory and salt and pepper until completely combined. Roll the meat into inch round balls.

Add the butter and olive oil to a large skillet over medium high heat. Working in batches, sear the meatballs on all sides but do not cook all the way through. The outsides should be golden brown but almost uncooked in the center. Set the seared meatballs aside.

Pour the sherry or white wine into the skillet to deglaze it, scraping up the brown bits. Let the liquid reduce by half then pour the beef broth into the skillet. Bring to a simmer then slowly stir in the flour, 1-2 tablespoons at a time until the broth has visibly thickened. If too thick, add more broth; If too thin, add more flour – then pour in the heavy cream as necessary to achieve a creamy gravy.

When the roasted onions and shallots are ready, they should be soft to the touch of a fork and the skins should be pulled off easily with little to no resistance. Remove the skins and discard.

Place the seared meatballs in the same dish as the roasted onions and shallots. Pour the gravy over the meatballs. Place back into the oven and continue to cook for another 25-30 minutes, until the meatballs are cooked through at 130°F-140°F. Let meatballs rest for 5 minutes prior to serving to let the gravy set. Serve on a large platter with a helping of crusty bread and enjoy.