Bento Box Inspiration
The Starving Chef is supported by Hungry People like you. When you make a purchase through an affiliate link on my site, I may earn a little bit of cash on the side (at no extra cost to you) to help keep my kitchen running. Read our disclosures here.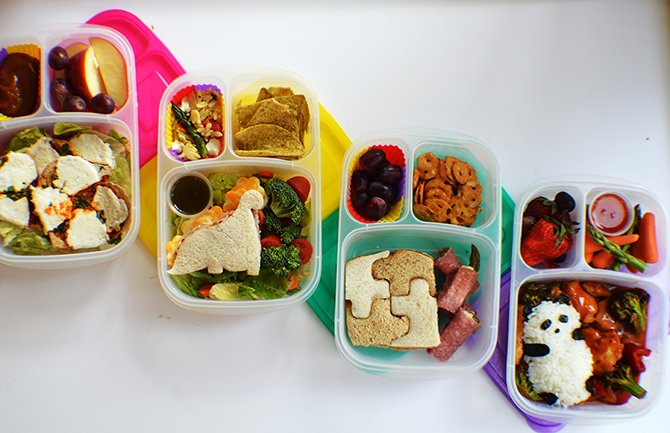 Well after this week's challenge, I can pretty confidently say my lunches and dinners are covered for the week. Now that I have the actual boxes, I might start doing this weekly!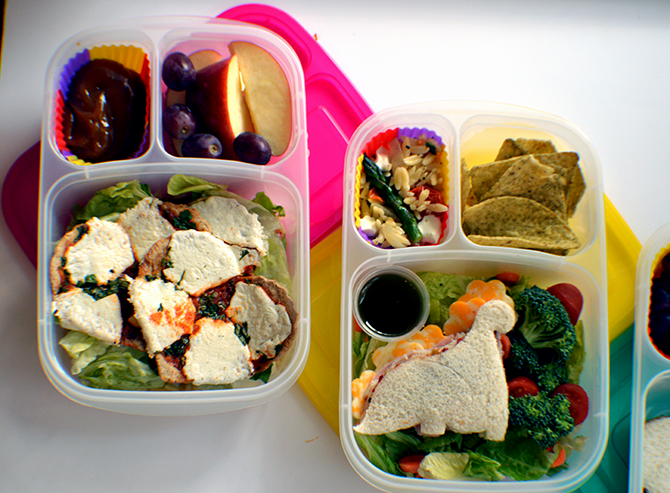 I wanted to cover all my flavor bases, as I am definitely not one who enjoys eating the same thing day after day after day. I aimed to hit Italian, spicy, sweet, and of course, Japanese (sort of).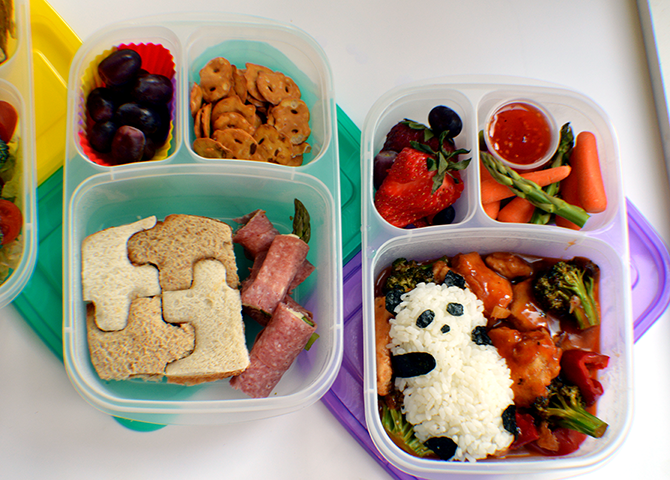 Caprese Flatbread Pizza
Served on a romatine lettuce salad and with apples, grapes, and a caramel dipping sauce for the fruit.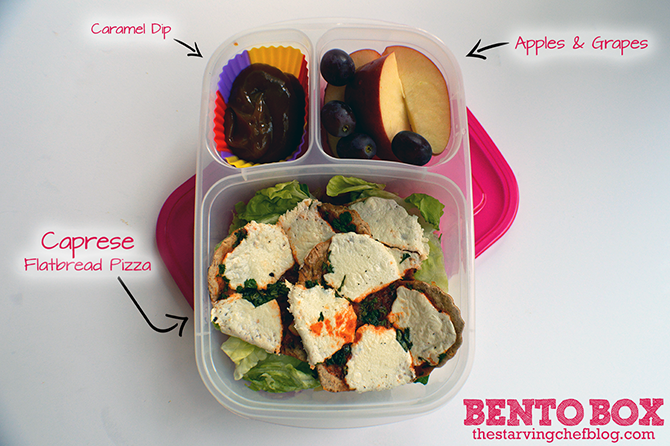 Super simple pizzas made on some herb flat bread – just brush on pizza sauce, add cubes of mozzarella, and sprinkle on the Italian seasoning (basil, parsley, and thyme)! Bake for 10 minutes at 350 or until the flatbread is just turning crispy and the cheese has melted.
Jalapeno Jelly & Turkey Dinosawich
Served on a bed of romaine lettuce, broccoli, and a side of cilantro lime dressing, boxed alongside Mediterranean asparagus orzo, and guacamole chips.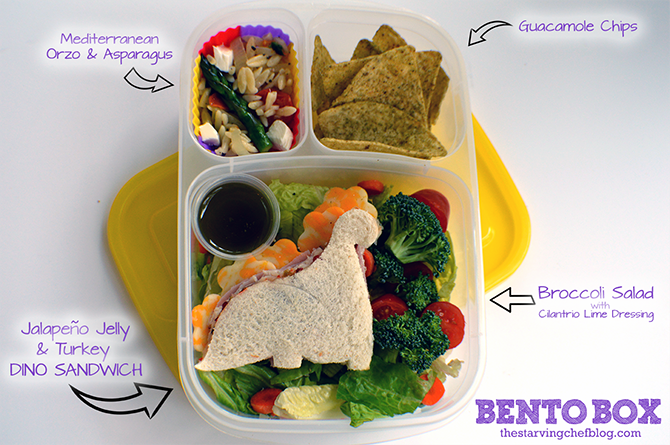 The jalapeno jelly makes all the difference in this sandwich. Take it from a regular turkey, ham, and cheese sandwich and spice it up with a pop of sweet heat.
Peanut Butter & Banana CRUNCH-wich
Served with asparagus and brie salami roll-ups, pretzel crisps, and grapes.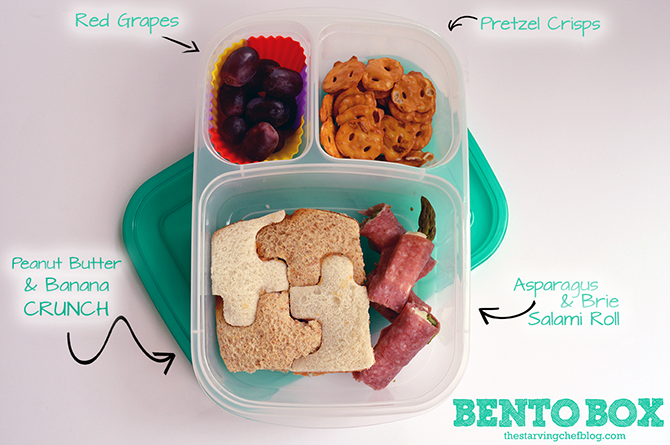 Whip up this easy sandwich with peanut butter, honey, banana, and sweet strawberry and hemp seed granola for a puzzling crunch. See the recipe for the Asparagus & Brie Salami Roll-Ups too!
General Tso's and Panda Onigiri
Served with fresh fruits and steamed veggies with spicy ginger sauce.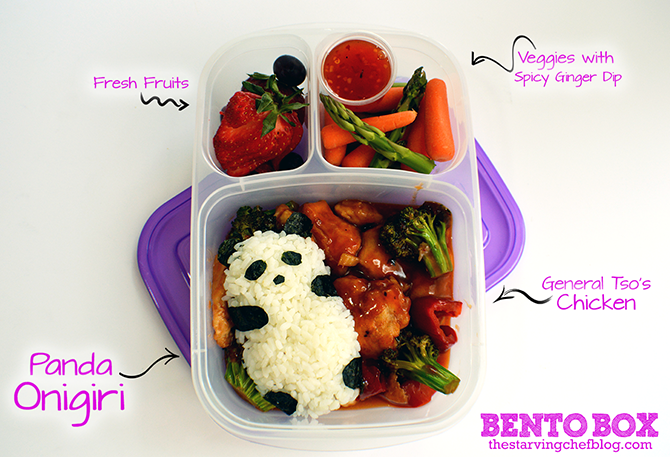 This box is most definitely my favorite. Onigiri is essentially cooked rice wrapped in nori (seaweed). Combined with the sweet and spicy General Tso's, I don't think this box will make it through the week! Here's the recipe for the 20 Minute General Tso's – you might even learn something.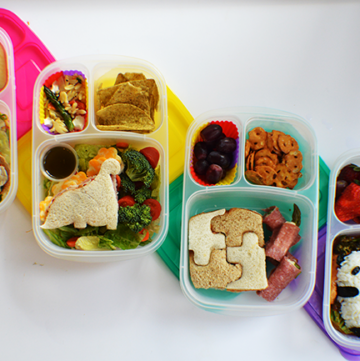 Bento Box Inspiration
A different, easy bento box idea for every day of the work week!
Ingredients
Instructions
CAPRESE FLATBREAD PIZZA: Spread pizza sauce over flat bread and assemble mozzrella slices on top. Season with Italian seasoning to taste, then bake at 350 F for 10 minutes until crispy. Cut into heart shapes, as desired. Serve in bento box with fresh fruit, apples and caramel dip.

JALAPENO JELLY & TURKEY SANDWICH: Assemble sandwich by spreading on the jalapeno jelly, turkey and cheese. Cut into the shape of a dinosaur, as desired. Serve in bento box with orzo salad, chips and fresh veggies like broccoli.

PEANUT BUTTER & BANANA CRUNCH: Assemble the sandwiches by spreading the peanut butter onto half of each bread slice then top with bananas, honey and granola. Cut into puzzle pieces, as desired. Serve with salami brie rolls ups, pretzels and fresh fruit.

GENERAL TSO'S & PANDA ONIGIRI: Assemble box with cooked General Tso's chicken. Form the rice into an oval shaped ball and then cut the shapes for the eyes, ears, nose and arms of the panda from the nori. Serve the bento with fresh fruits and veggies.