Bento Box Inspiration
The Starving Chef is supported by Hungry People like you. When you make a purchase through an affiliate link on my site, I may earn a little bit of cash on the side (at no extra cost to you) to help keep my kitchen running. Read our disclosures here.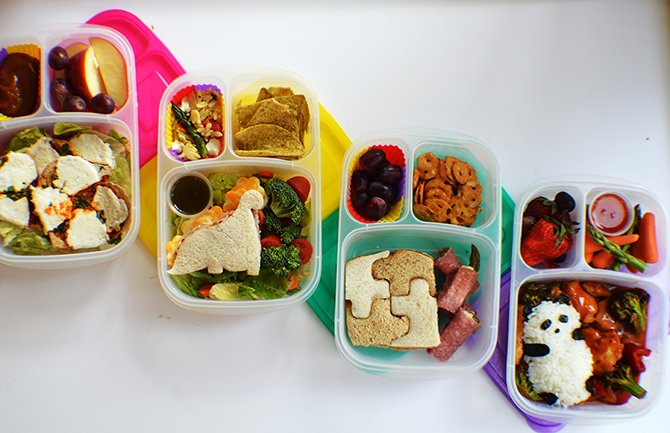 Well, hungry people, after this week's challenge, I can pretty confidently say my lunches and dinners are covered for the week. Now that I have the actual boxes, I might start doing this weekly!
Let me share with you the delightful combinations I've put together to keep my taste buds excited.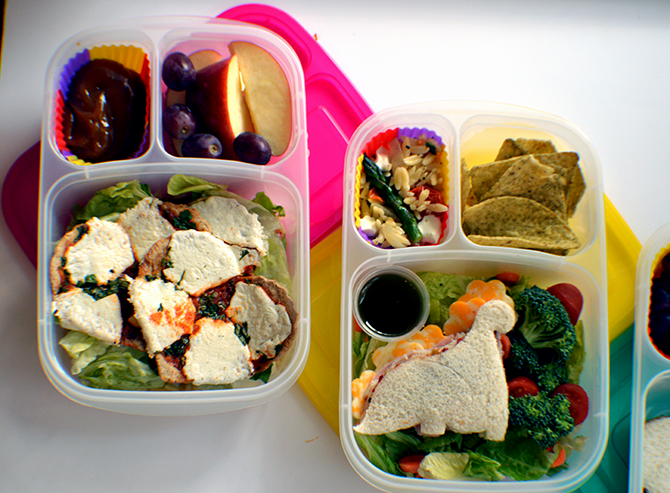 I wanted to cover all my flavor bases, as I am definitely not one who enjoys eating the same thing day after day after day. I aimed to hit Italian, spicy, sweet, and of course, Japanese (sort of).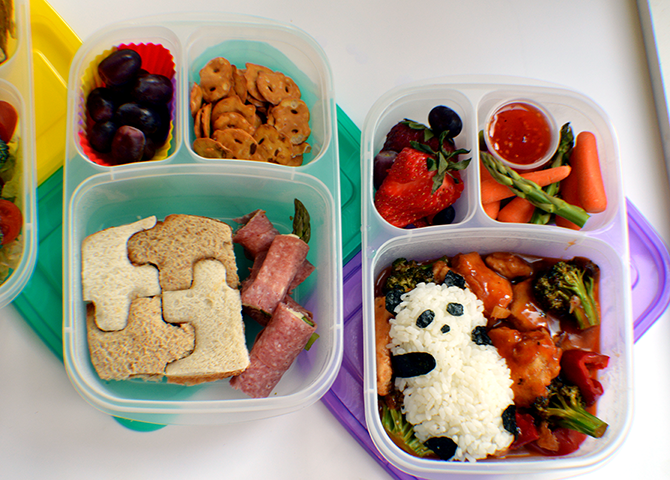 Caprese Flatbread Pizza
First up, we have a mouthwatering Caprese Flatbread Pizza. Picture this: a fragrant romaine lettuce salad paired with sweet apples, juicy grapes, and a heavenly caramel dipping sauce for the fruit. As for the pizza, it's super simple to make.
Flatbread: Provides the base for the pizza.
Pizza sauce: Adds a tangy and savory flavor.
Mozzarella: Melts into gooey perfection and adds creaminess.
Italian seasoning: Infuses the pizza with aromatic herbs and enhances the Italian flavors.
Apple: Provides a refreshing and slightly sweet contrast.
Grapes: Adds a burst of juicy sweetness.
Caramel dipping sauce: Complements the fruit with luscious sweetness.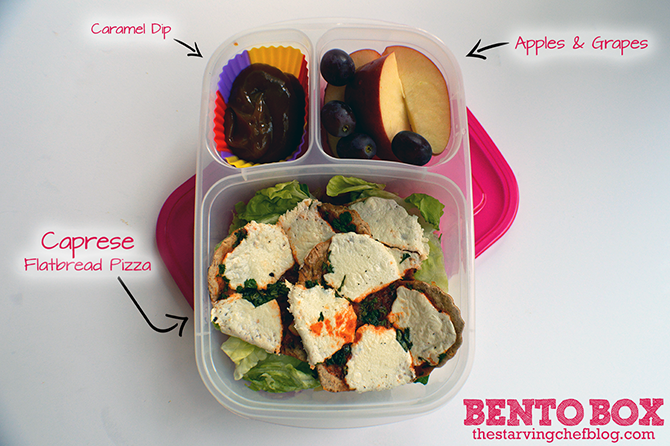 I use some herb flatbread as the base, brush on some pizza sauce, add cubes of gooey mozzarella, and sprinkle on a generous amount of Italian seasoning (basil, parsley, and thyme). Then it's into the oven for 10 minutes at 350°F, or until the flatbread turns crispy and the cheese melts to perfection. It's a delightful medley of flavors!
Jalapeno Jelly & Turkey Dinosawich
Next, we have a sandwich creation that will take your taste buds on an adventure. I call it the Jalapeno Jelly & Turkey Dinosawich. To start, we lay down a bed of crisp romaine lettuce and add some fresh broccoli.
White bread or bread of choice: Forms the base of the sandwich.
Jalapeno jelly: Adds a sweet and spicy kick.
Colby jack cheddar: Provides a creamy and slightly tangy flavor.
Turkey lunch meat: Offers a savory and protein-rich element.
Mediterranean orzo salad: Serves as a refreshing side salad.
Guacamole chips: Provides a crunchy and flavorful snack.
Broccoli salad with cilantro lime dressing: Offers a fresh and vibrant vegetable side dish.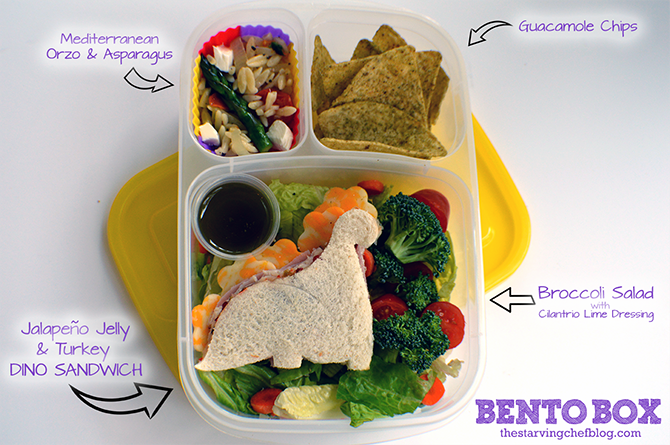 And of course, what's a sandwich without a fantastic dressing? On the side, I include a zesty cilantro lime dressing that complements the flavors perfectly. Now, let's talk about the star of the show: the jalapeno jelly.
This sweet and spicy condiment transforms an ordinary turkey, ham, and cheese sandwich into a flavor-packed delight. Trust me, you won't be able to resist the pop of sweet heat!
Peanut Butter & Banana CRUNCH-wich
For all the peanut butter lovers out there, this next option will make your taste buds sing. Behold, the Peanut Butter & Banana CRUNCH-wich. Alongside this delightful sandwich, I include some asparagus and brie salami roll-ups, a handful of pretzel crisps for that satisfying crunch, and some juicy grapes to balance it all out.
Wheat bread and white bread: Forms the slices for the sandwich.
Honey: Adds natural sweetness.
Granola: Provides a satisfying crunch and additional texture.
Peanut butter: Offers a creamy and nutty base.
Banana: Provides a naturally sweet and creamy element.
Pretzels: Adds a salty and crunchy snack.
Salami brie roll-ups: Offers a savory and creamy roll-up option.
Grapes: Provides a juicy and refreshing fruit option.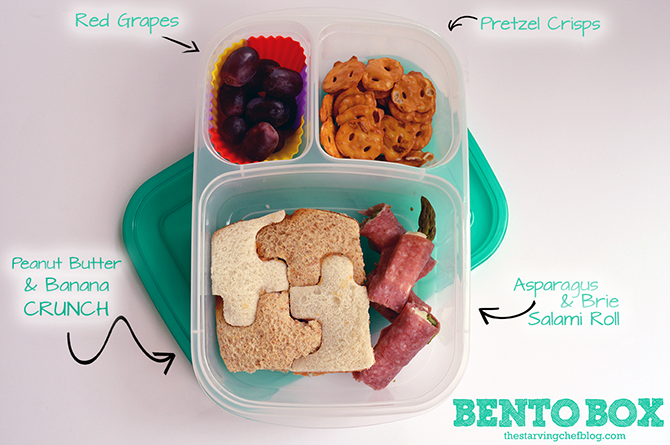 Creating the sandwich is as easy as spreading a generous layer of peanut butter and drizzling some honey over freshly sliced bananas. But here's the twist: I add a sprinkle of sweet strawberry and hemp seed granola, giving it an extra crunch that will keep you coming back for more.
Make sure to check out the recipe for the Asparagus & Brie Salami Roll-Ups too!
General Tso's and Panda Onigiri
Saving the best for last, we have my personal favorite: General Tso's and Panda Onigiri. This combination is a true fusion of flavors. Alongside this mouthwatering duo, I serve a fresh fruit assortment and steamed veggies with a spicy ginger sauce.
Cooked white rice: Forms the base for the onigiri.
Nori: Used to wrap the rice and create decorative shapes.
General Tso's chicken: Adds a sweet and spicy flavor.
Veggies: Served alongside the bento box for freshness and nutritional value.
Ginger dip: Offers a tangy and spicy dip to complement the veggies.
Strawberries and grapes: Serve as fresh and juicy fruits to complete the bento box.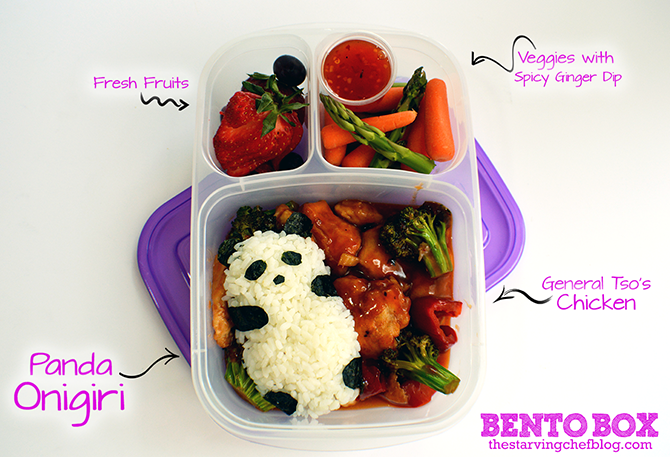 Now, let me explain what onigiri is for those who are new to this Japanese delight. Onigiri is essentially cooked rice wrapped in nori (seaweed), creating a convenient handheld treat. Combined with the sweet and spicy General Tso's, this bento box is an explosion of taste and texture. I have a feeling it won't last long!
Oh, and don't forget to check out the recipe for the 20 Minute General Tso's – you might even learn something new along the way.
---
Tips & Tricks to the BEST Bento Box Possible
Meal Prep: Consider prepping some of the ingredients in advance, such as slicing fruits and vegetables, cooking rice, or preparing sauces. This can save you time during the week when assembling the bento boxes.
Variety and Balance: Aim for a variety of flavors, textures, and colors in your bento boxes. Incorporate different food groups like protein, grains, fruits, and vegetables to create a well-balanced and satisfying meal.
Creative Shapes: Have fun with shaping your food! Use cookie cutters or knife skills to create interesting shapes for sandwiches, fruits, or vegetables. This adds a playful touch to your bento boxes.
Food Safety: Ensure proper food safety by keeping your bento boxes chilled until it's time to eat. Use insulated lunch bags or ice packs to maintain the freshness and safety of perishable ingredients.
Customization: Adapt the recipes to your personal preferences and dietary restrictions. Swap ingredients, adjust seasonings, or incorporate alternative options based on what you enjoy and what works for your dietary needs.
Portion Control: Bento boxes are great for portion control. Use smaller compartments or containers within the box to manage portion sizes and ensure a balanced meal.
Experiment and Explore: Don't be afraid to try new flavors and combinations. Bento boxes offer a wonderful opportunity to explore different cuisines and ingredients, so embrace your creativity and discover unique flavor combinations.
Make it Fun: Bento boxes are not only about the food but also about the presentation. Add small decorative touches like food picks, garnishes, or colorful separators to make your bento boxes visually appealing and enjoyable to eat.
So there you have it, hungry people! These bento box ideas are guaranteed to keep your taste buds dancing throughout the week. Feel free to mix and match the components, get creative, and let your palate guide you.
Until next time, happy cooking and enjoy your bento boxes!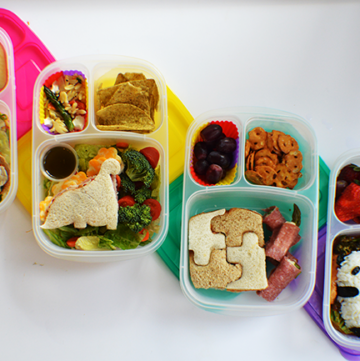 Bento Box Inspiration
A collection of delightful and flavorful bento box ideas featuring Caprese Flatbread Pizza, Jalapeno Jelly & Turkey Dinosawich, Peanut Butter & Banana Crunch-wich, and General Tso's & Panda Onigiri.
Ingredients
Instructions
CAPRESE FLATBREAD PIZZA:
Spread pizza sauce over the flatbread.

Arrange mozzarella slices on top.

Sprinkle Italian seasoning to taste. Cut into heart shapes if desired.

Bake at 350°F for 10 minutes or until crispy.

Serve in a bento box with fresh fruit, sliced apples, and caramel dip.
JALAPENO JELLY & TURKEY SANDWICH:
Spread jalapeno jelly on one slice of bread.

Layer colby jack cheddar, turkey slices, and the second slice of bread.

Cut into the shape of a dinosaur if desired.

Serve in a bento box with orzo salad, guacamole chips, and fresh veggies like broccoli.
PEANUT BUTTER & BANANA CRUNCH:
Spread peanut butter onto half of each bread slice.

Top with sliced bananas, honey, and granola.

Cut into puzzle pieces if desired.

Serve with salami brie roll-ups, pretzels, and fresh fruit.
GENERAL TSO'S & PANDA ONIGIRI:
Assemble the bento box with cooked General Tso's chicken.

Shape the rice into an oval-shaped ball.

Cut shapes for the eyes, ears, nose, and arms of the panda from the nori.

Serve the bento box with fresh fruits and veggies, along with a side of ginger dip.