Best Copycat BUTTERBEER from Universal Studios
The Starving Chef is supported by Hungry People like you. When you make a purchase through an affiliate link on my site, I may earn a little bit of cash on the side (at no extra cost to you) to help keep my kitchen running. Read our disclosures here.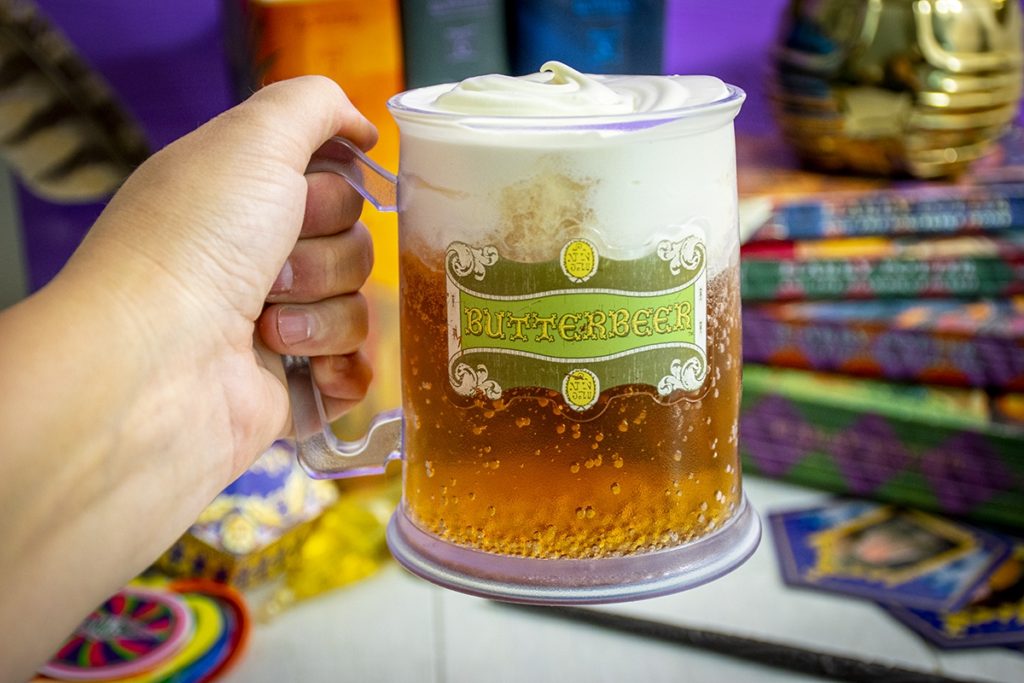 What's up, Hungry Muggles!
That's right – it's officially Harry Potter week here in the Starving Chef's kitchen. For the last six years, I've dedicated the last week of July to the Boy Who Lives: HARRY POTTER!
I have been a huge Harry Potter nerd my entire life (going as far as visiting the actual sets in London) so it only makes sense that I let my favorite fantasy novels spill over into my passion of cooking for an ENTIRE WEEK every summer.
So hold on to your broomsticks – and don't forget to check back every day until July 31st for my newest Harry Potter themed recipe!
Check out my previous years of Harry Potter recipes here!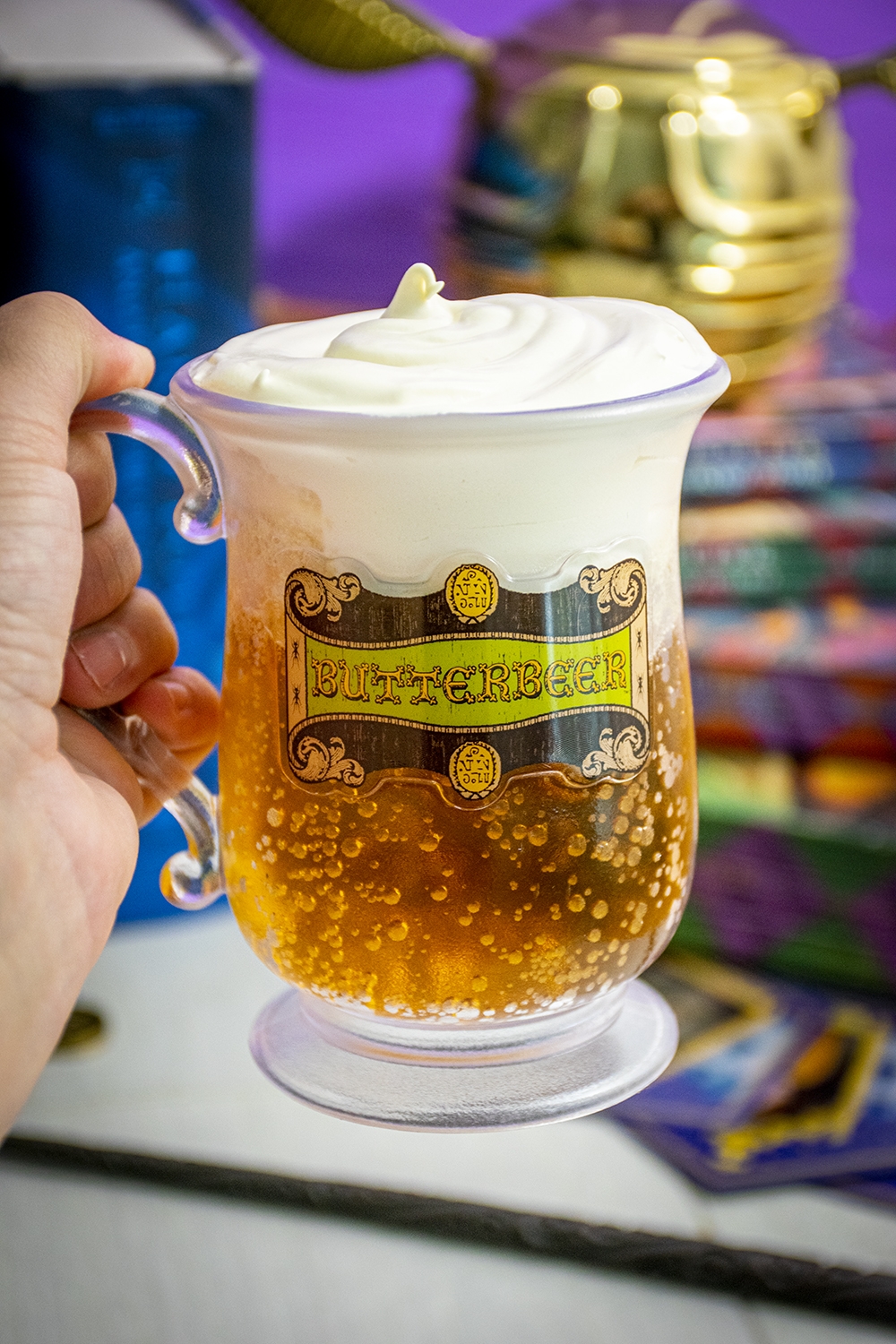 First up is a copycat recipe for BUTTERBEER – directly from Hogwarts itself. And let's be honest, you've always wanted a reason to bust out that souvenir butterbeer cup you promised you (or your kids) would use again.
I have two different butterbeer cups, one from Universal Studios and one from the Warner Bro's Studios in London (the actual on set locations where the movies were filmed) – so this is a copycat recipe for both butterbeer recipes. And being able to say that I've had butterbeer from both places basically makes me an expert on the subject.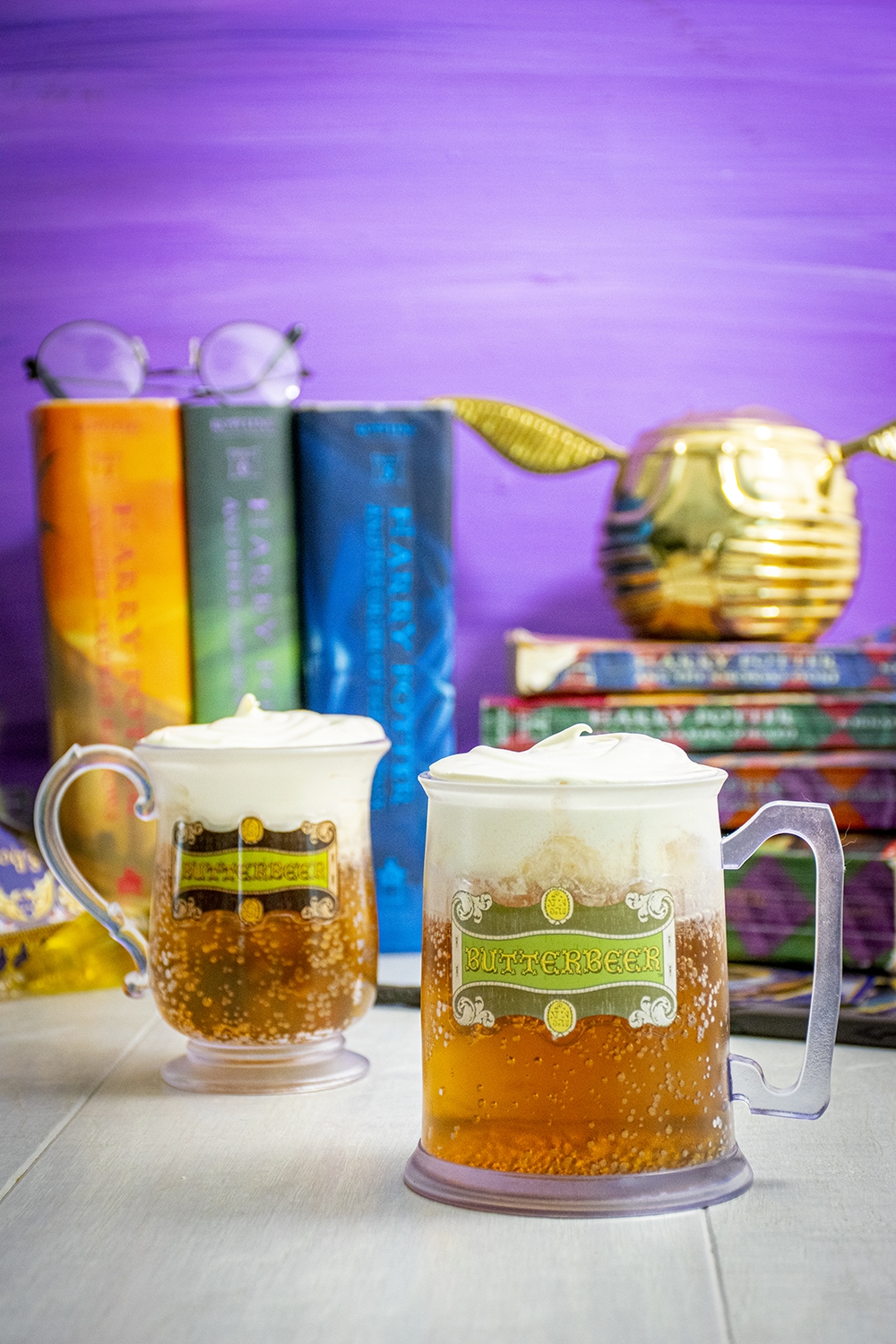 Both use a similar fizzy concoction for the liquid and a creamy, butterscotchy foam on top. It's all really quite simple, even by muggle standards!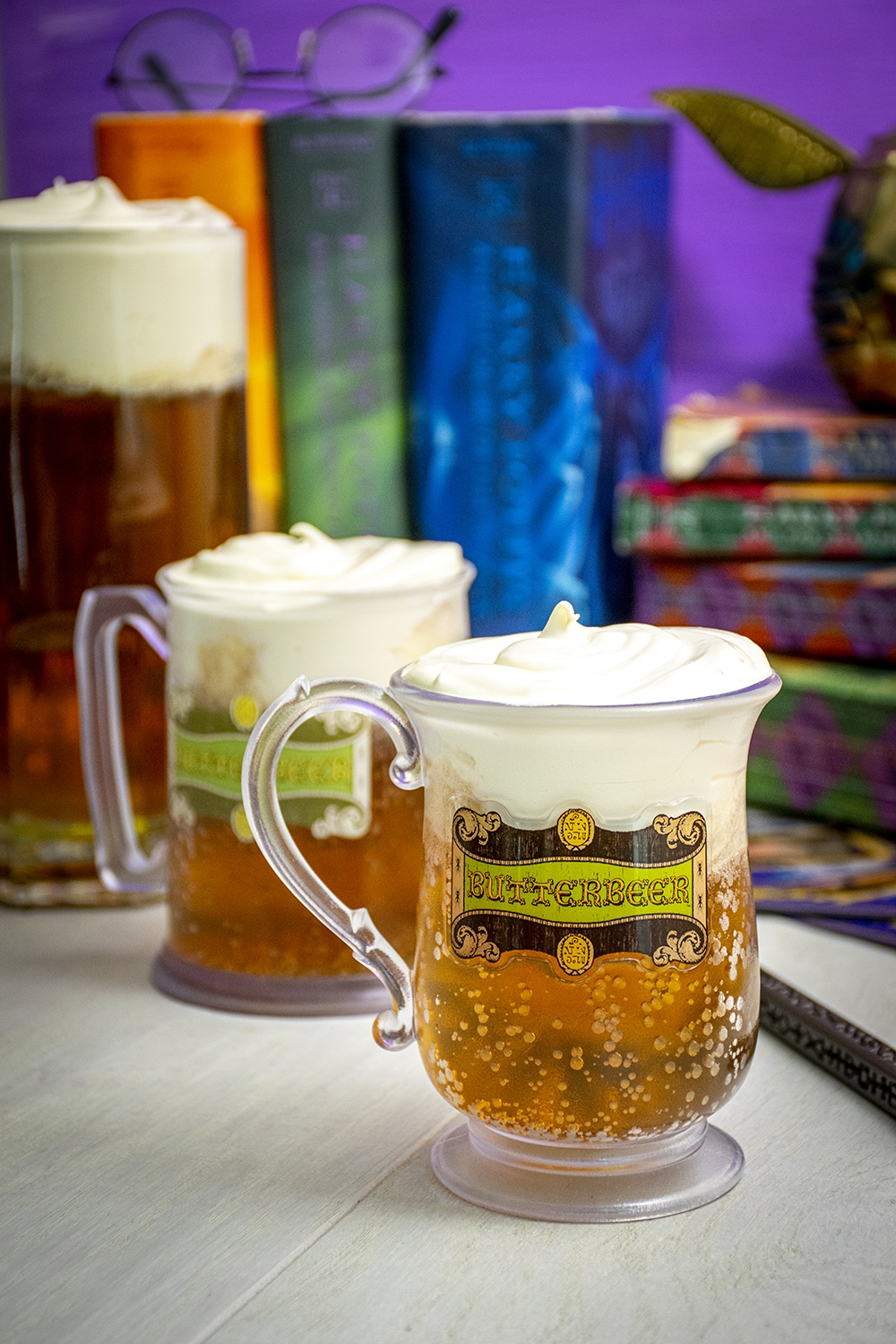 As I kid, when I first read the novels, I was convinced that butterbeer actually had butter in it. I even remember trying to recreate the golden, foamy liquid described in the books (the true start of Starving Chef days, making messes in the kitchen at the age of 12) – and I also remember being instantly disappointed that whatever the heck I had just created tasted absolutely nothing like how I imagined it.
This butterbeer has absolutely no actual butter in it. I've learned from the mistakes of my youth.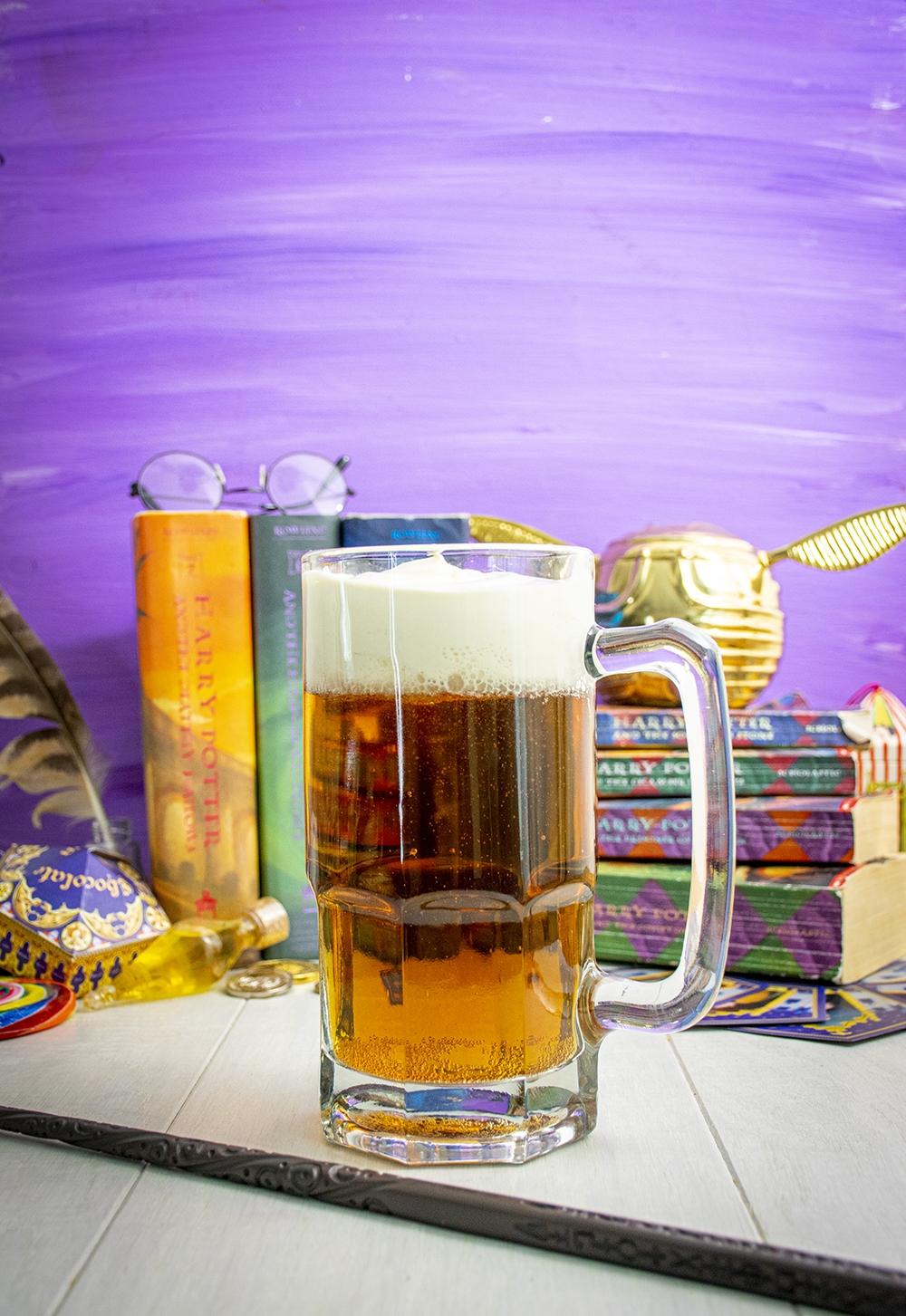 It does, however, have a butterscotch foam cap on top to lock in all of the fizzy goodness of the butterbeer itself. This is the "butter" part of the butterbeer name – butterscotch!
The foamy cap also is what gives this drink an appearance of a beer, but no alcohol is involved.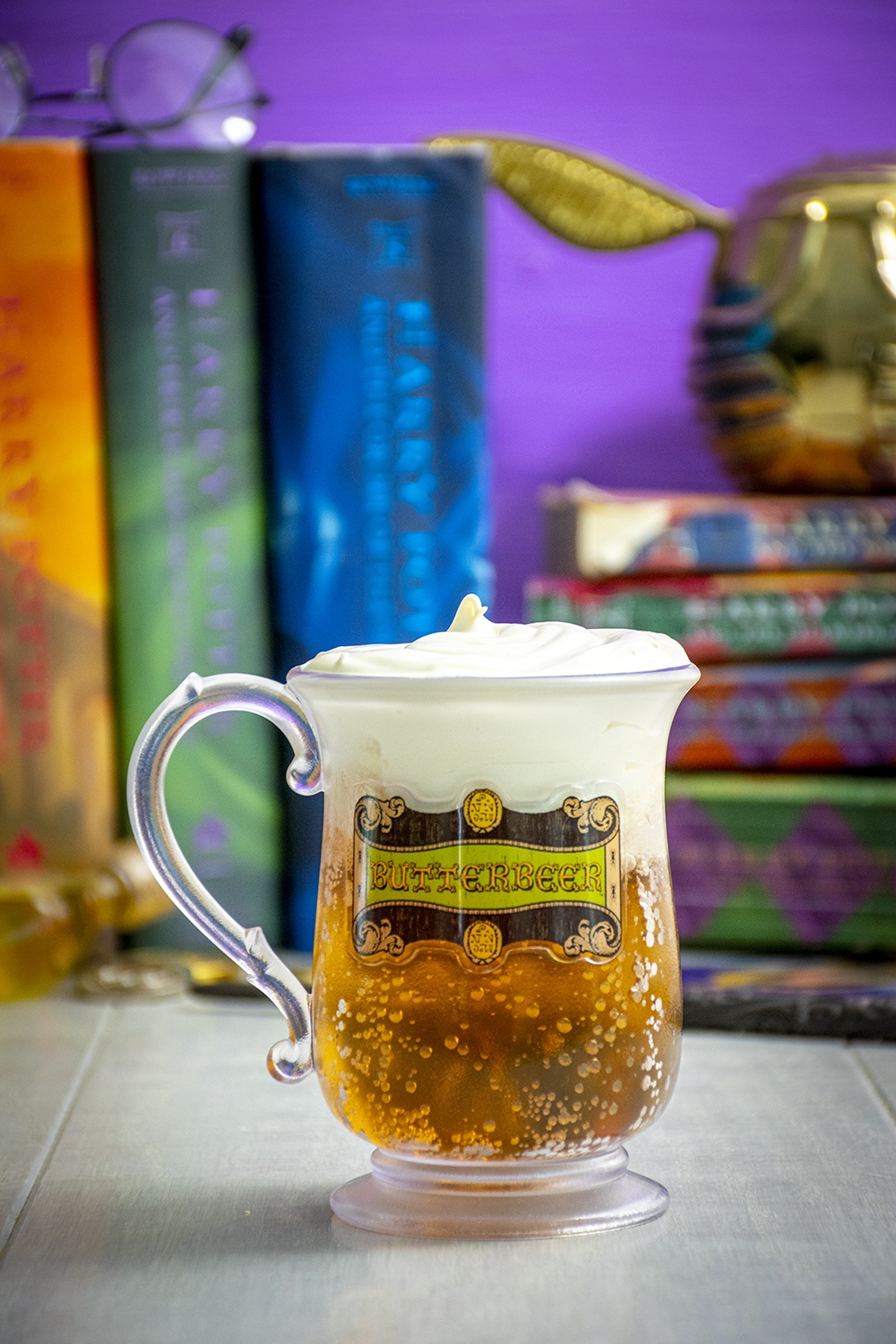 While there are hot and cold variations of butterbeer, I much prefer the cold version – plus it's so easy to make at home, even Neville Longbottom couldn't mess it up.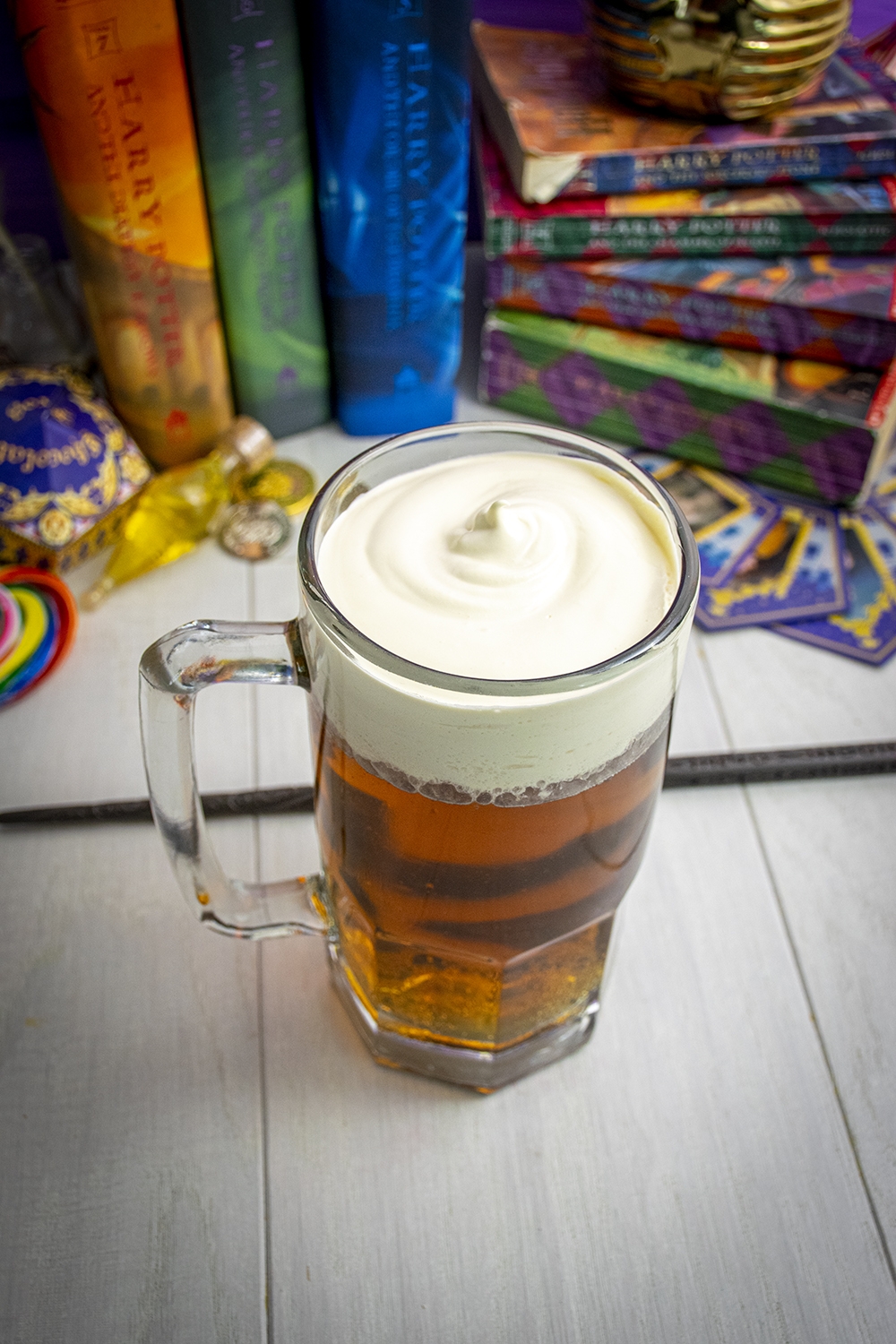 What Does BUTTERBEER taste like?
Butterbeer has a very sweet, fizzy soda base with strong vanilla and caramel notes – if you have ever had cream soda, then you know what it tastes like! The butterscotch foam on top is light and airy and almost tastes like melted ice cream.
While it makes Winky drunk in the books, butterbeer does not have any actual alcohol in it. Harry and friends drink it in the Three Broom Stickys and it makes them feel 'warm' but that may have more to do with the temperature rather than the effects of the butterbeer itself.
If you want a HOT version of this recipe, let me know down in the comments below and I will make it my mission to recreate it – true to taste.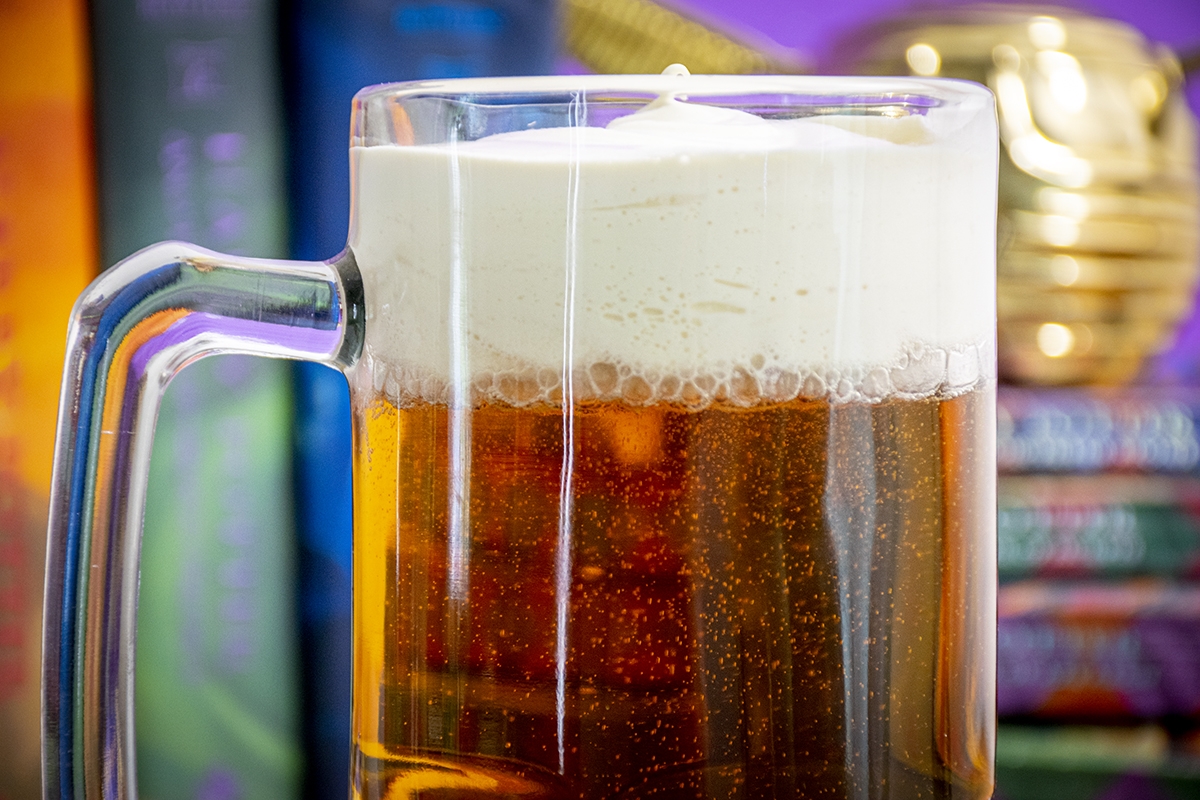 Muggle Ingredients for Butterbeer
While witches and wizards have their own magical ways to brew butterbeer, I've interpreted their potion notes into common ingredients that any muggle can find at their local grocery.
cream soda – some brands are superior to others when it comes to cream soda taste. I recommend using A&W cream soda as it has more mellow notes and it's overly sweet like other brands can be. However, if you prefer your butterbeer extra sweet, feel free to use your favorite brand!
whipped topping – you want to use whipped topping, not whipped cream. I specifically recommend using Cool Whip or similar brand and the "extra creamy" type of topping.
butterscotch – another specific brand recommendation: Smuker's butterscotch ice cream topping isn't overtly sweet and is the perfect consistency to mix into the Cool Whip without making it flat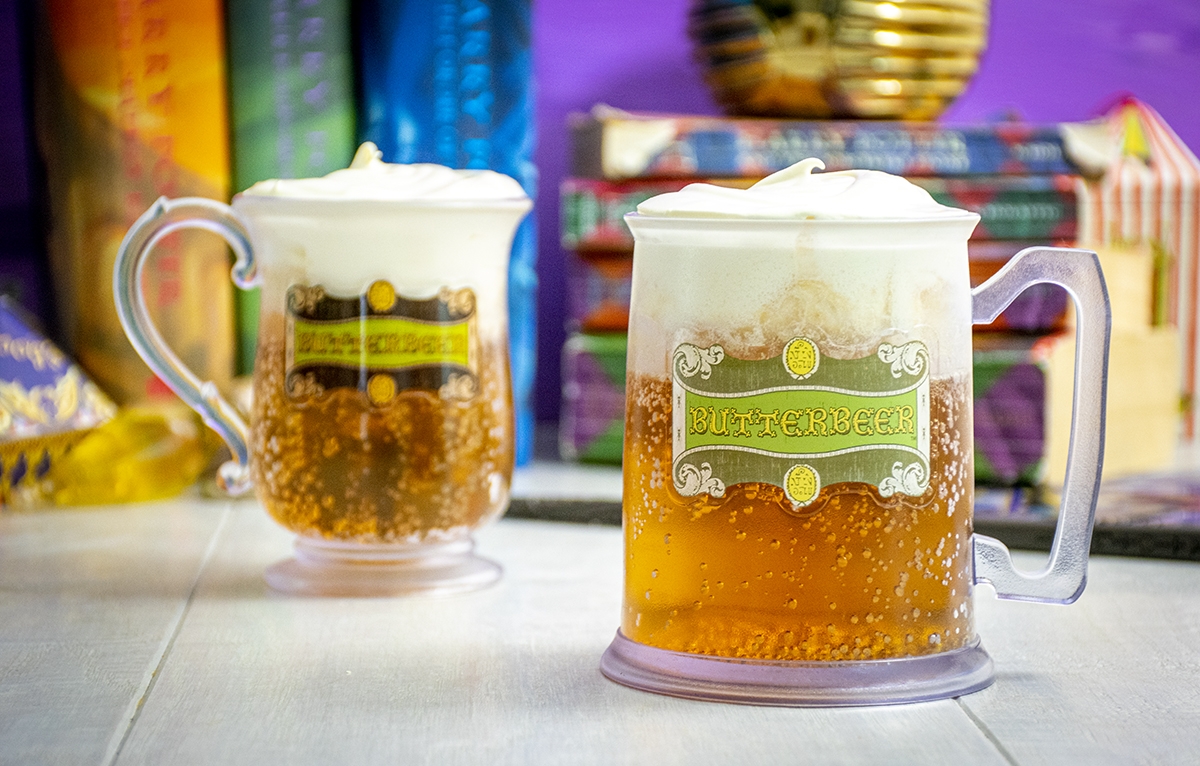 Each souvenir cup holds about 6-8oz of liquid, so I was able to easily split a 12 oz cream soda between both cups. For a Hagrid sized mug, feel free to use the entire 12 oz!
The butterscotch topping I gently spooned on top – but you can also tranfer it to a plastic baggie and snip off the corner to pipe it directly on top of the drink.
~Swish and Flick~
Harry Potter week is just beginning! Every day, I'll post a new Harry Potter inspired recipe based on the books, movies or real life foods found at the Wizarding World!
What magical recipes are you most excited to see? Let me know down in the comments below!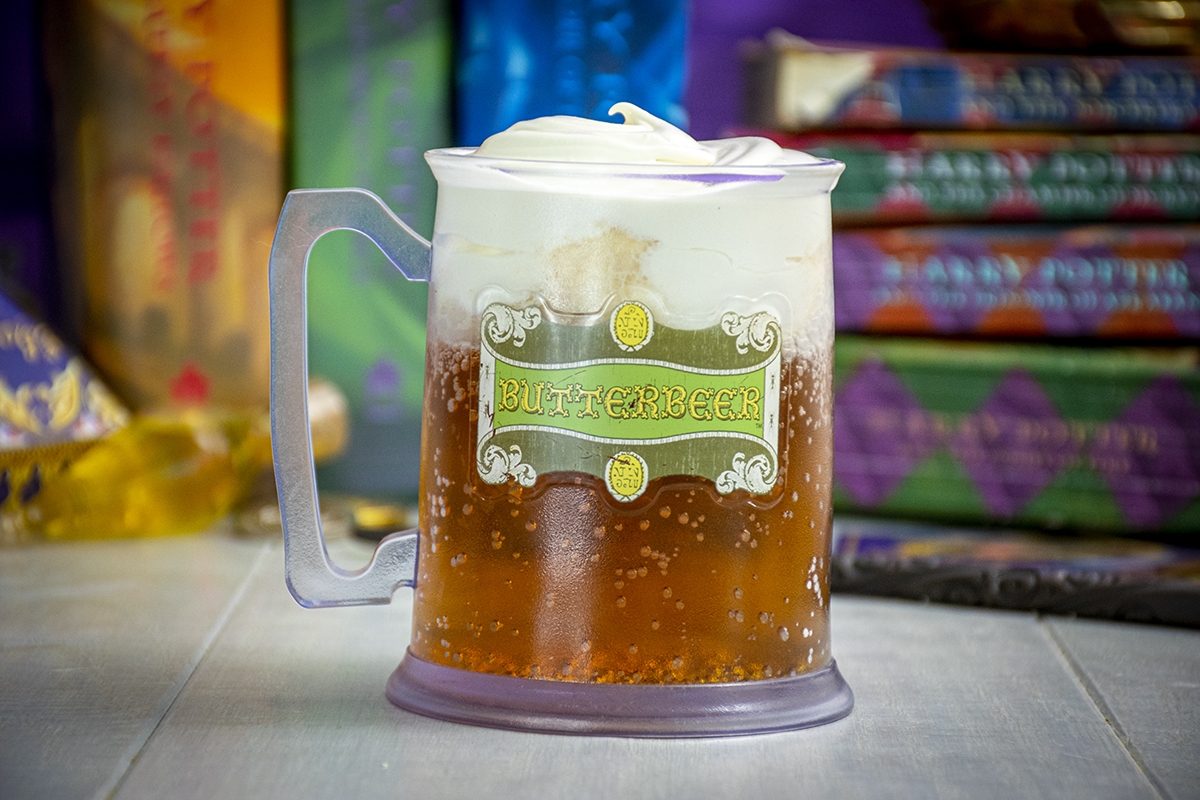 Best Copycat BUTTERBEER from Universal Studios
The best copycat recipe for cold butterbeer from the Wizarding World of Harry Potter at Universal Studios!
Ingredients
12

oz

A&W cream soda

8

oz

Cool Whip extra creamy whipped topping

½

cup

butterscotch syrup

(ice cream topping)
Instructions
In a small bowl, stir together the Cool Whip and butterscotch until completely combined. The Cool Whip should be a creamy white color.

Pour the chilled cream soda into serving glasses. Serve with the butterscotch topping dolloped on top. Alternatively, transfer the whipped topping to a plastic baggie and snip the corner to pipe the topping on. (NOTE: The whipped topping will start to foam when it comes in contact with the soda, do not top until ready to serve.

Serve right away and enjoy with your witch and wizard friends while marathoning Harry Potter!