Best Food to Try at Galaxy's Edge
The Starving Chef is supported by Hungry People like you. When you make a purchase through an affiliate link on my site, I may earn a little bit of cash on the side (at no extra cost to you) to help keep my kitchen running. Read our disclosures here.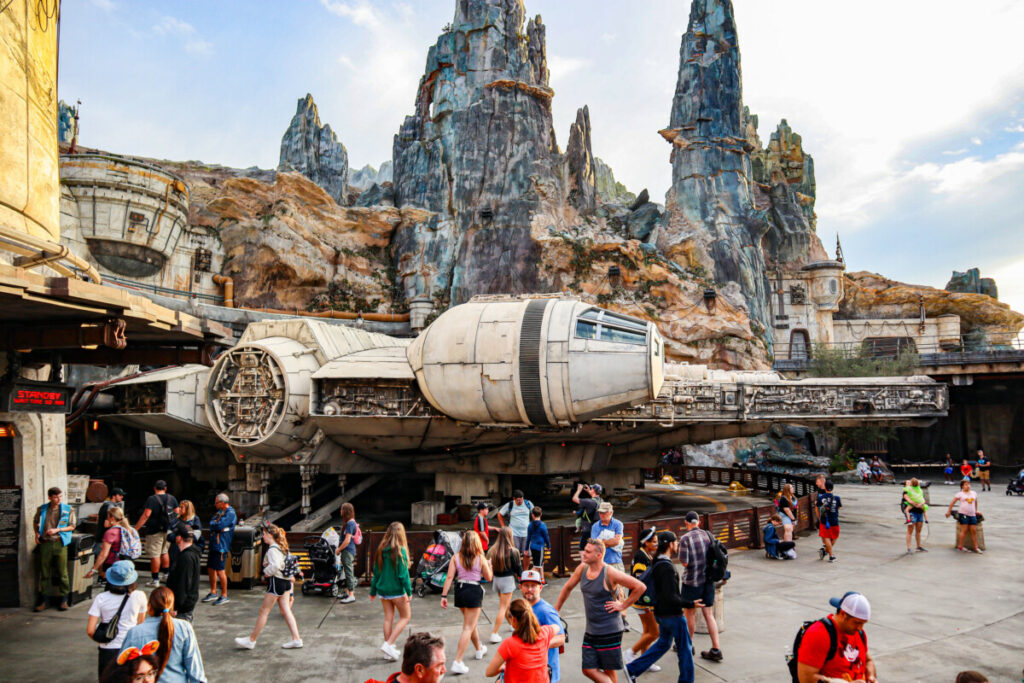 It's time for another trip to Hollywood studios! I once again joined Disney travel agent Karli Keene for a quick trip to the happiest place on earth.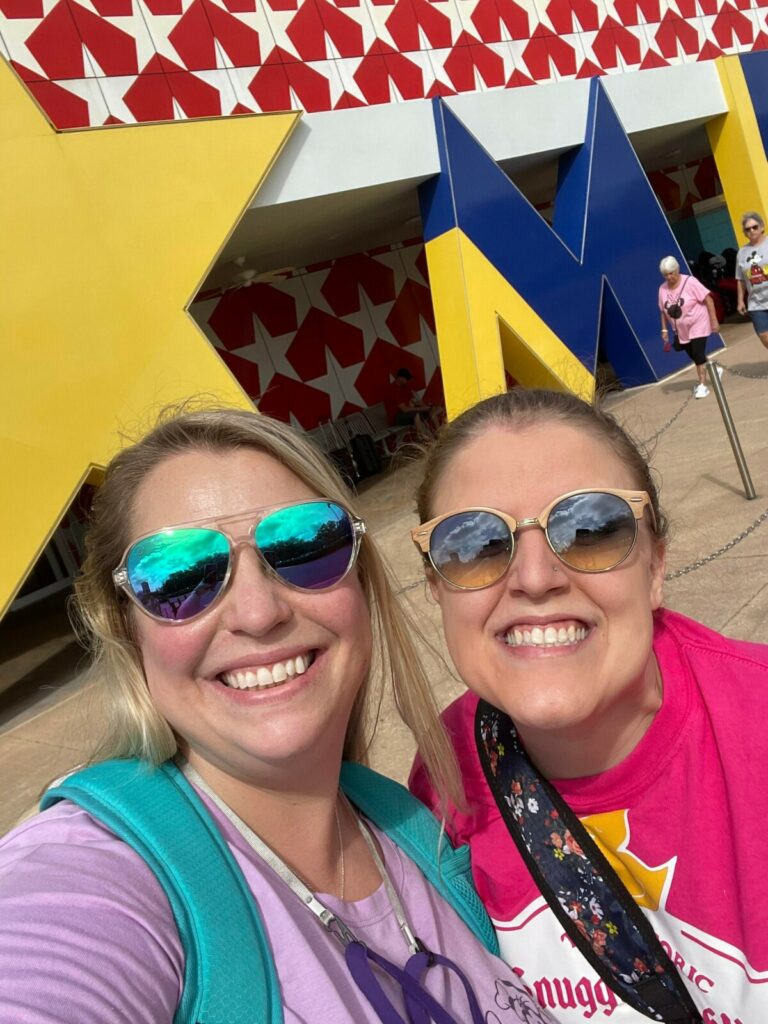 After my disasterous first time around at Hollywood Studios, I decided it was high time for a redo – and this trip definitely made up for it.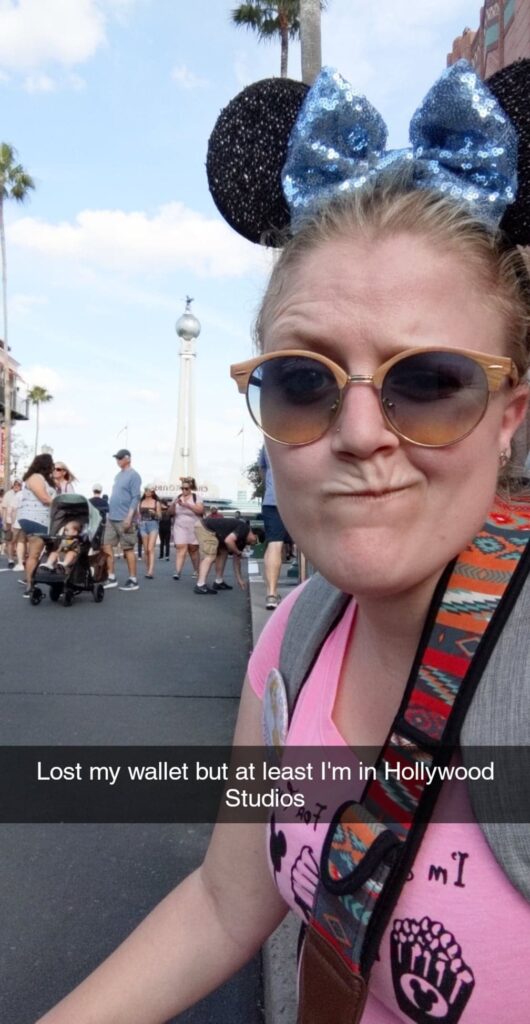 It is currently Disney's 50th anniversary celebration – which means the parks are decked out to celebrate the occasion. But the real reason I wanted to return to Hollywood studios was for Galaxy's Edge.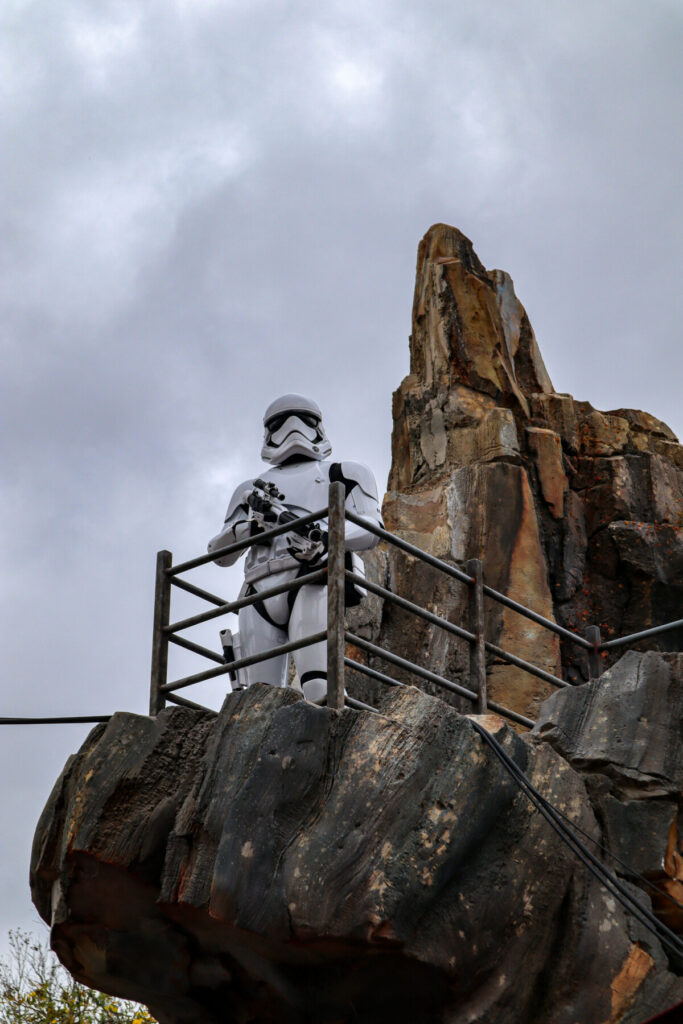 One of the most immersive experiences in all of Disney, Galaxy's Edge is a dream come true for Star Wars fans. Prepared to be stopped by storm troopers and explore Batuu in depth. Every turn there is something new to see and smell.
For breakfast we made our way to Ronto's Roasters where you can grab these sausage wraps for your morning rations. Ronto's morning wrap has scrambled eggs, a pork sausage, cheesy cheddar and a creamy peppercorn sauce – all wrapped up in a pillowy soft pita.
The morning wrap really hits the spot and is a great way to make some friends in the resistance.
After breakfast we explored all that Batuu has to offer, dodging storm troopers all the while. During your time in Batuu you will get to explore all the nooks and crannies of the Star Wars universe. You can even build your own droid.
Which speaking of droids, there are plenty to find throughout the outpost – . and the surroundings are next level immersive.
After we did some exploring, we stopped to cool off with some blue milk from the milk stand. Here you can grab green or blue milk – and it's actually quite delicious. I wasn't sure what I expected but it was sort of a mix between a milkshake and an icy.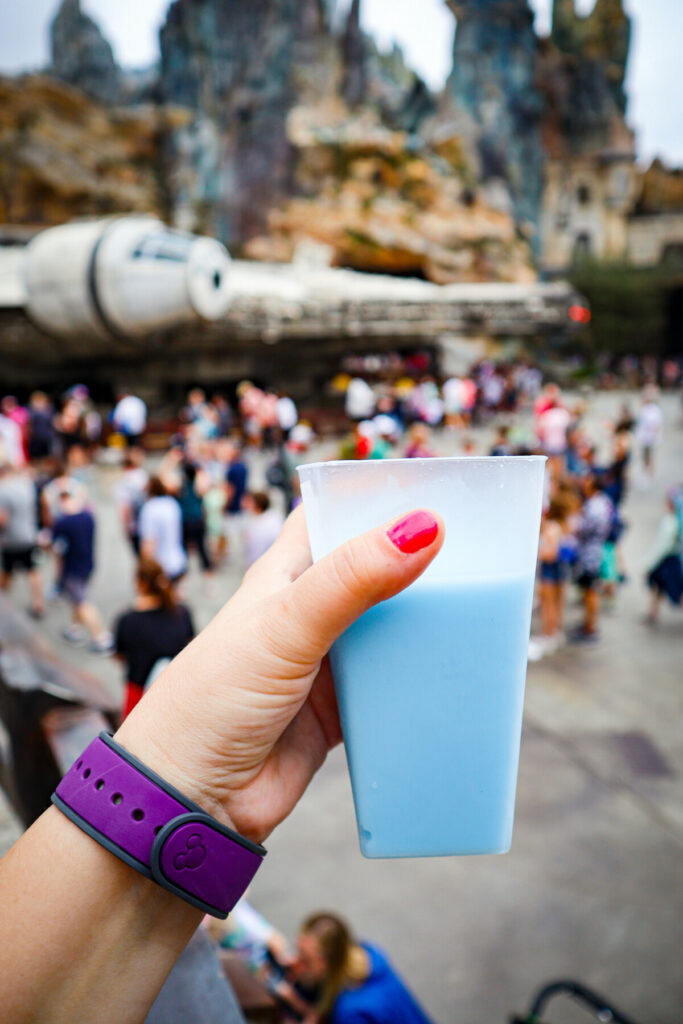 By this time we were starting to get hungry again so we grabbed a table station at Docking Bay 7 Food and Cargo. While we weren't able to secure reservations at the Cantina, the Docking Bay experience was just as much fun – and definitely delicious.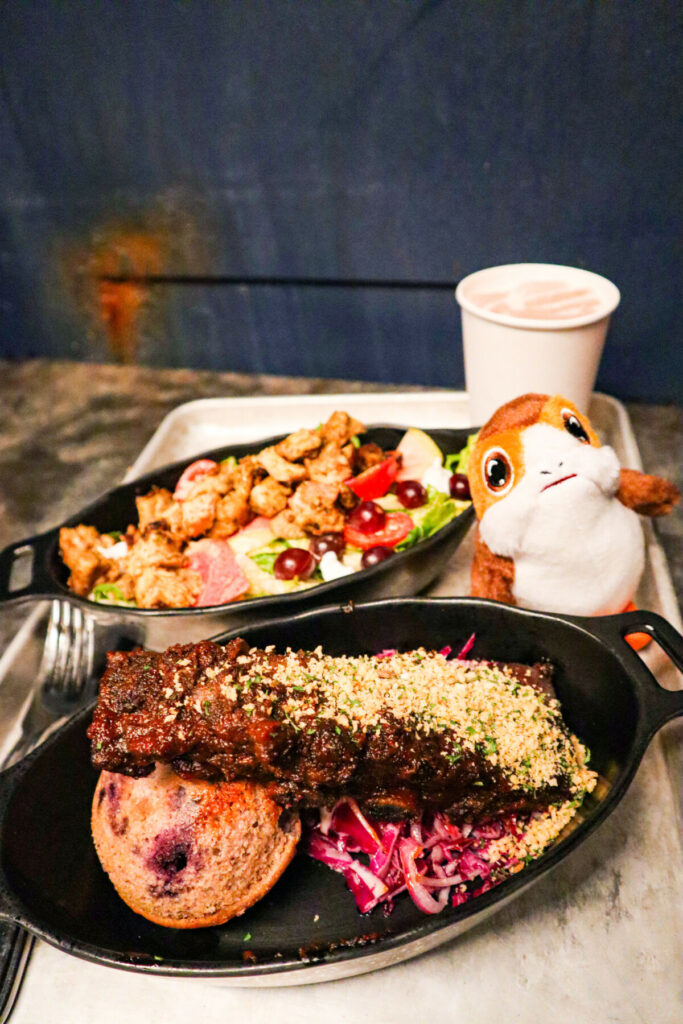 For my meal I had the smoked kaadu pork ribs which are coated a sticky sweet bbq sauce and served on a bed of cabbage slaw with a blueberry corn muffin on the side. The pork was perfectly tender and the perfect combo of sweet and savory.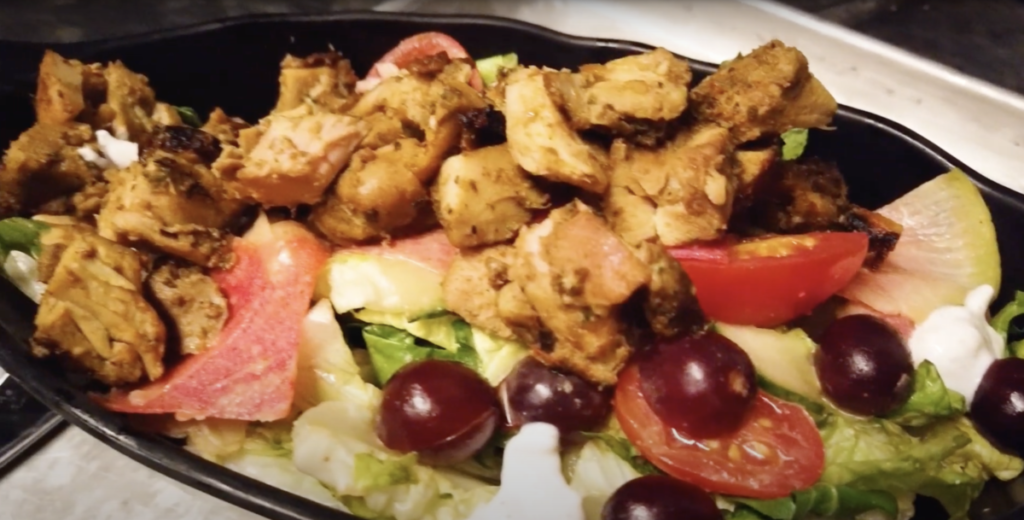 Karli had the roasted Endorian chicken salad – which was a fancy salad topped with marinated chicken and a citrus pomegranate vinaigrette and spiced yogurt drizzle to top it off. With pops of grapes and radishes, it was a refreshingly lightly meal compared to most meals you can get on the planet.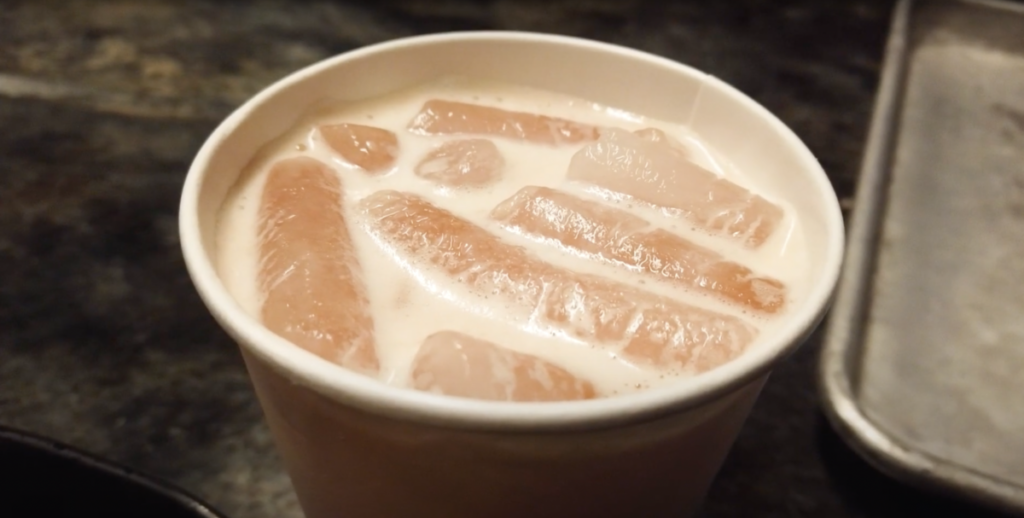 To drink, I obviously had to sip on some moof juice, which is an incredibly sweet fruit punch with an undertone of pineapples and chipotle heat.
But finally it was time for what I've been waiting to do for over 2 years now – join the Resistance.
If you haven't been to Disney and ridden this ride yet, I highly recommend it. I won't spoil too much in my video – mostly because there's no way give this experience even the tiniest amount of justice through the screen, you really just have to let the ride happen to you.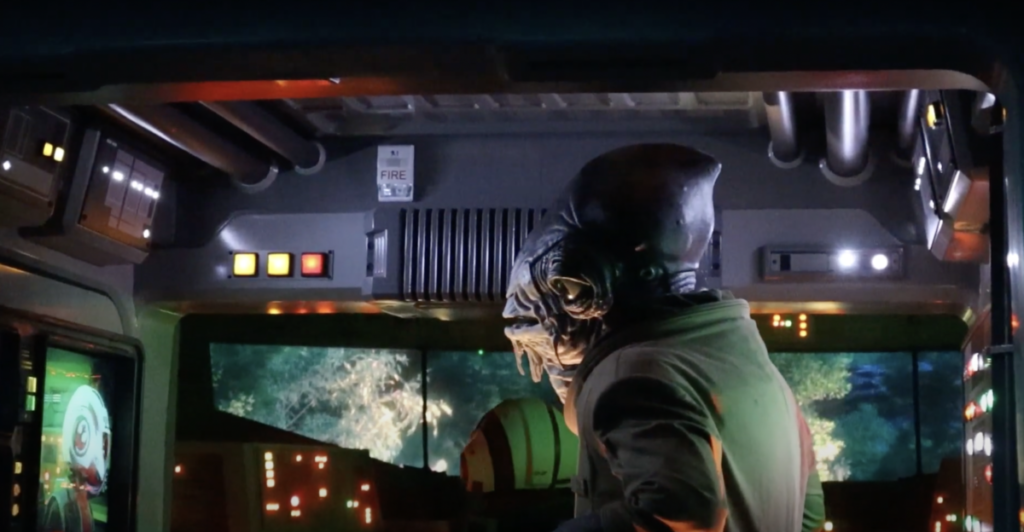 First you blast off the planet and through a major battle before you are captured by the empirial army and are brought aboard the starship itself. When I stepped off the transport pod and into the starship cruisers main bay, I had full body chills.
The transition between being on earth and entering the galaxy is a mind boggling experience. you are shuffled through to your transport pod – and it's honestly hard to tell when this ride actually starts. As a trackless coaster ride, you are whipped around through the starship as kylo ren pursues your pod. For a moment, its entirely possible to forget you are still on planet earth.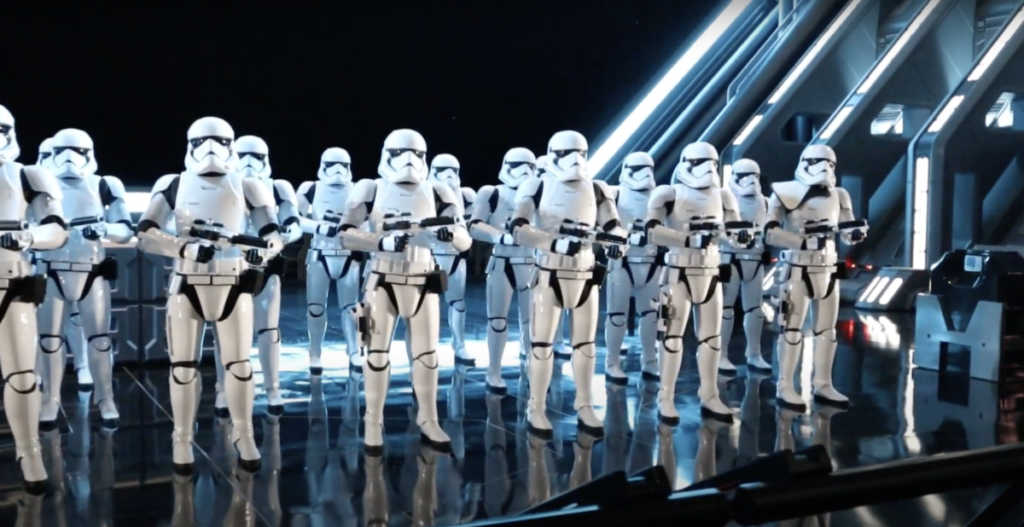 You are taken to space and through multiple battles in space before you encounter Kylo Ren – and that's just the beginning. This ride has revolutionized the theme park experience – between rise of the resistance and flight of passage, Disney is single handedly changing the game for the ultimate immersive experience.
Someday I do intend to come back to the black spire outpost and get a seat at the bar at the cantina. But until then, I will have to trust the force will guide me on my next adventure.
stick around for more Disney content – not every day at Disney is the happiest day on earth. My next Disney video I will show you what we did when it downpours at Disney world.
I hope you all enjoyed and may the force be with you.