The Starving Chef's 2016 Recipe Recap
The Starving Chef is supported by Hungry People like you. When you make a purchase through an affiliate link on my site, I may earn a little bit of cash on the side (at no extra cost to you) to help keep my kitchen running. Read our disclosures here.
What's Up, Hungry People?
As 2016 draws to a close, many of us turn to reflect on our journey through the last 365 days. For me, that means hungrily paging through the posts I've made – it's mind-blowing to see how far I've come since I first started blogging about my cooking escapades in college. A lot has changed since 2015 when my blog first made its debut. Not only have I honed my cooking skills—I mean, really leveled up—but my photography and videography prowess have soared beyond my wildest dreams!
Despite the dismal show the world put on outside my kitchen in 2016, I'm bursting with anticipation for the culinary experiments 2017 will bring! What recipes are you dying to try out? What should I add to my culinary repertoire? Drop your thoughts and cravings in the comments!
Let's Cook!
---
Just like Jeffrey Dahmer, these cookies are so good, stopping at one is just not an option. Spawned from my odd combination of interests in true crime podcasts and baking, they're a hit you don't want to miss.
---
What's cozier than bundling up on a frosty evening with a steaming bowl of chowder? This version comes loaded with chunks of potatoes, sautéed onions, crispy bacon, and succulent clams—absolute perfection in a bowl.
---
Who could forget the biggest sensation of 2016: Pokemon GO! These cupcakes are my tribute to the craze that had us all on the move.
---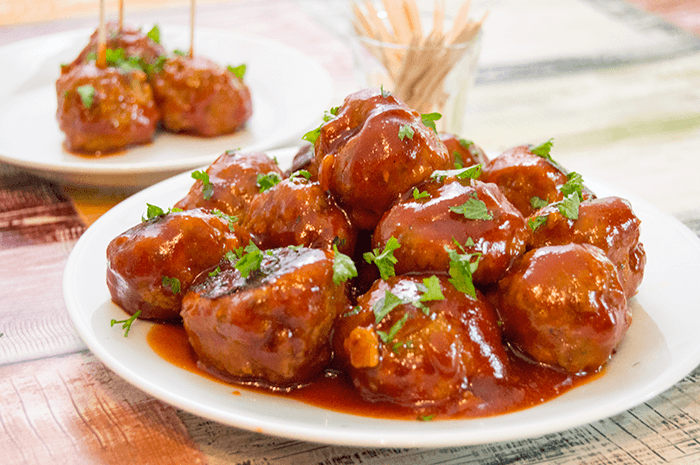 A blast of heat softened by the kiss of honey, these turkey meatballs are a fiery pleasure that'll have everyone clamoring for your recipe.
---
Sweet meets heat in these simple-to-make kabobs that marry the flavors in an unforgettable dance of zesty delight.
---
Let's talk about revolutionizing Eggs Benedict by introducing salmon into the mix—it's my signature spin on a brunch classic.
---
Another year, another week dedicated to Harry Potter recipes!
To all my fellow Potterheads, I present a week of Harry Potter recipes every July, and this ice cream is like magic for your taste buds. Stay tuned for more wizarding wonders in the kitchen!
---
On the bandwagon of weekly meal prep, breakfast bowls have been my savior for busy mornings. They're the ideal way to kickstart your day with something hearty and nutritious.
---
Second to my love of Harry Potter is Game of Thrones – and thanks to GRRM and his love of descriptions of food, I'll never run out of Westeros recipes to make.
From one epic series to another, my Game of Thrones inspired recipes are a tribute to George R.R. Martin's lavish feasts, with Direwolf Bread leading the pack.
---
Whether you like it simple or jazzed up with cranberries, caraway seeds, or a touch of garlic, Irish soda bread is a classic that never disappoints—especially when it's served warm or toasted
---
Envision summer in a cupcake—that's exactly what these strawberry lemonade delights are, with their zesty lemon base and strawberry buttercream topping.
---
Yes, it's another twist on Eggs Benedict because my obsession knows no bounds. Avocado brings a creamy, rich dimension that you won't forget.
---
When it comes to football, my expertise may be limited to the eats, but these buffalo cheddar stuffed pretzel bites will make you the MVP of any game-day gathering.
---
This Christmas welcomed a new fluffy member to our clan, and she's destined for her gourmet treats—stay tuned for tail-wagging recipe videos!
---
Our household's cravings for Indian food inspired a twist on the chicken burger, transforming ground chicken into a tantalizing Tandoori Chicken Naanwich.
---
Happy New Year!
As the clock ticks down on 2016, the kitchen chaos settles, and we gear up for a new year full of flavors and fiascos, I can't help but feel grateful for the ride. From the zesty Ginger & Garlic BBQ Shrimp Kabobs to the drool-worthy Serial Killer Cookies, each recipe was a chapter in my edible diary. Thanks for being a part of my self-taught culinary crusade. Here's to more cooking, more mess, and more delicious memories. Stay tuned, because if you thought this year was packed with flavor, just wait until you see what's simmering for 2017.
Happy cooking, happy eating, and above all, happy New Year! Keep those taste buds ready – we're just getting started.