I tried Blue Apron for a week and here's what happened
The Starving Chef is supported by Hungry People like you. When you make a purchase through an affiliate link on my site, I may earn a little bit of cash on the side (at no extra cost to you) to help keep my kitchen running. Read our disclosures here.
Recently I had the opportunity to try out Blue Apron for a week. It was an unusual and exciting experience, especially for someone who loves cooking off the cuff. Student loans and a large vet bill hit me simultaneously, along with an empty fridge, so I decided to give Blue Apron test run. Most of my family is subscribed to the service and enjoy it immensely. I vowed to follow eat recipe without my own variations, just to see what all the hubbub was all about.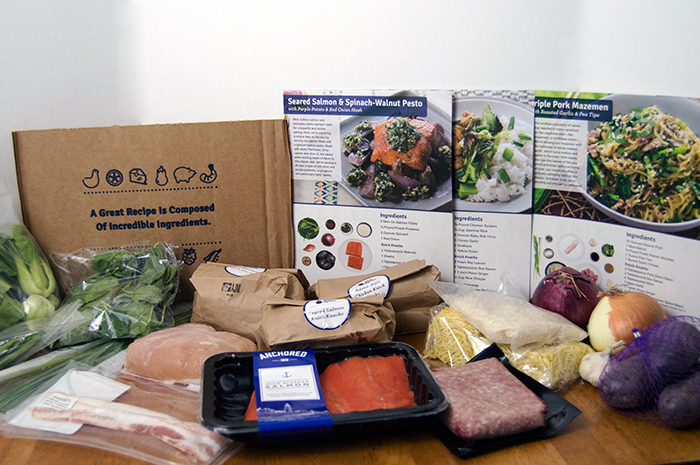 When the box arrived, it was fully stocked with ice packs to the brim to keep everything fresh and cold. I was pleasantly surprised with the quality of the ingredients but found myself laughing at the single slice of bacon. Clearly, they have throughly thought about the portions of each meal. The chef in me had a feeling that single slice of bacon wouldn't quite be enough to really come through in any dish, but I still resolved to follow each recipe exactly. The week I tried contained adobo chicken with bok choy and jasmine rice, triple pork marzemen with roasted garlic and pea tips, and seared salmon and spinach-walnut pesto.
The first night of my Blue Apron experience I tried the triple pork marzemen. Initially I was super pumped to try someone else's recipe, but I quickly found myself frustrated with the recommended temperatures. The flavors of this dish fell a little short for me, even though the recipe reminded me to season with salt and pepper every other step. I really did enjoy the simplicity of the dish and that there weren't many dishes to clean up after.
Read my full breakdown of the pork marzemen recipe here. Check out the recipe on Blue Apron.
I was so excited to try this dish out of all of the recipes I received during the week of my trial. I love Filipino cuisine because it's packed with exotic flavor. Once again, I found myself overcooking many of the ingredients, especially the boy choy, when I followed the temperatures they suggested in the recipe. The vinegar was a bit overwhelming, so much so that I found myself not wanting to eat the leftovers the next day.
Read my play-by-play of the adobo chicken recipe. Check out the recipe on Blue Apron.
Out of the three meals I received during my trial week, the salmon and walnut-pesto was by far my favorites. I was feeling slightly letdown by the previous recipes, so my hopes weren't set too high for the salmon. The pesto turned out to be my favorite part and its tang completely complimented the salmon. From previous experience with cooking purple potatoes, I was disappointed that their instructions resulted in under-cooked and raw potatoes (this was something my other family members reported to me too!) and they recommended waaaay too much red onion.
Read my full experience with the seared salmon here. Check out the recipe on Blue Apron.
---
Overall, as someone who likes to express their creativity through cooking, I don't know if Blue Apron was for me. But for your average home cook who might be just starting out, is looking to experiment with new flavors, or simply just doesn't have the time to buy fresh food every week, the food delivery service is definitely worth at least checking out. I think I might give them another go, but next time I will be sure to pay extra attention to the menu for the week!