Bolin's Drunken Noodles | Legend of Korra Inspired Recipes
The Starving Chef is supported by Hungry People like you. When you make a purchase through an affiliate link on my site, I may earn a little bit of cash on the side (at no extra cost to you) to help keep my kitchen running. Read our disclosures here.
Today we are making a quick trip to Republic City to try some of the noodliest noodles in the entire Earth Kingdom.
That's right folks, we're delving back into the world of food bending to make some of the spiciest noodles you'll ever taste. By the end of it, you'll be water bending tears and sweat from every pore.
The Legend of Korra is having a moment right now. A few weeks after Avatar: The Last Airbender showed up on Netflix, the sequel – and following Avatar in the cycle – the Legend of Korra popped up to fanfare from many Avatar fans such as myself.
In fact, this isn't my first Avatar-inspired recipe. Or my first venture into the food based on locations seen in the Legend of Korra. I make it a point to rewatch Avatar at least once a year – sometimes more. And once I star watching the original series, the Legend of Korra is bound to follow immediately after. The original Avatar is definitely one of my all time favorite shows – and the Legend of Korra follows closely behind.
When Korra and Bolin go on their pseudo-date in the first season they go to Narook's Seaweed Noodlery and enjoy bowlfuls of seaweed noodles. Don't let the love triangle issues in the first season put you off from the rest of the show – trust me, the payoff is worth it at the end.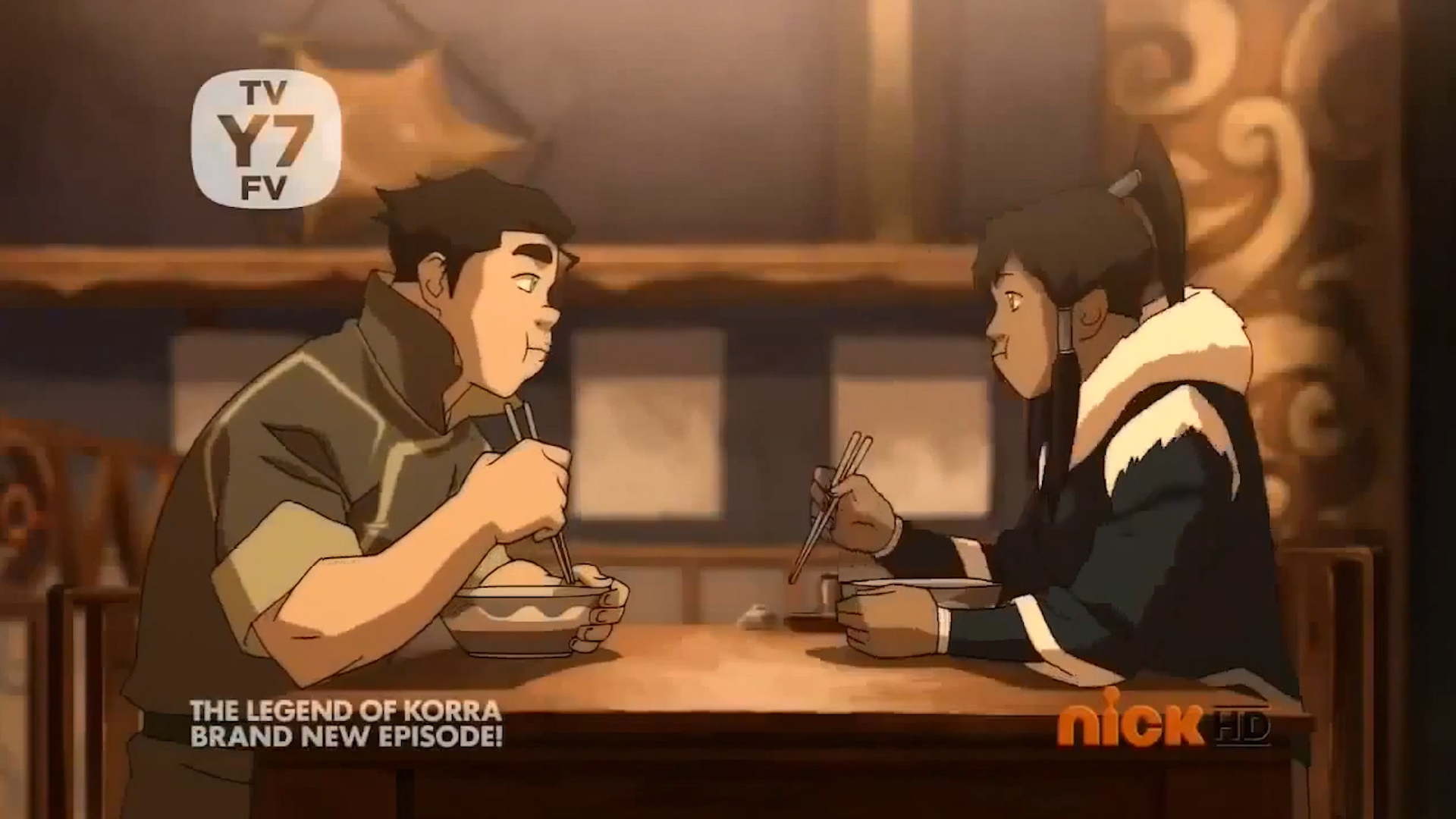 It wasn't until my fourth or fifth viewing of the Legend of Korra series to make the connection that when Bolin is later heartbroken, his brother Mako finds him drowning his woes in the bottom of a noodle bowl.
And that's when it hit me.
Narook's Seaweed Noodles aren't only extra noodle-y, they are actually based on a real life Thai dish: drunken noodles.
Bolin is quite literally drunk on noodles.
While there's no actual alcohol in drunken noodles, they get their name because they are so spicy, one will drink so much to subdue the heat, they will drink themselves drunk – however, I think Narook's seaweed variation on the dish is a literal play on the drunken noodle name.
While Narook may have cornered the market in seaweed noodles, I'd like to think that Bolin and Opal opened a noodlery after the war with Kuvira and served drunken noodles to regular people and benders alike – and perhaps a spirit or two.
I served Bolin's favorite dumplings alongside these firey hot noodles.
If you haven't watched either series – what are you doing here? Go find a comfy spot to watch every episode and THEN come back and try these noodles.. I know you'll be craving more, just like the rest of the Avatar universe fandom.
Bolin's Drunken Noodles | Legend of Korra Inspired Recipes
Today we are making a quick trip to Republic City to try some of the noodliest noodles in the entire Earth Kingdom.
Ingredients
1

package

flat rice noodles

2

tablespoons

butter

16

oz

shrimp

peeled

½

teaspoon

black pepper

¼

cup

white wine

or mirin

2

tablespoons

red curry paste

2

tablespoons

Thai garlic chili paste

3

tablespoons

hot mango chutney

¼

cup

oyster sauce

1

tablespoon

fish sauce

1

tablespoon

cilantro paste

or fresh cilantro

2

tablespoons

ginger

minced

¼

cup

lime juice

1

ghost pepper

finely chopped

¼

cup

brown sugar

¼

cup

soy sauce

2

sprigs

lemon grass

chopped

2

tablespoons

garlic

minced

1

cup

zucchini

sliced

½

cup

red bell pepper

chopped

1

cup

baby corn

chopped

1

shallot

minced

3

cremini mushrooms

sliced

½

cup

pea pods

¼

cup

broccoli slaw

optional

¼

cup

Thai basil

+ more for topping

1

cup

bok choy

chopped greens to white

4

cups

chicken broth

2

eggs
Instructions
In a wok over high heat, melt the butter until frothy. Add the shrimp and cook until pink, about 5 minutes. Season with cracked pepper. Remove from the wok and set aside. Do not clean the wok.

Deglaze the wok with the wine. When the liquid is simmering, add the curry paste, Thai garlic chile paste, chutney, oyster sauce, fish sauce, cilantro paste, ginger, lime juice, garlic and ghost pepper. Bring to a simmer then add the garlic, soy sauce, brown sugar, lemon grass and bay leaves. Return to a simmer. Simmer until thickened, about 10 minutes.

Add in the zucchini, bell pepper, baby corn, shallot, mushrooms, pea pods, broccoli slaw bok choy and Thai basil. Stir to coat in the sauce. When the mushrooms and peppers have softened, about 5 minutes, add in the rice noodles and broth. Bring to a rolling boil and cook the noodles for 5-6 minutes.

When the noodles are al dente, add two whole eggs to the wok. Gently press beneath the surface of the liquid and allow to cook for about 2 minutes before stirring into the noodles to create a creamy texture.

Return the cooked shrimp to the wok. Heat through, about 2-3 minutes, then remove from the heat. The liquid will thicken as it cools. Enjoy with naan and Bolin's favorite dumplings. Enjoy!
Video