Eerie Eats: Brain Cheese Dip fo Halloween
The Starving Chef is supported by Hungry People like you. When you make a purchase through an affiliate link on my site, I may earn a little bit of cash on the side (at no extra cost to you) to help keep my kitchen running. Read our disclosures here.
What's Up, Hungry People
Have a costume party this weekend but don't know what to bring? Why not bring your BRAINS!!!
If this recipe looks familiar, it's because I've done it before, but this time it's even better. I've ironed out a few kinks from the last recipe, such as using softer cheeses, and now this recipe for brain cheese is perfect!
I'VE CREATED A MONSTER!!
Unleashing My Creativity!
This recipe gave me the opportunity to put to use an old Jell-O mold that has been lying around since probably high school. I never quite knew what to do with it. I mean, who needs a brain's worth of Jell-O, right? And at my age, does anyone even eat non-alcoholic jello anymore?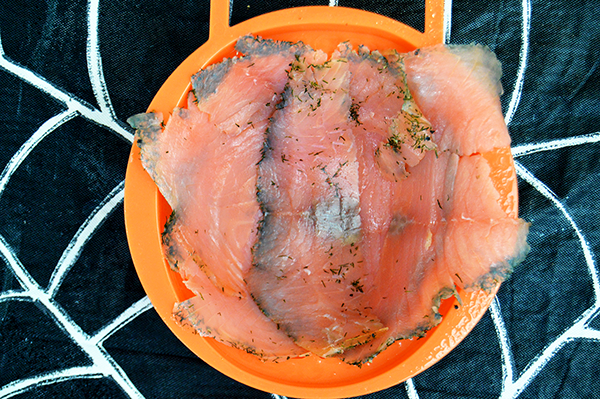 The Key to the Grossness
To achieve that extra gross appearance, the secret lies in using lox, which is thinly sliced brined salmon. It gives the brain cheese that "this could actually be made out of brains" look. I opted for a lox with a dill and lemon marinade, resulting in dark lines throughout mine—almost like it's decaying!
Cheese, Jelly, and Heat!
Now, let's dive into the process. Melt and mix up the cheeses as you line the inside of the lox with spicy pepper jelly. This addition not only provides a realistic "bloody" appearance but also adds a delightful kick of heat!
Firming it Up
Add in the cheese, let it firm up again, and then flip it out onto a plate. It's easiest to dip into the brain if it's closer to room temperature. So, once it's fully set, leave it out prior to the party to let it reach the perfect dipping consistency.
While I only had Ritz crackers on hand for these pics, feel free to use your favorite crackers or vegetables to dip into the BRAAAIIINNS!!!
Tips & Tricks to Making Halloween Brain Cheese Dip
Softer cheeses: Using softer cheeses, like cream cheese and Havarti, ensures a smooth and creamy texture for the brain cheese.
Melting cheeses: Melt the Havarti and cream cheeses together at 1-minute intervals in the microwave, stirring in between, until fully melted and well combined.
Cooking spray: Generously coat the mold with cooking spray to prevent the brain cheese from sticking and make it easier to remove from the mold.
Lining the mold: Line the mold with the lox or smoked salmon, ensuring it overlaps and covers the entire mold, creating the brain-like appearance.
Pepper jelly: Spread the spicy red pepper jelly alongside the inside of the lox, not only for flavor but also to give the brain cheese a realistic "bloody" look.
Golden raisins: Add the golden raisins to the cheese mixture for a touch of sweetness and a pleasant texture contrast.
Chilling time: Allow the brain cheese to chill in the refrigerator for at least 1 hour, or until the cheeses have firmed up, to ensure a solid and easily manageable texture.
Room temperature serving: For optimal dipping consistency, let the brain cheese come to room temperature before serving. Leave it out prior to the party to allow it to soften.
Serve with variety: Alongside crackers, consider offering a selection of fresh vegetables or other dippable items to cater to different preferences.
Creativity and customization: Feel free to experiment with different flavors and ingredients, such as adding herbs or spices to the cheese mixture, to personalize your brain cheese creation.
You've reached the end of our spooky culinary adventure with BRAIIIIIN CHEEEESEEEE! We've embraced the Halloween spirit with this ghoulishly delightful recipe that's sure to impress your guests at any haunting gathering. From the creamy cheeses to the brined salmon and the touch of heat from the pepper jelly, this brain-shaped concoction will be the talk of the party!
Remember to let your creativity run wild as you experiment with different flavors and toppings to customize your Brain Cheese. Whether you serve it with crackers, veggies, or other dippable treats, be prepared to witness the amazed and slightly frightened expressions on your friends' faces as they dip into this eerie delight.
So, channel your inner mad scientist, prepare your Jell-O mold, and embark on a thrilling adventure in the kitchen. Halloween is the perfect time to explore unconventional recipes that ignite the imagination and taste buds alike.
Brain Cheese Dip for Halloween
Create a ghoulishly delicious Brain Cheese with creamy cheeses, brined salmon, and a hint of spiciness, perfect for Halloween parties and spooky gatherings!
Ingredients
1

package

nova lox

or favorite smoked salmon

8

oz

cream cheese

room temperature

4

oz

Havarti chese

cubed & room temperature

¼

cup

golden raisins

4

tablespoons

spicy red pepper jelly

crackers

for serving
Instructions
Melt the Havarti and cream cheeses together in the microwave at 1-minute intervals until melted and can be stirred together.

Spray the mold with cooking spray. Line the mold with the lox so that it overlaps and none of the mold is exposed.

Spread the pepper jelly alongside the inside of the lox.

Add the golden raisins to the cheese and stir well.

Pour the cheeses into the mold and fold over any excess lox.

Pop the mold into the refrigerator for 1 hour or until the cheeses have firmed up.

Serve at room temperature with vegetables and crackers. Enjoy!
Video