Braised Lamb with a Fig and Red Wine Glaze for Easter
The Starving Chef is supported by Hungry People like you. When you make a purchase through an affiliate link on my site, I may earn a little bit of cash on the side (at no extra cost to you) to help keep my kitchen running. Read our disclosures here.
What's Up, Hungry People!
It's not every day that I get to experiment with lamb. Honestly, other than some fictional feasts parties in my imagination, it's been a hot minute since I've whipped up anything with this classic protein.
But with Easter fast approaching, it's high time we get into some seasonal staples, don't you think? Today, we're talking lamb chops and potatoes au gratin.
Prepping the Lamb: The Easy-Chop Edition
I went for lamb loin chops tagged as 'easy-chop,' and let me tell you, they lived up to the name. But what really steals the show is the fig and red wine sauce. Oh man, it's sticky, it's sweet, and it adds just the right amount of zing to those tender chops.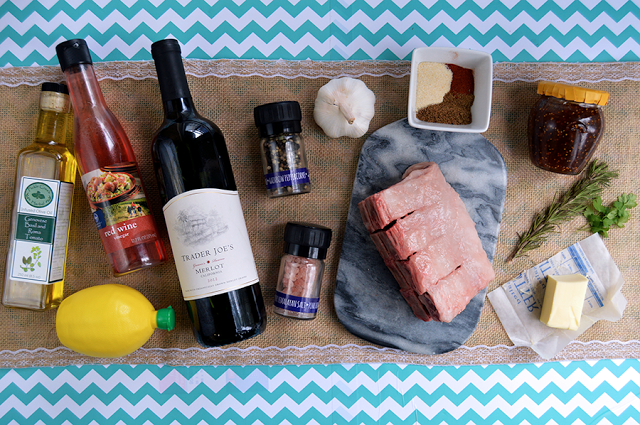 Here's What You Need
Bone-in lamb loin chops: The star of the show; provides rich flavor and tender meat.
Red wine: Adds depth and richness; helps in deglazing the pan and serves as a braising liquid.
Red wine vinegar: Balances flavors; adds acidity and sharpness to the sauce.
Fig spread or jam: Sweetness and texture; it thickens and sweetens the sauce and marinade.
Lemon juice: Adds acidity; brightens up the flavors and helps tenderize the meat.
Minced garlic: Aromatic and flavor enhancer; adds depth to both the marinade and sauce.
Onion powder: Adds a mild, savory flavor; used for seasoning the marinade.
Coriander: Earthy and citrusy; complements the lamb's natural flavors.
Paprika: Adds smokiness and color; used in the marinade to give a complex flavor profile.
Butter: Richness and moisture; used for searing and creating a flavorful crust.
Olive oil: Base for marinade; helps distribute flavors and aids in searing.
Rosemary: Aromatic herb; adds piney flavors, pairs well with lamb.
Fresh parsley: Freshness and color; brightens up the dish and adds a mild herbal note.
Salt & pepper: Basic seasonings; enhances all the other flavors in the dish.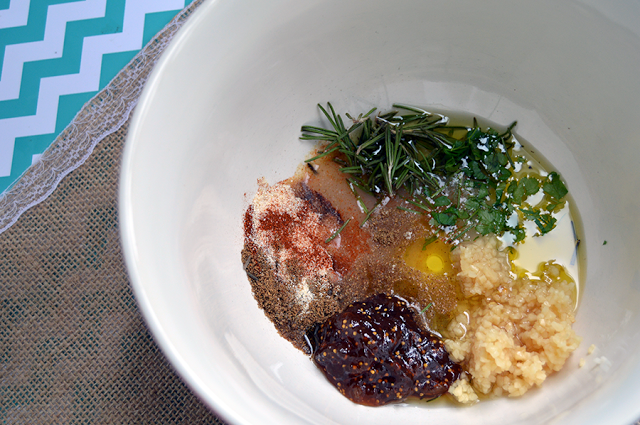 Let's Cook
Make a simple marinade from the olive oil, fig jam, onion powder, paprika, coriander, lemon juice, garlic, rosemary and parsley. My favorite thing in the world right now is this Dalmatia Fig Spread that I've been putting on pretty much everything. So far, this has been my favorite application.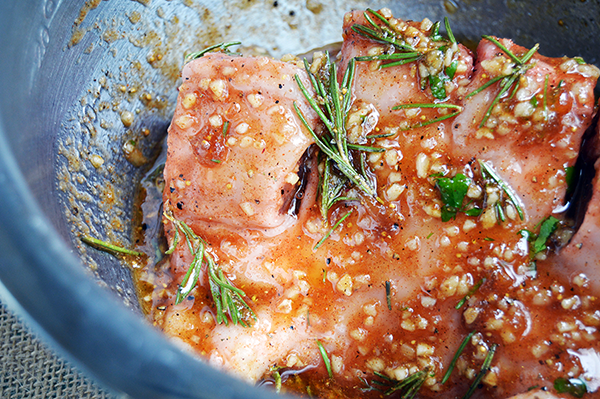 Time to Soak
Let your lamb bathe in that marinade for a solid hour, at least. If you can give it an overnight soak, even better! The flavors meld beautifully, giving your lamb that wow-factor we're all after.
The Searing and Braising Process
When you're ready to get cooking, sear the lamb loin chops in a skillet with a generous dollop of butter. You're looking for a dark golden-brown crust to form. This usually takes about 3-4 minutes per side. Once that's done, you're ready for the next step.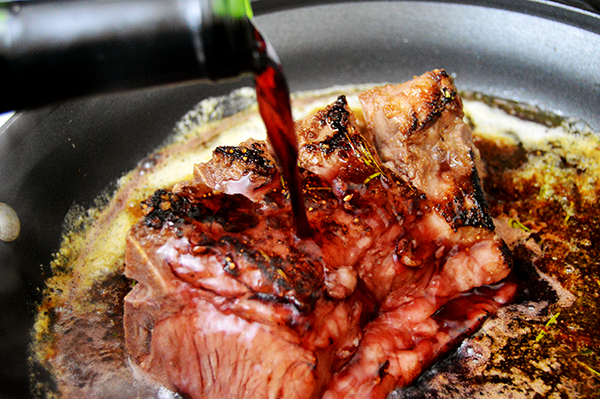 Oven Transition & Sauce Simmer
Pour in some red wine and a dash of red wine vinegar into the skillet with your beautifully seared lamb. Whisk in the remaining fig jam and a splash of lemon juice, and then it's off to the oven! We're braising, folks, so make sure to baste the lamb as it cooks. When it's done, the meat should be so tender that it's practically begging to fall off the bone.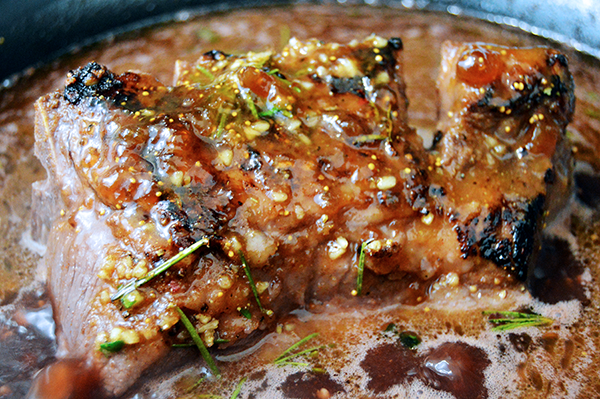 The Finishing Touches
Before you dig in, let that lamb rest for about 10 minutes. Trust me, don't slice it just yet. It'll continue to cook, and you don't want to lose those tasty juices.
If the red wine sauce hasn't thickened, add an another spoonful of the fig jam to the skillet then simmer over high heat until the sauce has reduced to the desired thickness. I served mine alongside some cheesy potatoes au gratin and asparagus with a honey and goat cheese drizzle. It might not be Easter quite yet, but this was definitely an excellent test run! Have a Happy Easter everyone!
Tips for a Perfect Easter Lamb Dinner
Marination Time: For a richer flavor, you can marinate the lamb for up to 24 hours. The longer, the better!
Wine Quality: Use a red wine that you'd enjoy drinking. No need for a top-shelf bottle, but better wine means better sauce.
Avoid Burning Garlic: When searing the lamb, make sure not to burn the garlic in the butter, as this can make the sauce bitter.
Cooking Temperatures: If you prefer your lamb less rare, aim for an internal temperature of 135-145°F during roasting.
Resting Time: Always let your lamb rest before cutting into it; this keeps the juices in and ensures a tender bite.
Substituting Fig Jam: If you don't have fig jam, you can use apricot or peach jam for a slightly different but still delicious flavor profile.
Fresh vs Dried Herbs: If using dried herbs instead of fresh, cut the amount by a third. Dried herbs are more potent.
Sauce Too Thin: If your sauce isn't thickening, you can make a quick slurry with 1 teaspoon of cornstarch and 1 tablespoon of cold water to add to the sauce.
Sauce Too Thick: If the sauce becomes too thick, thin it out with a little bit more red wine or broth.
Butter Substitute: For a dairy-free option, you can use olive oil or a plant-based butter to sear the lamb.
Check Your Skillet: Make sure your skillet is oven-safe before transferring it to the oven. Some handles might not withstand high oven temperatures.
And just like that, you're all set to impress everyone this Easter with your Braised Lamb in Figgy Red Wine Sauce! Whether you're a lamb enthusiast or a first-timer, this dish is sure to hit all the right flavor notes. With its savory richness, a hint of sweetness, and that pop of acidity, it's like a little party for your taste buds. Throw in some potatoes au gratin and asparagus with honey and goat cheese drizzle, and you've got yourself a feast fit for royalty—or at least for some very Happy Hungry People! Enjoy!
Braised Lamb in Figgy Red Wine Sauce | Easter Recipes
Master the art of Easter cooking with this braised lamb in figgy red wine sauce, perfectly balanced with savory, sweet, and tangy flavors.
Ingredients
16

oz

bone-in lamb loin chops

1

cup

red wine

¼

cup

red wine vinegar

¼

cup

fig spread or jam

3

tablespoons

lemon juice

2

tablespoons

garlic

minced

2

tablespoons

onion powder

2

tablespoons

coriander

2

tablespoons

paprika

3

tablespoons

butter

3

tablespoons

olive oil

1

sprig

rosemary

2

tablespoons

fresh parsley

chopped

salt & pepper

to taste
Instructions
In a small bowl, whisk together half of the fig jam and half of the lemon juice, along with the minced garlic, onion powder, coriander, paprika, and olive oil. Add the fresh rosemary and parsley. Season with salt and pepper to taste. Pour the marinade over the lamb chops and let them marinate for at least one hour.

Preheat your oven to 350°F. In a cast-iron or oven-safe skillet, melt the butter until it forms a film across the bottom of the skillet. Sear the lamb loin chops on all sides until browned, taking about 3-4 minutes per side.

Add the red wine and red wine vinegar to the pan and bring the mixture to a simmer. Whisk together the remaining fig jam and lemon juice. Pour this mixture over the lamb loin chops, making sure to mix it into the wine in the skillet. Transfer the skillet to the preheated oven and roast for 30-35 minutes, or until the internal temperature of the lamb loin reaches 130°F.

Once the lamb is ready, remove it from the pan and let it rest for about 10 minutes. Meanwhile, place the skillet back onto the stove. If the wine hasn't reduced to a thick sauce, simmer until it reaches your desired thickness. WARNING: Remember to cover the skillet handle with a towel so you don't accidentally burn yourself.

Cut the loin into individual chops and spoon the red wine reduction over the slices. Serve these beauties alongside potatoes au gratin and asparagus topped with a honey and goat cheese drizzle.