Breakfast Bread Bowls
The Starving Chef is supported by Hungry People like you. When you make a purchase through an affiliate link on my site, I may earn a little bit of cash on the side (at no extra cost to you) to help keep my kitchen running. Read our disclosures here.
UPDATED RECIPE!
What's up hungry people? I've updated this recipe to be made with ciabatta bread, but the main concept is still the same! You can check out the original post below!
Jalapeno Bacon Cheddar:
Crumbled Bacon
Jalapeno Slices
Sharp Cheddar Cheese
Spinach Ham Gruyere:
Diced Breakfast Ham
Sauted Spinach
Diced Red Onion
Gruyere
Maple Sausage Cheddar:
Cooked Maple Pork Sausage Patties
Diced Red Onion
Diced Sweet Red & Yellow Peppers
Pepper Jack Cheese
Tomato Spinach Parmesan:
Roma Tomato Slices
Sauted Spinach
Diced Red Onion
Parmesan Cheese
I love these bread bowls because they are so easy to customize. For this version, I made four different kinds of bread bowls, but feel free to let your guests mix and match their own flavor combinations.
---
Original Post:
Breakfast is by far one of my favorite meals to make – but only if it's a huge breakfast that fills you up for an entire day. That was my goal at least with these breakfast bread bowls, though I did make both 'big' and 'mini' options. These breakfast bowls were a hit with my family and I definitely can't wait to make them again. It was a perfect way to spend the long weekend with them – by cooking the entire time, of course!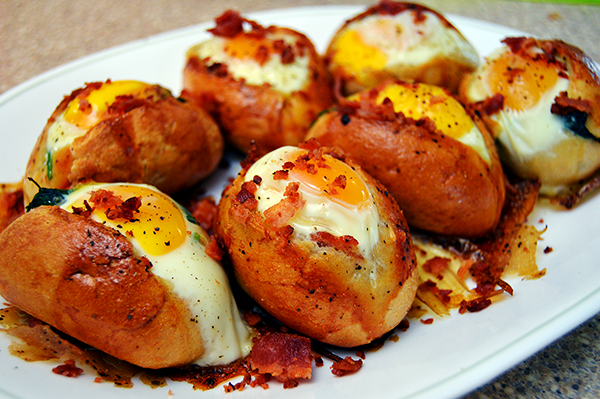 The idea came from a quick BuzzFeed video I had seen on Facebook, but when we realized that actually finding mini-full-sized loaves of bread was actually pretty difficult, I had to make some adjustments.
Plus, no one in my family could agree on what other fillings they wanted inside their bread bowls, so I had to make an assortment of other filling options, just in case.
Using some frozen mini french bread rolls I had baked the night before, alongside the (apparently) only mini-loaves in all of Beavercreek, I hallowed out the breads and saved the insides for another recipe that I haven't quite decided on yet.
I quickly cooked up some bacon and spicy sausage, then sautéed some spinach in butter, and garlic and onions – just in case there was anyone still in the house sleeping. Nothing says "good morning!" better than a fresh scent of a delicious breakfast baking.
Line each bread bowl with a slice of sharp cheddar cheese, then fill in around the cheese with toppings such as sautéed spinach, bacon, spicy sausage, and caramelized onions and garlic. Then I cracked an egg (or 3) in each one!
Getting the egg to stay inside the mini rolls was probably the toughest part of this whole baking excursion, but completely worth it.
Luckily, I only popped one yolk while trying to get the egg to settle on top of all of the other fillings.
The mini bowls were baked for about 25 minutes, or until the eggs were just set and didn't wobble a whole lot when I shifted the baking sheet.
Some people are weird about their eggs being too runny, so I decided it would probably be better to have the eggs with a soft center over a runny one, while cooking for a crowd.
I however, LOVE my eggs runny. What else am I supposed to dip my bread in!?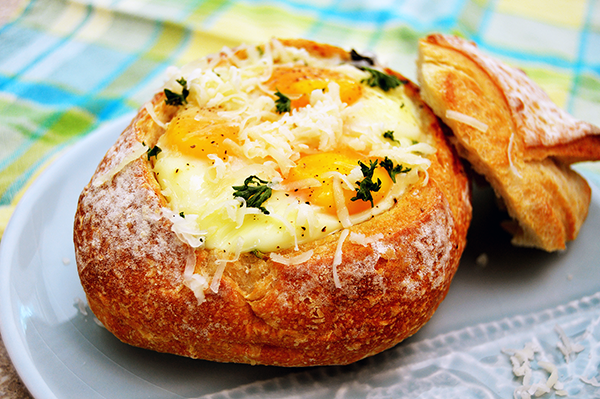 For the larger bowls, I decided to let those have runnier insides, though the overall baking process for the large bowls took about 35-40 minutes for a runny center. So keep that in mind if you decide to go bigger! Everyone at the table loved the bread bowls; they were easy to eat and totally delicious. Even the larger bowls were sliced in half and shared amongst the family – admittedly, one of those big bread bowls would be hard to eat all by myself.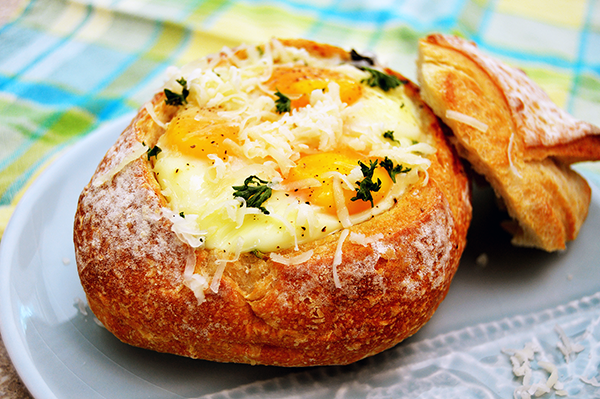 Breakfast Bread Bowls
Easy bread bowls filled with your favorite Sunday morning toppings. These breakfast bowls were a hit with my entire family!
Ingredients
FOR MINI FRENCH BREAD BOWLS:
12

frozen mini french bread baguettes, cooked & cooked (OR 2 medium sized country bread loaves)

12

eggs

½

cup

bacon

cooked & crumbled

½

cup

spicy sausage

cooked & crumbled

3

tablespoons

garlic

minced

2

cups

spinach

2

tablespoons

butter

1

tomato

diced

1

cup

gruyere

shredded

1

cup

sharp cheddar

shredded

salt & pepper

to taste
FOR CIABATTA BREAD BOWLS:
1

cup

bacon

cooked & crumbled

1

package

spinach

sauted in bacon grease

1

cup

bell pepper

finely diced

1

cup

red onion

finely diced

1

cup

turkey sausage

cooked & crumbled

6

maple pork sausage patties

cooked

1

cup

breakfast ham

diced

1

cup

sharp cheddar

shredded

1

cup

Parmesan cheese

shredded

1

cup

gruyere

shredded

1

cup

pepperjack cheese

shredded

salt & pepper

to taste

fresh parsley

for topping
Instructions
Preheat the oven to 375°F. Hallow out the bread and save the inside breading for another recipe.

Cook the bacon and sausage, then roughly crumble each and set aside to cool. Use 1 tablespoon of butter to sauté the onion and garlic until just softened and beginning to brown. Sauté the spinach in the remaining butter until wilted, then remove from the pan. Let all cool for at least 15 minutes.

Place a small slice of cheddar cheese into the bottom of each bread bowl. Add in 1-2 tablespoons of other desired fillings (bacon, sausage, onions/garlic, spinach, tomato).

Crack an egg into each bread filling. Tap the bread gently on a hard surface if the egg won't settle around the other ingredients.

Arrange the bowls on a sprayed baking sheet and bake 25-30 minutes for the mini bowls, and 35-45 minutes for the larger bowls. The centers of each egg should be just barely wobbly for a runnier egg, and not wobbly for a soft egg.

Top the bowls with the gruyere cheese, salt, and pepper. Serve right away and enjoy!
FOR CIABATTA BOWLS (ORIGINAL RECIPE):
Remove the centers of each individual loaf of ciabatta and toast for about 5 minutes at 350 F. Fill with desired ingredients then top with an egg and choice of cheese. Bake at 350 F for 15-25 minutes. 15 minutes for a runny yolk, 25 minutes for a hard yolk. Enjoy!