Breakfast Eggrolls Dim Sum
The Starving Chef is supported by Hungry People like you. When you make a purchase through an affiliate link on my site, I may earn a little bit of cash on the side (at no extra cost to you) to help keep my kitchen running. Read our disclosures here.
We need to talk about dim sum. First of all, no Chinese food order would be complete without some, whether you order spring rolls or dumplings, many Americanized Chinese food "sides" are traditionally considered dim sum. But did you know there's a wide range of breakfast dim sum?
Typically dim sum is served for breakfast or lunch and is generally able to be eaten with your hands or in a single bite. I decided to make my own twist on dim sum and create a delicious portable breakfast eggroll.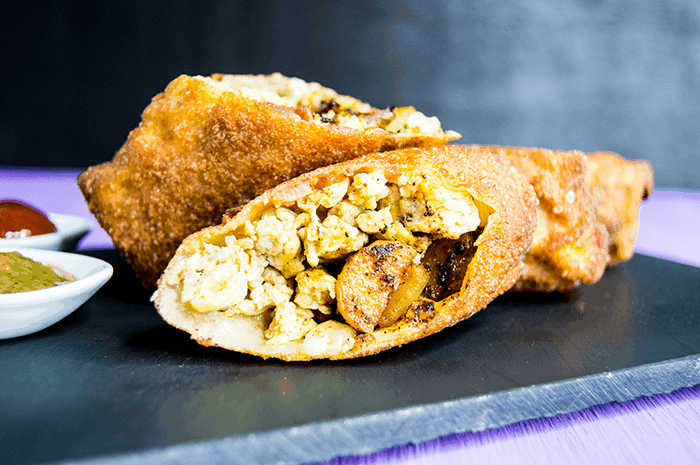 Stuffed with scrambled eggs, roasting potatoes and your choice of bacon or sausage. You can fill them with anything really – just wrap tightly then deep fry in a couple inches of oil until they have a golden, crispy crust. And they reheat reasonably well, as long as you chill them wrapped in a paper towel in an air tight container.
Breakfast Eggrolls Dim Sum
Typically dim sum is served for breakfast or lunch and is generally able to be eaten with your hands or in a single bite.
Ingredients
8

egg roll wrappers

6

eggs

whisked

3

strips

bacon

cooked & crumbled

½

cup

sausage

cooked & crumbled

2

cups

mini roasting potatoes

2

tablespoons

water

4

cups

vegetable oil

for frying

salsa

for dipping

salt & pepper

to taste
Instructions
In a large non-stick skillet over medium high heat, cook and crumble the sausage, then the bacon. Place the bacon on a paper towel to remove as much grease as possible and then crumble when dry. Reserve about a tablespoon of bacon grease in the skillet.

Add the roasting potatoes to the skillet. Stir as they begin to brown, then reduce the heat to low and cover the potatoes. Stir every few minutes to prevent possible burning, but let the potatoes cook until tender, about 10-15 minutes. Remove the potatoes from the pan.

Wipe the pan clean. Add the whisked eggs to the skillet and cook until no longer glossy – about 90 seconds. Set the eggs aside on a paper towel to remove any excess moisture.

Pour the oil into a rimmed skillet or pot, so there is about 3-4 inches of oil. Heat to 375 F. While the oil heats up, assemble the eggrolls. Place about 2-3 tablespoons of egg with 1-2 tablespoons of potatoes in the center of an eggroll wrapper. Add 1-2 tablespoons of bacon or sausage to the center.

Dip your finger in the water and wet the edges of the eggroll wrapper. Position the wrapper in front of you so it is at a diagonal angle to your body. Fold the left and right corners inwards so they are just touching. Take the bottom corner closest to you and wrap it over the filling, gently pulling towards yourself to press the filling together. Roll the eggroll wrapper away from you. Pinch the edges closed gently if the inside is exposed. Let dry for 2-3 minutes – or while you repeat with the remaining ingredients and wrappers.

Going in batches of 2-3 eggrolls at a time, fry the eggrolls in the oil for 3-4 minutes, just until the wrapper is golden brown and crispy. Take care to watch the pot if not using a deep fryer or a controlled temperature fryer. They burn quickly!

Serve hot eggrolls right away with salsa or ketchup for dipping. Any leftover eggrolls should be wrapped in paper towels and stored in an air tight container in the fridge – they will last up to 7 days! I recommend reheating in the microwave for 1:30 minutes OR in the oven at 375 F for 8-10 minutes for an extra crispy wrapper. Enjoy!