Breakfast for Dinner from WandaVision
The Starving Chef is supported by Hungry People like you. When you make a purchase through an affiliate link on my site, I may earn a little bit of cash on the side (at no extra cost to you) to help keep my kitchen running. Read our disclosures here.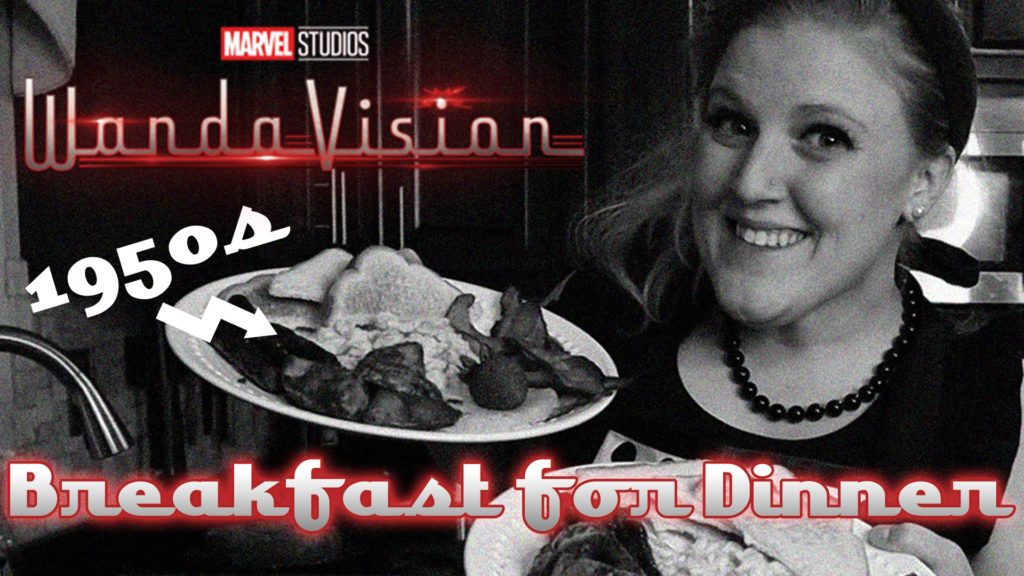 Has anyone else been obsessively watching WandaVision, trying to figure out what the actual heck is going on?
If you aren't caught up on WandaVision or the the movies from the Marvel Comics Universe, you might want to just jump straight to the recipe to avoid any BIG spoilers!
I recently caught up on every. single. movie. in the MCU – it took me just over a week to watch every movie in chronological order. It's from this recent viewing of the Marvel movies in timeline order that has me extra perplexed as to what is going on in WandaVision, which takes place immediately following the events of Avengers: End Game.
To catch you up – at the end of Infinity War, Thanos kills Vision in order to obtain the Mind Stone and complete the Infinity Gauntlet to snap half of existing life out of existence to restore order in the universe.
We know Vision is dead dead. He doesn't come back when the Hulk snaps his fingers in End Game, but everyone else does. So how is he alive in WandaVision?
I believe Wanda is somehow being held hostage by an *unknown-to-us-casual viewers* force. Though theories online think there are hints to a future Marvel big bad such as Necrodamus or Mephisto and that Agatha has something to do with it – we just don't know what.
My personal theory is Wanda is somehow being held against her will and her scarlet vision is being used against her to hold her in some sort of time loop limbo.
But I know what you're thinking: "This is a food blog! I came here for the recipes!"
Well of course you are here for the recipes! But who would I be if I didn't at least give you a little bit of background behind the inspiration for the recipe itself?
In one of the first episodes of WandaVision, Wanda is put on the spot to make an elaborate dinner. But thanks to some help from her superpowers, she whips up breakfast for dinner!
The meal is simple but one you might expect in the 1950s where the first couple episodes of the show are set. Wanda serves a large breakfast consisting of sausages, scrambled eggs, roasted hashbrowns, toast and a side of fruit.
Because it's breakfast for dinner, there's nothing wrong with serving some wine on the side! Though in modern times, orange juice or a mimosa might be more appealing than gamay wine.
In the dinner scene, Wanda uses her superpowers to levitate the dinner from the kitchen and then sets the table before serving up the meal – all while the boss man's back is turned.
I love the practical effects of 1950s television, so of course I had to try it out for myself!
For my breakfast for dinner, I served it up in black and white!
Now in TECHNICOLOR!
Here's what I served up for my modern day 1950s breakfast:
scrambled eggs
crispy bacon – this wasn't in the original, but I wanted bacon
roasted homefries
maple sausages
toast
sweet red wine – gamay is hard to find so I used Louis Jadot Beaujolais Villages Wine as a subsitute
pineapple slice with a strawberry on top – the peak of 1950s breakfast fashions
orange juice – make it a mimosa!
All of these ingredients combined make the best classic breakfast – and even better when it's all served for dinner!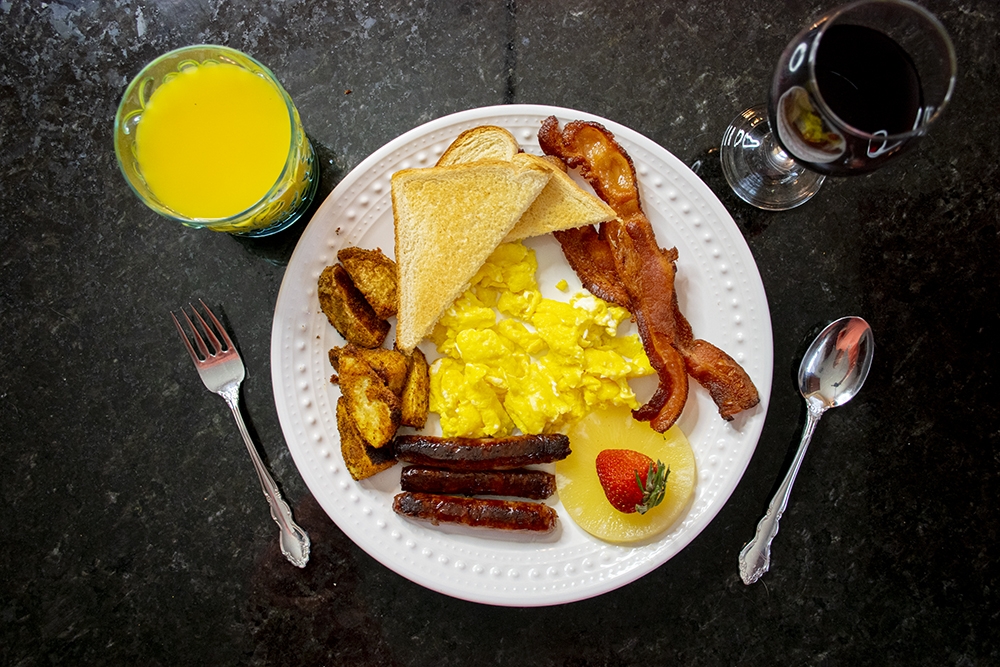 Breakfast for Dinner from WandaVision
Inspired by the 1950s episode of WandaVision – it's breakfast for dinner!
Ingredients
6

slices

bacon

4

strawberries

4

slices

pineapple

12

maple breakfast sausages

8

slices

white bread
Instructions
Preheat the oven to 400 F. In a bowl, combine the chopped potatoes with the cornstarch, paprika, garlic powder and onion powder. Arrange the chopped potatoes in an even layer in a casserole dish or on a baking sheet. Bake for 30-40 minutes, until the potatoes are fork tender. Season with salt and pepper, to taste.

Meanwhile, in a skillet over high heat, fry the bacon until crispy, about 4-5 minutes. Then remove to a plate lined with paper towels. In the grease, cook the sausages until browned and cooked through, about 8-10 minutes. Toast the bread until golden brown.

For the eggs, heat a skillet over medium high heat. Whisk the eggs in a bowl for 30 seconds. Add the butter to the hot skillet and melt until frothy. Add the eggs but don't stir right away. Let the eggs cook for about 60 seconds then use a wooden spoon to pull the edges inwards, letting the uncooked egg spill over the sides of the cooked egg and onto the skillet. Again heat for 30 seconds then repeat until the eggs start to break up. Remove from the heat and continue to stir the eggs until they are no longer 'wet' but aren't too dry. Season with salt and pepper, to taste.

PRO TIP: If you have a second oven or toaster oven, heat to 160 and keep the cooked food inside until ready to serve to keep everything at a consistent temp.

Serve the eggs, toast, bacon, sausage and hashbrowns with a side of strawberries and pineapple rings. Red wine is a great dinner companion. Enjoy!
Video