Brown Butter Lobster Risotto
The Starving Chef is supported by Hungry People like you. When you make a purchase through an affiliate link on my site, I may earn a little bit of cash on the side (at no extra cost to you) to help keep my kitchen running. Read our disclosures here.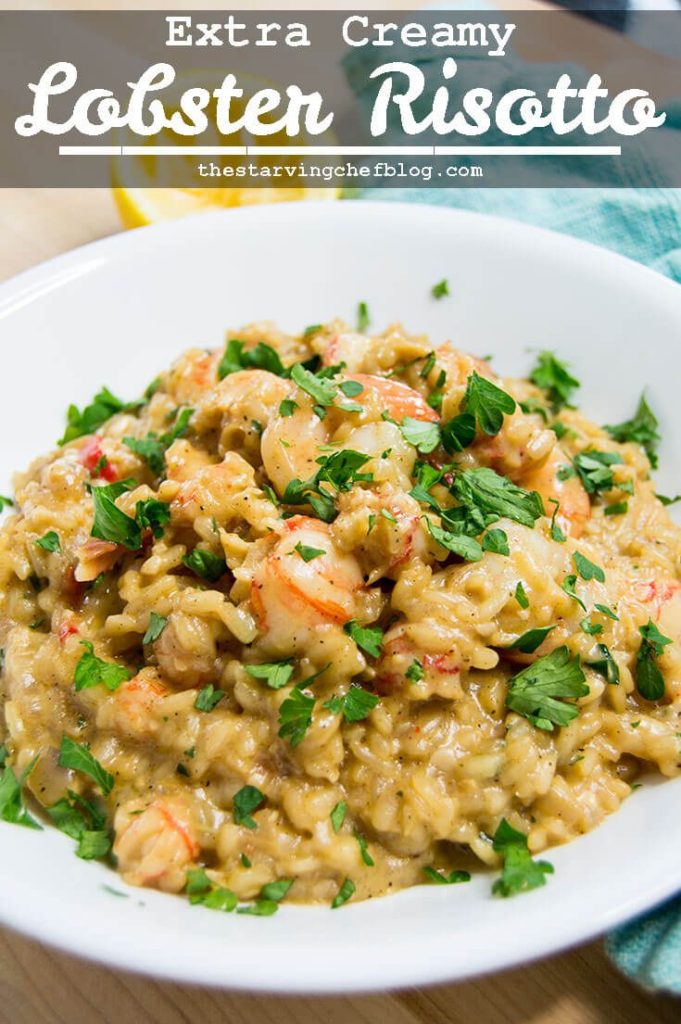 Risotto is a dish that sounds fancy, but is actually pretty simple when it comes down to technique. As someone who often messes up steamed rice (…I know), risotto is an easy but impressive dish that can be dressed up or down, depending on your mood.
I took advantage of some NYE seafood sales and snagged some shredded lobster tail for crazy cheap – but this dish can be made with shrimp too, if lobster isn't quite your style.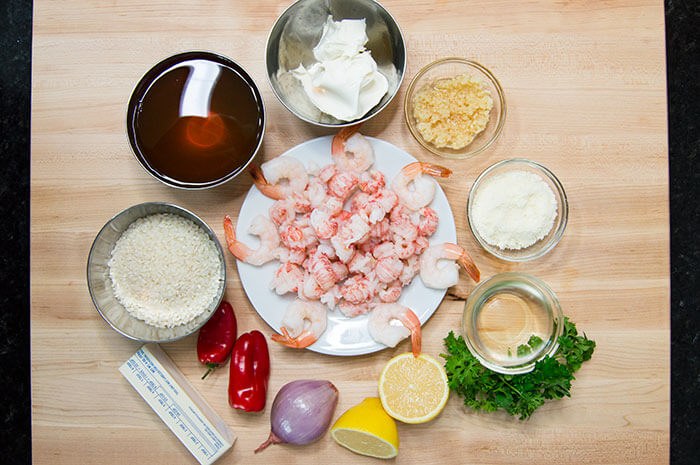 I also had some cocktail shrimp leftover from our New Year's party, it got tossed into the risotto as well. Because both my lobster tail and shrimp were precooked, I added them last, just long enough to be heated through. Risotto is traditionally made with arborio rice, which is a short grain rice and therefore cooks faster than long grain rice, especially with the cooking technique used to cook the rice.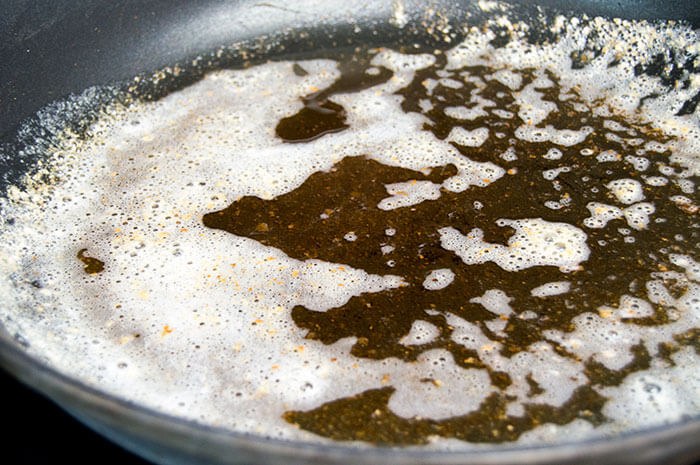 Start things off with some browned butter – literally all you need to do is brown the butter in a skillet. The butter will get frothy and shortly after, the froth will disappear, leaving a nice, brown butter. It's important not to have the heat too high and burn the butter, so keep a watchful eye!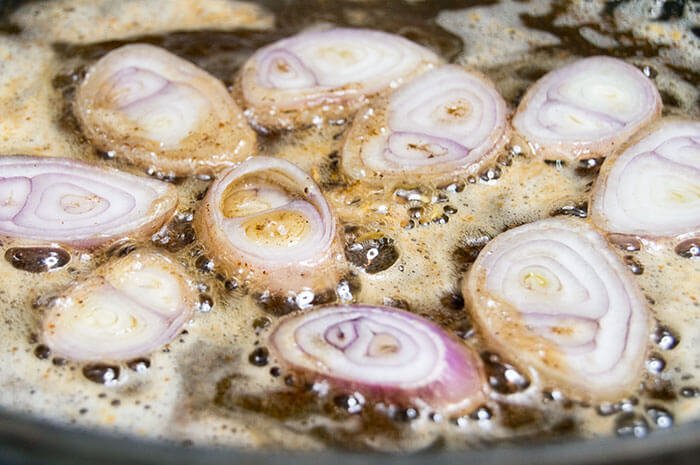 Toss in the shallots and once they are nice and browned, add the peppers and garlic and saute until the garlic is fragrant and just beginning to brown.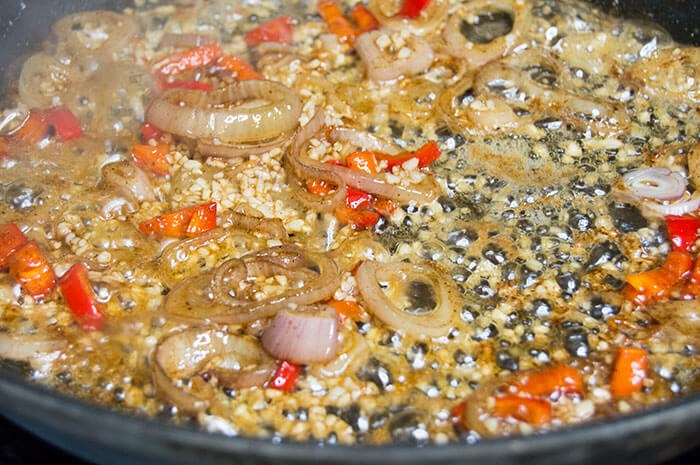 Add the wine to the skillet and simmer until most of the liquid has evaporated.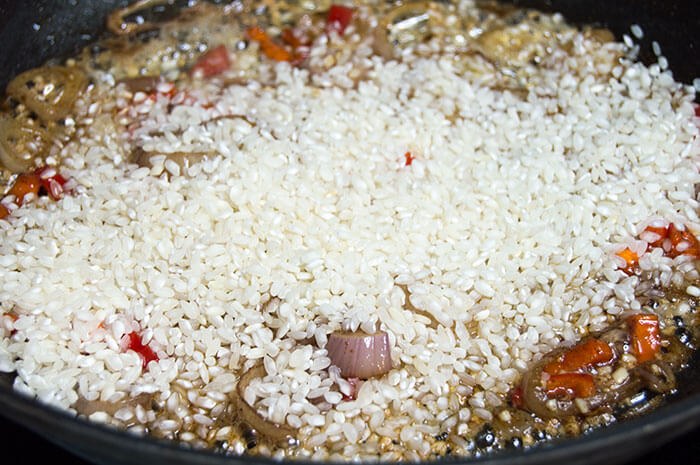 Then stir in the rice so it's covered with the butter/wine liquids. Add a half cup of the seafood stock.
Basically the technique to cooking the rice in risotto is to add stock, stir until the rice has absorbed the stock, then repeat until the rice is tender and cooked. You'll know the rice is ready for another cup of stock when you can drag the spoon through the rice and it leaves a 'trail.'
So add a half cup of seafood stock…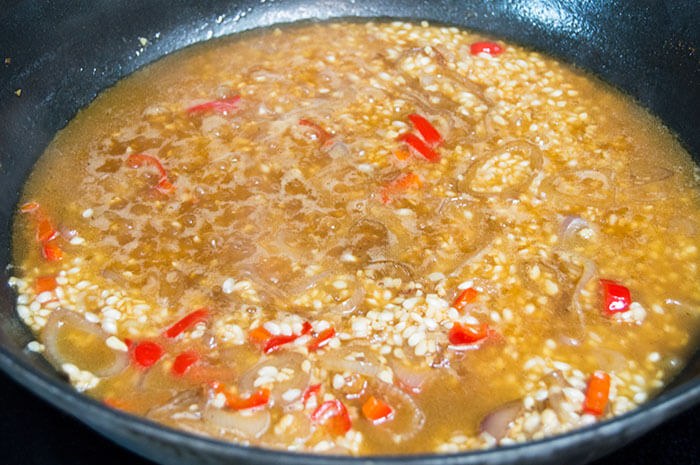 ..and stir until the liquid is gone! You'll need to repeat the steps a few times to get the perfect risotto, but trust me, the effort is worth it.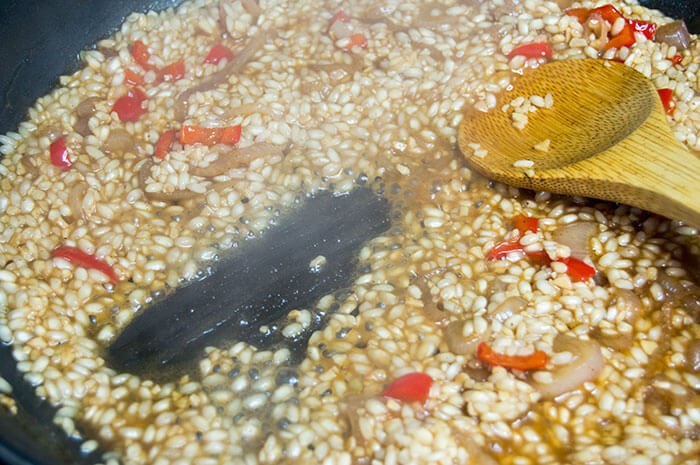 The rice will soak up about two cups liquid of per one cup of rice. I ended up using about two cups of seafood stock in mine.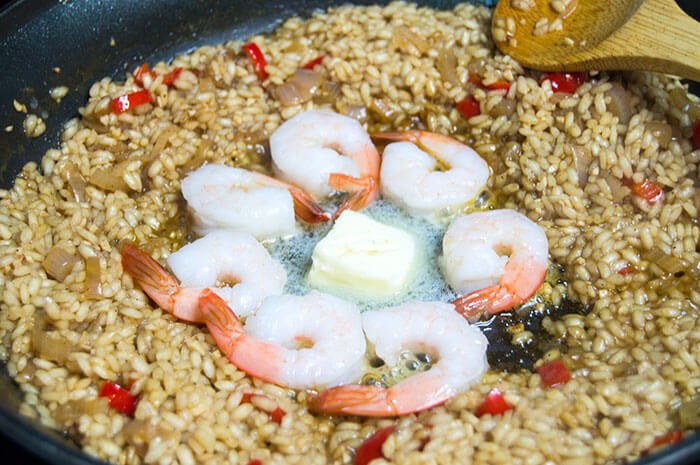 As I said in the beginning, my shrimp and lobster came precooked. While using fresh ingredients is definitely encouraged, I take no shame in using what I can find and afford on a Starving Chef budget!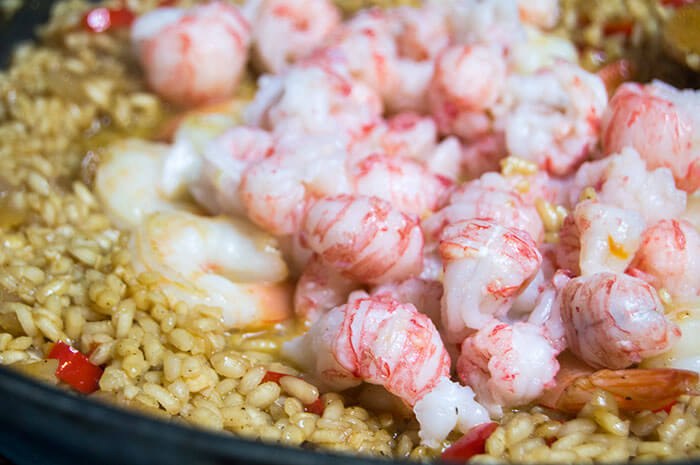 I simply added them both to the risotto a few minutes before the risotto finished cooking to be sufficiently heated through.
To make a creamy risotto, add marscapone and stir until smooth.
At this point in the cooking process, I had a hard time not eating all the risotto before I could get it on the plate to photograph!
Serve the risotto with a squeeze of lemon and some fresh parsley for garnish.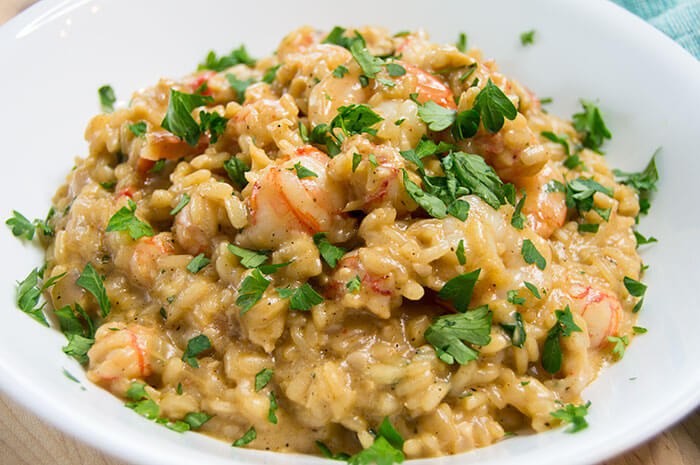 It's a real stick-to-your-spoon…er..fork..risotto!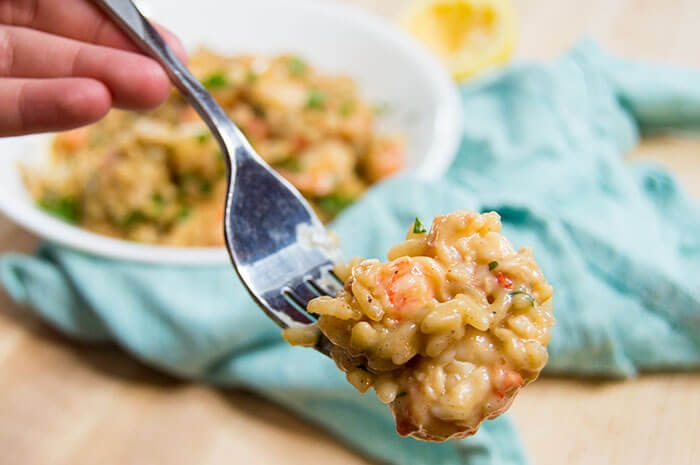 Brown Butter Lobster Risotto
Risotto is an easy but impressive dish that can be dressed up or down, depending on your mood.
Ingredients
8

oz

shredded lobster tail

cooked

8

oz

peeled shrimp

cooked

1

cup

aborio rice

2

cups

seafood stock

¼

cup

white wine

¼

cup

red bell pepper

chopped

3

tablespoons

garlic

minced

1

shallot

sliced

4

tablespoon

butter

3

tablespoon

lemon juice

¼

cup

Parmesan cheese

grated

½

cup

mascarpone cheese

optional for topping

fresh parsley

chopped for topping

salt & pepper

to taste
Instructions
Melt three tablespoons of butter in a large skillet over medium high heat. Let the butter froth and simmer until it turns brown. Toss in the shallots, peppers and garlic and saute until the garlic is fragrant and the shallots are beginning to caramelize.

Pour the white wine into the skillet and cook, stirring occasionally, until most of the liquid has evaporated. Season with salt and pepper, then stir in the rice.

Add stock, 1/2 cup at a time and stir into the rice until the rice has adsorbed most of the liquid. Repeat until all of the stock has been added and the rice is cooked through and tender.

Create a well in the center of the risotto and add the last tablespoon of butter. Pop in the shrimp and lobster. Cover with the melted butter, and then stir into the rice.

Finally add the marscapone to the risotto for a creamy texture then add a squeeze of lemon juice and garnish with fresh chopped parsley. Enjoy!