Cheesy Buffalo Pretzel Poppers
The Starving Chef is supported by Hungry People like you. When you make a purchase through an affiliate link on my site, I may earn a little bit of cash on the side (at no extra cost to you) to help keep my kitchen running. Read our disclosures here.
What's Up, Hungry People!
I may not be an expert on football, but boy, do I understand that the fans love to chow down. Let's be real, tailgating is the unsung hero of sports events! And today, we're making Buffalo Cheddar Stuffed Pretzel Bites. Trust me, you'll score major points with fans from both teams with this killer snack.
The Real Game Changer: Baking, Not the Dough
Had I known how straightforward making pretzels is, they would have been my go-to snack years ago. Spoiler alert: the game-changer isn't the dough; it's how you bake these bad boys. I'll explain as we go along.
The Essentials
The dough's foundation is as simple as they come: yeast, flour, sugar, and water. For an exciting twist, I filled half of my dough balls with pepper jack cheese and the other half with sharp cheddar and a smidge of buffalo sauce. A snack with two flavors? Yes, please!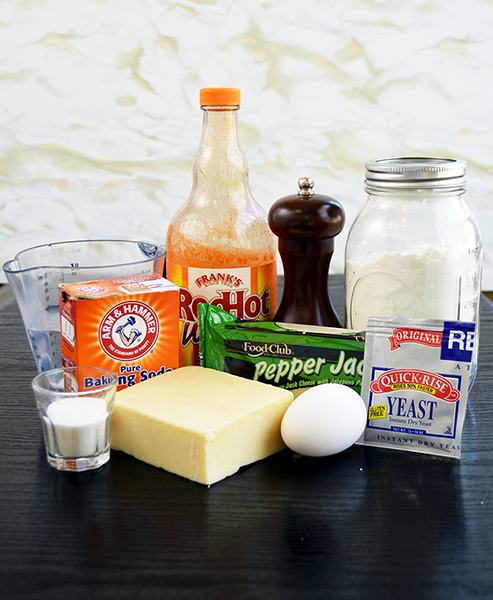 Here's What You Need
Flour: Provides the structure for the dough, making it pliable and easy to work with.
Quick-rise yeast: Leavens the dough, allowing it to rise quickly and become airy and fluffy.
Warm water: Activates the yeast and combines the dough ingredients.
Sugar: Feeds the yeast for fermentation and adds a touch of sweetness to the dough.
Cheese (Pepper Jack & Sharp Cheddar): Adds gooey, melty texture and provides two distinct flavors, spicy and tangy.
Buffalo sauce: Adds a spicy kick and tangy zest to the cheese filling.
Egg: Used as an egg wash to give the pretzel bites a shiny, golden-brown finish.
Baking soda: Creates a chemical reaction when boiling the pretzels, leading to a shiny, brown exterior.
Water for boiling: Used for boiling the pretzel bites, a crucial step in achieving their signature texture.
Coarse salt: Adds a crunchy texture and enhances the overall flavor of the pretzel bites.
Ranch: Serves as a creamy, tangy dipping sauce, complementing the spicy and cheesy flavors.
Celery sticks: Adds a refreshing, crunchy contrast to the soft and spicy pretzel bites.
Let's Cook!
First off, dissolve that yeast in warm sugar water until it gets all frothy and bubbly.
Slowly add flour into this yeast mixture, and keep mixing until a somewhat sticky dough forms. Continue to add more flour until your dough is tacky but manageable.
Divide and Conquer
Time to get those hands floured up! Roll your dough into a smooth ball on a floured surface. Slice that dough ball in half, then into quarters, and keep going until you end up with 24 even dough balls. Easy peasy!
The STUFFED Part of Stuffed Pretzels
Flatten each dough ball and drop a cheese cube in the center. I went halfsies with my flavors—pepper jack for a little kick and buffalo cheddar for that tangy punch. For the buffalo cheddar ones, just squirt about an eighth of a teaspoon of buffalo sauce over the cheese. Seal the dough well so you don't get a sauce explosion in your oven later.
Boiling Time: The Secret Step
Meanwhile, bring a pot of water to a roaring boil and toss in some baking soda. This is your golden ticket to that iconic, shiny brown pretzel skin. Boil your prepped dough balls for 30 seconds to a minute, and then line them up on a parchment-covered baking sheet.
Finishing Touches: Egg Wash and Salt
Brush the tops of your soon-to-be-pretzels with a beaten egg. Finish 'em off with a generous sprinkle of coarse salt.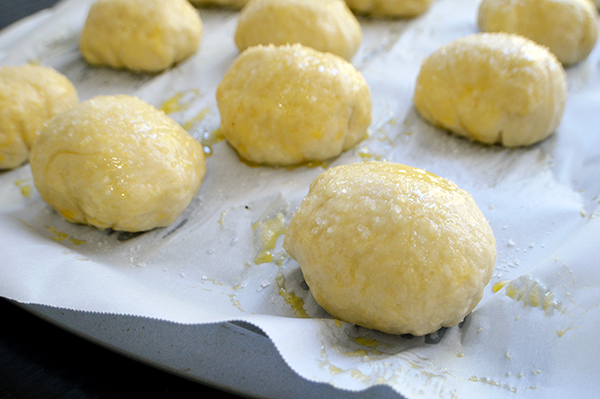 The Oven is Where the Magic Happens
Bake these gems at 450°F for 10-15 minutes, or until they turn that dreamy golden brown color. If some of your pretzels do a little bursting seam routine, don't stress. It's the cheese and sauce doing a steam dance!
Tips for Homemade STUFFED Pretzel Poppers
Choose the Right Yeast: Make sure you're using quick-rise yeast to cut down on proofing time. Using active dry yeast will require more time for the dough to rise.
Check Water Temperature: Use a thermometer to ensure the water is around 110°F for optimal yeast activation. Too hot or too cold water can inhibit yeast activity.
Handling Sticky Dough: If the dough is too sticky to handle, add a little more flour, a tablespoon at a time, until manageable.
Seal Edges Properly: Ensure that the edges of the dough are well-sealed around the cheese to prevent leaks during baking.
Be Cautious with Baking Soda: Adding baking soda to boiling water will cause it to fizz. Add slowly and stir well to prevent overflowing.
Boiling Time Matters: Don't exceed the recommended boiling time; otherwise, the pretzel bites may become too chewy or lose their shape.
Test One First: If unsure about your oven's performance, bake one pretzel bite first to gauge the exact cooking time for your specific oven.
Serving Suggestions: Serve these bites hot for the best taste and texture. Reheat leftovers in the oven to regain the original crispiness.
Cheese Variations: Feel free to experiment with other cheeses that melt well, like mozzarella or gouda, for a different flavor profile.
Troubleshoot Splitting: If your pretzels do pop open while baking, it's likely due to steam buildup. Make sure not to overstuff with cheese or buffalo sauce to minimize this.
Storage Tips: These pretzel bites can be frozen before or after baking. Just thaw and reheat in the oven for a quick snack later on.
Dipping Sauce: Besides ranch, these bites also pair well with blue cheese dip or even a garlic aioli for a flavor twist.
Sides? Yes, Please!
I served my pretzel bites with chopped celery and a side of ranch dip. Because what's a pretzel without a dunk-worthy side, right?
Go, Team, Go!
So, are you ready to be the game day snack MVP? These Buffalo Cheddar Stuffed Pretzel Bites are easy, affordable, and guaranteed crowd-pleasers.
Get your oven mitts on, Hungry People. Enjoy!
Buffalo Cheddar Stuffed Pretzel Bites
Score big at your next tailgate with these cheese-stuffed pretzel bites, boasting a kick of buffalo sauce and two kinds of ooey-gooey cheese.
Ingredients
3 ¼

cup

flour

1

package

quick rise yeast

1 ¼

cup

warm water

(110°F)

2

tablespoons

sugar

24

cubes

cheese

pepperjack & sharp cheddar

2

tablespoons

buffalo sauce

1

egg

whisked

½

cup

baking soda

water

for boiling

coarse salt

for topping

ranch

for serving

celery sticks

for serving
Instructions
Heat 1 ¼ cups of water to 110°F. Stir the sugar into the warm water until dissolved, then add the yeast packet. Let the yeast activate for 5-10 minutes, or until frothy.

Pour the yeast water into the bowl of a stand mixer. Slowly add the flour, a fourth cup at a time, until a sticky dough forms. When the dough reaches a tacky consistency, roll it out onto a floured surface. Knead the dough until smooth. Let it rise for 30 minutes or until doubled in size.

Divide the dough into 24 evenly-sized balls. Flatten each ball and add a cube of cheese and 1/8 teaspoon of buffalo sauce in the center. Wrap the dough around the cheese, sealing the edges securely.

Preheat the oven to 450°F. Bring a pot of water to a boil. Add the baking soda to the water and stir until dissolved. Warning: Adding baking soda will cause the water to fizz slightly.

Drop the dough balls into the boiling water in batches of three. Boil each batch for 30 seconds to one minute. Remove the dough balls with a slotted spoon and arrange them on a baking sheet lined with parchment paper.

Brush the whisked egg onto the tops of each dough ball. Generously sprinkle coarse salt on the tops.

Place the pretzels into the oven and bake for 8-10 minutes, or until they turn golden brown and shiny. Serve hot, and don't forget the ranch and celery sticks for dipping! Enjoy! Go Football Team!