Cabbage Egg Roll Bowls | Avatar: The Last Airbender Inspired Recipes
The Starving Chef is supported by Hungry People like you. When you make a purchase through an affiliate link on my site, I may earn a little bit of cash on the side (at no extra cost to you) to help keep my kitchen running. Read our disclosures here.
Long ago the four main cooking elements seasoned together in harmony.
Then everything changed when the oven burned the sh*t out of my first recipe!
Appa – yip yip! We're heading to the earth kingdom!
Avatar the last Airbender is hands down one of my all time favorite television shows and With a new avatar series on the horizon, I decided it was high time to dip my toes back into the world of bending.
I've dabbled in the arts of foodbending before, with Water Tribe soup, Air Nation fruit pies and Fire Nation turkey-duck legs. I even spent some time exploring the cuisine of Republic City from the Legend of Korra with street gruel, smoked fish and Bolin's favorite dumplings.
Today, we are heading to the city of Omashu to meet up with the Cabbage Merchant for a fresh cabbage egg roll bowl – hopefully his cart is in good standing today…
Looks like there's going to be a sale on shredded cabbage!
From elephant koi to moon peaches – when it comes food in the earth kingdom, they boast a rich and vibrant range of cuisines. Cabbage just so happens to be one of the more versatile foods to come out the earth kingdom, making it a common ingredient in everything from cabbage bowls to cabbage cookies – that is, if you can get your hands on them while they're still fresh.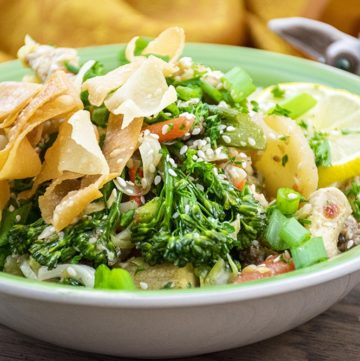 Cabbage Egg Roll Bowls | Avatar: The Last Airbender Inspired Recipes
These cabbage egg roll bowls are inspired by the Cabbage Merchant in the Earth Kingdom.
Ingredients
3

wonton wrappers

sliced into strips

¼

cup

vegetable oil

for frying

8

oz

spicy chorizo sausage

8

oz

chicken

chopped

1

tablespoon

soy sauce

½

tablespoon

mirin

½

tablespoon

fish sauce

1

tablespoon

green sriracha

or regular sriracha

1

teaspoon

Chinese five spice

½

teaspoon

red pepper flakes

½

teaspoon

salt

¼

teaspoon

white pepper

1

cup

carrots

chopped

½

cup

red onion

chopped

1

cup

baby corn

chopped

1

cup

water chestnuts

1

tablespoon

apple cider vinegar

1

tablespoon

lemon juice

1

tablespoon

garlic

minced

1

tablespoon

ginger

minced

1

egg

optional

8

oz

broccolini

chopped

1

package

shredded cabbage

or shredded cole slaw mix

4

green onion

chopped + more for topping

1

tablespoon

sesame seeds

+ more for topping

1

tablespoon

parsley

+ more for topping
Instructions
In a large wok over high heat add the vegetable oil and heat until shimmering. Stir in the wonton wrapper strips and fry until crispy. Remove from the oil when starting to brown and dry on a plate lined with a paper towel. Set aside until time to serve.

Without cleaning the wok, stir in the sausage and cook for 2-3 minutes to start browning then toss in the chicken and cook for another 3-4 minutes. Make sure both are mosly cooked through, about 5-10 minutes.

Stir in the soy sauce, mirin, fish sauce and sriracha. Bring the liquids to a rapid boil in the bottom of the wok and then stir in the rest of the seasonings: Chinese five spice, salt, white pepper and red pepper flakes. Then add the red onion, baby corn and water chesnuts. Saute for 5-6 minutes then stir in the apple cider, lemon jucie, garlic and ginger and heat until the garlic is frangrant.

Make a well in the center of the wok and add an egg. Give the egg a quick scramble without stirring it into the other ingredients.

Add the broccoli to the wok and stir then add the shredded cabbage. Stir until the cabbage is starting to wilt but is still crisp – another 5 or so minutes. Turn off the heat and top with green onion, fresh parsley, sesame seeds and wonton strips. Flameo, hotmen!
Video