Cajun Zoodles
The Starving Chef is supported by Hungry People like you. When you make a purchase through an affiliate link on my site, I may earn a little bit of cash on the side (at no extra cost to you) to help keep my kitchen running. Read our disclosures here.
We've been trying to eat healthier in our household lately, so I've been on the hunt for delicious alternatives to our usually carb-y meals. Noodles have always been a weeknight go-to meal, but now that I have a spiralizer and homegrown zucchini in my yard, ZOODLES have been all the rage.
I mean, just look at this giant zucchini I pulled out of my garden – first one I ever grew from seed, actually. It weighed in at almost 2 pounds! To celebrate my growth as a gardener, I of course had to make some zoodles with it.
My boss got me this fancy spiralizer that can make thin or thick zoodles, and even zoodle sheets for lasagna (recipe coming soon?). I recommend using the thicker zoodles when cooking them in a skillet, as this recipe calls for.
So. Many. Zoodles. Roughly chop the zoodles a few times to break them apart – otherwise you'll end up with a nearly endless zoodle!
Once the zoodles are ready, saute the shrimp and andouille sausage. If you are going for a vegetarian version, cauliflower or broccoli can be used instead!
Once the shrimp and sausage have cooked, remove them from the pan and deglaze the pan with the white wine before tossing in the onions and peppers.
After the onions and peppers have softened, stir in the chopped tomato, garlic and mushrooms and stir until the tomatoes have lost most of their moisture. Squeeze the lemon directly into the skillet, taking care to catch any seeds.
Once most of the liquid has evaporated from the pan, add the zoodles. They cook quickly, so immediately add the cajun spice blend and use tongs to incorporate the zoodles into the onion and pepper mix. Pour in the chicken broth, Worcestershire sauce and a dash of habanero pepper sauce, if you're daring.
Cook the zoodles to your desired doneness – some people prefer less cooked zoodles, where they still have a crunch, while others prefer them totally sauted and similar to noodles in texture.
However you like them, throw back in the shrimp and sausage and stir into the zoodles to reheat just prior to serving.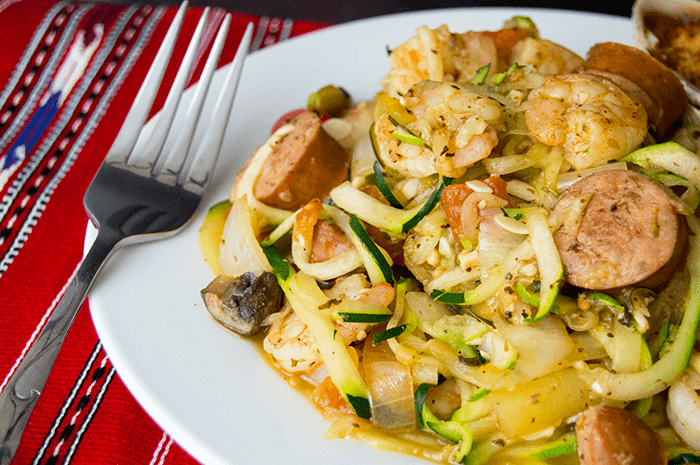 What's your favorite zoodle recipe? Let me know in the comments!
Cajun Zoodles
Zoodles are crazy easy to customize for a delicious weeknight meal.
Ingredients
32

oz

zucchini

16

oz

shrimp

peeled

8

oz

andouille sausage

chopped

½

cup

chicken broth

or vegetable broth

½

cup

red and green bell peppers

chopped

¼

cup

white wine

½

cup

onion

chopped

4

button mushrooms

sliced thin

½

cup

tomato

diced

3

tablespoons

garlic

minced

1

tablespoons

Worcestershire sauce

3

tablespoons

cajun spice mix

2

tablespoons

olive oil

dash

Louisiana hot sauce

optional

salt & pepper

to taste
Instructions
Wash the zucchini to remove any dirt. Cut off each end then use a spiralizer to make zoodles. Roughly chop the zoodles a few times to break up into individual zoodles.

Grease a skillet over medium heat with two tablespoons of olive oil. Once the surface is shimmering, add the shrimp and sausage. Season with salt and pepper. Cook until the shrimp has turned pink and the andouille sausage has started to brown. Remove from the skillet and set aside.

Deglaze the skillet with the white wine. When the liquid has reduced, add the chopped onions and peppers and saute until tender.

Add the diced tomato, garlic and mushrooms, Worcestershire sauce and chicken broth and stir until most of the moisture has evaporated. (Optional: add a dash of hot sauce!)

Place the zoodles into the skillet and use tongs to stir into the other veggies. Season with salt and pepper.

Add the shrimp and andouille sausage back into the skillet and cook until the zoodles reach the desired doneness and the shrimp and andouille sausage are heated through. Serve right away and enjoy!