Grilling 101: Prime Steaks with Savory Cayenne Seasoning
The Starving Chef is supported by Hungry People like you. When you make a purchase through an affiliate link on my site, I may earn a little bit of cash on the side (at no extra cost to you) to help keep my kitchen running. Read our disclosures here.
What's Up, Hungry People?
Do you have a love for dry-rubs like I do? The charm of simple seasonings—salt, pepper, garlic, and that fiery kick of cayenne—just can't be beaten. The magic happens when you let that rub deeply penetrate the steak, unlocking a world of flavor.
Now, on a recent surf 'n' turf grill night, I whipped up these ginger-garlic BBQ shrimp kabobs (trust me, they're a must-try). As for the steaks, I generously coated them with our salt, pepper, garlic, and cayenne mix. Then, I let them chill and mingle with the flavors for about an hour. You'll know they're ready to hit the grill when they take on that 'wet' look and deepen in color.
Here's What You Need:
Prime steaks: Star of the show; rich flavor and tenderness.
Sea salt: Enhances steak flavors; creates savory crust when grilled.
Freshly cracked peppercorns: Adds spicy kick; complements steak's meatiness.
Cayenne pepper: Optional; adds heat for those preferring a spicier touch.
Let's Cook!
Once the grill is all hot and ready, get those steaks on there and sear them to your heart's desire. I'm a fan of steaks with a hint of pink, so mine get about 2-3 minutes per side. And if you're craving those iconic grill marks, just give your steaks a 90-degree turn halfway through each side.
Now, not all steaks are cut from the same cloth. Depending on your steak's cut and thickness, you might want to adjust that cooking time.
Here's a steak done-ness quick guide:
2-3 minutes for rare
3-4 minutes for medium rare
4-5 minutes for medium
5-6 minutes for medium well
6-8 minutes (if you're team well done)
Fun fact: We recently moved into a new home, and what better way to christen the place than with a grand grill-out? I celebrated with prime steaks, shrimp kabobs, and some classic corn and charred onion. Oh, and did I mention I used that nifty gas-powered cooking top on the grill's side? That's where I whipped up some broccolini, white asparagus, and fiery serrano peppers.
Before you dive in, give those steaks a good 5-10 minute rest. Letting them relax locks in all the goodness. And a pro tip? Resist the urge to slice your steak open to check its doneness. Keep the flavors intact and rely on a trusty meat thermometer to gauge the temperature.
Mastering Your Cayenne-Rubbed Steak Grilling:
Uniform steak thickness: Helps in even cooking; if varying thickness, consider butterfly cuts.
Oil the grill: Prevents sticking; ensures a clean release of steak.
Keep the lid closed: Retains heat and promotes even cooking.
Avoid frequent flipping: One flip is usually enough; preserves juices and achieves a good sear.
Hot spots on the grill: Grills may have uneven heat; be aware and adjust steak placement accordingly.
Resting on a rack: Allows air circulation; prevents steak from getting soggy at the bottom.
Over-seasoning: Cayenne is strong; be cautious to not overpower the steak's natural flavors.
Grill cleaning: Clean after each use; ensures no flavor transfer and extends grill life.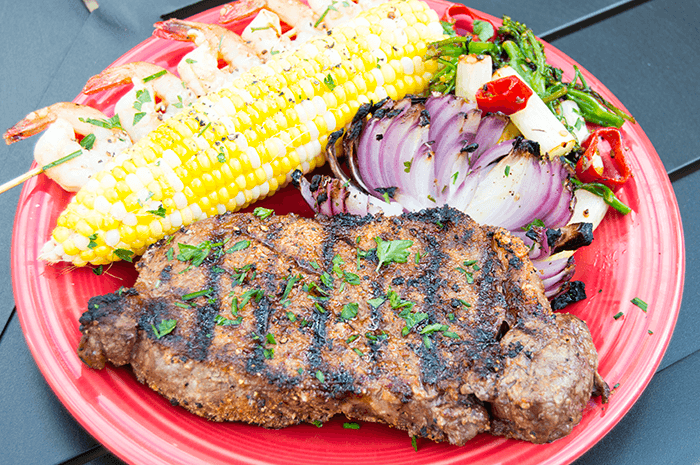 Steak nights at home have never been this sizzling! With our cayenne rubbed steaks recipe, you can recreate that restaurant-quality steak in the comfort of your own backyard. The magic lies in the simple yet flavorful dry rub that's both spicy and savory, perfectly complementing the richness of the prime steak.
Paired with some BBQ shrimp kabobs and sautéed veggies, it's a meal that'll make you the star chef for the night. And remember, let those steaks rest, and they'll reward you with every juicy bite. Hungry People, it's time to bring the heat to your grill!
Cayenne Rubbed Steaks | Backyard Grill Recipes
A spicy and savory dry-rubbed steak, perfect for grill nights at home.
Ingredients
2

thick-cut prime steaks

2

tablespoons

sea salt

2

tablespoons

fresh cracked peppercorns

1

tablespoon

cayenne pepper

optional, to taste
Instructions
In a small bowl, whisk together the sea salt, freshly cracked peppercorns, and cayenne pepper. Generously rub the mixture onto the steaks. Allow them to rest for at least one hour, or until the rub appears to have darkened and turned moist.

Preheat a grill to 450°F. Spray with non-stick cooking grease. Place each steak onto the grill, searing on each side until the steaks reach the desired level of doneness: 2-3 minutes on each side for rare, 3-4 minutes for medium rare, 4-5 minutes for medium, 5-6 minutes for medium well, and 6-8 minutes for well done.

Let the steaks rest for five to ten minutes before serving to lock in all the juices. Serve alongside BBQ shrimp kabobs, corn on the cob, and sautéed veggies. Enjoy!