Champagne Cupcakes
The Starving Chef is supported by Hungry People like you. When you make a purchase through an affiliate link on my site, I may earn a little bit of cash on the side (at no extra cost to you) to help keep my kitchen running. Read our disclosures here.
There are many great reasons to pop some bubbly – New Year's Eve just being one of them! For all of life's celebrations, champagne is the go-to drink of choice. But if you really want to extend the celebrating, why not bake the champagne into all of the celebratory sweets too?
Everything from the cupcake to the frosting is infused with champagne – it adds a subtle hint of sweetness without being overbearing, especially when topped with thick icing.
I even found some edible glitter stars to sprinkle on top of my cupcakes to give them that extra dash of jazz – and boy were those a hit. It's not every day you see star shaped sprinkles, and certainly not shiny gold ones!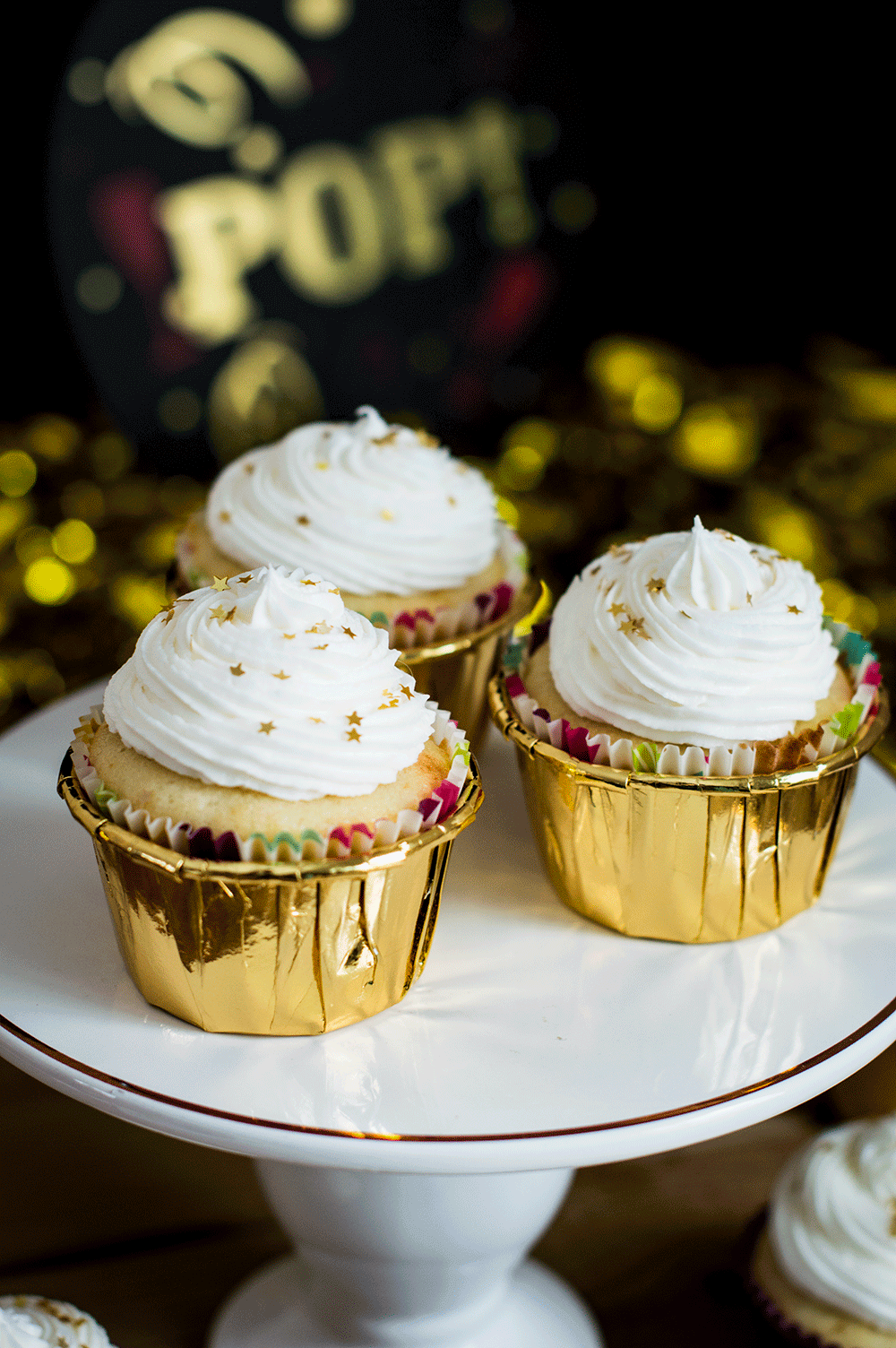 Aside from the few cupcakes that were smashed in drunken joy for the holiday, these cupcakes disappeared faster than the ball could drop.
But of course, there's no reason to only make these for NYE. Champagne cupcakes are a great addition to just about any celebration that requires a tall glass of fizzy champagne!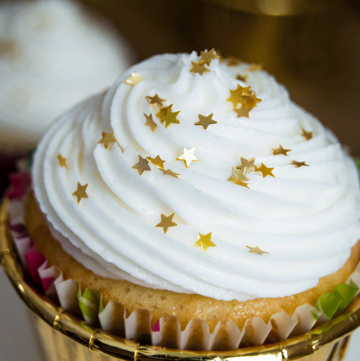 Champagne Cupcakes
Everything from the cupcake to the frosting is infused with champagne – it adds a subtle hint of delectable sweetness.
Ingredients
FOR CHAMPAGNE CUPCAKES;
2

cups

flour

1

cup

sugar

¼

teaspoon

baking powder

1

teaspoon

baking soda

1

cup

butter

room temperature

6

egg whites

2

egg yolks

½

cup

vanilla Greek yogurt

¾

cup

champagne
FOR CHAMPAGNE FROSTING:
½

cup

butter

room temperature

½

cup

shortening

5

cups

powdered sugar

+ / – more as needed

½

cup

champagne

+ / – more as needed

edible glitter

or sprinkles as desired
Instructions
Preheat the oven to 350 F. Prep muffin tins with paper liners and spray lightly with cooking oil. Set aside. Separate the eggs from their yolks, reserving two yolks, and let sit at room temperature for an hour. Keep the butter out too, to reach room temperature.

In the bowl of a stand mixer, whip the eggs until frothy. Beat in the butter then whisk in the sugar, yogurt and champagne, until smooth. There may be small chunks of butter in the batter – that's fine as they will melt away when baked.

While continuously stirring on low speed, add in the flour 1/4 cup at a time. Add the baking powder and baking soda between scoops of flour. If the batter is too runny, add more flour. If it gets too stiff, add a dash more champagne. It should be about the consistency of pancake batter, so thick but not too runny.

Fill the cupcake tins about 1/2-3/4 full, about 3-4 tablespoons per cup. Bake for 18-20 minutes, or until a toothpick inserted in the center of the cupcake comes out clean. They should be cooked though, but not browning on top. Remove the cupcakes from the oven and leave in their muffin tins for 10 minutes before transferring the cupcakes to a cooling rack to finish cooling. Cupcakes can be made 24 hours ahead and chilled until ready to add the frosting.

To make the frosting, whip together the butter, shortening, champagne and powdered sugar. Add the powdered sugar, 1/4 cup at a time, until a thick, stiff frosting develops. It should hold its peaks when the whisk is removed, but should be soft enough that it will flow through an icing tip with little pressure. If it's too thin, add more powdered sugar. If it's too thick, add a touch more champagne.

Fill a piping bag with the icing. Use a star tip or your favorite icing tip on the bag. Start the icing in the center of the cupcakes then work your way out, then up, in a single, circular motion. Sprinkle on the edible glitter, if using. Chill the cupcakes until ready to serve. I set mine out for 30 minutes at room temperature to soften the frosting prior to serving. Enjoy!