Charred Onion Flower | Backyard Grill Recipes
The Starving Chef is supported by Hungry People like you. When you make a purchase through an affiliate link on my site, I may earn a little bit of cash on the side (at no extra cost to you) to help keep my kitchen running. Read our disclosures here.
Have you ever been tempted by those "As Seen On TV" products? I know I certainly am, despite knowing most probably don't work. When I bought my new grill, I was strangely enticed by the selection of gimmicky grill accessories nearby.
So… I impulsively bought one of those onion blossom kits, mostly out of curiosity and also it was only $5.
Worth it? Let's find out!
The kit came with a plastic cutting guide and 'corer,' as well as a metal apparatus for cooking the onion on the grill directly. While the guide fit a medium sized onion and was actually useful when cutting into evenly sized slices, the corer was essentially useless. It basically just smashed the middle down instead of removing it.
Regardless, I still ended up with a pretty, lotus-looking onion:
I brushed mine with olive oil seasoned with salt, pepper, and parsley.
The instructions that came with the kit suggested a cooking time of twenty minutes over direct heat.
Now, I frequently grill my onions – usually in foil with a dab of butter – but it seemed to me that was a long time to be directly over the heat on my screaming hot grill…
…yikes! The outside of my onion got pretty crispy, but not all hope was lost! The burnt tips fell off with little provocation and once removed from the special onion blossom cooker, the tips of the onion were just charred, but the center of the onion was so delicately tender and juicy!
I cut the onion in half and plated it alongside a nice steak. Great success! I think I'll definitely be using this onion blossom kit again in the future – definitely worth the five bucks!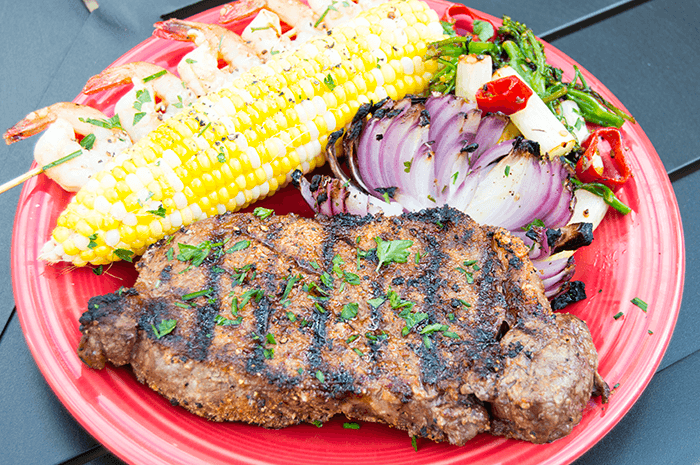 Charred Onion Flower | Backyard Grill Recipes
A simple, charred onion in the presentation of a lotus flower! Hot off the grill!
Ingredients
Instructions
Preheat the grill to 500°F. Utilize an onion cutting guide, to slice even cuts into the onion, but not through the end. (This can also be done, carefully, by hand without a guide.)

Whisk together the olive oil, salt, pepper, and parsley. Brush the olive into the sliced onion. Gently separate the onion layers and cover completely with the oil.

If using a special kit, use the metal onion cooker to cook the onion facing down over high heat for twenty minutes. If NOT using a special kit, place a 8×8 sheet of foil on the grill and place the onion with the 'petals' facing up; gently wrap in foil so sides are covered but the top is open – cook over high heat for twenty minutes.

Remove onion from heat and gently cut in half to resemble a lotus flower. Use to garnish grilled steaks, chicken, or seafood. Enjoy!