Twist, Fill, Bake: The 15-Minute Pizza Pretzel
The Starving Chef is supported by Hungry People like you. When you make a purchase through an affiliate link on my site, I may earn a little bit of cash on the side (at no extra cost to you) to help keep my kitchen running. Read our disclosures here.
What's Up, Hungry People!
Pizza pretzels have climbed their way to the top of my favorite go-to meals during the week. Why? They're incredibly tasty and whip up in barely fifteen minutes, start to finish. Talk about perfect for those evenings when you're just too wiped to think about cooking a full-blown meal!
Why This Combo Rules
Let's be real: pizza is awesome. Pretzels? Even more so, especially when you get to choose what's stuffed inside. Put these two culinary MVPs together, and you've got yourself a match made in easy-to-make recipe heaven.
I opted for store-bought pizza dough (yeah, the kind in a can) to keep things simple. Pair that with some pizza sauce and extra-large pepperoni slices. As for the cheese filling, I went with a trifecta of cheeses often labeled as "pizza cheese" on the packaging. But hey, if you've got some good ol' mozzarella, that works like a charm too.
Here's What You Need
Pizza Dough: Serves as the base for the pretzel, giving it its shape and structure. It's the canvas where all other ingredients come together.
Mozzarella Cheese: Provides the gooey, melty center and topping of the pretzel. Adds a rich, creamy texture and savory flavor.
Pepperonis: Offers a spicy, salty bite as a topping. Adds both color and a meaty texture to the pretzels.
Pizza Sauce: Used for dipping, this sauce elevates the overall experience by adding tanginess and a hint of sweetness. It complements the cheesy goodness.
Let's Cook!
Prep Your Dough: Start by cutting the pizza dough into three even strips. Make sure they're thick enough to comfortably fold over the cheese without breaking apart. I stretched my dough as far as it would go in every direction, but don't get too carried away; you don't want to make it so thin that it tears.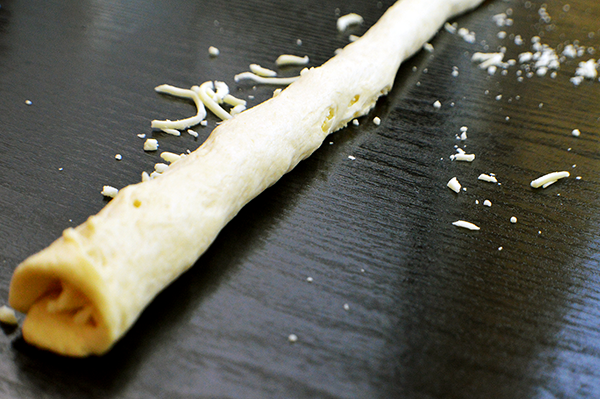 Cheese It Up: Sprinkle your selected cheese blend down the center of one strip. Then, pinch those doughy sides together, making sure to fully encase that cheesy goodness.
Twist and Fold: Take the two ends of your pretzel-in-the-making, place them together and give 'em two quick twists. Then, fold the twist ends over the center of the would-be pretzel.
Top it Off: Layer the pretzel with pepperoni slices and sprinkle a bit more cheese on top for good measure.
Bake Away: Pop those babies into the oven for 8-10 minutes, or until they're golden brown and the cheese on top has fully melted. Make sure your oven is preheated to 425°F.
Pair it Up
Serve these bad boys alongside some warm pizza sauce and maybe even a side of ranch dressing—if you're into that sort of thing, of course.
Tips for A Perfect Stuffed Pretzel
Choose Quality Dough: Opt for a high-quality pizza dough for better flavor and texture. Some grocery stores offer fresh dough, which can be a game-changer.
Preventing Cheese Leakage: Make sure to pinch the dough securely around the cheese to prevent any leakage while baking. If it leaks, you'll lose that gooey center.
Don't Overstretch the Dough: Stretching the dough too thin can result in tears, making it difficult to seal in the cheese. If the dough does tear, try pinching it back together.
Oven Calibration: Ovens can run hot or cold. If you notice the pretzels are browning too quickly or not quickly enough, adjust the time or temperature accordingly.
Sauce Options: While pizza sauce is a classic, feel free to explore other dipping options like garlic butter or even a cheese dip for double the cheesy pleasure.
Use Parchment Paper: For easy cleanup and to prevent sticking, use parchment paper or a silicone baking mat on your baking tray.
Check for Doneness: A good indicator of a fully cooked pretzel is a golden-brown color and melted cheese. If the bottom is pale, give it a few more minutes.
Batch Cooking: If you're making multiple batches, keep the cooked pretzels warm in a low-temperature oven until you're ready to serve them.
Freezing Tips: These can be frozen before baking. Just assemble, place on a baking sheet, freeze, and then transfer to a zip-top bag. Bake from frozen, adding a few extra minutes to the cooking time.
A Tip for Dough Hoarders
If you come across a killer deal on pizza dough, don't hesitate—stock up! I always have a couple of cans in my fridge so that I can make pizza on a whim. And if you're planning for an occasion like the Super Bowl, a birthday bash, or just a low-key get-together with pals, this recipe easily multiplies to accommodate a hungry crowd.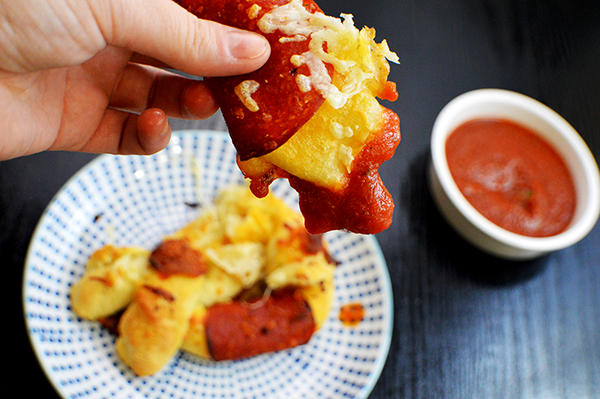 Alright, Hungry People, that wraps up our quick kitchen adventure for today. With just a can of pizza dough, some cheese, and pepperonis, you're 15 minutes away from snacking heaven. Seriously, it's that simple, and the payoff is huge—a savory, twisty treat that's sure to make you the MVP of any snack spread. Enjoy!
Cheese Stuffed Pizza Pretzel
This quick and easy cheese-stuffed pizza pretzel is the perfect go-to snack that's ready in just 15 minutes.
Ingredients
1

can

sheet or pizza dough

1

cup

mozzarella cheese

pepperonis

for topping

pizza sauce

for dipping
Instructions
Preheat the oven to 425°F. Open the pizza dough and roll it out on a smooth surface. Gently stretch the dough so it has an even thickness from edge to edge. Cut the dough into three strips, lengthwise.

Sprinkle cheese down the center of each dough strip, leaving about a half-inch of dough on either side of the cheese. Fold the edges together and pinch to form a seal.

Grab the pretzel on both ends. Leave the center of the pretzel on the table as you bring the ends together, then twist around twice. Place the twisted ends on the center of the dough on the table and gently press to make the dough stick to itself.

Press pepperonis onto the sides of the pretzels. Sprinkle the pretzels with the remaining cheese. Bake for 10 minutes, or until the cheese on top has melted and the pretzel is golden brown.

Serve with a side of warmed pizza sauce and enjoy!