How to Make Cheeseburger Rolls: A Food-in-Disguise
The Starving Chef is supported by Hungry People like you. When you make a purchase through an affiliate link on my site, I may earn a little bit of cash on the side (at no extra cost to you) to help keep my kitchen running. Read our disclosures here.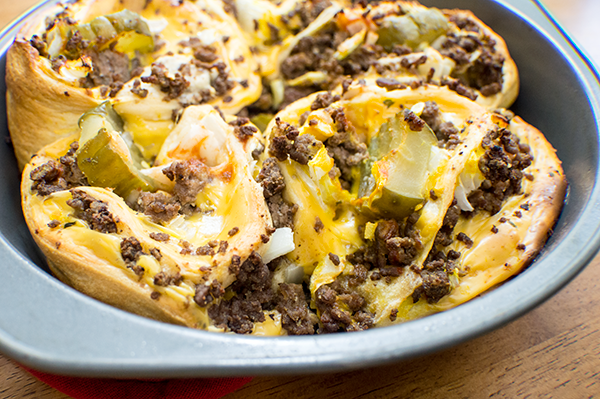 What's Up, Hungry People!
Welcome back to another week of delicious cooking! This week's challenge was all about "food in disguise." The spotlight is on a unique dish—cheeseburger rolls with a mayo "glaze." Trust me, your taste buds will thank you. These rolls may look deceiving, but don't be fooled; they pack all the juicy flavors of a cheeseburger.
Taking inspiration from the classic cinnamon roll, we're rolling up a burger today, complete with all the savory toppings that make a burger so great. Imagine the surprise of biting into what looks like a pastry, only to discover it's a cheeseburger in disguise!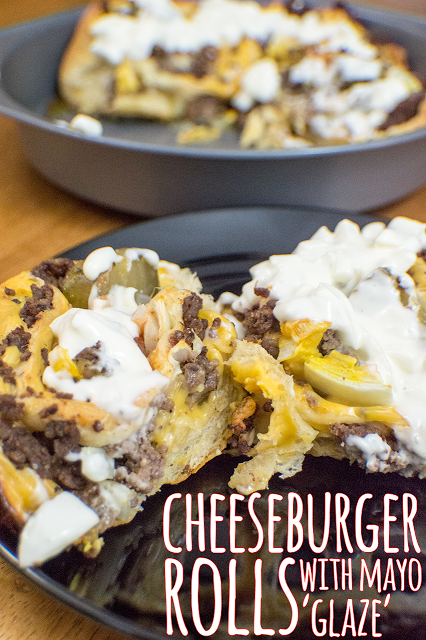 Here's What You Need
Seamless Dough: Acts as the canvas for our burger masterpiece.
Cooked Hamburger Meat: The star ingredient that brings the beefy flavor.
American Cheese: For that classic, gooey cheese experience.
White Onion: Adds a bit of crunch and aromatic zest.
Pickles: A touch of tanginess to balance the meat and cheese.
Pickle Juice: Pairs with mayo to create a unique glaze.
Mayonnaise: Smooths out the flavors and creates a creamy texture.
Ketchup and Mustard: Your quintessential burger condiments, need I say more?
Salt & Pepper: For that basic seasoning, a must-have for any burger.
Let's Cook!
Setting the Stage: First things first, preheat that oven to a hot 400°F. While that's getting ready, brown your hamburger meat. Drain any excess grease, then sprinkle a little salt and pepper to season.
Roll it Out: Now grab your seamless dough and roll it out on your countertop. You're creating the base for this flavor-packed roll-up!
Cheese, Please: Evenly lay out your slices of American cheese on the dough. Make sure you cover the entire surface so each bite has that gooey goodness.
Meat the Dough: Scatter the cooked hamburger meat across the cheesy dough. This is what makes the roll a cheeseBURGER roll!
Layer On: Next, bring in the onions, pickles, ketchup, and mustard. Arrange them as you please. The more, the merrier!
Rollin', Rollin', Rollin': Roll up that dough tightly, sealing in all the flavors. Slice it into five equal portions and line them up in a greased circular pan.
Into the Oven: Time to bake! Pop those rolls in the oven for 25-30 minutes or until they're nicely browned.
Sauce Time: While you're waiting, whip up your mayo "glaze" by stirring together mayo, pickle juice, and some remaining onions. Pop it in the fridge until you're ready to serve.
Finishing Touch: Once those rolls are out of the oven, give them a generous slather of the chilled mayo "glaze."
And just like that, we've successfully tricked our taste buds in the most satisfying way! These cheeseburger rolls with mayo "glaze" are the perfect combo of fun, flavor, and a little bit of foodie mischief. Ready to surprise your family or maybe just treat yourself? Either way, get ready for a bite that'll make you question everything you thought you knew about rolls and burgers. Enjoy!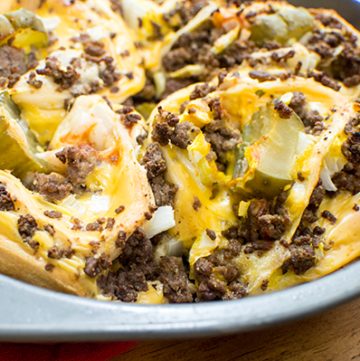 Cheeseburger Rolls with Mayo 'Glaze'
Unwrap the mystery of these cheeseburger rolls with mayo "glaze" for a fun twist on a classic favorite.
Ingredients
1

can

seemless dough or crescent dough with seems pinched together

¼

cup

cooked hamburger meat

6

slices

American cheese

½

cup

white onion

finely diced

10

pickle slices

⅓

cup

pickle juice

½

cup

mayonnaise
ketchup

for topping

mustard

for topping

salt & pepper

to taste
Instructions
Preheat the oven to 400 F. Brown and rinse the hamburger meat. Season it with salt & pepper to taste.

Roll out the seamless dough on a flat surface. Carefully place all the slices of American cheese across the dough, making sure to cover it evenly.

Next, evenly spread the cooked hamburger meat across the dough. It's important that every bite has a good mix of meat and cheese!

Top the meat with finely diced onions, pickles, ketchup, and mustard, just the way you like it. Then, roll the dough into a tight spiral.

Using a sharp knife, slice the dough spiral into five evenly sized pieces. Place the rolls in a greased circular pan.

Bake for 25-30 minutes or until the dough has browned and cooked through. You'll know they're done when your kitchen smells like burger heaven.

While the rolls are baking, let's make the sauce. Mix together the mayonnaise, pickle juice, and remaining onions. Chill the sauce until you're ready to serve.

Once the rolls are done, generously spread the chilled sauce over the tops of each roll.
Video