Cheesecake Filled Strawberries
The Starving Chef is supported by Hungry People like you. When you make a purchase through an affiliate link on my site, I may earn a little bit of cash on the side (at no extra cost to you) to help keep my kitchen running. Read our disclosures here.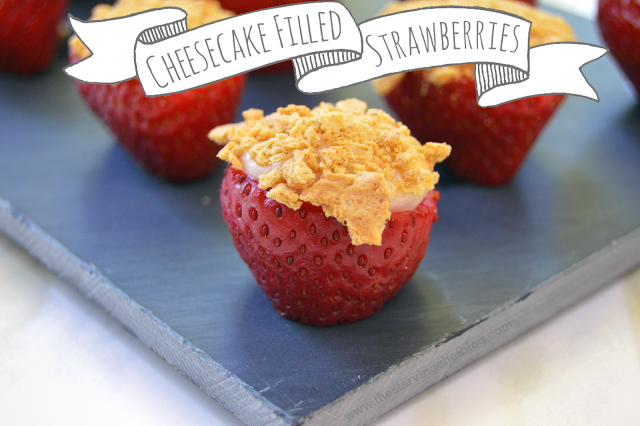 If one merely utters the word cheesecake to me, I go weak in the knees. Truly one of the best desserts around, combine it with fresh strawberries, and you've got a mouthful of amazingness.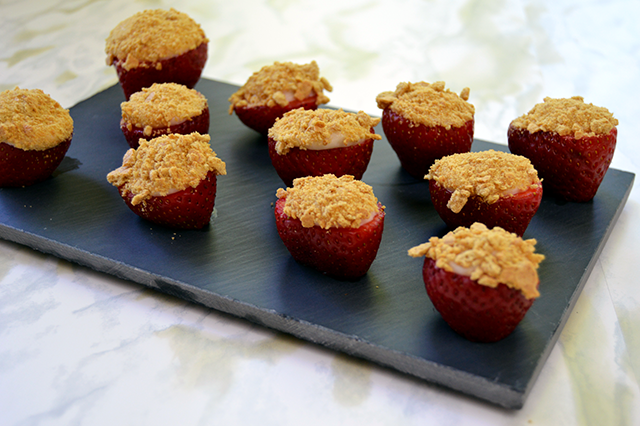 Like my infamous s'more cookies, these strawberry bites have been a staple in my dessert dishes for several years now. I only vaguely remember making them – but I do remember that I had to go out and buy a second package of strawberries because my roommate and I devoured the entire batch we had been making for a cookout before we could even walk out the door. We were late, but it was worth it.
While I'd like to say that the strawberries were plucked fresh from my balcony garden, I unfortunately have not yielded any large enough to use in a dish such as this. They do make for a tasty snack as I sit on my balcony writing this, however.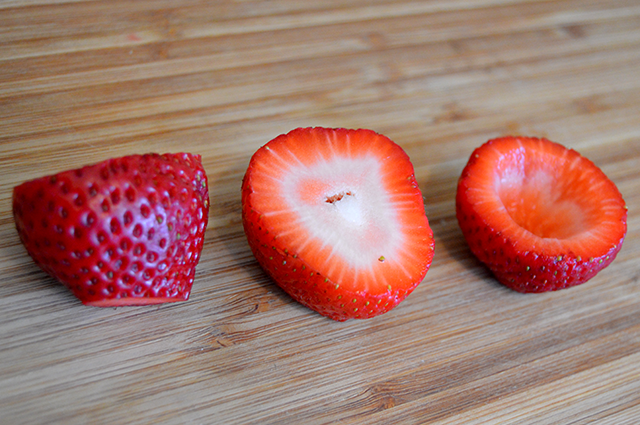 Strawberries will even give you natural guidelines as to where you need to trim in order to husk it perfectly. All you need to do is cut the top off where the red transitions into white, and trim the bottom so the strawberry can stand alone. Then use a small knife and trace the blade around the white interior of the strawberry in a 45 degree angle. And you've just husked a strawberry!
Then just blend the rest of the ingredients together and use a piping bag to fill the cavities of each strawberry. Let chill before you top with graham crackers – but remember to do that right before you serve for a crispy topping!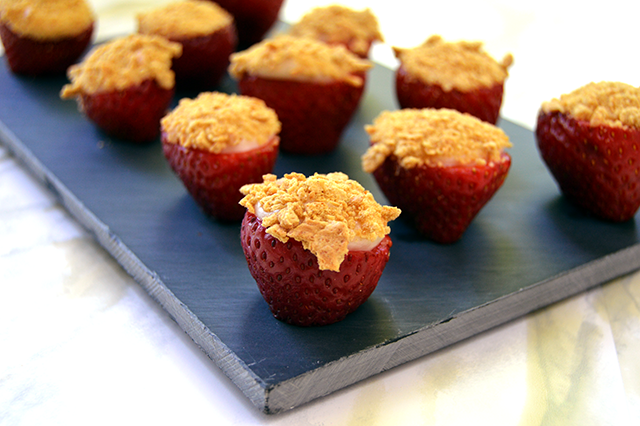 Cheesecake Filled Strawberries
Simple cheesecake stuffed strawberries!
Instructions
Wash and dry the strawberries. Using a sharp knife, cut of the top of the strawberry where the red transitions into white. Trim the bottom of the strawberry so it can stand on it's own. Tilt the knife slightly and trace along the white line on the inside of the strawberry to hull it.

Combine the cream cheese, powdered sugar, and vanilla in a small bowl then transfer into a piping baggie and pipe enough of the mix into each strawberry's cavity to overfill it.

Let the strawberries chill if not serving right away. Dip each top of the cream cheese filled strawberry into the graham crackers and serve. Enjoy!