Chicken Tikka Masala
The Starving Chef is supported by Hungry People like you. When you make a purchase through an affiliate link on my site, I may earn a little bit of cash on the side (at no extra cost to you) to help keep my kitchen running. Read our disclosures here.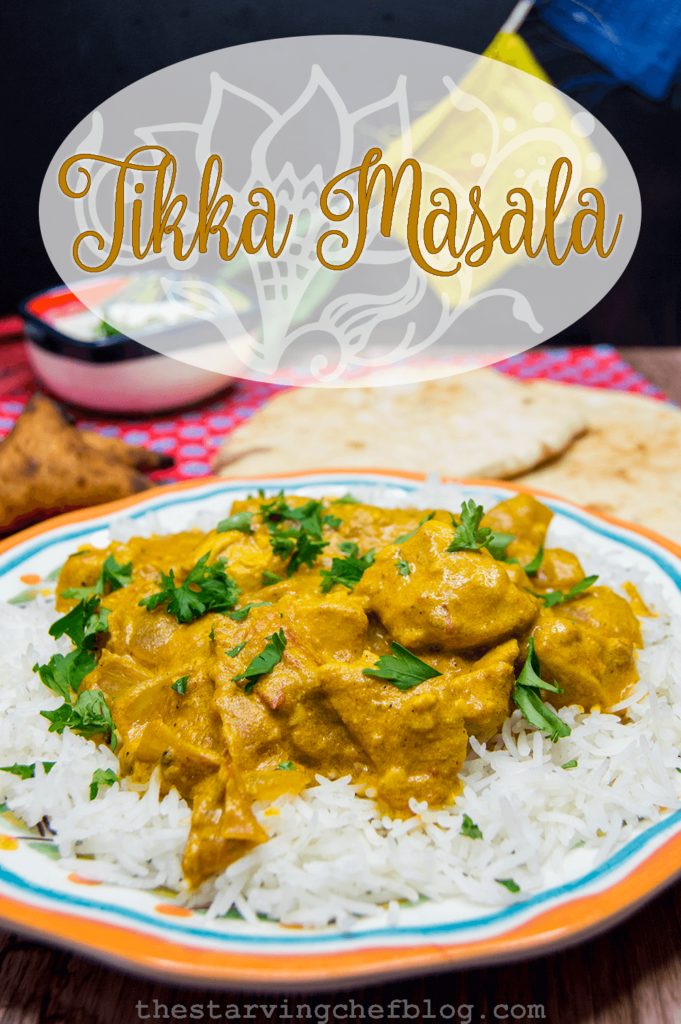 I'm always in the mood for Indian food. If it were up to me, I'd probably only eat Indian food. I mean, who doesn't love a huge platter of homemade naan with a dozen of decadent curries to dip it in? Tikka masala is a spicy, creamy sauce – similar to curry in yellow color and spice, but deliciously different in overall flavor.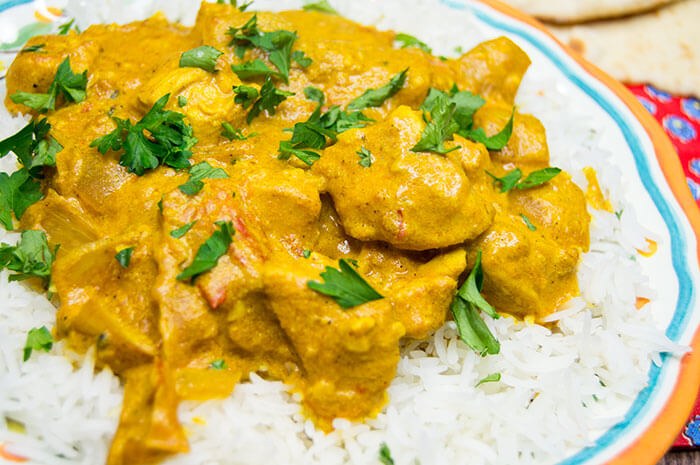 Part of what I love about Indian cuisine is that there are few 'standard' recipes for any certain dish. For tikka masala alone, there are at least 48 different documented variations – my way is just, well one of them, plus my own spin on things. If you aren't in the mood for chicken, there is paneer cheese, tofu, lamb, or even various kinds of seafood that will work in this magically tasty sauce.
Tikka masala sauce is a yogurt or coconut milk based sauce that is flavored with orange-ish spices such as turmeric, hot yellow curry, coriander and cumin. It's rounded out with ginger and garlic.
The most important part to a delicious sauce is to let the flavors meld for at least 4-6 hours prior to cooking, and marinate the chicken for that amount of time as well.
While the chicken is still marinating, start the onions with a teaspoon of red curry paste and saute until the onions are translucent and soft.
For an extra boost of flavor, stir in some hot yellow curry and coriander, along with some minced garlic. Once the garlic is fragrant, add the halves of cherry tomatoes and some tomato paste. If you're into it, spice it up some more with red pepper flakes.
Once the tomatoes have cooked for a bit, they should be soft enough to be smashed easily with the back of a wooden spoon. Doing this will help to significantly thicken up the tikka masala sauce.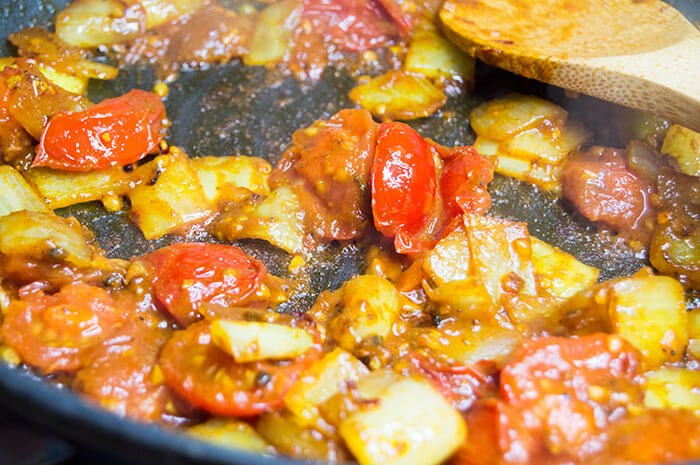 At this point, your home should smell absolutely delicious. I'm getting hungry again, just thinking about how good this smelled!!
Add the chicken and all of the yogurt marinade. Keep an eye on the skillet so that the yogurt doesn't start to burn. You'll quickly notice the yellow sauce and oils seeping through the yogurt, so stir occasionally to help incorporate the beautiful yellow colors.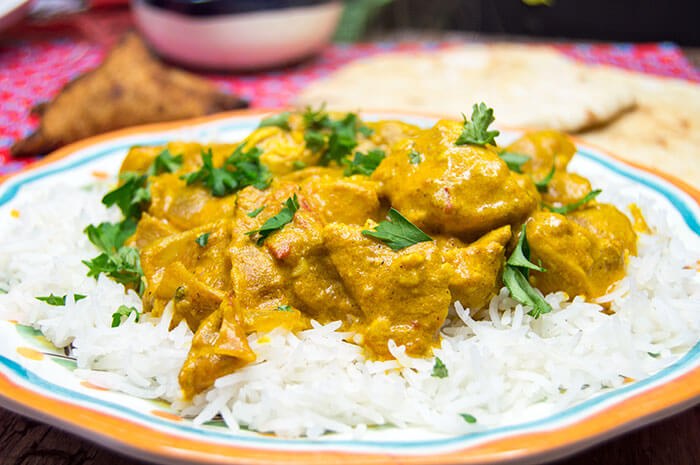 I served my tikka masala on a bed of basmantic rice and alongside some really easy chickpea samosas (recipe coming soon!).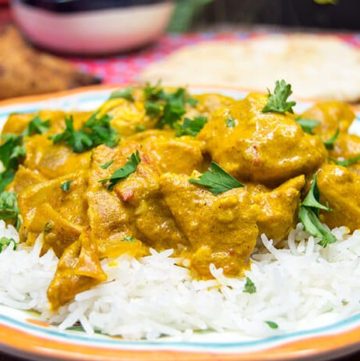 Chicken Tikka Masala
Tikka masala is a spicy, creamy sauce – similar to curry in yellow color and spice, but deliciously different in overall flavor.
Instructions
In a large bowl, whisk together the yogurt with two tablespoons turmeric and yellow curry, and one tablespoon cumin, coriander, and garam masala. Add the cut up chicken to the sauce and marinate for at least 4-6 hours (or longer).

Heat a skillet over medium high heat. Add the ghee until melted, then add the onion. Saute until softened, about five minutes. Stir in the red curry paste and tomato paste.

Crush the cardmom and stir in the seeds until fragrant. Add in the garlic and additional coriander and curry, as desired. Season with salt and pepper, and add red pepper flakes if you want a spicier tikka masala.

Add the halved cherry tomatoes into the skillet. Cook, stirring occasionally, until the tomatoes are soft enough to be easily crushed with the back of a wooden spoon – about 4-5 minutes.

Pour the marinade and chicken into the skillet. Stir to incorporate the onions and tomatoes. Let the sauce simmer, stirring occasionally, for 8-10 minutes, or until the chicken is cooked through and has reached an internal temperature of 160 F. Serve right away alongside cooked basmanti rice, naan and samosas. Enjoy!