Chicken Waffle with Maple Sriracha Aïoli
The Starving Chef is supported by Hungry People like you. When you make a purchase through an affiliate link on my site, I may earn a little bit of cash on the side (at no extra cost to you) to help keep my kitchen running. Read our disclosures here.
Here's a recipe I only decided to document about half way through the process. I realized I was making something more incredible than usual, and I was only able to grab a couple pictures of my delicious concoction before I scarfed it all up.
Chicken Waffles.
With Maple Sriracha Aioli.
For one.
Just let that sink in for a moment.
Since my boyfriend recently left for a month to go work nights in a power plant, I've been looking for easy ways to cook for myself, and myself alone. And I've been oddly craving chicken waffles for several days now, so I thought it was immensely appropriate to find the perfect recipe for one.
Here's What You Need
FOR WAFFLES:
Chicken breasts: Main protein component of the dish.
Shake 'n' Bake chicken or your favorite breading recipe: Coats the chicken for a crispy and flavorful texture.
Flour: Adds structure and helps bind the waffle batter.
Sugar: Provides sweetness to the waffle batter.
Baking soda: Helps the waffles rise and become fluffy.
Half & half: Adds richness and moisture to the waffle batter.
Egg: Binds the ingredients together and provides structure.
Butter: Enhances the flavor and helps with browning.
FOR MAPLE SRIRACHA SAUCE:
Mayonnaise: Forms the base of the sauce, adding creaminess.
Maple syrup: Adds sweetness and a hint of maple flavor.
Garlic powder: Enhances the savory taste and adds depth of flavor.
Lemon juice: Provides a tangy and acidic element.
Dijon mustard: Adds a slight tang and complexity to the sauce.
Sriracha: Brings heat and spice to the sauce.
Spicy chorizo (optional for topping): Adds a flavorful and slightly spicy element to the dish.
Parsley (optional for topping): Adds freshness and a pop of color to the presentation.
Let's Jump Into It
When it comes to the ingredients for your aioli, be sure to use some REAL maple syrup, not some imitation or sugar-free imposter.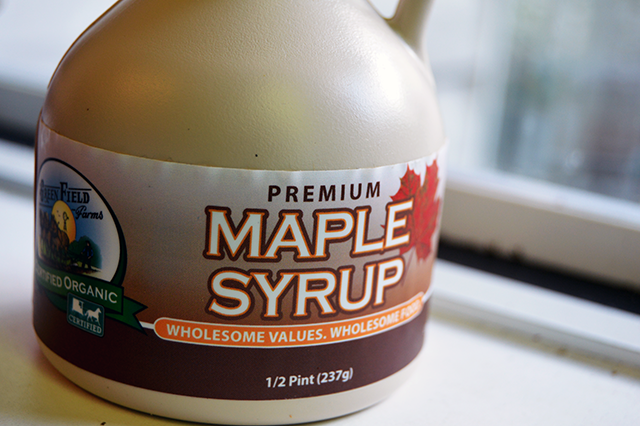 For the aioli, I'll admit here I cheated, but just a little! Aioli, for those who don't know, is essentially just a fancy mayonnaise. The real difference is the process in which each recipe is made – where mayo is more of an emulsion and aioli starts with a mortar and pestle.
Aioli is also more traditionally served in French cuisine as a dip, rather than a spread. If you really want to make an authentic aioli, all you really need is garlic, egg yolk, lemon juice, Dijon mustard, olive oil, and vegetable oil, and a good recipe.
To skip the hard parts of making an aioli, however, you can just use 2 tablespoons of mayonnaise as a base. So really, this is more of a "fakeoli." Just combine the aioli ingredients together and add the Sriracha to your spiciness liking.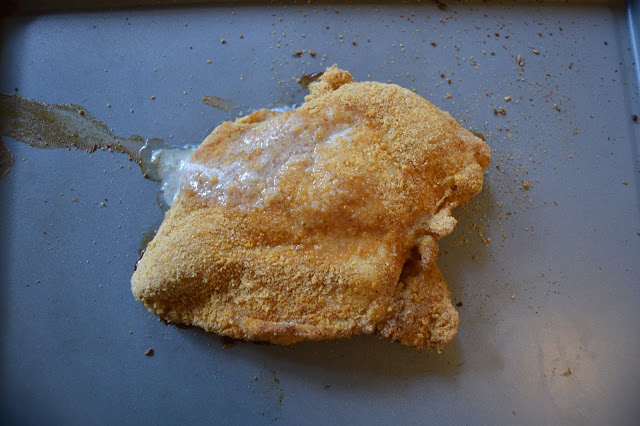 Pound the chicken breast to approximately ½ inch – ¾ inch in thickness to quicken the cooking process, especially if it's a particularly thick chicken breast. Cover it with whatever breading you choose, then pop it into the oven at 375°F (or whatever temperature the recipe you are using calls for).
When it comes to breading the chicken, feel free to use your favorite breading recipe! For mine, I used Shake 'n' Bake Chicken – for no other reason than it's the fastest thing I could find in my cabinets, and I was super hungry, so no time for homemade breading!
If you frequently visit my blog, you'll know I'm all about doing everything from scratch as often as I can (as long as it's affordable!). So don't worry, I feel the same twinge of guilt for not doing it the 'proper' way. But honestly, if you're like me and on your own for the next month, you aren't really going to care if your chicken's breading is homemade or not, am I right?
Cover the chicken with your chosen breading, then pop it into the oven at 375°F (or whatever temperature the recipe you are using calls for).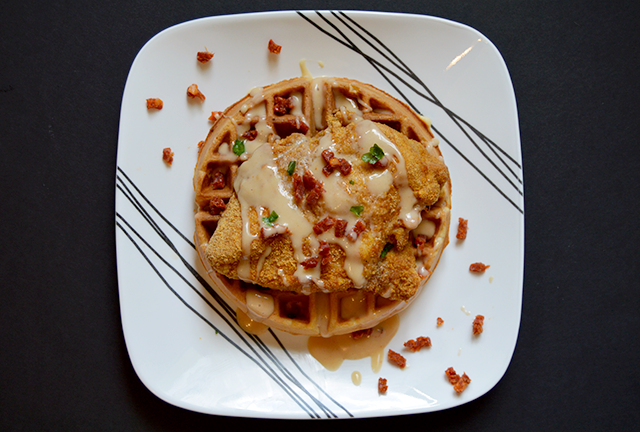 Additional Tips & Tricks
Pound the chicken evenly: When pounding the chicken breasts, aim for an even thickness throughout. This ensures even cooking and prevents dryness.
Adjust cooking time: Cooking times may vary depending on the thickness of the chicken breasts. To ensure they are cooked through, use a meat thermometer to check that the internal temperature reaches 165°F (74°C).
Customize the breading: Feel free to use your favorite breading recipe instead of Shake 'n' Bake chicken. Experiment with different seasonings, spices, or even try a gluten-free option if desired.
Adjust the spiciness: The Sriracha in the Maple Sriracha Aïoli provides a kick of heat, but you can adjust the amount to suit your personal preference. Add more or less Sriracha to achieve your desired level of spiciness.
Rest the waffle batter: Let the waffle batter rest for a few minutes before cooking. This allows the ingredients to hydrate fully, resulting in a more tender and evenly cooked waffle.
Preheat the waffle iron properly: Make sure to preheat your waffle iron according to the manufacturer's instructions. This helps achieve a crisp exterior and prevents sticking.
Don't overmix the waffle batter: When combining the wet and dry ingredients for the waffle batter, avoid overmixing. Stir until just combined, as overmixing can lead to dense and tough waffles.
Toppings and garnishes: Get creative with your toppings and garnishes! Consider adding additional ingredients like avocado slices, bacon crumbles, or a fried egg for extra flavor and texture.
Serve immediately: For the best eating experience, serve the chicken and waffle dish immediately after assembly. This ensures that the waffles stay crisp and the chicken remains hot and juicy.
Have fun and experiment: Don't be afraid to put your own spin on the recipe! Feel free to add your favorite seasonings, sauces, or additional toppings to make the dish your own.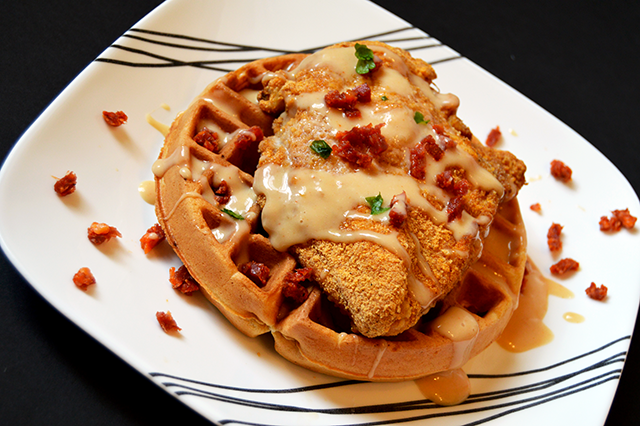 Regardless of what you pour over the top of this chicken waffle, you will end your meal with a happy belly.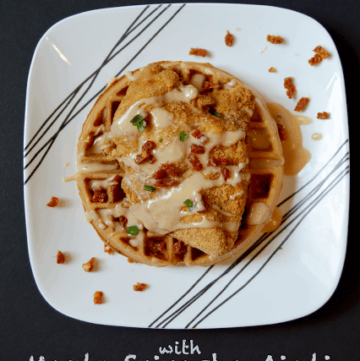 Chicken Waffle with Maple Sriracha Aïoli
Crispy chicken atop fluffy waffles, drizzled with a tangy Maple Sriracha Aioli, creating a perfect balance of savory, sweet, and spicy flavors.
Ingredients
FOR WAFFLES:
16

oz

chicken breasts

pounded 3/4 inch thick

1

package

Shake 'n' Bake chicken

or your favorite breading recipe

½

cup

flour

1 ½

cup

sugar

¼

teaspoon

baking soda

½

cup

half & half

1

egg

½

tablespoon

butter

pinch

salt
FOR MAPLE SRIRACHA SAUCE:
Instructions
Preheat the oven to 375°F. Pound the chicken breast to 1/2 inch to 3/4 inch thickness. Place the chicken breasts in a bag with the breading mix, shake to coat, and then place them onto a greased pan. Cook in the preheated oven for 20-25 minutes or until the juices run clear.

In a small bowl, mix together the mayonnaise, maple syrup, garlic powder, lemon juice, Dijon mustard, and sriracha to make the Maple Sriracha Sauce. Set aside to chill while you prepare the waffles.

With about 10 minutes left for the chicken to cook, preheat your waffle iron. In a large bowl, mix together the flour, sugar, baking soda, and salt.

In a separate bowl, whisk together the egg with the melted butter and half & half. Slowly pour the wet ingredients into the dry ingredients and stir until combined. The batter may be thick, and it's alright if it's 'chunky.'

Pour the waffle batter into the preheated waffle iron and cook according to the iron's instructions. Once cooked, remove the waffle from the iron and place it on a plate.

When the chicken is done, place it on top of the waffle, and then sprinkle on the optional crumbled chorizo and parsley. Serve immediately and enjoy!