Chickpea Samosas
The Starving Chef is supported by Hungry People like you. When you make a purchase through an affiliate link on my site, I may earn a little bit of cash on the side (at no extra cost to you) to help keep my kitchen running. Read our disclosures here.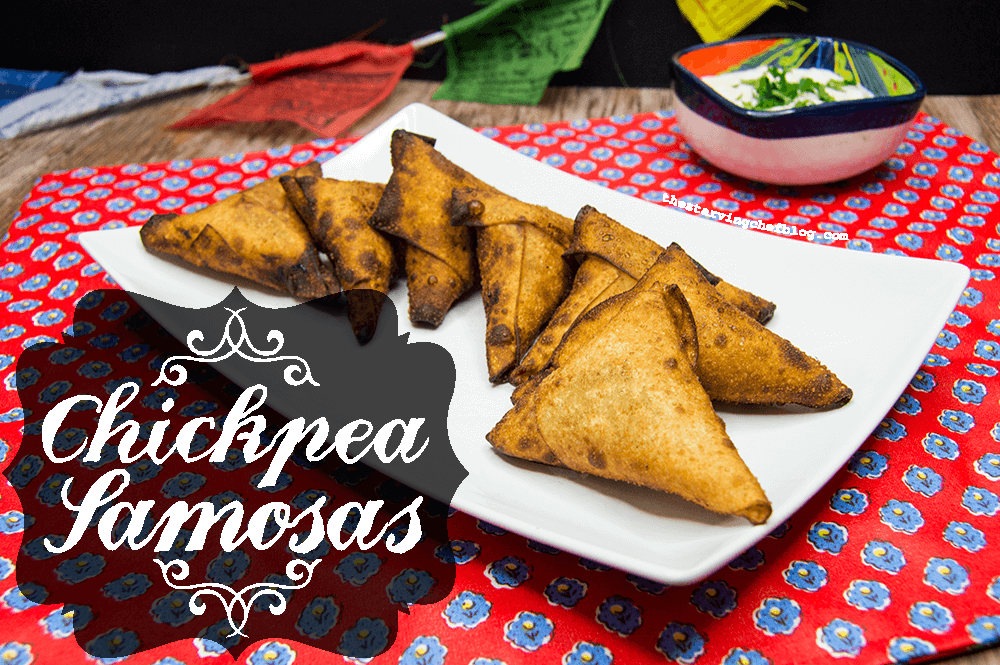 Indian cuisine is a staple in our household, so I am always looking for delicious new recipes to try. These samosas are a healthier take on the traditionally potato stuffed pockets of goodness.
I borrowed this recipe from my fantasy future husband, Gordon Ramsay (sorry Nick) after discovering I was somehow out of potatoes in my pantry. But what these samosas lack in calories, they make up for with tons of flavor! So it's win win for everyone (even Nick because he gets to eat them!).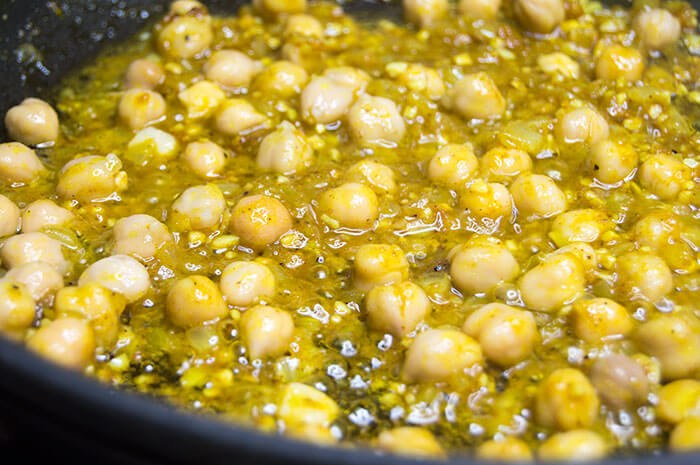 To start, you'll need to cook the chickpeas until they are tender. Once they are softened, chickpeas actually mash up pretty similarly to potatoes, so if you've ever boiled potatoes before, you'll sort of know the texture to look for when the chickpeas are ready to get mashed.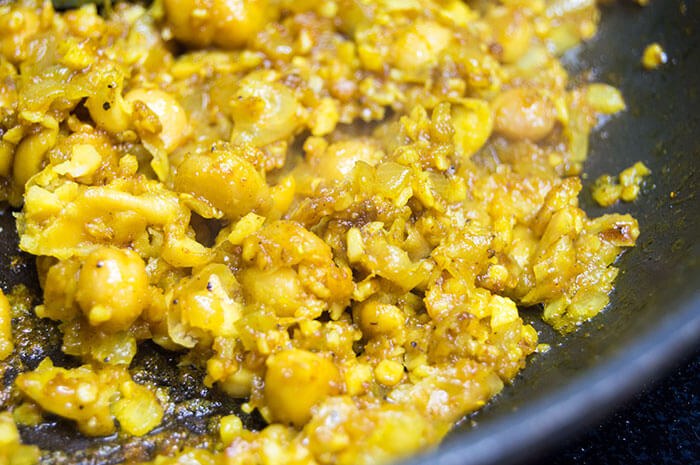 The "hardest" part about this recipe is folding up the samosas. Admittedly, I needed to watch a couple videos on Youtube to get it right. But once you get the technique down, you'll never forget it.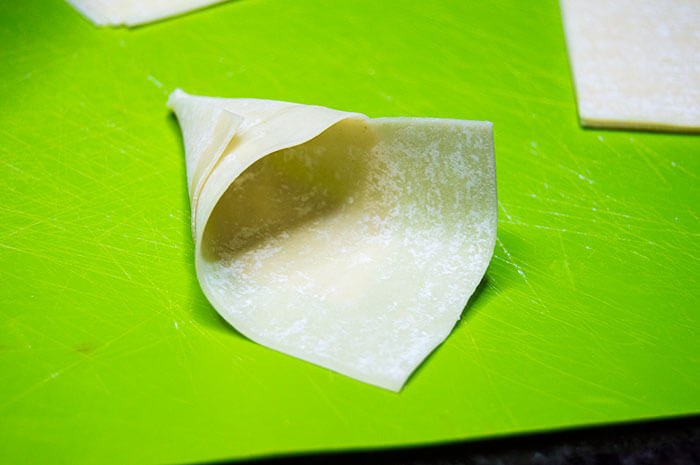 Essentially, it's easiest to use a rectangular shaped strip of dough – I actually used wonton wrappers cut in half! Lay the rectangle horizontal in front of you, then use some water to wet a little bit less than half of the right side of the rectangle. Fold the left side over so that about a quarter inch of the edge comes in contact with the wet side, so that it forms a triangle. Use your fingers to create a pocket, then wrap the rest of the wet side around so that you have a cone shape in your left hand and a strip of dough exposed on the other side. It's pretty difficult to explain, so I definitely recommend checking out a few tutorial videos, if you can!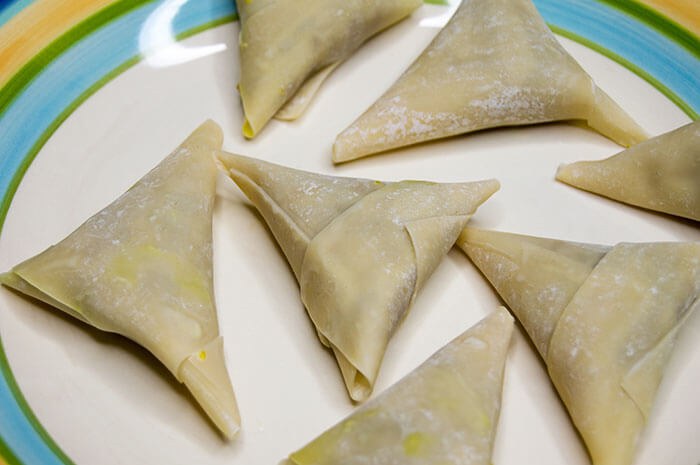 Fill the pocket side with about two tablespoons of the mashed chickpea mixture. Use the exposed flap of dough to seal in the filling, then use some water to seal the edges. It's best to let the samosas dry for a few minutes before popping them into the hot oil.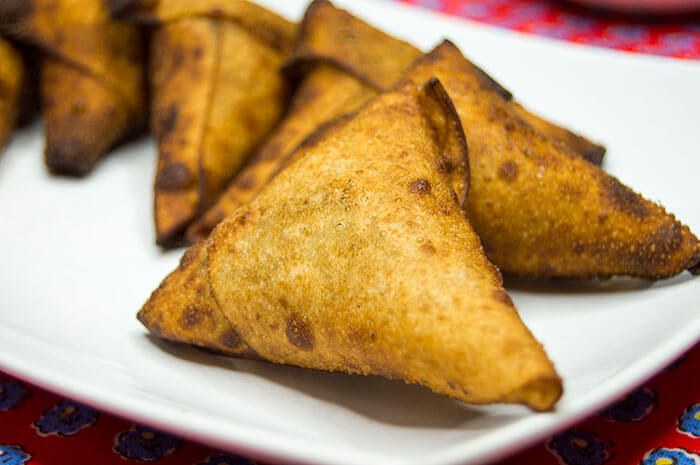 Keep an eye on your samosas as you fry them – they are super easy to overcook and burn if you aren't careful. My samosas fried for 3-4 minutes at around 325 F. I made a simple raita from Greek yogurt and shredded cucumber for dipping (you can also make a quick mint chutney from scratch), then served my samosas alongside some amazingly easy chicken tikka masala and pizza stone naan. I'm hungry all over – time to invite over Gordon!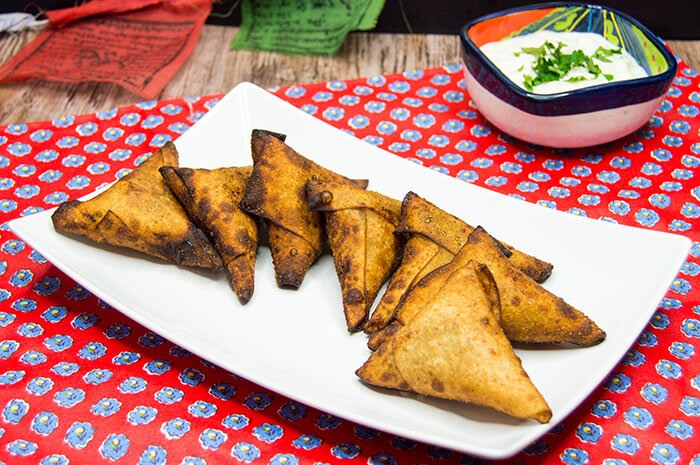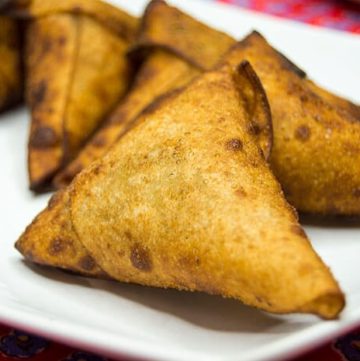 Chickpea Samosas
These samosas are a healthier take on the traditionally potato stuffed pockets of goodness – inspired by Gordon Ramsay.
Instructions
Heat the ghee over high heat until melted and shimmering. Add the chickpeas, water and lemon juice then cook until the chickpeas are tender and most of the water has evaporated, about five to eight minutes. Use the back of a spoon to mash until most of the chickpeas are broken up.

Add the onions and peas and continue to cook until heated through and the onions have softened, another five minutes. Add the garlic and ginger and stir until fragrant.

Season with curry powder, garam masala, cumin, turmeric, and salt and pepper. Stir in the spices then remove from the heat to cool completely.

Cut the wonton wrappers in half, right down the middle so you have rectangular wonton wrappers. Wet your fingers with some water and wet half of the wonton wrapper. Fold over the dry half so that it forms a triangle shaped pocket. Wrap the wetted wonton wrapper around the pocket, leaving the top edge exposed to seal the filling in.

Spoon about one to two tablespoons of the chickpea filling into each wonton pocket. Fold the top edge over the filled pocket and use some water to seal the edges. Let the filled samosas dry for a few minutes on a paper towel.

Heat one inch of oil in a skillet to about 325°F. Fry the samosas for three to four minutes, or until golden brown. Serve alongside chicken tikka and naan. Enjoy!