Chorizo Stuffed Mushrooms
The Starving Chef is supported by Hungry People like you. When you make a purchase through an affiliate link on my site, I may earn a little bit of cash on the side (at no extra cost to you) to help keep my kitchen running. Read our disclosures here.
These stuffed mushrooms are uhhhhmazing. A perfect appetizer, side dish, or snack – you'll be rethinking everything you've ever thought about fungus filled foods. If you've never had a stuffed mushroom before, stop. Drop whatever you are doing and go to the store and get these ingredients. RIGHT NOW.
These stuffed mushrooms are actually a take on my brother-in-law's stuffed mushrooms, which are a take on these stuffed mushrooms from the Pioneer Woman.
Start by separating the stems from the mushroom tops as you wash the mushrooms. Pat the shrooms dry with a paper towel and set tops aside.
Finely chop the stems to 1/8 inch bits.
Next chop the onion, mince the garlic, separate the yolk, and bring cream cheese to room temp. This particular chorizo is actually from the Westside Market in Cleveland and it is simply amazing. While I have used hot Italian sausage before, this authentic chorizo from a bustling market somehow makes the mushrooms that much more amazing. Admittedly, I probably spent WAY too much at the Westside Market as I darted from stand to stand picking up the most amazing lamb shanks, stuffed clams, and bison fillets. Get the real stuff, if you can. It's worth the cost (and also why I'm a Starving Chef!)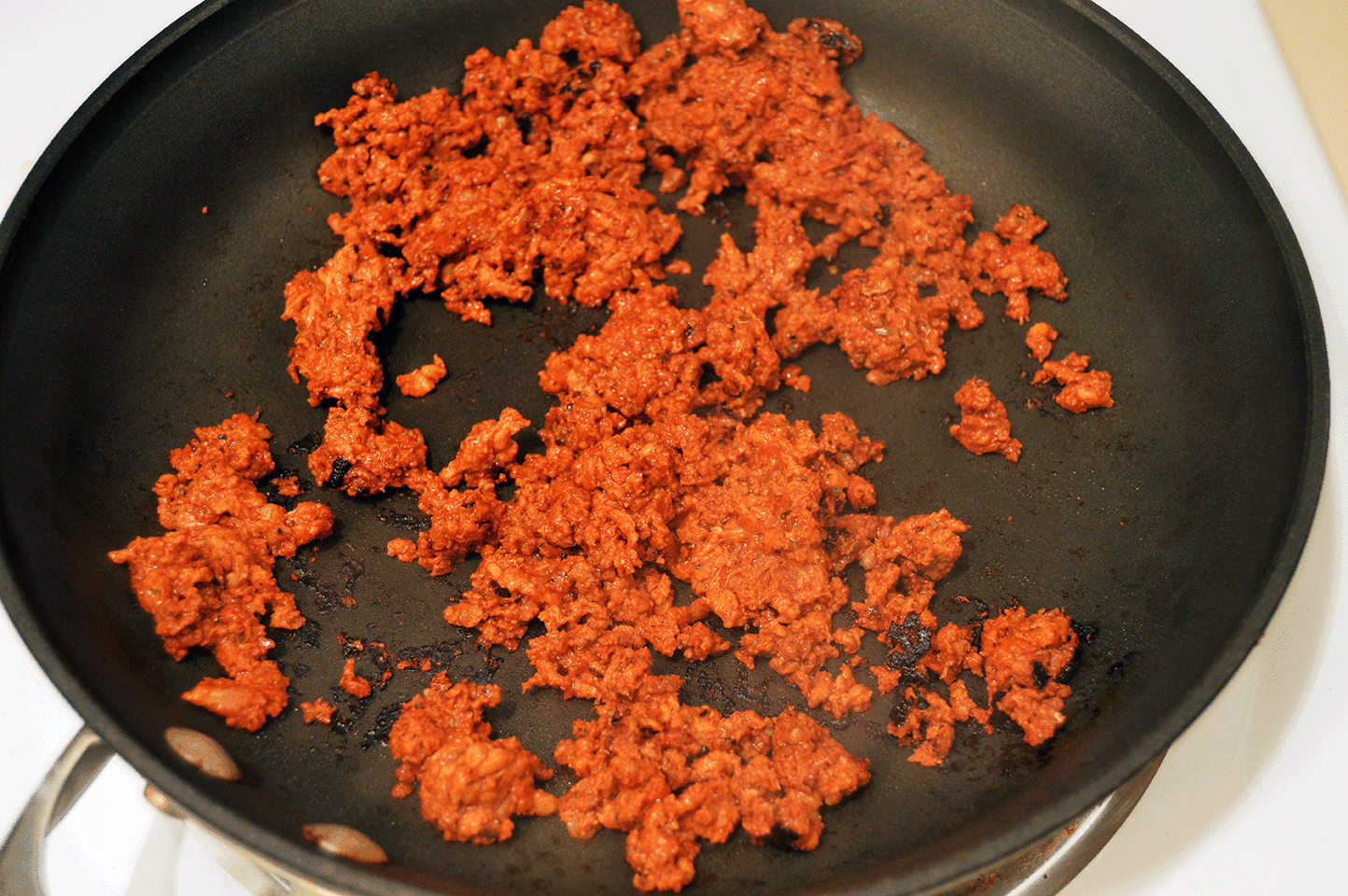 Toss the chorizo into a pan over medium high heat and stir until browned. When your chorizo is cooked and crumbly, set aside to cool. Or if you are in a rush, as I as, set on your porch in freezing cold temperatures while you complete the rest of the steps. It actually blends better when it's cool and spreads better into the mushroom cavities. We're getting there.
Toss your chopped stems, onion, and garlic into the same pan without cleaning it and cook until tender.
Now add your white wine and let it evaporate.
Once it is nice and bubbly, remove from heat and let cool for a few minutes before adding to your cooling chorizo.
While your stems and chorizo finish cooling, mix together the Parmesan, cream cheese, and egg yolk. Feel free to add some parsley here too, you know, for color. Then mix your cream cheese blend with your chorizo mix and stir until combined.
Finally, shmear as much of your delicious chorizo concoction into the mushroom top's cavities and toss into the oven at 350 for about 20-25 minutes, or until golden on top and the Parmesan is melted. Serve with a nice big slab of bison, for bonus points. Let me know if you try out this recipe! It's simple AND impressive, perfect for a party, couple's dinner, or to impress possible future-in-laws?
Chorizo Stuffed Mushrooms
A perfect appetizer, side dish, or snack – you'll be rethinking everything you've ever thought about fungus filled foods.
Ingredients
2

packages

white mushrooms

(about 24 mushrooms)

4

oz

spicy chorizo (OR hot Italian sausage)

casing removed

1

onion

chopped

1

tablespoon

garlic

minced

5

tablespoons

white wine

1

egg yolk

4

oz

cream cheese

room temperature

¼

cups

Parmesan cheese

grated
Instructions
Begin by washing and separating the mushroom tops from the stems, reserving the stems. Dry the mushroom tops and set aside. Preheat the oven to 350F.

Finely chop the stems, onion, and garlic as you bring your half a block of cream cheese to room temperature.

Toss your chorizo into a skillet on medium high heat. Brown until crumbly then remove from the pan and store in cool location.

In the same pan, without cleaning, add your onions, mushroom stems and garlic and stir until softened and browning slightly.

Add wine one tablespoon at a time while stirring. Bring to a boil until the liquid has evaporated then remove from the heat and combine with cooling chorizo.

In a small bowl, combine the yolk, softened cream cheese, and Parmesan cheese then mix into the cooled chorizo and stems blend. Stick the mixture into the refrigerator for about an hour, or until the cream cheese has firmed up,

Once the cream cheese has firmed up the mix, use a spoon to smear the insides of the mushroom tops until overfull. In my opinion, the more stuffing, the better! As long as the weight is distributed evenly, pile it on!

Sprinkle the tops with Parmesan cheese then place into the oven at 350F for 20-25 minutes.

When the tops are nice and brown, remove from the oven and allow to cool for about 10 minutes. Enjoy!